January 01, 2022 12:00 AM
Last modified date: January 07, 2022 12:53 AM

Adam Evans
FPL Gameweek 21 – Team TSZ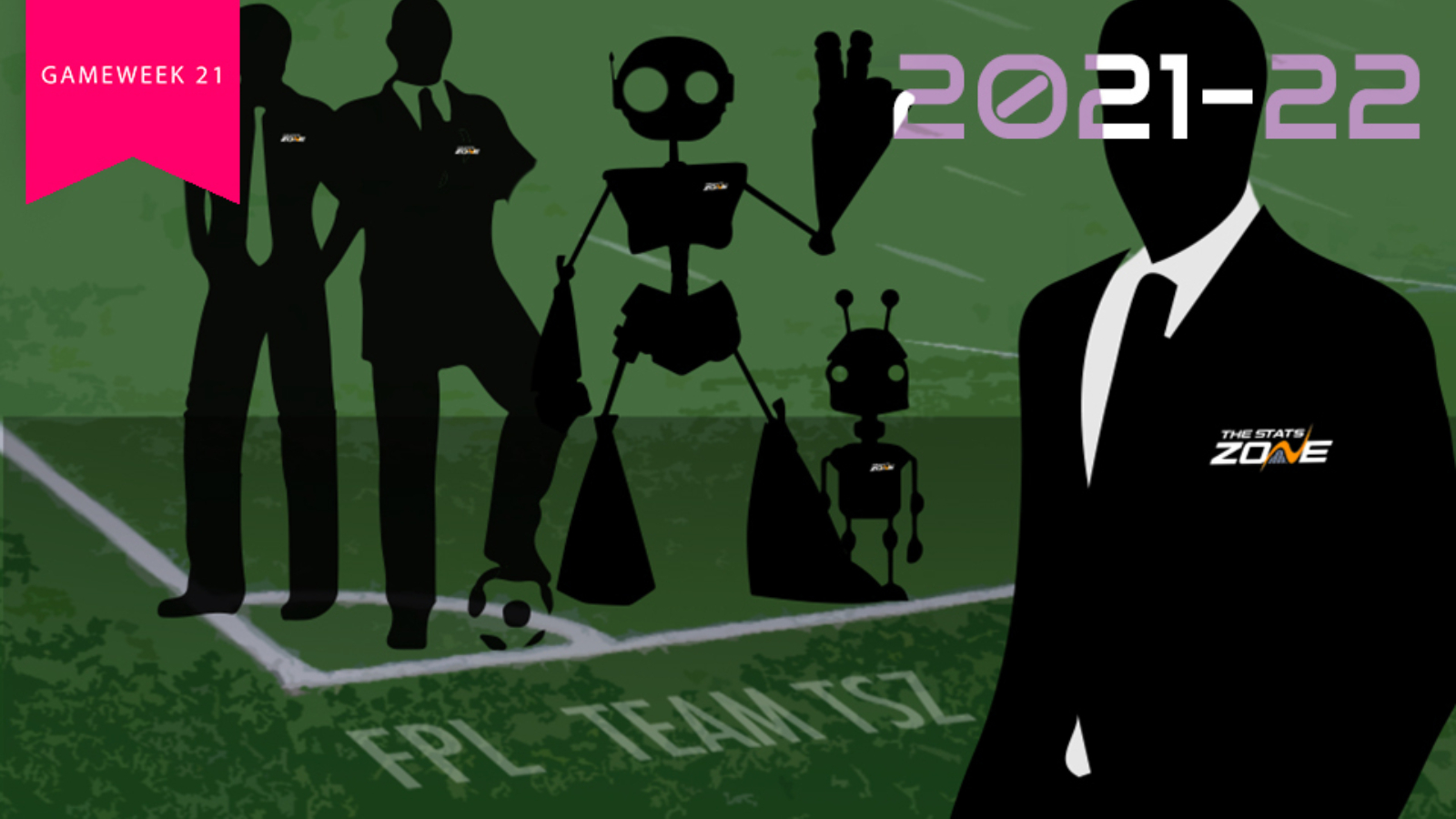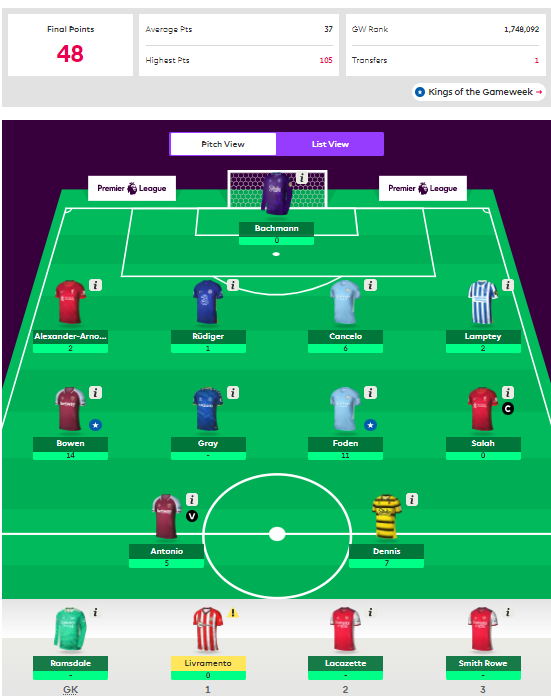 GW points: 48
GW average: 37
GW rank: 1,748,092
Overall rank: 247,987 (▲)
Whisper it quietly but Team TSZ have enjoyed a recent surge of form after a fairly torrid spell and 48 points in Gameweek 21 saw us return to the top 250k in the world, thanks in large part to new signing Jarrod Bowen's three assists and Phil Foden's excellent turn for Man City. Captaining Mo Salah for double zero would have been a nightmare on any other week but considering the entire world made the same call the damage was negligible and off-set by both Antonio and Emmanuel Dennis actually being on our pitch for once with a goal apiece. FPL is a tough game right now with few highs and a lot of frustrating lows. They can't keep gifting us Free Hits forever but that would suit me down to the ground. Being able to transfer as many players as I want means I have finally regained the lead in my family league! I don't talk about the staff league.
GAMEWEEK 21 TEAM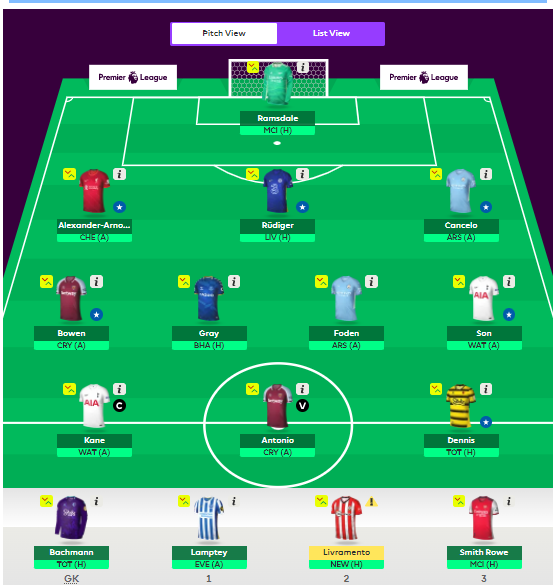 Formation: 3-4-3
Captain: Antonio
Vice-captain: Kane
Transfers made: 2 (Salah > Son / Lacazette > Kane)
Point deductions: -4
The recent announcement that Gameweek 21 is now a Double Gameweek (although who can say right now how many of the current 11 fixtures will actually be played?) is music to Trystan and Alex's ears with Bowen and Michail Antonio already in place and Everton's Demarai Gray facing Brighton and old side Leicester, with a point to prove after they sold him to Bayer Leverkusen. However, due to today being New Year's Eve and all, Trystan totally absconded from the responsibility of an 11am deadline tomorrow morning. Both myself and Alex stood by this decision and as you can see, not wanting the responsibility ourselves, our moves were made before the Double Gameweek announcement. Sod. It. All.
Trystan was already on pint five by the time we were due for our 2pm skype call, so decisions were made hastily via instant messaging - the best way to make solid plans! Here's the 'highlights' of that conversation - I've taken the liberty of correcting all of Trystan's sloshed spellings:

Trystan: Right this is the team. 1.7 in the bank and one free transfer... Salah to Son and Laca to Kane?
Alex: sounds good to me, if we can afford it
Trystan: We can afford it by 0.1
Alex: can we afford Salah to KDB/Sterling and Laca to Kane?
Trystan: Neither I'm afraid
Alex: balls... Kane and Son it'll have to be then... Watford are crap
[sorry, Watford fans]

Trystan: Spurs will double twice most likely... Man City won't at all
Alex: best thing to do is hop on now with Kane coming into form... both more than capable of scoring against Arsenal as well
which do we captain vs Watford?
Trystan: Hmm... Toss of a coin... I do love me a Sonny... But pens...
Alex: Son has a good record against Watford looking at previous fixtures... Kane does not...
having said that, Kane looked good against Southampton. He looked greedy... plus he's more of a differential
Trystan: Give this one to Adam?
Adam: No thank you x
[I tried]

Alex: come on Adam xx
Trystan: New Year's present xx

Adam: I feel like Son has the bigger points ceiling seeing as he usually feeds Kane but Kane the sensible option
[It was odd, being listened to]
Alex: but which would you choose....

Adam: I think I would choose Kane yeah but I can picture Son having a blinder

Alex: Conte won't sub him off until they go two goals up and if they do the likelihood is that he'll score at least one of them...
Son slightly more prone to an early sub even in a tight game
Trystan: Kane it is
Enthralling stuff right? Imagine that but in spoken conversation for HALF AN HOUR almost twice a week!
Also, it isn't Kane after all. After the DGW21 announcement Team TSZ's el Capitan is Michail Antonio. I can literally taste the appearance-only eight points.
Happy New Year from Team TSZ to you and yours!
For the rest of our FPL content, visit our Fantasy section!