A Breakdown Of Cristiano Ronaldo's Champions League Goals
Cristiano Ronaldo's extraordinary goalscoring exploits rightly get the attention they deserve, and his strike-rate in the Champions League is nothing short of breathtaking.

With 135 goals (and counting) to his name, he is the tournament's all-time leading scorer, but how has he gone about his business in Europe's premier club competition? In this regularly updated analysis, we delve into the numbers behind his success:
Last updated after Matchday 1 of the 2021/22 season

BY SEASON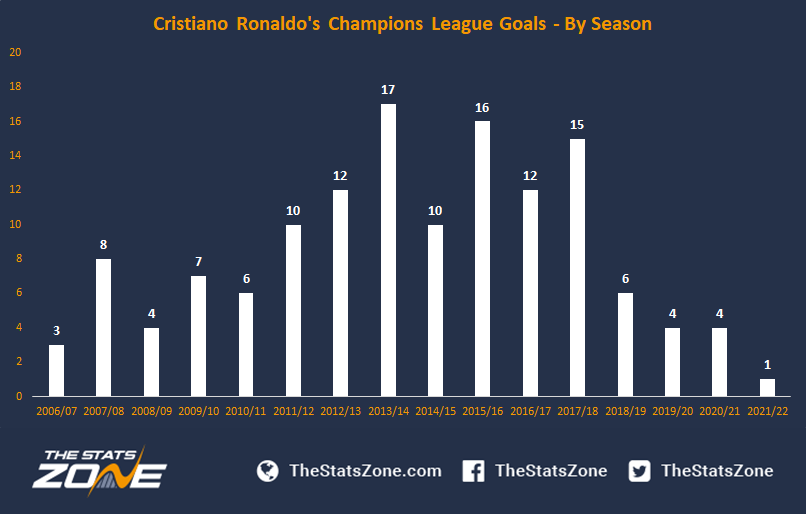 Ronaldo reached double figures in terms of Champions League goals for seven consecutive seasons between 2011/12 and 2017/18.
His most prolific season was 2013/14, when his 17 goals helped Real Madrid achieve 'La Decima'. This stands as the most goals scored by a single player in a single Champions League campaign.
BY ROUND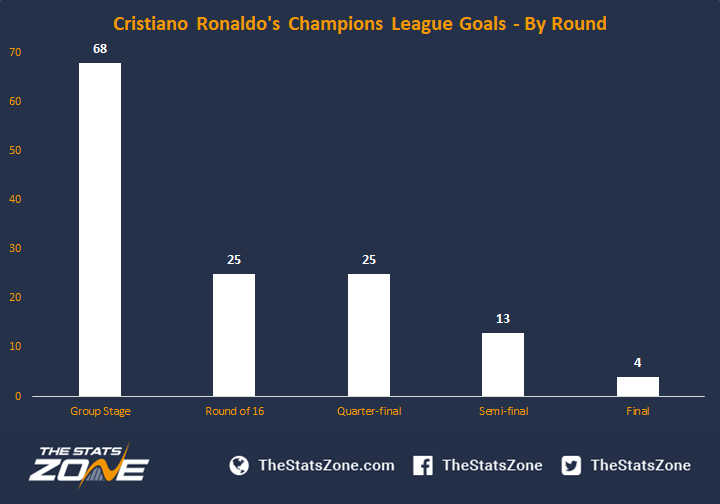 Ronaldo is second to Lionel Messi for the most goals scored by a single player in the group stage, although he has scored the most group stage goals in a single season (2015/16: 11).
His 67 goals in the knockout stages is more than any other player has achieved.
In the Champions League era, Ronaldo has scored the most goals in finals (four), with Alfredo Di Stefano holding the overall record (five).
BY PITCH AREA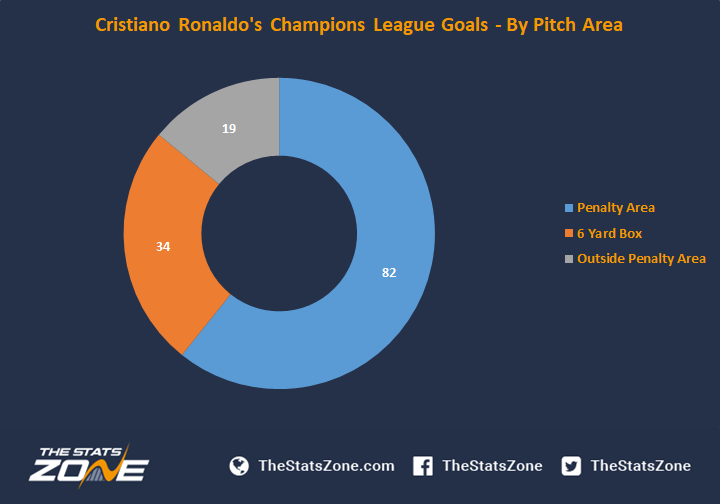 60.7% of Ronaldo's Champions League goals have come from inside the area (not including 6 yard box goals).
Over a quarter (25.2%) have been scored from within the 6 yard box.
METHOD OF GOALS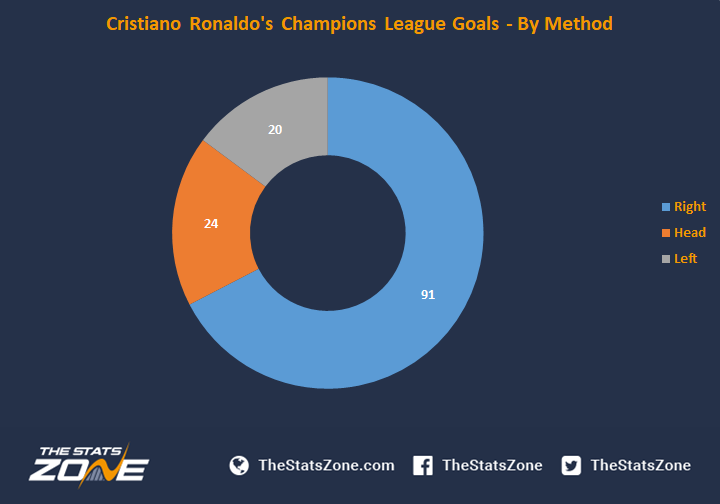 Unsurprisingly, the majority of Ronaldo's goals - 67.4% - have come from his right foot, with his left foot accounting for 14.8% and his head 17.8%.
TYPE OF GOALS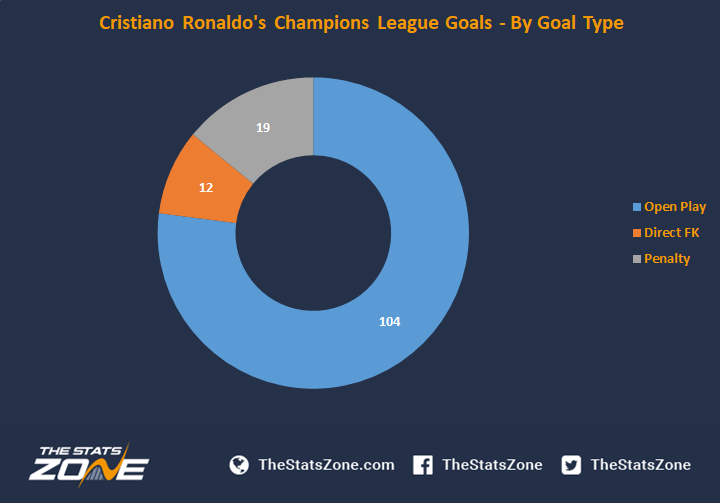 104 of Ronaldo's 135 Champions League goals (77.0%) have come from open play, whilst he has reached double figures in both free-kicks and penalties.
BY HALF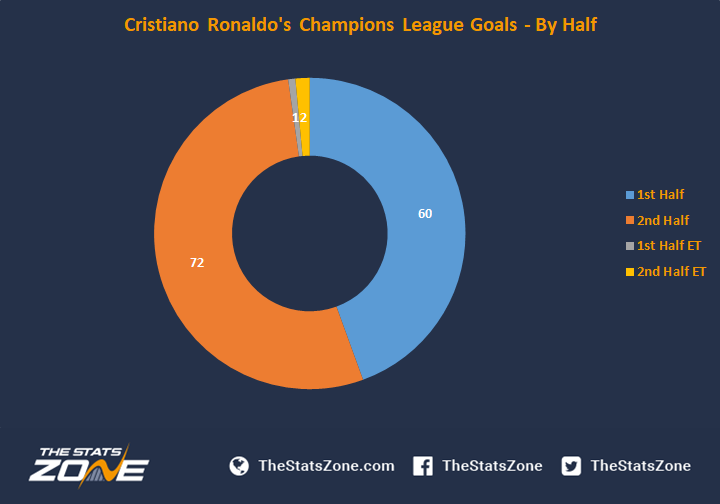 Ronaldo has been slightly more prolific in the second half of Champions League matches, scoring 72 times (53.3%) as opposed to 60 (44.4%) in the first half.
An additional three goals have been scored during extra-time.
BY MINUTE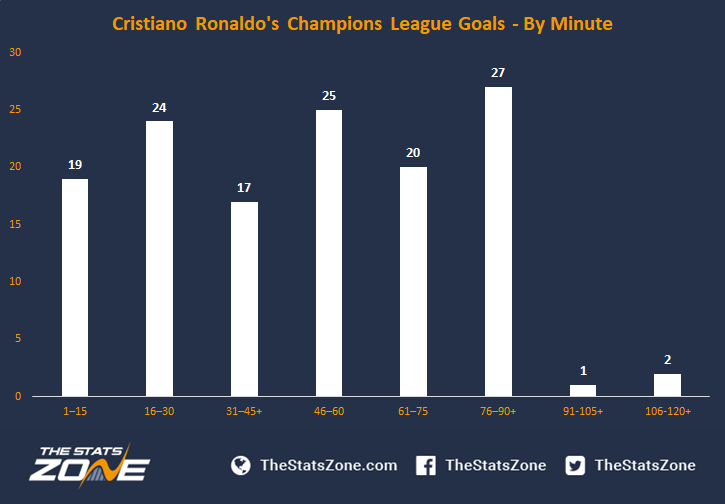 Exactly a fifth (20.0%) of Ronaldo's goals have come between the 76th and 90th minute (including injury time). In contrast, just 12.6% of goals have come between the 31st and 45th minute (including injury time).
NATIONS SCORED AGAINST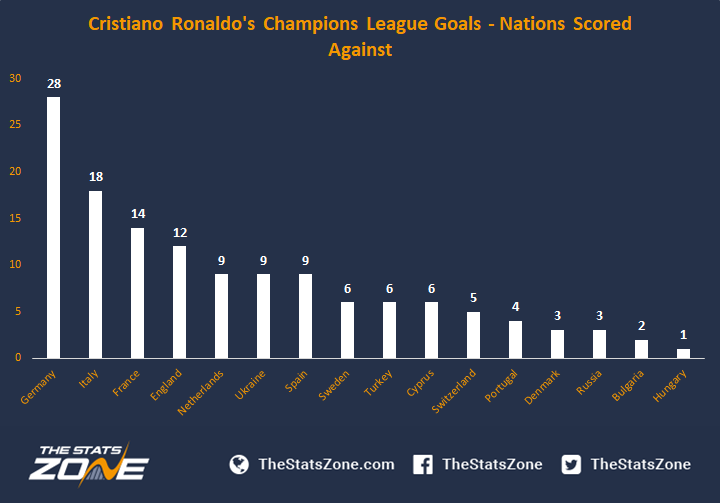 Clubs hailing from 16 different nations have been on the receiving end of a Ronaldo goal in the Champions League.
The Portuguese superstar certainly enjoys playing against German opposition, as he has netted 28 times against them in the Champions League (a record against clubs from one nation). He has also reached double figures against Italian (18), French (14) and English (12) clubs.
TEAMS SCORED AGAINST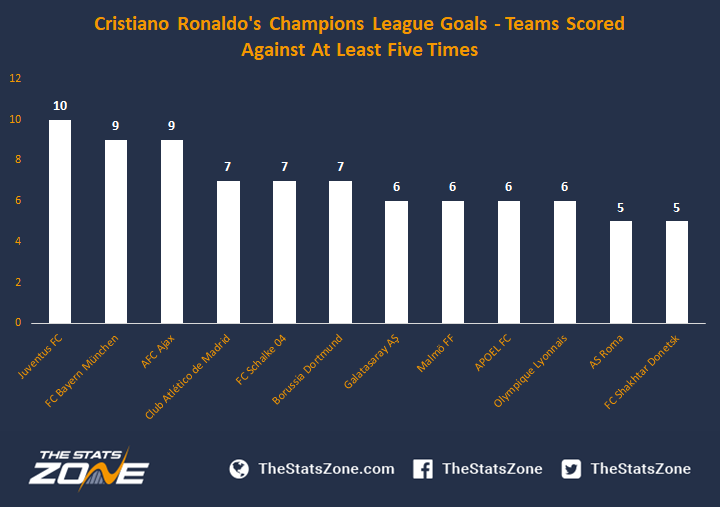 In terms of specific clubs, the Man Utd frontman has been on the scoresheet against 36 different opponents in the competition.
Ronaldo's three goals across both legs of Real Madrid's quarter-final against Juventus in 2017/18 took his tally to ten Champions League goals overall against the Italian giants – more than against any other team.
Ronaldo has scored at least five goals against 12 different teams in the Champions League.
GOALKEEPERS SCORED AGAINST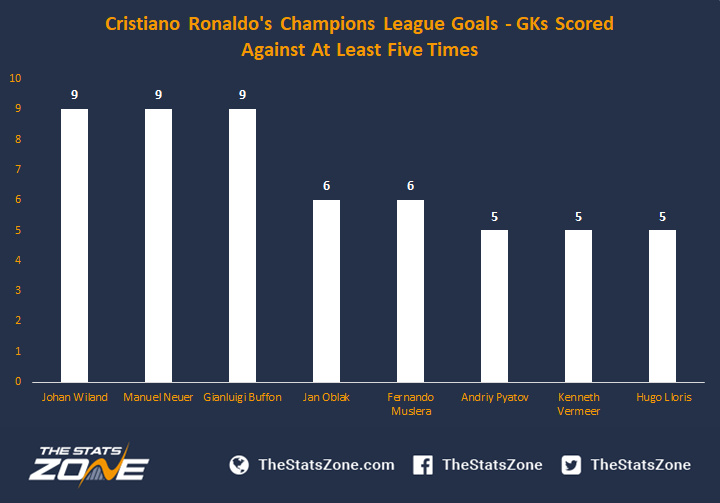 Ronaldo has scored past 48 different goalkeepers in the Champions League.
Johan Wiland, Manuel Neuer and Gianluigi Buffon have the unfortunate distinction of conceding the most goals to Ronaldo (nine).
TOP ASSISTERS