2020 Unibet Premier League Darts – Fixtures, Results & Statistics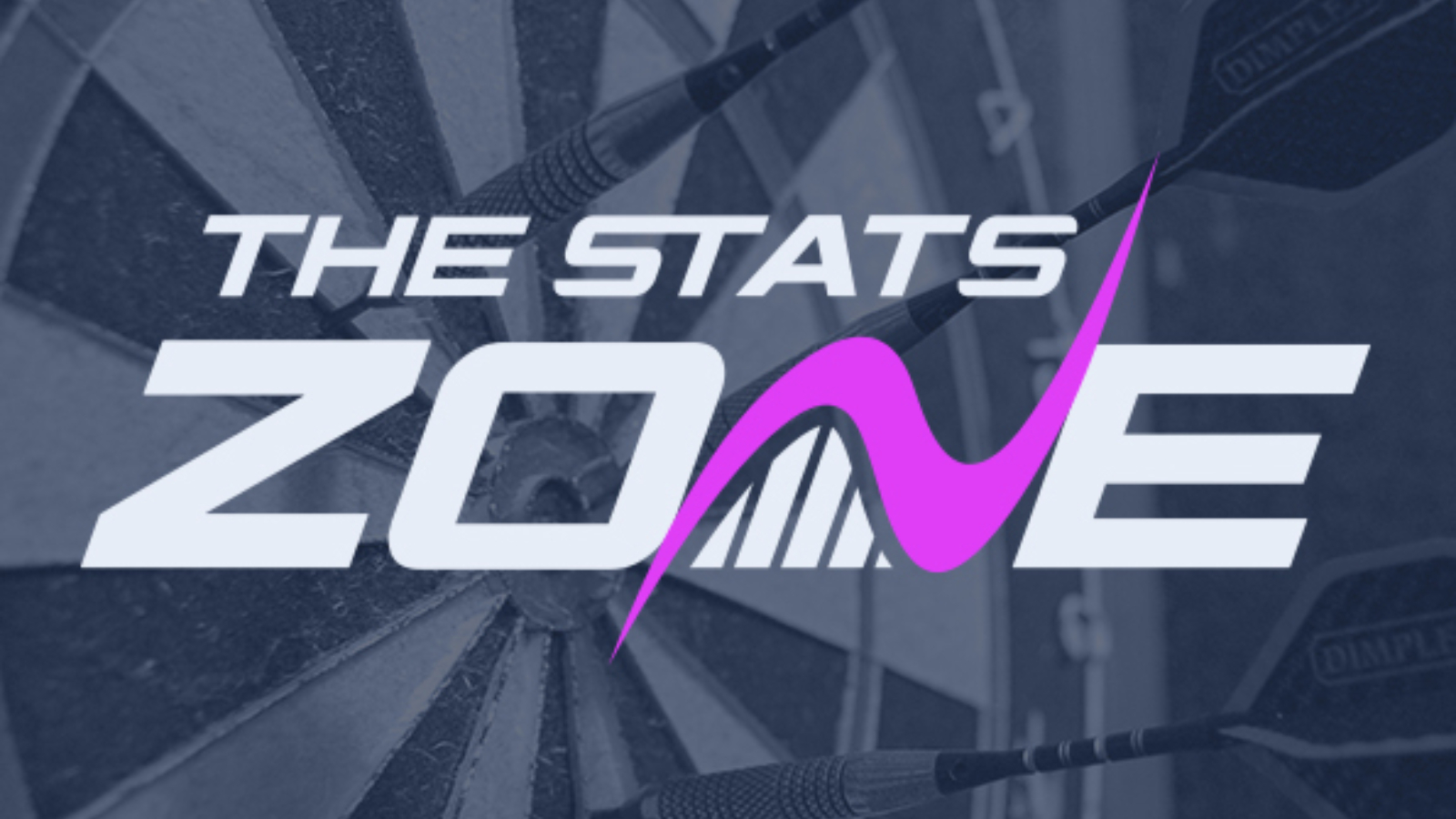 The 2020 Unibet Premier League Darts season takes place from February 6 to May 1 across 17 nights (16 nights of a league phase leading up to the play-offs at the O2 Arena).

The opening nine nights see the nine players face each other once in the league phase (as well as a fixture each against one of the nine 'challengers'), before the bottom player in the league table is eliminated following judgement night.
The remaining eight players face each other once more in the remaining seven league nights, before the top four players progress to compete in the Play-Offs.
This page will be updated on a weekly basis. Scroll down for the latest 2020 Unibet Premier League Darts statistics.
2020 UNIBET PREMIER LEAGUE DARTS COMPETITORS
Michael van Gerwen (Winner 2013, 2016, 2017, 2018, 2019)
Peter Wright (Runner-up 2017)
Gerwyn Price (5th 2019)
Rob Cross (Runner-up 2019)
Michael Smith (Runner-up 2018)
Gary Anderson (Winner 2011, 2015
Daryl Gurney (Semi-finals 2019)
Nathan Aspinall (Debut)
Glen Durrant (Debut)

2020 UNIBET PREMIER LEAGUE DARTS 'CHALLENGERS'
Night 1 – John Henderson
Night 2 – Fallon Sherrock
Night 3 – Jonny Clayton
Night 4 – William O'Connor
Night 5 – Luke Humphries
Night 6 – Stephen Bunting
Night 7 – Chris Dobey
Night 8 – Jeffrey de Zwaan
Night 9 – Jermaine Wattimena
2020 UNIBET PREMIER LEAGUE DARTS DATES & VENUES
(All matches are shown live on Sky Sports Action, each night is scheduled to start at 19:30 UK time)
Night One
Thursday February 6 - Aberdeen
P&J Live
(95.41) Michael Smith 3-7 Glen Durrant (95.01)
(94.71) Gary Anderson 7-5 Daryl Gurney (91.65)
(104.13) Michael van Gerwen 7-5 Peter Wright (97.71)
(89.19) Nathan Aspinall 7-3 John Henderson (81.93)
(95.86) Gerwyn Price 6-6 Rob Cross (100.10)
Night Two
Thursday February 13 - Nottingham
Motorpoint Arena
(94.71) Rob Cross 7-5 Nathan Aspinall (95.48)
(98.11) Gerwyn Price 6-6 Michael Smith (101.71)
(95.58) Gary Anderson 6-6 Peter Wright (88.72)
(92.21) Glen Durrant 6-6 Fallon Sherrock (87.36)
(93.92) Daryl Gurney 1-7 Michael van Gerwen (105.05)

Night Three
Thursday February 20 - Cardiff
Motorpoint Arena
Peter Wright vs Rob Cross
Jonny Clayton vs Michael Smith
Michael van Gerwen vs Nathan Aspinall
Daryl Gurney vs Gerwyn Price
Glen Durrant vs Gary Anderson

Night Four
Thursday February 27 - Dublin
3Arena
Glen Durrant vs Nathan Aspinall
Rob Cross vs Gary Anderson
Daryl Gurney vs Michael Smith
William O'Connor vs Michael van Gerwen
Gerwyn Price vs Peter Wright

Night Five
Thursday March 5 - Exeter
Westpoint Exeter
Rob Cross vs Daryl Gurney
Gerwyn Price vs Glen Durrant
Nathan Aspinall vs Peter Wright
Gary Anderson vs Luke Humphries
Michael Smith vs Michael van Gerwen

Night Six
Thursday March 12 - Liverpool
M&S Bank Arena
Michael Smith vs Peter Wright
Daryl Gurney vs Glen Durrant
Gerwyn Price vs Michael van Gerwen
Rob Cross vs Stephen Bunting
Gary Anderson vs Nathan Aspinall

Night Seven
Thursday March 19 - Newcastle
Utilita Arena
Michael Smith vs Gary Anderson
Michael van Gerwen vs Rob Cross
Nathan Aspinall vs Gerwyn Price
Chris Dobey vs Daryl Gurney
Peter Wright vs Glen Durrant

Night Eight
Wednesday March 25 - Rotterdam
Rotterdam Ahoy
Gary Anderson vs Gerwyn Price
Nathan Aspinall vs Daryl Gurney
Michael Smith vs Rob Cross
Michael van Gerwen vs Glen Durrant
Peter Wright vs Jeffrey de Zwaan

Judgement Night
Thursday March 26 - Rotterdam
Rotterdam Ahoy
Glen Durrant vs Rob Cross
Nathan Aspinall vs Michael Smith
Peter Wright vs Daryl Gurney
Michael van Gerwen vs Gary Anderson
Jermaine Wattimena vs Gerwyn Price

Night 10
Thursday April 2 - Belfast
The SSE Arena
TBC

Night 11
Thursday April 9 - Sheffield
The FlyDSA Arena
TBC

Night 12
Thursday April 16 - Manchester
The Manchester Arena
TBC

Night 13
Thursday April 23 - Berlin
Mercedes-Benz Arena
TBC

Night 14
Thursday April 30 - Birmingham
Arena Birmingham
TBC

Night 15
Thursday May 7 - Glasgow
The SSE Hydro
TBC

Night 16
Thursday May 14 - Leeds
First Direct Arena
TBC

Play-Offs
Thursday May 21 - London
The O2
TBC

Every league fixture prior to judgement night is played over a maximum of 12 legs, with players earning two points for a win (by reaching seven legs) and one point if the matches ends in a draw. Following judgement night, matches are played over a maximum of 14 legs.
If players are tied on points in the league table, leg difference will be the first deciding factor. If this is also a tie, then legs won against throw will be the next deciding factor, and any further tie would be split by a comparison of the relevant players' three-dart tournament average at that stage.
The Play-Offs consist of two semi-finals (best of 19 legs) followed by the final (best of 21 legs).
Matches played against the nine 'challengers' WILL count towards the overall standings.

2020 UNIBET PREMIER LEAGUE DARTS PRIZE FUND
Winner - £250,000
Runner-Up - £120,000
Semi-Finalists - £80,000
Fifth Place - £70,000
Sixth Place - £60,000
Seventh Place - £55,000
Eighth Place - £50,000
Ninth Place - £35,000
League Winner's Bonus - £25,000
2020 UNIBET PREMIER LEAGUE DARTS TICKETS
Visit the official PDC website for information on tickets for specific nights.
PREMIER LEAGUE DARTS PAST FINALS
2005 - Phil Taylor 16-4 Colin Lloyd
2006 - Phil Taylor 16-6 Roland Scholten
2007 - Phil Taylor 16-8 Terry Jenkins
2008 - Phil Taylor 16-8 James Wade
2009 - James Wade 13-8 Mervyn King
2010 - Phil Taylor 10-8 James Wade
2011 - Gary Anderson 10-4 Adrian Lewis
2012 - Phil Taylor 10-7 Simon Whitlock
2013 - Michael van Gerwen 10-8 Phil Taylor
2014 - Raymond van Barneveld 10-6 Michael van Gerwen
2015 - Gary Anderson 11-7 Michael van Gerwen
2016 - Michael van Gerwen 11-3 Phil Taylor
2017 - Michael van Gerwen 11-10 Peter Wright
2018 - Michael van Gerwen 11-4 Michael Smith
2019 - Michael van Gerwen 11-5 Rob Cross
2020 UNIBET PREMIER LEAGUE DARTS STATISTICS
Table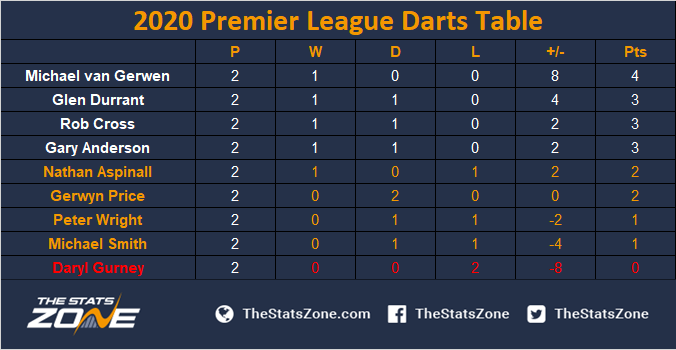 Tournament Averages
| | |
| --- | --- |
| Michael van Gerwen | 104.51 |
| Michael Smith | 98.78 |
| Rob Cross | 97.33 |
| Gerwyn Price | 96.95 |
| Gary Anderson | 95.14 |
| Glen Durrant | 93.44 |
| Peter Wright | 93.01 |
| Daryl Gurney | 92.53 |
| Nathan Aspinall | 92.46 |
Tournament 180s
| | |
| --- | --- |
| Peter Wright | 10 |
| Gary Anderson | 7 |
| Michael Smith | 7 |
| Rob Cross | 6 |
| Gerwyn Price | 5 |
| Michael van Gerwen | 5 |
| Nathan Aspinall | 4 |
| Glen Durrant | 3 |
| Daryl Gurney | 3 |
Tournament Checkout %
| | |
| --- | --- |
| Michael van Gerwen | 70.00% |
| Rob Cross | 48.15% |
| Nathan Aspinall | 46.15% |
| Michael Smith | 42.86% |
| Glen Durrant | 40.62% |
| Gerwyn Price | 40.00% |
| Peter Wright | 39.29% |
| Gary Anderson | 38.24% |
| Daryl Gurney | 22.22% |
Tournament Top Ten Averages
105.05 (VAN GERWEN vs Gurney - Night 2)
104.13 (VAN GERWEN vs Wright - Night 1)
101.71 (SMITH vs Price - Night 2)
100.10 (CROSS vs Price - Night 1)
98.11 (PRICE vs Smith - Night 2)
97.71 (WRIGHT vs Van Gerwen - Night 1)
95.86 (PRICE vs Cross - Night 1)
95.58 (ANDERSON vs Wright - Night 2)
95.48 (ASPINALL vs Cross - Night 2)
95.41 (SMITH vs Durrant - Night 1)