March 28, 2023 10:47 AM
Last modified date: May 30, 2023 5:15 PM

Alex Sarwar
IPL 2023 Tournament Page – Fixtures, Results, Teams & Where To Watch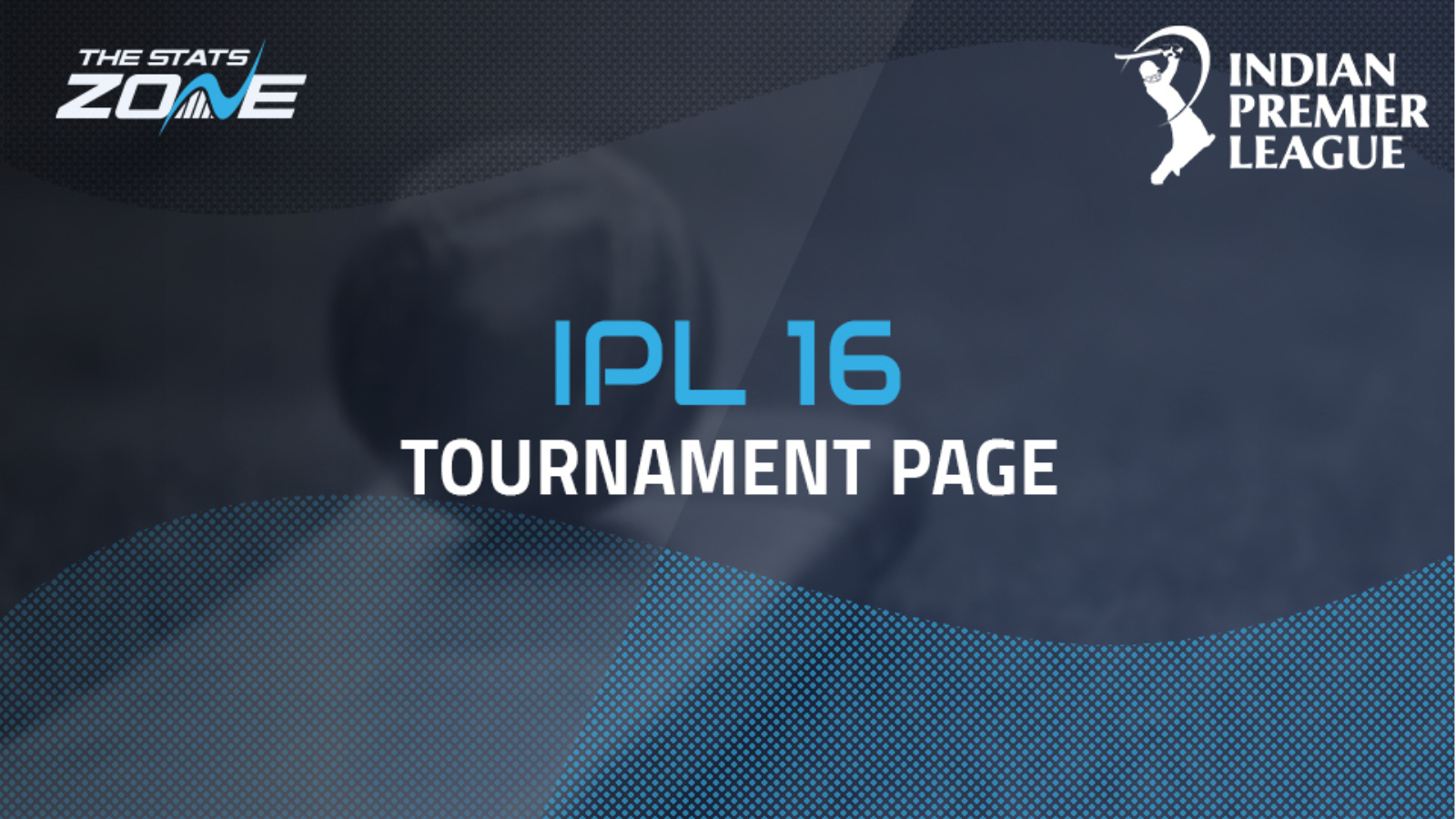 THE LOWDOWN
What is the IPL?
The IPL is the biggest franchise tournament in world cricket. The T20 competition was formed by the BCCI in 2007 shortly after India's triumph in the inaugural men's T20 World Cup. It has since grown enormously both on and off the field, to the point where it is now one of the most lucrative tournaments in world sport, alongside the likes of the NFL and the English Premier League.

What is the format of the IPL?

For the first time since 2019, the IPL reverts back to a home and away format for 2023. Each team will play each other twice in the group stage with the top four sides qualifying through to the playoffs.
Which teams are competing in the IPL?
The ten franchise teams set to compete in the 16th edition of the IPL are listed below.
Mumbai Indians
Chennai Super Kings
Sunrisers Hyderabad
Rajasthan Royals

Punjab Kings
Royal Challengers Bangalore
Delhi Capitals
Gujarat Titans
Lucknow Super Giants
Kolkata Knight Riders

Which players are competing for which team?
The IPL squads were determined by a mixture of player retentions, followed by an auction. A number of players on the market were sold for figures exceeding seven figures such as Sam Curran, Cameron Green Ben Stokes and Harry Brook.
A full list of each squad can be found here
When is the IPL taking place?
The 2023 IPL begins on March 31st and runs up until the final on May 28th.
Is the IPL being televised?
Yes! Every game of the 2023 IPL will be televised live on DAZN (Channel 429) and on Sky Sports in the UK.
Can the IPL be streamed?
Yes! Sky Sports subscribers can stream every game of the 2023 WPL on Sky Go.
FIXTURES & RESULTS
Friday 31st March
Gujarat Titans v Chennai Super Kings – Ahmedabad

Gujarat Titans won by five wickets
Saturday 1st April
Punjab Kings v Kolkata Knight Riders – Mohali

Punjab Kings won by 7 runs (DLS)
Lucknow Super Giants v Delhi Capitals – Lucknow

Lucknow Super Giants won by 50 runs
Sunday 2nd April

Sunrisers Hyderabad v Rajasthan Royals – Hyderabad

Rajasthan Royals won by 72 runs
Royal Challengers Bangalore v Mumbai Indians – Bengaluru
Royal Challengers Bangalore won by eight wickets
Monday 3rd April

Chennai Super Kings v Lucknow Super Giants – Chennai

Chennai Super Kings won by 12 runs
Tuesday 4th April

Delhi Capitals v Gujarat Titans – Delhi
Gujarat Titans won by six wickets
Wednesday 5th April

Rajasthan Royals v Punjab Kings – Guwahati
Punjab Kings won by 5 runs
Thursday 6th April

Kolkata Knight Riders v Royal Challengers Bangalore – Kolkata
Kolkata Knight Riders won by 81 runs
Friday 7th April
Lucknow Super Giants v Sunrisers Hyderabad – Lucknow
Lucknow Super Giants won by five wickets
Saturday 8th April
Rajasthan Royals v Delhi Capitals – Guwahati

Rajasthan Royals won by 57 runs
Mumbai Indians v Chennai Super Kings – Mumbai
Chennai Super Kings won by seven wickets
Sunday 9th April
Gujarat Titans v Kolkata Knight Riders – Ahmedabad

Kolkata Knight Riders won by three wickets
Sunrisers Hyderabad v Punjab Kings – Hyderabad
Punjab Kings won by eight wickets
Monday 10th April
Royal Challengers Bangalore v Lucknow Super Giants – Bengaluru
Lucknow Super Giants won by one wicket
Tuesday 11th April
Delhi Capitals v Mumbai Indians – Delhi
Mumbai Indians won by six wickets
Wednesday 12th April
Chennai Super Kings v Rajasthan Royals – Chennai
Rajasthan Royals won by 3 runs
Thursday 13th April
Punjab Kings v Gujarat Titans – Mohali
Gujarat Titans won by six wickets
Friday 14th April
Kolkata Knight Riders v Sunrisers Hyderabad – Kolkata
Sunrisers Hyderabad won by 23 runs
Saturday 15th April
Royal Challengers Bangalore v Delhi Capitals – Bengaluru

Royal Challengers Bangalore won by 23 runs
Lucknow Super Giants v Punjab Kings – Lucknow
Punjab Kings won by two wickets
Sunday 16th April
Mumbai Indians v Kolkata Knight Riders – Mumbai

Mumbai Indians won by five wickets
Gujarat Titans v Rajasthan Royals – Ahmedabad
Rajasthan Royals won by three wickets
Monday 17th April
Royal Challengers Bangalore v Chennai Super Kings – Bengaluru
Chennai Super Kings won by 8 runs
Tuesday 18th April
Sunrisers Hyderabad v Mumbai Indians – Hyderabad

Mumbai Indians won by 14 runs
Wednesday 19th April
Rajasthan Royals v Lucknow Super Giants – Jaipur

Lucknow Super Giants won by 10 runs
Thursday 20th April
Punjab Kings v Royal Challengers Bangalore – Mohali
Royal Challengers Bangalore won by 24 runs
Thursday 20th April
Delhi Capitals v Kolkata Knight Riders – Delhi
Delhi Capitals won by four wickets
Friday 21st April
Chennai Super Kings v Sunrisers Hyderabad – Chennai
Chennai Super Kings won by seven wickets
Saturday 22nd April
Lucknow Super v Giants Gujarat Titans – Lucknow

Gujarat Titans won by 7 runs
Mumbai Indians v Punjab Kings – Mumbai
Punjab Kings won by 13 runs
Sunday 23rd April
Royal Challengers Bangalore v Rajasthan Royals – Bengaluru

Royal Challengers Bangalore won by 7 runs
Kolkata Knight Riders v Chennai Super Kings – Kolkata
Chennai Super Kings won by 49 runs
Monday 24th April
Sunrisers Hyderabad v Delhi Capitals – Hyderabad
Delhi Capitals won by 7 runs
Tuesday 25th April
Gujarat Titans v Mumbai Indians – Ahmedabad
Gujarat Titans won by 55 runs
Wednesday 26th April
Royal Challengers Bangalore v Kolkata Knight Riders – Bengaluru
Kolkata Knight Riders won by 21 runs
Thursday 27th April
Rajasthan Royals v Chennai Super Kings – Jaipur
Rajasthan Royals won by 32 runs
Friday 28th April
Punjab Kings v Lucknow Super Giants – Mohali
Lucknow Super Giants won by 56 runs
Saturday 29th April
Kolkata Knight Riders v Gujarat Titans – Kolkata

Gujarat Titans won by seven wickets
Delhi Capitals v Sunrisers Hyderabad – Delhi
Sunrisers Hyderabad won by 9 runs
Sunday 30th April
Chennai Super Kings v Punjab Kings – Chennai

Punjab Kings won by four wickets
Mumbai Indians v Rajasthan Royals – Mumbai
Mumbai Indians won by six wickets
Monday 1st May
Lucknow Super Giants v Royal Challengers Bangalore – Lucknow
Royal Challengers Bangalore won by 18 runs
Tuesday 2nd May
Gujarat Titans v Delhi Capitals – Ahmedabad
Delhi Capitals won by 5 runs
Wednesday 3rd May
Lucknow Super Giants v Chennai Super Kings – Lucknow

No Result
Punjab Kings v Mumbai Indians – Mohali
Mumbai Indians won by six wickets
Thursday 4th May

Sunrisers Hyderabad v Kolkata Knight Riders – Hyderabad
Kolkata Knight Riders won by 5 runs
Friday 5th May
Rajasthan Royals v Gujarat Titans – Jaipur
Gujarat Titans won by nine wickets
Saturday 6th May
Chennai Super Kings v Mumbai Indians – Chennai

Chennai Super Kings won by six wickets
Delhi Capitals v Royal Challengers Bangalore – Delhi
Delhi Capitals won by seven wickets
Sunday 7th May
Gujarat Titans v Lucknow Super Giants – Ahmedabad

Gujarat Titans won by 56 runs
Rajasthan Royals v Sunrisers Hyderabad – Jaipur
Sunrisers Hyderabad won by four wickets
Monday 8th May
Kolkata Knight Riders v Punjab Kings – Kolkata
Kolkata Knight Riders won by five wickets
Tuesday 9th May
Mumbai Indians v Royal Challengers Bangalore – Mumbai
Mumbai Indians won by six wickets
Wednesday 10th May
Chennai Super Kings v Delhi Capitals – Chennai
Chennai Super Kings won by 27 runs
Thursday 11th May
Kolkata Knight Riders v Rajasthan Royals – Kolkata
Rajasthan Royals won by nine wickets
Friday 12th May
Mumbai Indians v Gujarat Titans – Mumbai
Mumbai Indians won by 27 runs
Saturday 13th May
Sunrisers Hyderabad v Lucknow Super Giants – Hyderabad

Lucknow Super Giants won by seven wickets
Delhi Capitals v Punjab Kings – Delhi

Punjab Kings won by 31 runs
Sunday 14th May
Rajasthan Royals v Royal Challengers Bangalore – Jaipur

Royal Challengers Bangalore won by 112 runs
Chennai Super Kings v Kolkata Knight Riders – Chennai
Kolkata Knight Riders won by six wickets
Monday 15th May
Gujarat Titans v Sunrisers Hyderabad – Ahmedabad
Gujarat Titans won by 34 runs
Tuesday 16th May
Lucknow Super Giants v Mumbai Indians – Lucknow
Lucknow Super Giants won by 5 runs
Wednesday 17th May
Punjab Kings v Delhi Capitals – Dharamshala
Delhi Capitals won by 15 runs
Thursday 18th May
Sunrisers Hyderabad v Royal Challengers Bangalore – Hyderabad
Royal Challengers Bangalore won by eight wickets
Friday 19th May
Punjab Kings v Rajasthan Royals – Dharamshala
Rajasthan Royals won by four wickets
Saturday 20th May
Delhi Capitals v Chennai Super Kings – Delhi

Chennai Super Kings won by 77 runs
Kolkata Knight Riders v Lucknow Super Giants – Kolkata
Lucknow Super Giants won by 1 run
Sunday 20th May
Mumbai Indians v Sunrisers Hyderabad – Mumbai

Mumbai Indians won by eight wickets
Royal Challengers Bangalore v Gujarat Titans – Bengaluru
Gujarat Titans won by six wickets
Tuesday 23rd May
Gujarat Titans v Chennai Super Kings – Chennai

Chennai Super Kings won by 15 runs
Wednesday 24th May
Lucknow Super Giants v Mumbai Indians – Chennai

Mumbai Indians won by 81 runs
Friday 26th May
Gujarat Titans v Mumbai Indians – Ahmedabad

Gujarat Titans won by 62 runs
Sunday 28th May (Played on reserve day of Monday 29th May due to rain)
Chennai Super Kings v Gujarat Titans – Ahmedabad

Chennai Super Kings won by five wickets (DLS)