May 03, 2023 4:25 PM

Trystan Pugh
50 not out! How Erling Haaland has reached a half-century of goals this season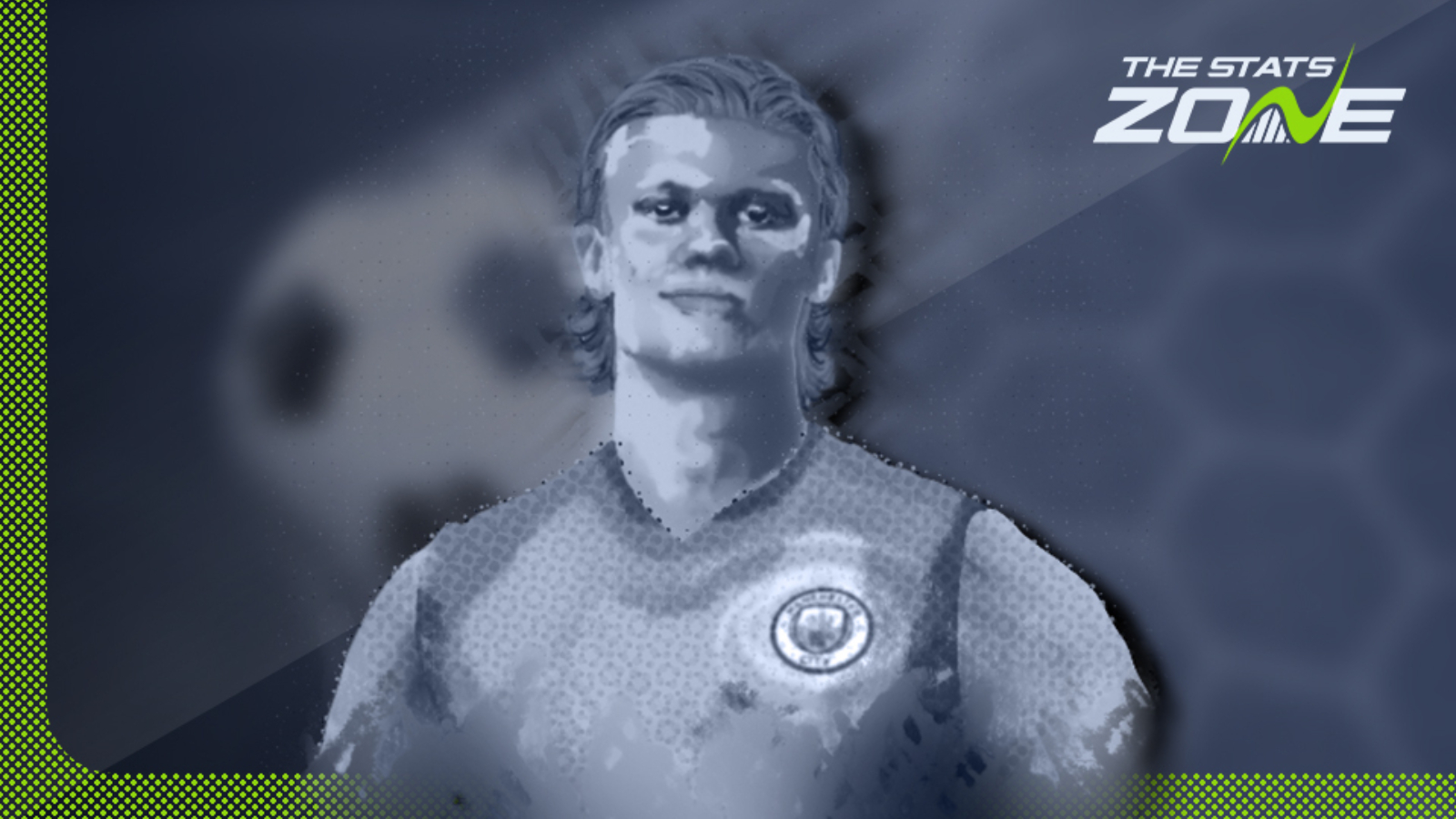 Erling Haaland's third-minute penalty against Fulham on Sunday was a historic goal for the Norwegian as it saw him reach 50 goals in all competitions in what is turning out to be a phenomenal debut season at Man City. With Pep Guardiola's side still fighting on three fronts, Haaland will have several more opportunities to add to this tally before the end of the season, but we've taken a deep dive into how the 22-year-old has scored those 50 goals.
BY COMPETITION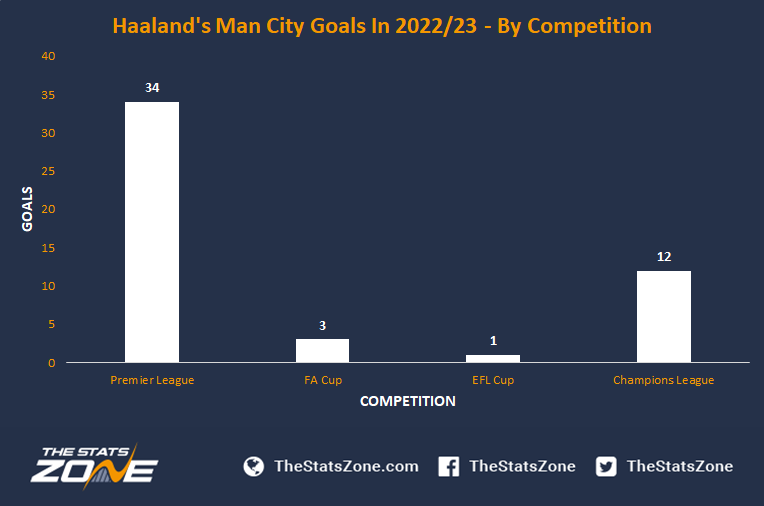 It will come as no surprise that the majority of Erling Haaland's goals scored during the 2022/23 season have occurred in the Premier League. The Norwegian international has notched 34 PL goals to date, accounting for 68% of his total goals.
Haaland is also enjoying an excellent season in the UEFA Champions League with 12 efforts so far which equates to 24% of his goals for the campaign.
BY PITCH AREA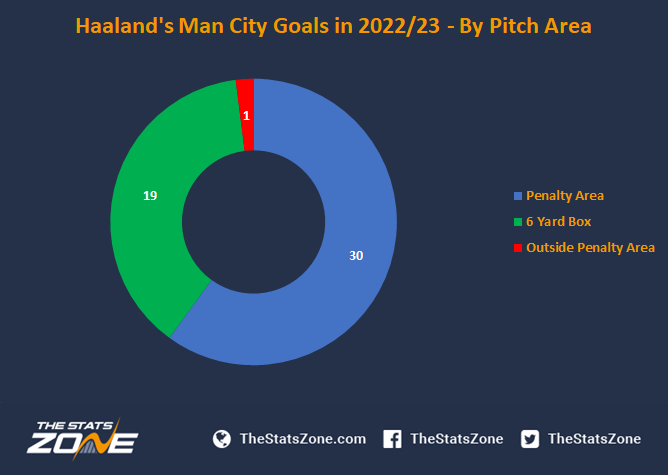 Haaland has shown his prowess in the box and while there is more to his game than being a stereotypical 'poacher', the majority of his goals have occurred in the penalty area.
30 goals have been scored within the penalty area (not including 6 yard box goals) and 19 have been notched in the 6 yard box (38%), while he has managed to score just one goal (2%) from outside the area.
BY METHOD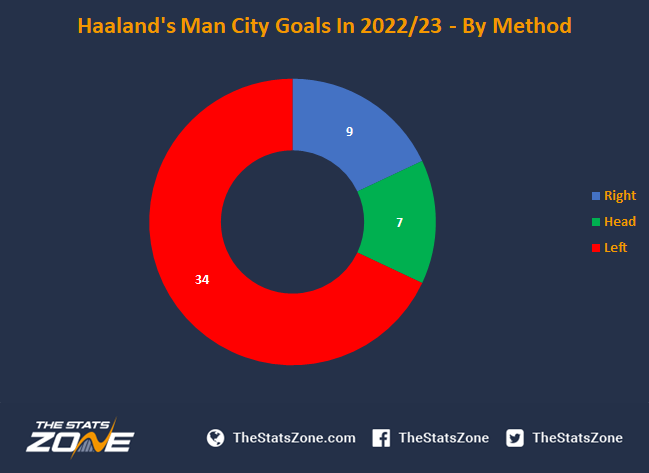 Haaland has shown he is capable of finding the back of the net via a variety of methods but he clearly prefers his left foot with 34 strikes (68%).
He has also used his right when required with nine (18%) while he has shown his quality in the air too with seven headed goals (14%).
BY GOAL TYPE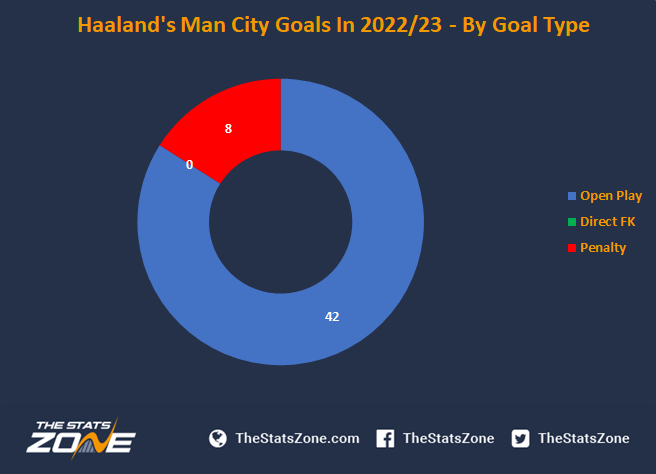 Due to his all-round quality, Haaland has largely been utilised as Man City's penalty taker this season with eight of his goals coming from the spot (16%).
He has yet to score from a direct free-kick with City's squad littered with talent at dead ball situations while 42 of his goals have come in open play (84%).
BY HALF
In a fairly unique situation, Haaland's goals have occurred in an even split between the first half and second half of matches with 25 strikes in both the first and second half.
Man City have not contested a match this season that required extra-time but they remain in the FA Cup and UEFA Champions League, which could open the door for this.
BY MINUTE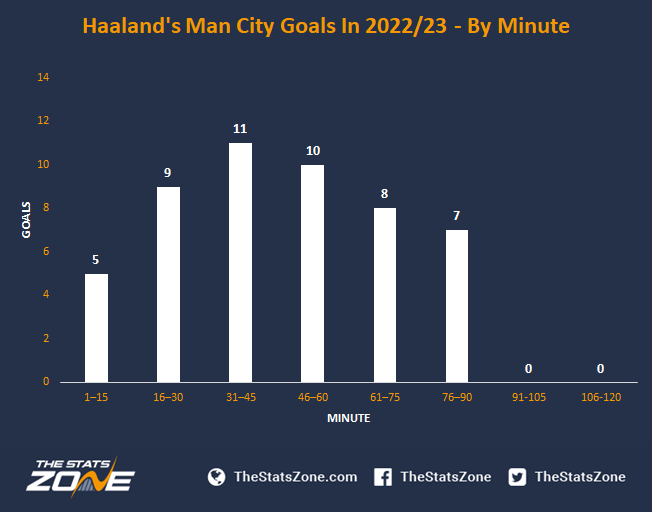 With Pep Guardiola tending to withdraw his star striker when a game is won, it is perhaps unsurprising that the Norwegian has scored just seven goals in the final 15 minutes of matches (14%).
Haaland's fewest goals occur in the opening 15 minutes where teams perhaps try to limit City and that has seen him score on just five occasions in that period (10%), while his most dangerous period is the 15 minutes leading into the break with 11 efforts in that time (22%).
TEAMS SCORED AGAINST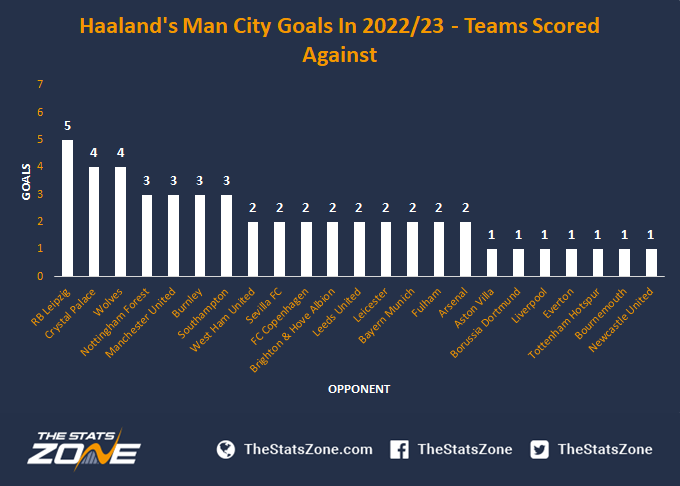 Crystal Palace and Wolves have been Haaland's favourite opponents in the PL this season with him managing to find the back of the net on four occasions against each side.
German side RB Leipzig will be glad to see the back of the behemoth with Haaland bagging five times against them in their two UCL clashes, all of those coming in the same game. They are the side which the Norwegian has found the back of the net on more occasions than anyone else so far this season.
TOP ASSISTERS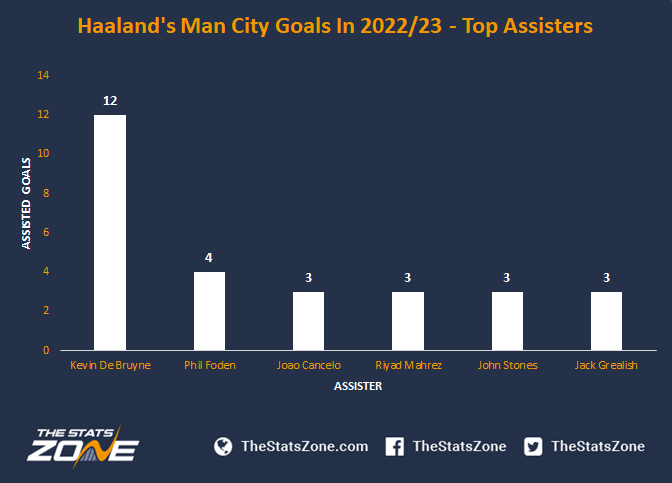 Haaland has perhaps shown his individual prowess by scoring 16 goals without being assisted (32%). Some of those of course came from the spot but it demonstrates that Haaland is also able to pounce on loose balls and errors, as well as creating goalscoring opportunities for himself.
In terms of Haaland's teammates, there is clear chemistry with Kevin De Bruyne with the Belgian assisting an incredible 12 of the striker's goals (24%), which is at least eight more than any other teammate.