FPL Gameweek 12 – Captain Picks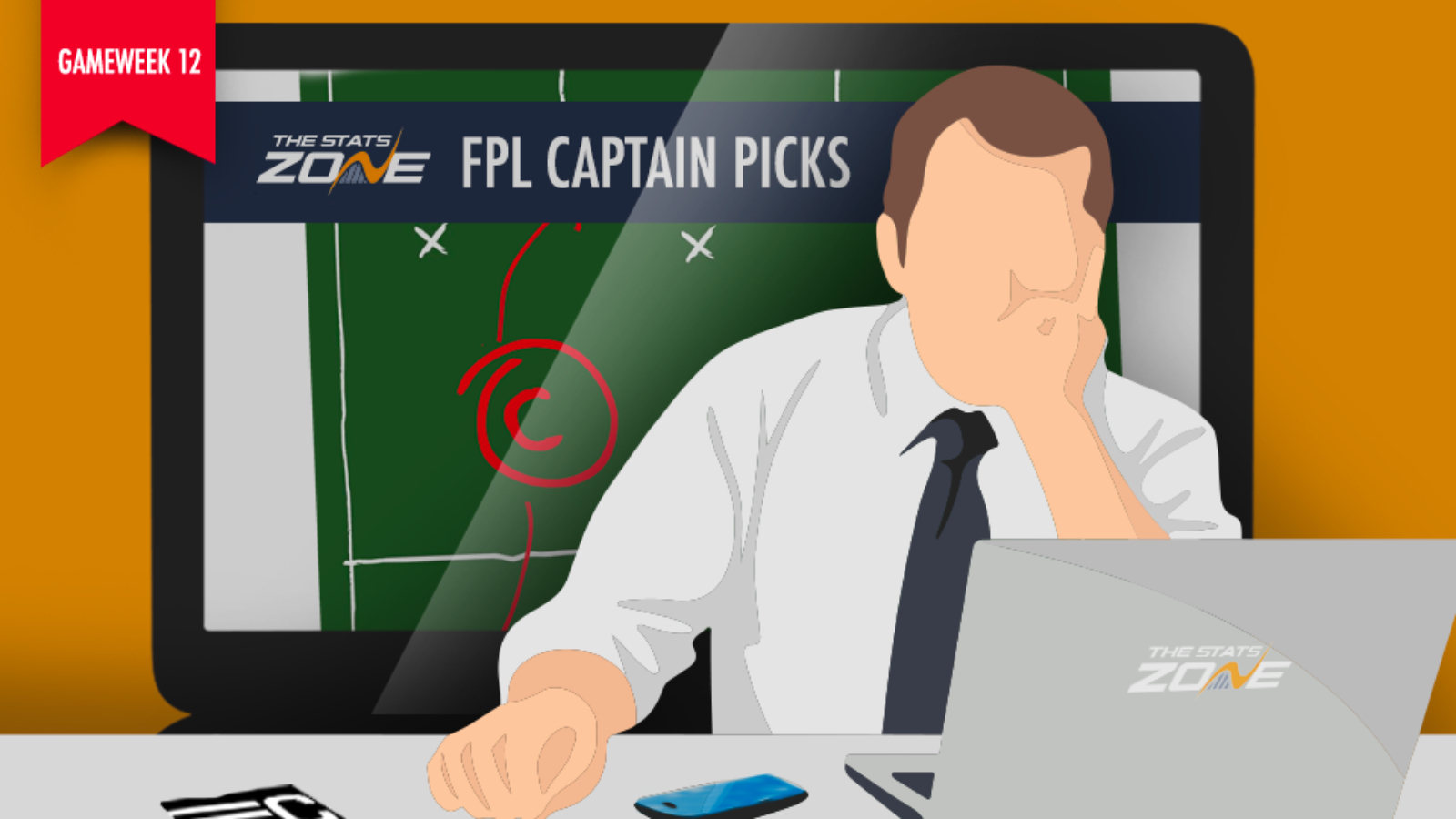 There can only be one place to start this week and that's with a quick boast about Sheffield Utd's John Lundstram (£4.8m), who added yet another chapter to what will soon become FPL folklore. Two goals, a clean sheet and three bonus points meant the once £4.0m defender now sits as the joint FIFTH highest FPL scorer alongside Sergio Aguero (£12.0m). Who'd have thought back in Gameweek 1 that after 11 gameweeks, the cheapest defender in the game would have scored the same amount of points as the most expensive forward? There's a beautiful sort of symmetry in that. For those readers of our GW11 captain picks article, you'll have seen Lundstram selected as our differential captain, something we're sure you'll forgive is fairly brag-worthy.
In fact, other than Harry Kane (£10.8m) being struck down with a case of the 'who knows', it was a fairly successful week on the TSZ captain polls. Sadio Mane (£12.0m) scored 12 points for the second time in four gameweeks, while Tammy Abraham (£7.9m) continued his goalscoring ways against Watford. Even Aguero got a start and rewarded Pep's show of faith with a goal against Southampton.
With that warm, fuzzy feeling of a job well done, let's look ahead to GW12 and show that last week was no fluke. Although still good options for this gameweek, assets from Man City and Liverpool players will be ignored for the purpose of this week's piece. Instead a few captain options picked from the other 18 sides will be discussed ahead of Friday's 7.00pm deadline.
*For those FPL managers still looking at Man City and Liverpool players, this handy tweet summarises the main stats.
PREMIUM OPTIONS
Jamie Vardy (£9.4m) vs ARS (H)
What more can be said about Jamie Vardy (£9.4m) and the benefits of owning him? Since Brendan Rodgers was appointed Leicester manager, Vardy has scored 20 goals and 163 FPL points in 22 matches. Projected over a 38-game season, this equates to 282 points, which to put into perspective is just 21 points less than Salah scored in his record-breaking 2017-18 season. Given that Salah is listed as a midfielder and therefore gets an extra point for each goal scored in addition to a single point for every clean sheet, it gives some perspective as to just how incredible Vardy's recent performances have been.
Salah had the advantage of 5⃣ points per goal and 1⃣ point for each clean sheet 🥅

Hypothetically, if Vardy was listed as a midfielder over that time period:

Combined:🅿️ 22 ⚽️ 20 🅰️ 4 🥅 7 - 190pts

Extrapolated over 3⃣8⃣ matches = 328pts 📈

Vardy essential?? 🤔

(2/2)

— Timothy Blackwell (@dr_t_blackwell) November 5, 2019
Having not blanked in his last three gameweeks, Vardy will look to keep his streak going in a home match against Arsenal on Saturday. As it currently stands, Vardy's record against the Gunner's reads eight goals in eight appearances, while in the equivalent fixture last season the Leicester forward netted a brace and 13 points for his FPL managers. Who would bet against the same outcome in this season's match?
Tammy Abraham (£7.9m) vs CRY (H)
The gift that just keeps on giving, Tammy Abraham (£7.9m) scored his ninth goal of the campaign in Gameweek 11 when Chelsea travelled to Watford. Abraham has not only proven his reliability through the opening 11 matches - securing attacking returns in six of them - but also his explosive potential. With four scores of 12 points or more, he is undoubtedly a strong armband contender.
Surprised to see so many (C) Vardy vs Arsenal?

Digging Abraham vs CPL (H) personally. #FPL #GW12

— Hamish (@FPL_NZ) November 4, 2019
Following their 4-0 defeat in GW1, Chelsea have now scored in 10 consecutive league fixtures. Gameweek 12 will see Crystal Palace become the latest side to try and halt the attacking prowess of Lampard's squad. Although defensively sound under Hodgson, Palace do not have the greatest away record. As it stands, Palace have kept just just two clean sheets in 14 Premier League away games in 2019. They also only have two away clean sheets against the 'Big Six' sides in the last six years.
With just 2 clean sheets in 14 PL away games in 2019 for Crystal Palace, along with just 2 clean sheets away against top 6 sides in the last 6 years, can Tammy Abraham improve his goal tally and become a viable captain choice at Home this weekend?#FPL #FPLCommunity

— Andrew Gower (@goweramg) November 5, 2019
Marcus Rashford (£8.5m) vs BHA (H)
Although not a name that jumps off the page, Marcus Rashford (£8.5m) has been remarkably consistent so far this season. Only against Crystal Palace (H) and Southampton (a) in GW3 and GW4 has the Man Utd forward failed to secure attacking returns in back-to-back gameweeks. It should be noted that a missed penalty in the match against Palace helped contribute to the 'lean patch'. In fact, the match against Palace is the only time this season where Rashford has failed to net either a goal or an assist in front of the Old Trafford faithful.
Marcus Rashford has averaged 4 shots per game in the PL this season when Anthony Martial has started, compared to 2.6 when the Frenchman is absent.

Both start again today. 🔥 pic.twitter.com/PoyDCRxO84

— Statman Dave (@StatmanDave) November 2, 2019
Up next for Man Utd is a match against Brighton at Old Trafford. Rashford scored in what was a 2-1 victory for Man Utd in the equivalent fixture last season. So far this season, Brighton have been fairly good defensively away from home, having kept two clean sheets against Watford and Newcastle. That said there will be chances for Man Utd as Brighton are currently conceding an average of 17 shots per match away from home – the fourth worst in the league.
Harry Kane (£10.8m) vs SHU (H)
Harry Kane's (£10.8m) absence was felt during Gameweek 11 as Spurs stumbled to a 1-1 draw away to Everton. With Kane's omission attributed to illness as opposed to injury, the Spurs frontman should be back in the starting line-up by the time 3pm rolls around on Saturday.
Given the contrasting form of Tottenham and Sheffield Utd, the idea of placing the armband on the England captain may, at first, appear a little foolhardy. Spurs have been a shadow of the team they were last season while Sheffield Utd currently boasts the joint-best defence in the league. However Kane's record against promoted sides is good enough to overlook the potential pitfalls around selecting him as captain. Since the start of 2014-15, Spurs' No. 9 has scored 30 goals in 28 matches against teams who have came up from the Championship the previous season.
@FPLFamily Also a Spurs fan, I'm considering bringing back Kane for this GW ahead of the Sheffield Utd match and possibly captain. What's Sam's thoughts, will she captain him? I'll be there, so nice to have a Spurs asset. Could be Spurs turning point?

— FPL Colonel (@FPL_Colonel) November 6, 2019
DIFFERENTIAL CHOICE
Teemu Pukki (£6.8m) vs WAT (H)
Currently owned by 24.4% of FPL managers, on the surface Teemu Pukki (£6.8m) does not seem like a differential captain option. This ownership however fails to take into account that Pukki has now failed to score in each of his last six gameweeks. During that time, the Finnish international has haemorrhaged over 1.2 million owners and seen his stock amongst the FPL community plummet. And therefore it is for all of these reasons that Pukki is the ideal differential captain for GW12. The majority of active managers have taken him out of their squads and the ones that do own him won't be thinking of placing the armband on him.
The last 5 GWs, Pukki and Jimenez have, respectively:
Goals 0 v 1
xG 1,67 v 1,54
xG(NP) 1,67 v 0,75
Shots 11 v 9
In the box 7 v 8
Assists 0 v 2
xA 0,18 v 1,57

2/4

— FPL Sigurd (@JoremSigurd) October 31, 2019
Norwich have a home match against Watford under the lights on Friday night this weekend. Despite tightening up in recent gameweeks, the Hornets are still winless this season and have yet to keep a clean sheet away from home. Furthermore, they will view the match against Norwich as a must-win. This should lead the side to be slightly more attacking and it is when teams have attacked Norwich this season that Pukki has found space and goals at the other end. Pukki also still boasts a strong home record, scoring five in five at Carrow Road and only blanking in the two previous matches there.