November 30, 2021 4:37 PM

Adam Evans
FPL Gameweek 14 – Team TSZ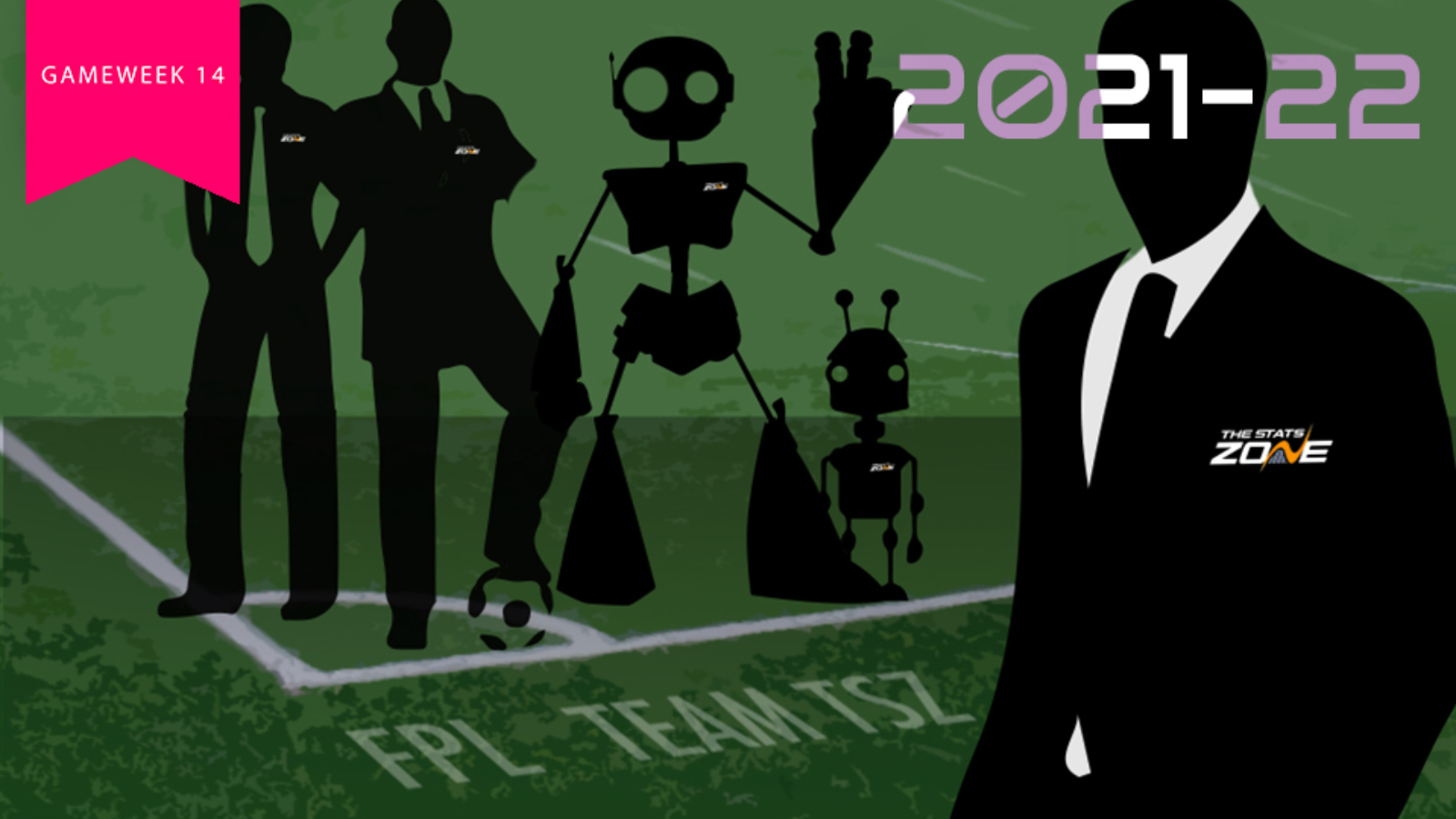 GW points: 50
GW average: 44
GW rank: 2,902,323
Overall rank: 373,097 (▼)
It was yet another red arrow for Team TSZ in Gameweek 13, a weekend unlucky for almost everyone with missed chances and clean sheet wipeouts aplenty. I think there is scope for a new chip in FPL called the 'Final Whistle' where once a season you get to keep the points your players accrued up to the 90th minute and no longer. Manuel Lanzini's goal would no longer exist and you could enjoy Joao Cancelo's sweet sweet clean sheet in peace. Elsewhere, Cristiano Ronaldo came off the bench for a yellow card in a 1-1 draw at Chelsea that caused a rather squeaky argument in the Sky Sports studios and Everton are bad.
I felt for the guys when the Burnley vs Spurs match was called off. Bringing in Maxwell Cornet on a -4 for a postponed match is just one of those things that makes you shake your fist at the sky until you feel silly. FPL is just a game after all but a horribly addictive game that encourages deep, uncomfortable introspection and creates an unhealthy attitude towards fates. Maybe crystals would help? You think, shaking, as you scour the weather forecasts for the next few months.
GAMEWEEK 14 TEAM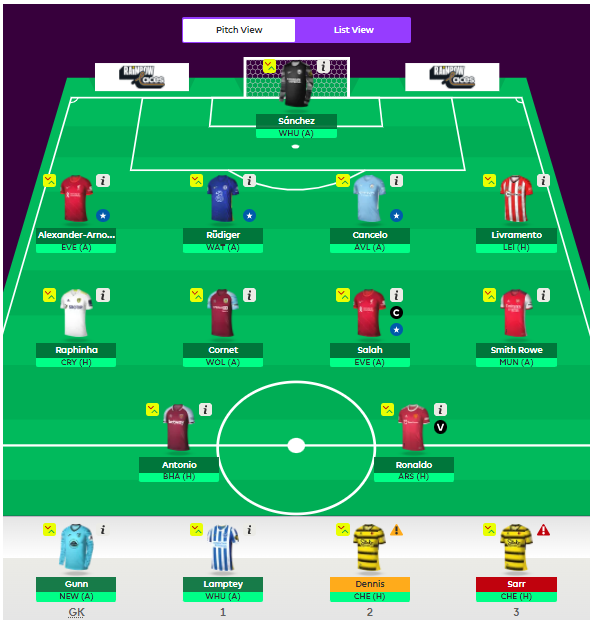 Formation: 4-4-2
Captain: Salah
Vice-captain: Ronaldo
Transfers made: 1 (Duffy > Lamptey)
Point deductions: 0
The obvious choice this week was finding a replacement for Ismaila Sarr who is currently red-flagged and due a surgery but, oddly, still potentially up for selection according to Claudio Ranieri. The obvious names were thrown about by Trystan and Alex: Conor Gallagher, Jarrod Bowen, Said Benrahma... Joelinton, briefly, but Trystan was joking and it was fun to see Alex almost choke over a rebuke. The guys seemed apathetic at best to the choices available, so for the second week running they considered taking a -4 for Diogo Jota. Clearly the wheels are coming off for Team TSZ as they continue to chase points from previous gameweeks instead of planning ahead.
I suggested bringing in Divock Origi for one week only to face his favourite foe in the Merseyside derby. I would genuinely do so if I didn't already have three Liverpool assets because, as aforementioned, Everton are bad. I would do it… I would consider triple captaining him. Imagine if he scored a hat-trick? I'd be famous. There'd be no more Team TSZ articles for the foreseeable future as I'd be off touring the country telling my story to packed theatres. Myself and Divock. We'd bring out a commemorative gin, called Origin.
Can you tell there was little to cover in today's skype call?
"Sometimes after a crap week the best thing you can do is hold" said Alex, putting the -4 button back in the box. Wise words I have never, ever heeded. I don't have a box for my -4 button, perhaps that would help my addiction to transfers? Only if I threw it in the sea. Alex then provided a secret third option in removing Shane Duffy, whose time in the first team appears to be over for now, for Tariq Lamptey as his minutes improve off the back of a long injury lay-off.
Trystan was initially cold to this idea but after a minute of clicking Jota in and out of the team he came around to the idea. The pair then immediately benched him. So all in all, a fair bit of time was wasted.
For the rest of our FPL content, visit our Fantasy section!