May 06, 2022 5:56 PM

Adam Evans
FPL Double Gameweek 36 – Team TSZ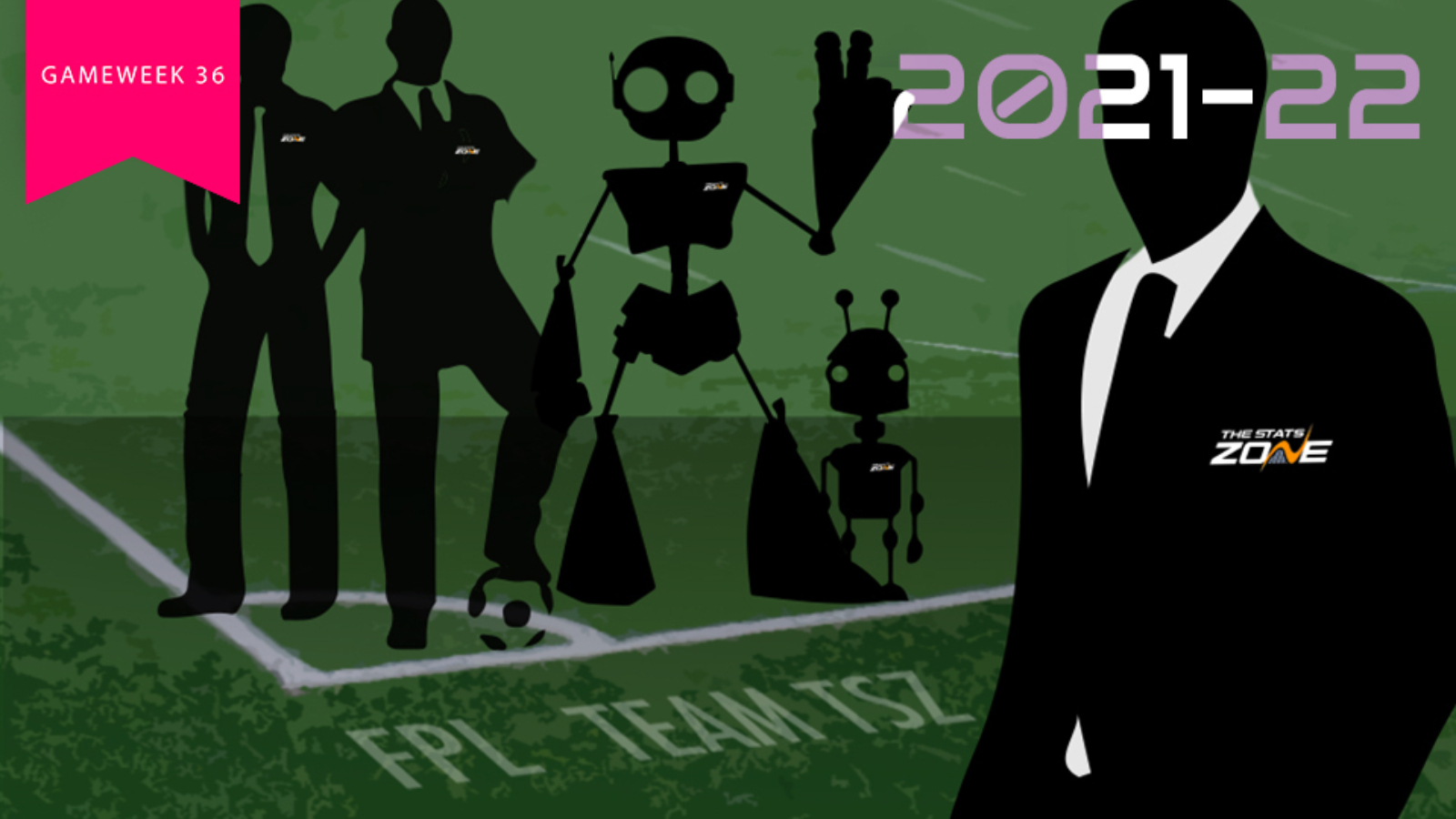 Click here for today's sports betting tips from our expert analysts!
'Team TSZ' is a collective FPL team where tough decisions are made during uncompromising board room meetings. Team TSZ finished a lofty 1390 in its debut year, and followed that up with a respectable 88178 in its second season. we don't talk about the third season. How will the fourth season go? Stay tuned!

'Team TSZ' consists of:
HOW DID WE GET ON IN GAMEWEEK 35?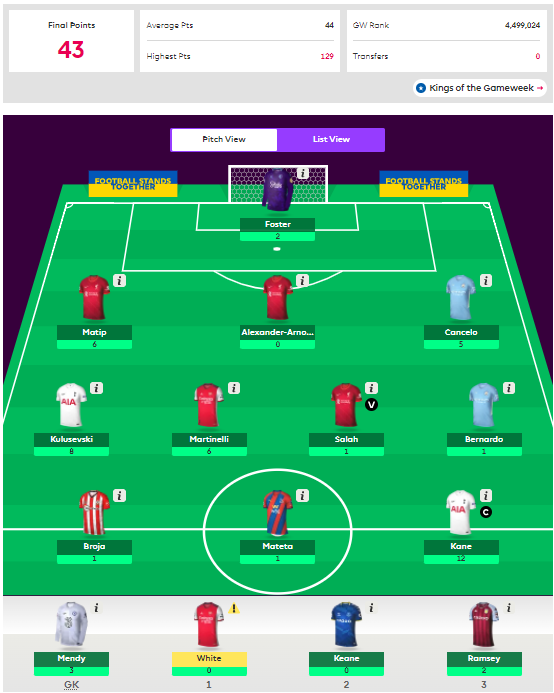 GW points: 43
GW average: 44
GW rank: 4,499,024
Overall rank: 245,960 (▼)
Oh dear! Oh DEAR! Ohhhhh dear… It goes from bad to worse for Team TSZ (which stands for Terrible ScoreZ) as Trystan and Alex earned just 43 points in Gameweek 35. There is some good news, however, as in Gameweek 34 the pair finished outside the top seven million players worldwide and this week they came just inside the top five million. Hashtag gains, etc. Captain Kane came to the rescue with his customary goal against Leicester City but this team screams of desperation with the likes of Jean-Philippe Mateta and Michael Keane looking like wasted moves. The team have two free transfers this week ahead of a Bench Boost but, as most of us know, that particular chip is usually a huge disappointment. Five consecutive red arrows says the season's over anyway.
DOUBLE GAMEWEEK 36 TEAM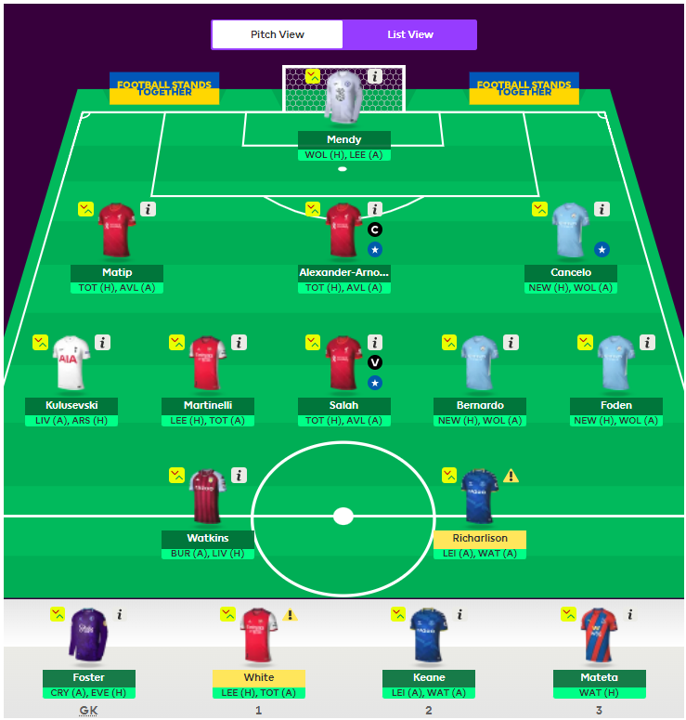 Formation: N/A (Bench Boost)
Captain: Alexander-Arnold
Vice-captain: Salah
Transfers made: 3 (Ramsey > Foden / Kane > Richarlison / Broja > Watkins)
Point deductions: -4
"We're like one of those crappy Football League teams who give you false hope before getting relegated" said Alex, a Wigan fan. Increasingly these calls begin with Alex listing several ways in which the team is worse than last week whilst Trystan sort of stares into space. There's no snooker this week, so I've no idea if he was watching anything other than the hard work and perseverance of another FPL season idssapear into the ether.
"Keane has picked the worst time to not be picked" Alex continued. I'm fairly sure Keane isn't being picked due to all the poor form he was producing on the pitch. Poor form that suggested to Alex two weeks ago that he was due something or other, no doubt.
With two free transfers and limited funds, the first move for Team TSZ was to make some cash by shipping out one of the only players that has returned for them over the last few weeks in Harry Kane. With the Premier League banning all other forwards from scoring goals this season, there were few options to go on other than orange card merchant Richarlison, whose yellow flag gave Trystan the creeps. Alex 'Toffee' Sarwar, on the other hand, was adamant that the Brazilian would start both games in this stacked double gameweek and because there were literally no other options, Trystan agreed.
Players the pair wanted to bring in for their Bench Boost but couldn't afford due to poor planning include (imagine them passing along a conveyor belt whilst a gameshow host says 'here's what you could have won!') Kevin De Bruyne, Heung-Min Son, Luis Diaz, Sadio Mane and many more. After much deliberation, what they have ended up with is Ollie Watkins in for Armando Broja (who will of course now have a blinder) and Phil Foden for Jacob Ramsey. I can't be bothered to go back and check but I seem to recall Foden has come in a few times this season only to shift away again a few weeks later having made no impact whatsoever.

"Ok we do that and we hope that Michael Keane comes into the team" said Alex.
"You can't see but my head is on the table" said a muffled Trystan. Alex hadn't realised he'd disappeared. Trent Alexander-Arnold is captain because captaining Mo Salah would make little difference anymore.
Is FPL good? Do you like it, reader? For me it seems 90% of it is just sighing.
For the rest of our FPL content, visit our Fantasy section!