November 26, 2021 3:56 PM

Adam Evans
FPL Gameweek 13 – Team TSZ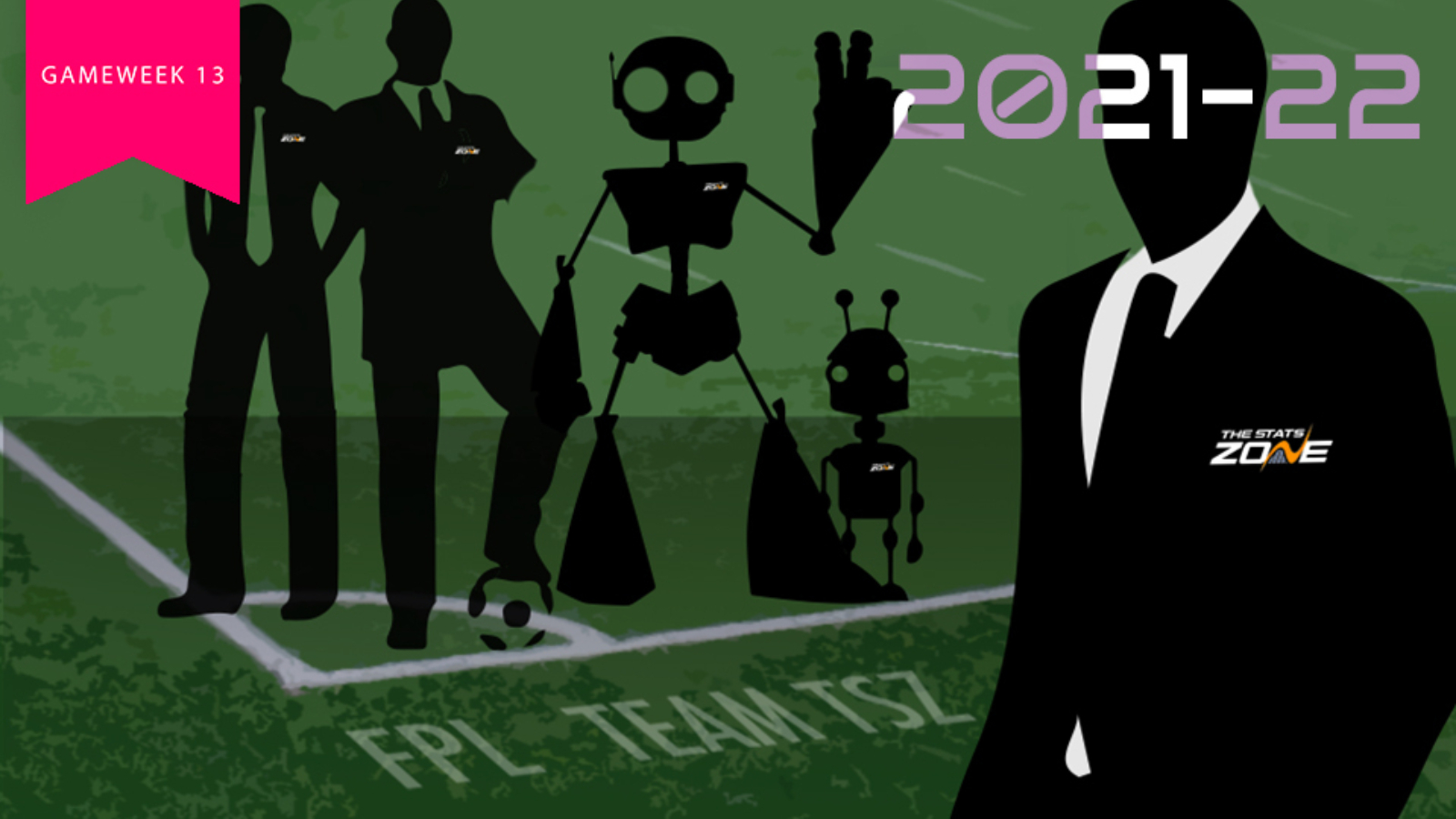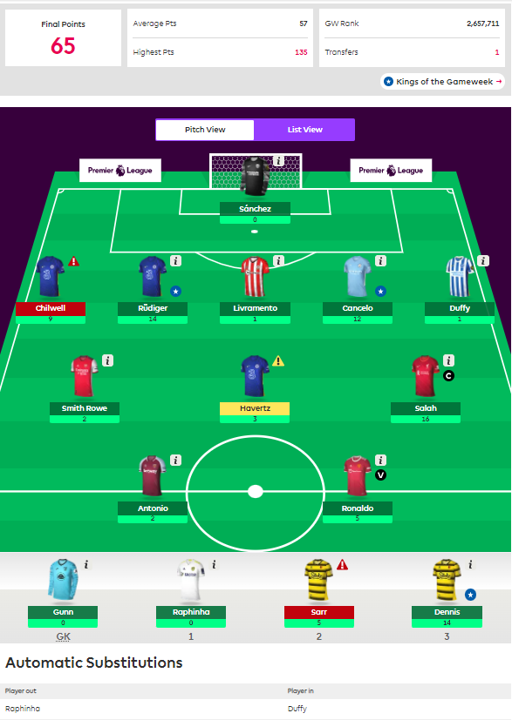 GW points: 65
GW average: 57
GW rank: 2,657,711
Overall rank: 317,016 (▼)
Team TSZ endured another average gameweek and a second-successive red arrow with 65 points gained from a high-scoring weekend. How the mighty have fallen! I yell, from the lofty heights of 97 points* as a gut-wrenching 19 sit wasted on their bench in Watford's Ismaila Sarr and Emmanuel Dennis. The pair helped the Hornets beat a genuinely concerning Manchester United side 4-1 on Saturday and the bell finally tolled (dilly ding, dilly dong) for Ole Gunnar Solskjaer, who according to every pundit that's ever existed, is a really nice guy. A double Chelsea defence paid off with an assist for Ben Chilwell and a goal for Antonio Rudiger, whilst last week's tough decision between Trent Alexander-Arnold and Joao Cancelo mattered little with both players reaching double digits. The right answer to that question, of course, is both.
*for the benefit of the gloat I am redacting the fact that I took a risky -16 hit to do so

GAMEWEEK 13 TEAM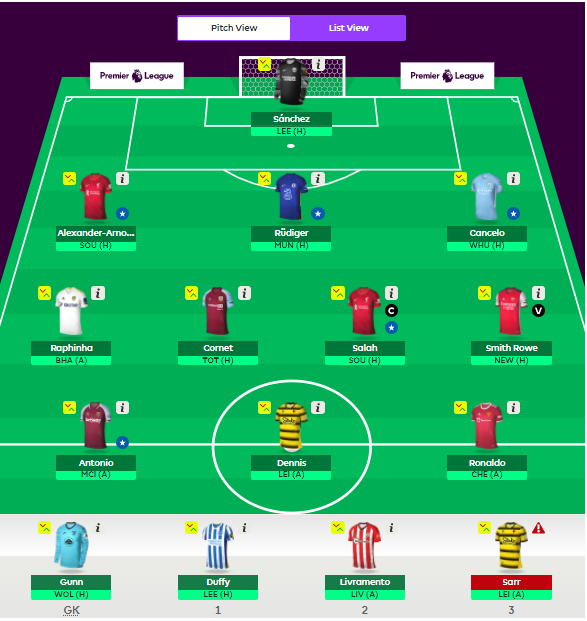 Formation: 3-4-3
Captain: Salah
Vice-captain: Smith-Rowe
Transfers made: 2 (Chilwell > Alexander-Arnold / Havertz > Cornet)
Point deductions: -4
Alex started the call fairly irate this week as he saw Team TSZ's bench for a first time. Apparently the bench was not discussed last week but I can't remember because I was too hungover. For the record, an old friend dropped in from Amsterdam on Thursday night so I had little choice in the matter. Still, it didn't stop me from getting 97 points. If only they had played Sarr and Dennis ahead of Shane Duffy like any sane FPL manager would have done! Trystan blames Alex for not saying something last week, Alex blames Trystan for not bringing it up. I got 97 points.
It was injuries galore this week for Team TSZ, with Chilwell out for at least six weeks with a tear on his ACL sustained in the Champions League this week. It would be a brave, potentially masterful move to bring in Marcos Alonso this week – something I have toyed with but ultimately decided against in favour of Reece James. Not a bad problem to have. However, I fully expect the guys to take a hit finally bringing in Trent this week for Chilwell and getting rid of big-money vacuum Kai Havertz, who will probably still play despite a yellow flag.
"I do wonder if it's minus four time" said Trystan… Alex agreed. I could have written this yesterday.
With Trent safely installed in a backline that now looks suspiciously like mine, and for a -4 at that, I felt pretty pleased in the knowledge that Team TSZ had fallen to my level. Whilst I imagined what it will be like to eventually take over the team after, did I mention, getting 97 points last week, the pair talked through budget names like Conor Gallagher, Maxwell Cornet and Jarrod Bowen. With the boat perhaps missed on Gallagher and Bowen's fixtures not screaming "pick me", Alex provided a convincing argument for bringing in Burnley's new star man that Trystan was clearly too busy to rebuke. Bringing in a Burnley midfielder is a risk, and very far outside Trystan's remit.
Elsewhere, Trystan and Alex briefly entertained talk of a storm coming to a town near you tomorrow but specifically to Anfield. There is plenty of talk on the internet about how this might affect Liverpool's play, and even if it might suspend the game, but not captaining Mo Salah at this point is asking for trouble. I would make fun of the hype surrounding the storm but it does seem exactly the sort of thing that would happen in Fantasy Premier league land. Mo Salah remains the captain nonetheless after his latest exploits in Europe. Perhaps taking a large number of corners in Premier League games tomorrow could be a fun way to offset what the storm might do to FPL.
United assets could be interesting with that new manager bounce, with the Old Trafford board praying that picking a German manager is still the vogue thing to do. Alex has approved this week's bench, Cornet indeed comes in, and the transfer in of Trent in a storm makes way for a rubbish river joke. Lets wait and see if the Liverpool man breaks his banks again this week after back-to-back double-digit hauls.
For the rest of our FPL content, visit our Fantasy section!