September 02, 2021 9:47 PM
Last modified date: May 31, 2022 2:33 PM

Alex Sarwar
The longest unbeaten streaks in international football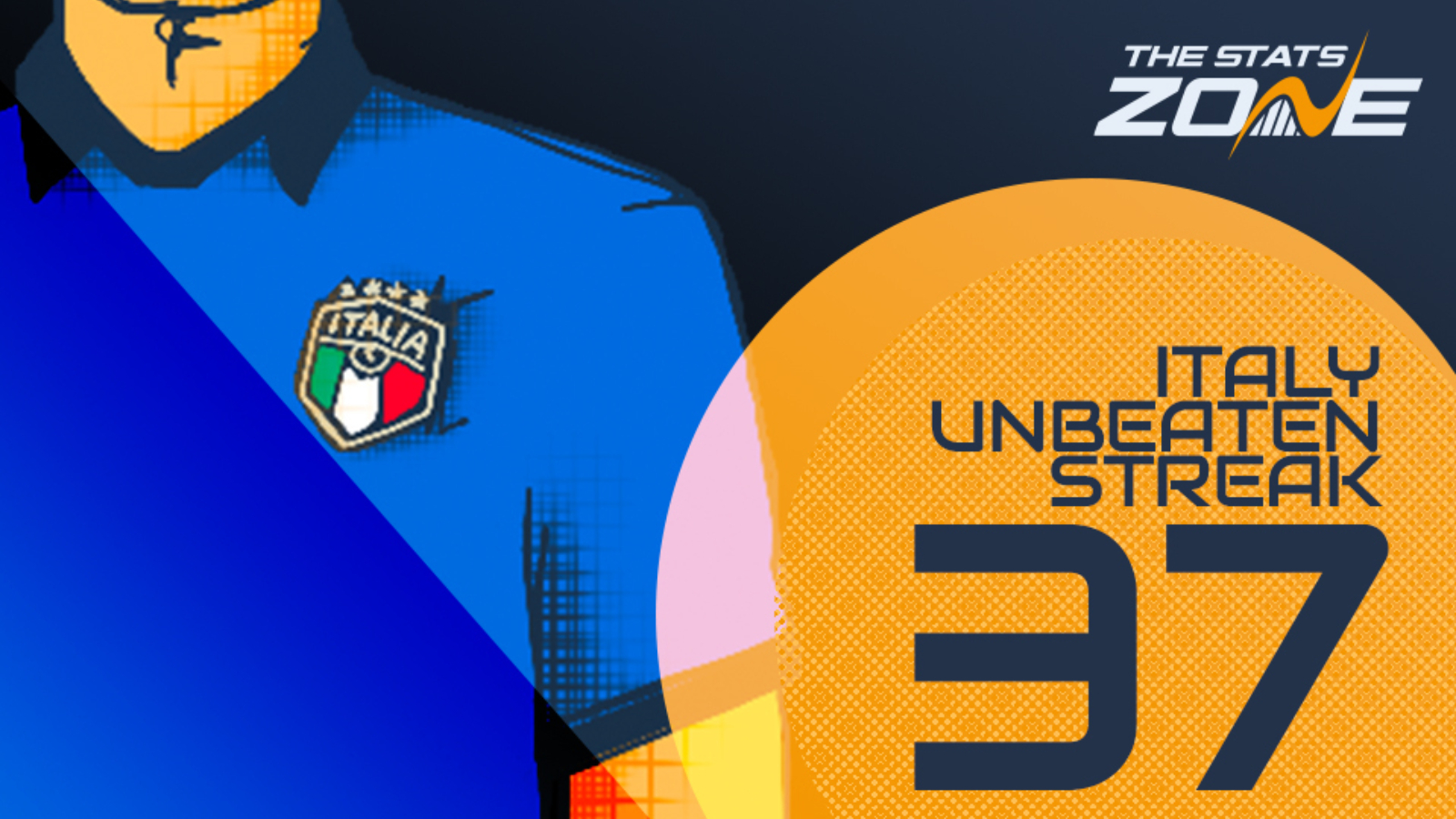 Reigning European champions Italy currently hold the longest unbeaten streak in men's international football history. After beating Lithuania 5-0 on 8th September 2021, the Azzurri were unbeaten in 37 international fixtures, with their streak coming to an end with defeat to Spain in the UEFA Nations League semi-final on 6th October, 2021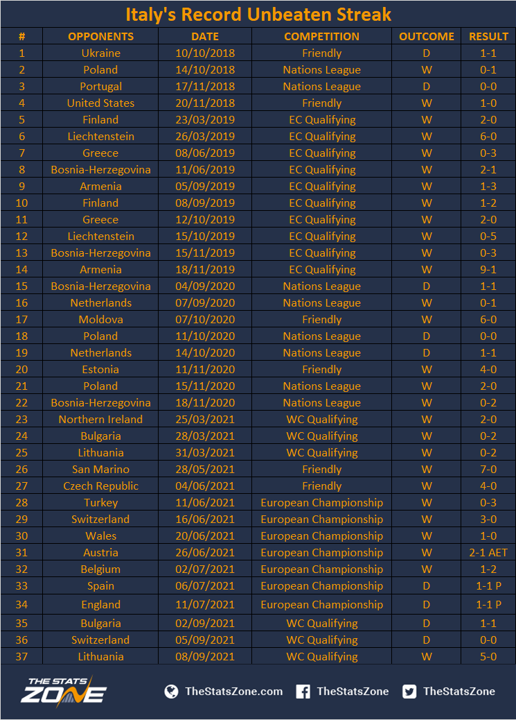 It was a miserable summer of 2018 for Italy having failed to qualify for the World Cup taking place that year. However, having been installed in May, new head coach Roberto Mancini was laying down the foundations for an unforgettable Italian renaissance. Their streak began in October 2018 with an uninspiring 1-1 draw in a friendly against Ukraine. That result turned out to be the first of a 35-match unbeaten run which has spanned the following two years and nearly 11 months. Italy have competed in numerous different competitions over the course of this streak, including World Cup qualification games, the UEFA Nations League and most notably the 2020 European Championships, which took place in 2021 due to the COVID-19 pandemic. Whilst Italy technically drew both the semi-final with Spain and the final against England at Wembley, Mancini men triumphed on each occasion via a penalty shootout, ultimately lifting their first major trophy since the 2006 World Cup.
After Italy reached the magic number of 36 following their stalemate with Switzerland in September 2021, they made it 37 consecutive international games without defeat against Lithuania. Let's examine the six longest unbeaten streaks in men's international football.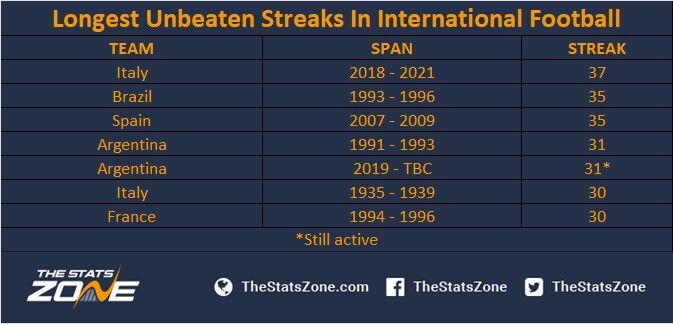 Penalty shootout victories and defeats are classed as draws due to the result being even after normal time / extra time

Italy's 2-1 victory over Austria after extra time in the EURO 2020 round of 16 stage saw their unbeaten streak rise to 31, enough for them to surpass not one, but two standing unbeaten streaks. One being France's 30-match run that spanned from February 1994 to November 1996 and saw Les Blues re-establish themselves as a force in the game after failing to qualify for the 1994 World Cup. However, the 28th match of that unbeaten run saw France beaten on penalties by Czech Republic in the semi-finals of EURO 96 after a 1-1 draw following extra-time. The second streak Italy had overtaken was their own all-time longest unbeaten run in international football, which had stood at 30 games and lasted from 1935 to 1939, a period that saw the Azzurri not only win Gold at the 1936 Olympic games, but also triumph in the 1938 World Cup, successfully retaining the Jules Rimet Trophy they had previously won in 1934.
A 1-2 win against Belgium saw Italy move 32 matches undefeated and saw them surpass Argentina's record of 31 without defeat. A streak that began in 1991 and ended through a 2-1 defeat away to Colombia in August 1993, the South American giants achieved glory in successive Copa America tournaments in their history-making run.

Spain's streak commenced with a 0-1 win against England in February 2007 under the stewardship of Luis Aragones. For the following 28 months La Roja were unbeatable, winning the 2008 European Championship under Aragones before Vicente del Bosque continue the success. Their streak ended on June 2009 through a 1-0 defeat at the hands of United States in the 2009 Confederations Cup semi-final. Brazil's 35-game unbeaten streak began in Koln with a 1-2 victory over Germany in November 1993, ending against Mexico in 1996, by which time the Brazilians had lifted the 1994 World Cup. Like France's 30-match unbeaten run, Brazil's streak also included a penalty shootout defeat, this following a 1-1 draw over Uruguay in the 1995 Copa America final.