March 31, 2023 6:57 PM
Last modified date: May 29, 2023 7:59 PM

Alex Sarwar
A breakdown of Kylian Mbappe's club goals in the 2022/23 season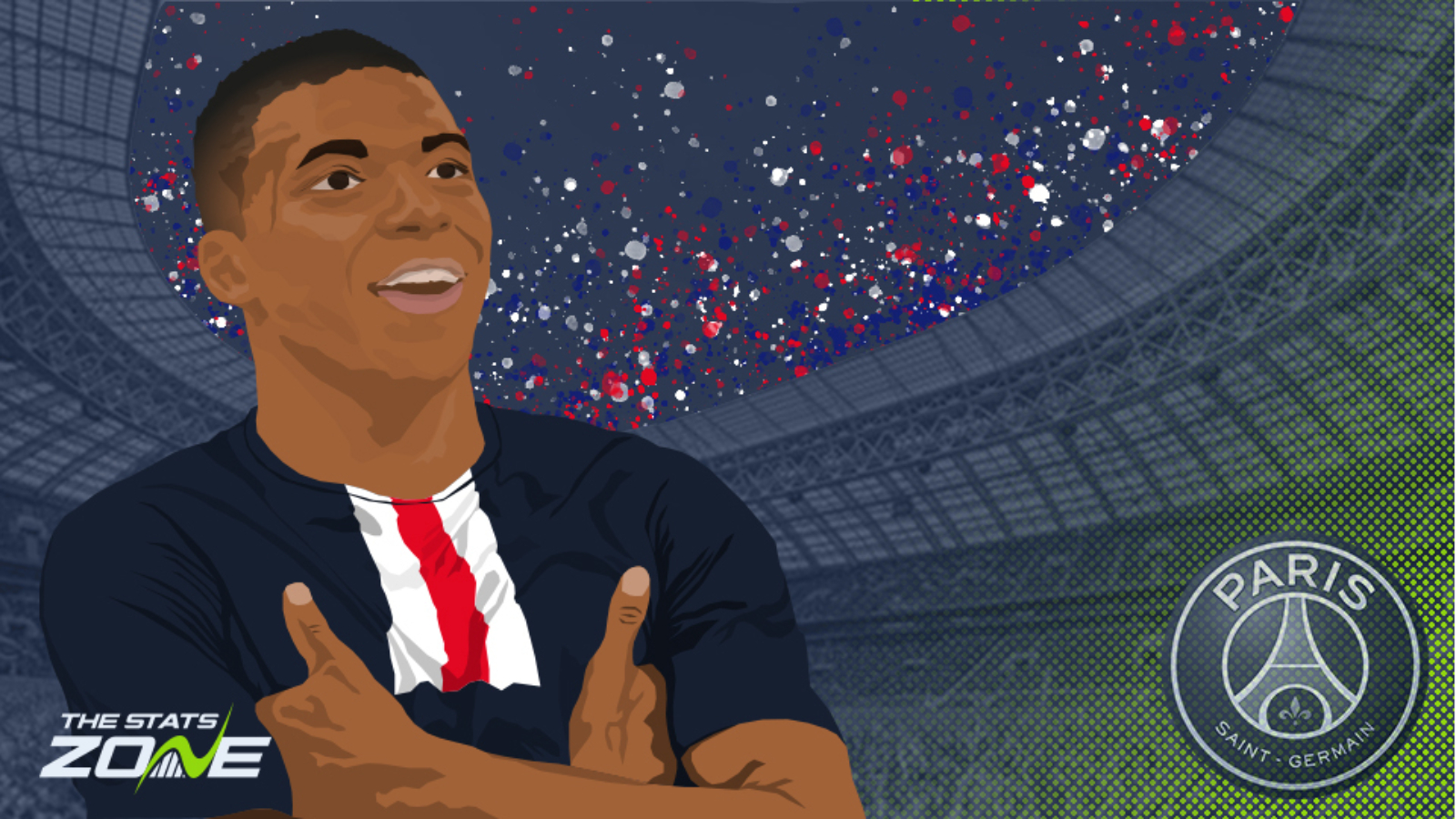 2018 FIFA World Cup winner Kylian Mbappe has lit up the city of Paris with his goals since joining PSG from AS Monaco back in 2017. Earlier this year, Mbappe became PSG's all-time record goalscorer, surpassing fellow striker Edinson Cavani after having scored 201 goals in 247 games in all competitions. Whether it be in domestic or European football, the Parisians know that they can rely on Mbappe for goals against any team in any competition.
The 24-year-old forward has already surpassed the 30-goal mark for PSG in all competitions this season and in this article, we analyse every club goal scored by Mbappe for the French champions this campaign. Beginning with his first Ligue 1 goal of the 2022-23 campaign against Montpellier, we break down all the key details behind Mbappe's goals, updating them as he inevitably continues to add to his goal tally as the season goes on.
Last updated on 29/05/2023
BY COMPETITION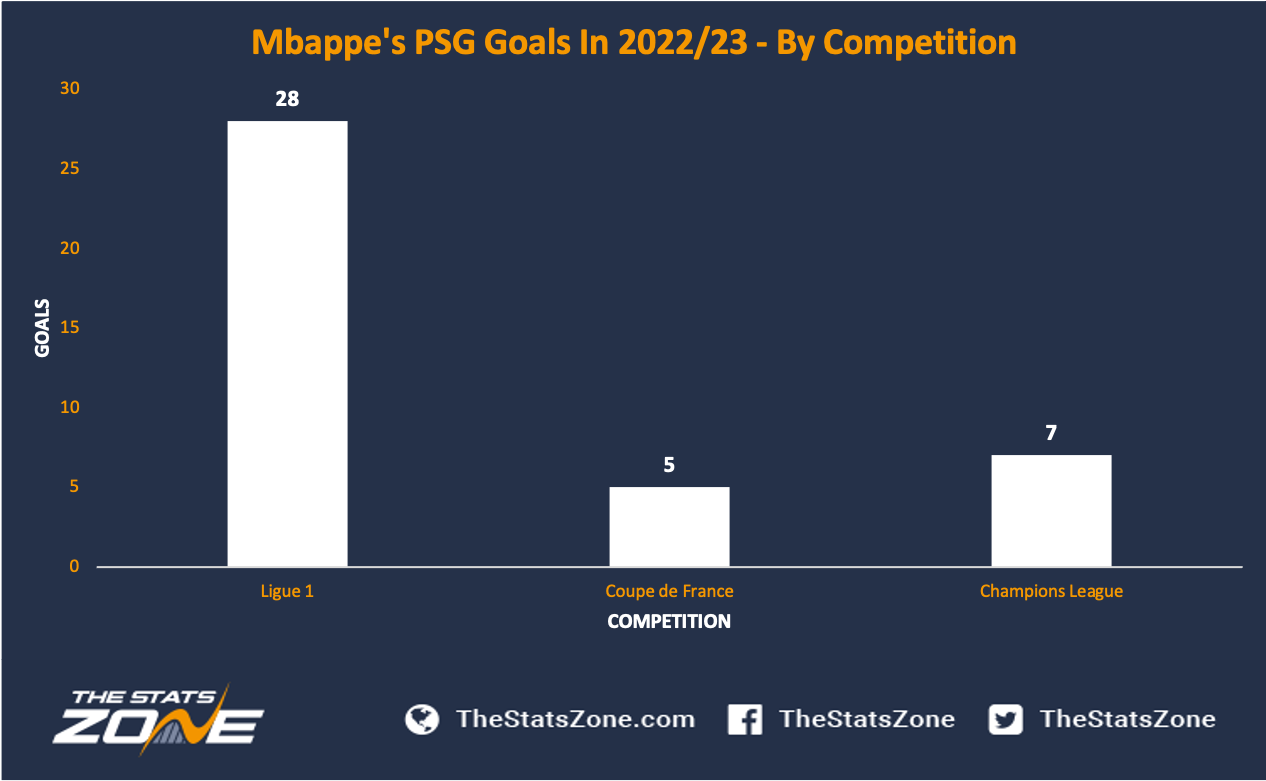 The majority of Kylian Mbappe's goals scored during the 2022-23 season have come in Ligue 1, the France international captain scoring 28 goals (70%) in the top flight of French football.
All five of Mbappe's goals scored in the Coupe de France came in one fixture, that being against sixth-tier side US Pays de Cassel in the round of 32.
BY PITCH AREA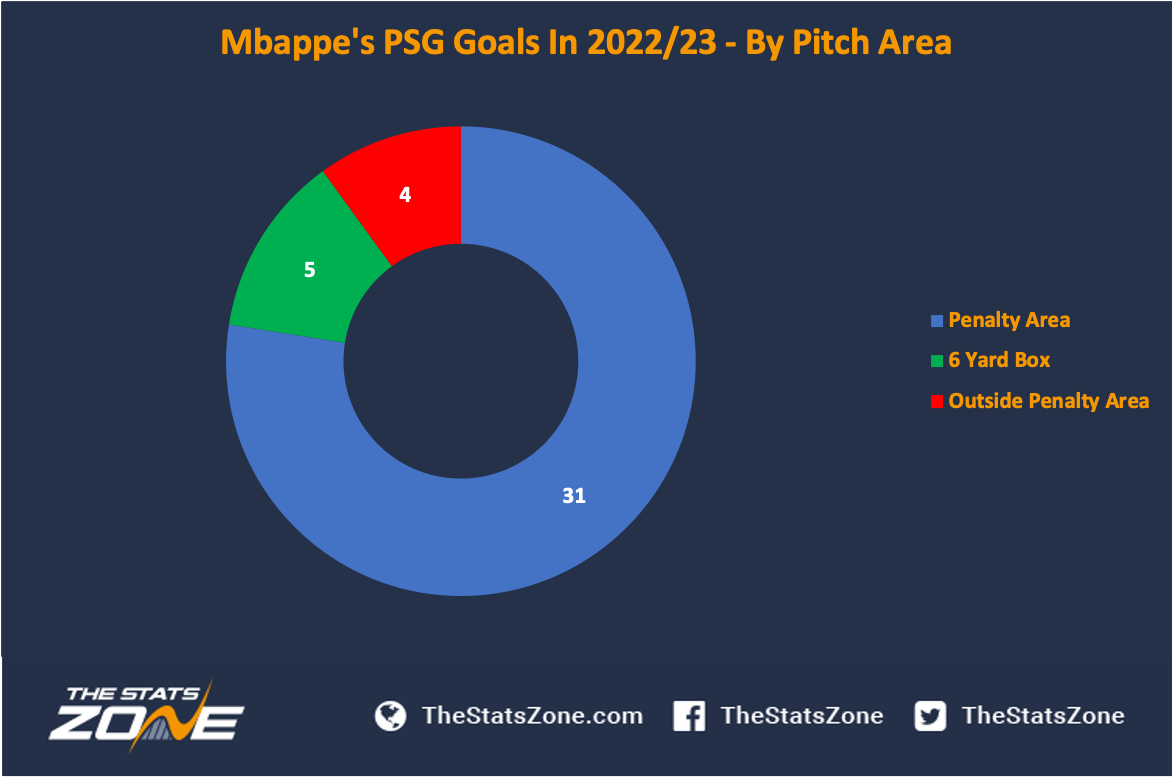 Over 75% of Mbappe's goals have come from within the penalty area, although it should be noted that this does not include goals scored from inside the 6 yard box, which account for an additional five of the Frenchman's goals.

Just four of his goals this season have come from outside the penalty area.



BY METHOD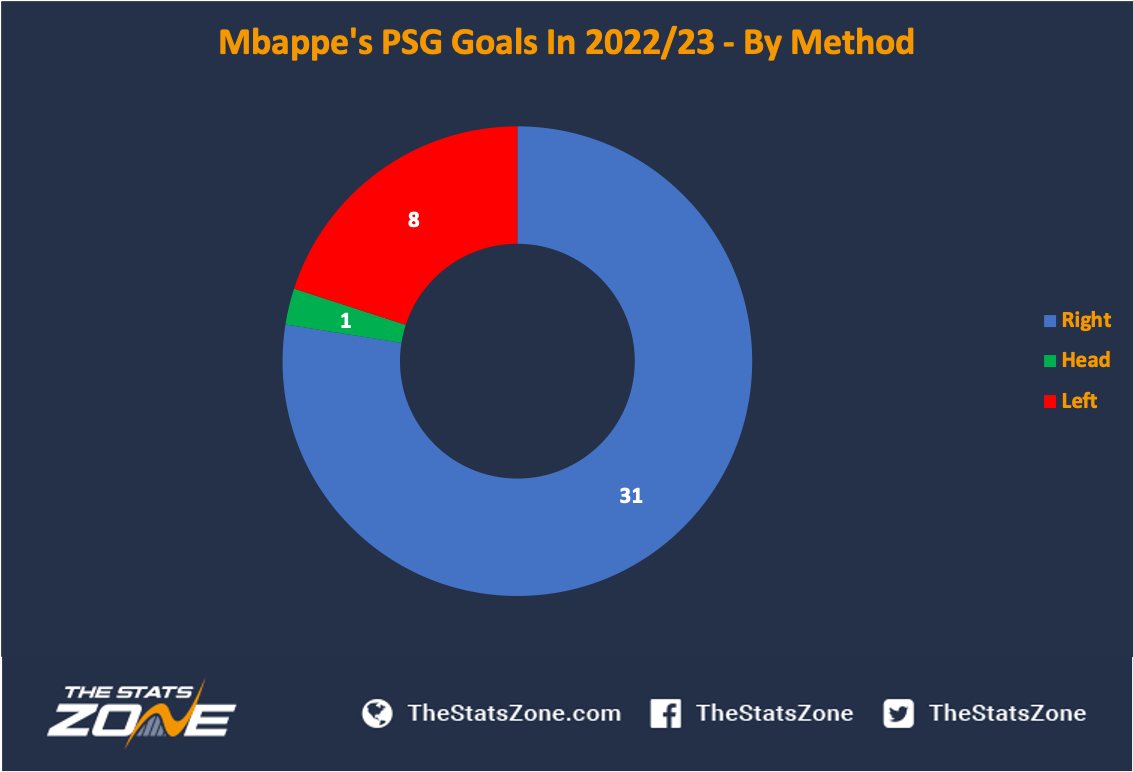 Of Mbappe's 40 goals scored in all competitions so far, 31 (77.5%) came via his right foot.
Mbappe has scored just one headed goal for PSG as it stands this season, with his other eight strikes coming from his left foot.
BY GOAL TYPE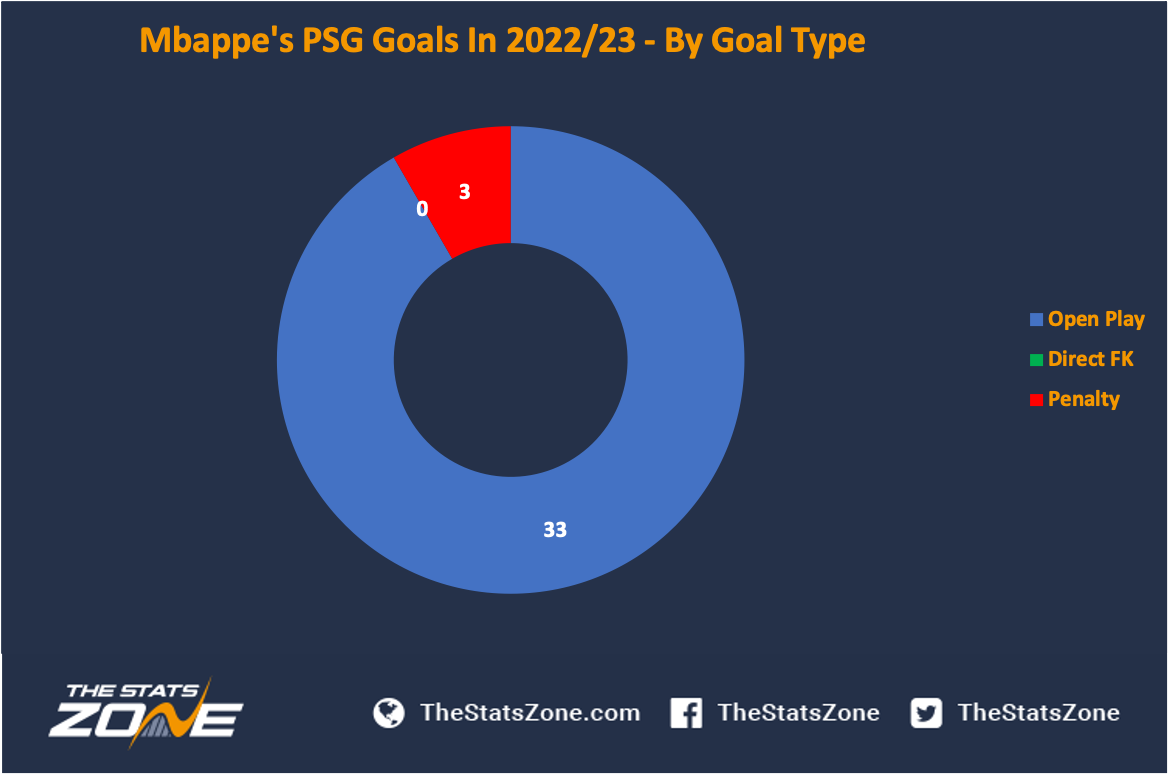 As it stands, only three of Mbappe's 36 goals scored in 2022/23 have come via the penalty spot.
A massive 92.5% of goals scored by Mbappe this season have been through open play, 37 in total.
BY HALF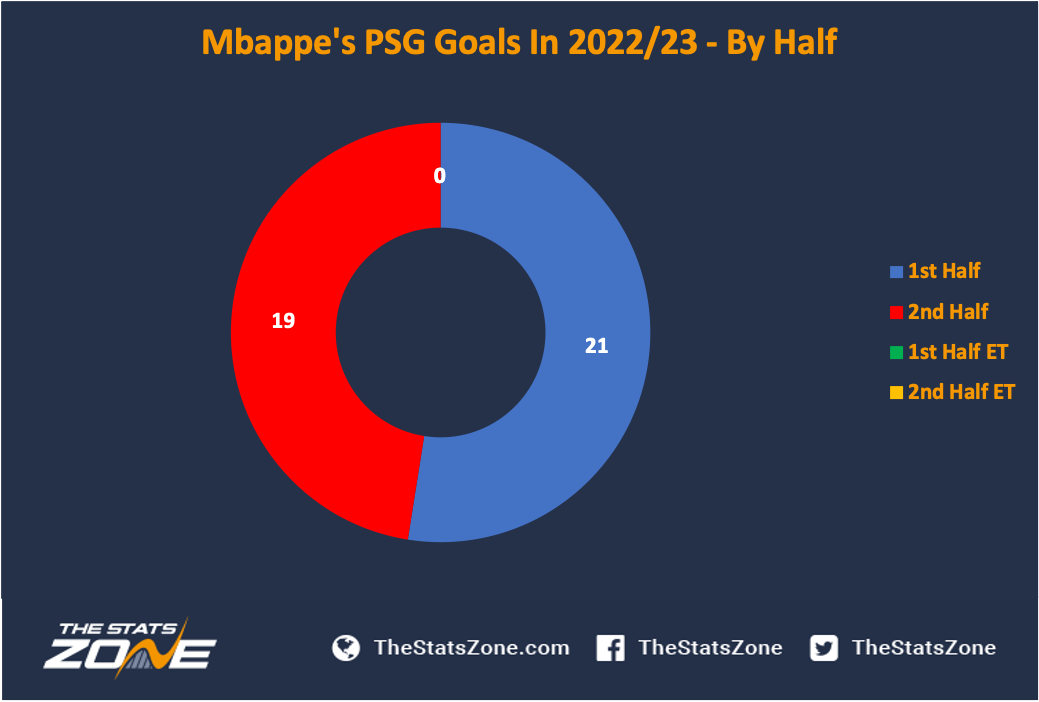 As it stands this season, the PSG forward has accumulated more goals in the first half of games compared to the second half, scoring 21 goals across during the first period, compared to 19 in the second.
PSG have not contested a match this season that required extra-time, and that will continue to be the case for the duration of the campaign.
BY MINUTE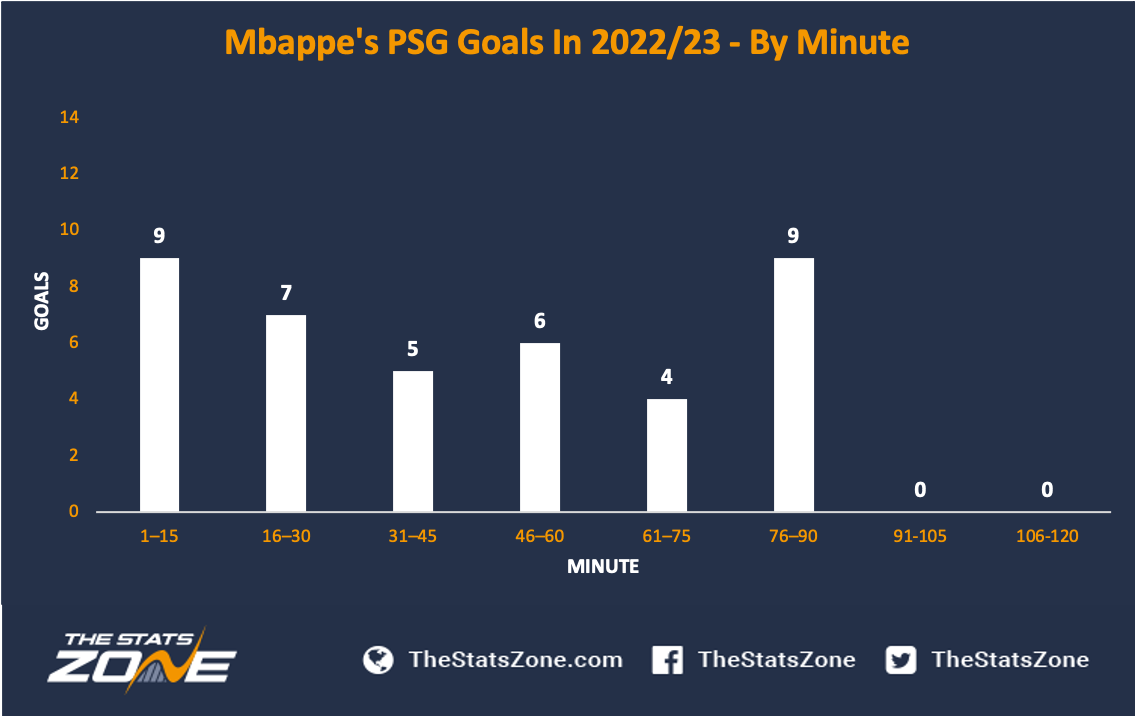 The highest percentage of Mbappe's goals (22.5%) this campaign have been scored equally between minutes 76 to 90 (including injury time) and minutes 1 to 15.
TEAMS SCORED AGAINST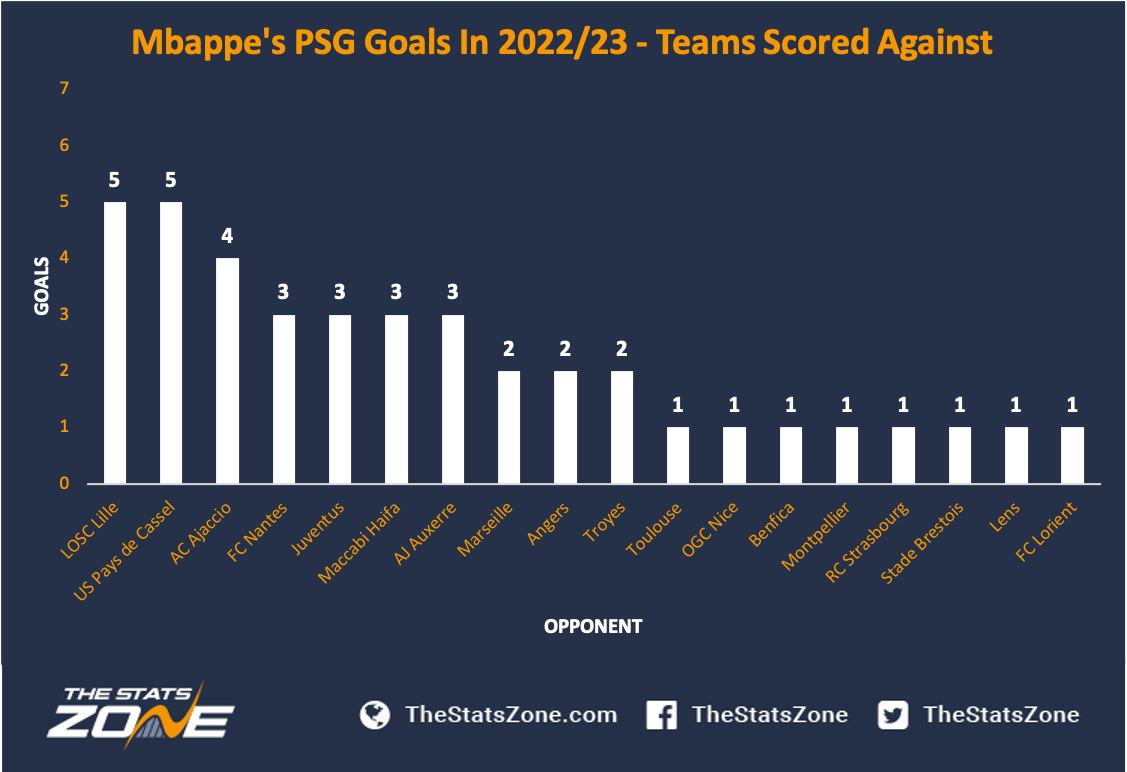 French sixth tier side US Pays de Cassel has conceded the joint most number of goals to Mbappe this season, despite playing against him just once after PSG drew the semi-professional club in the Coupe de France, Mbappe scoring five times in a 0-7 victory.
LOSC Lille have also shipped five Mbappe goals, all of which came in Ligue 1 as the striker netted a hat-trick in Lille last August, before scoring twice against the same opponents at the Parc des Princes this past February.
TOP ASSISTERS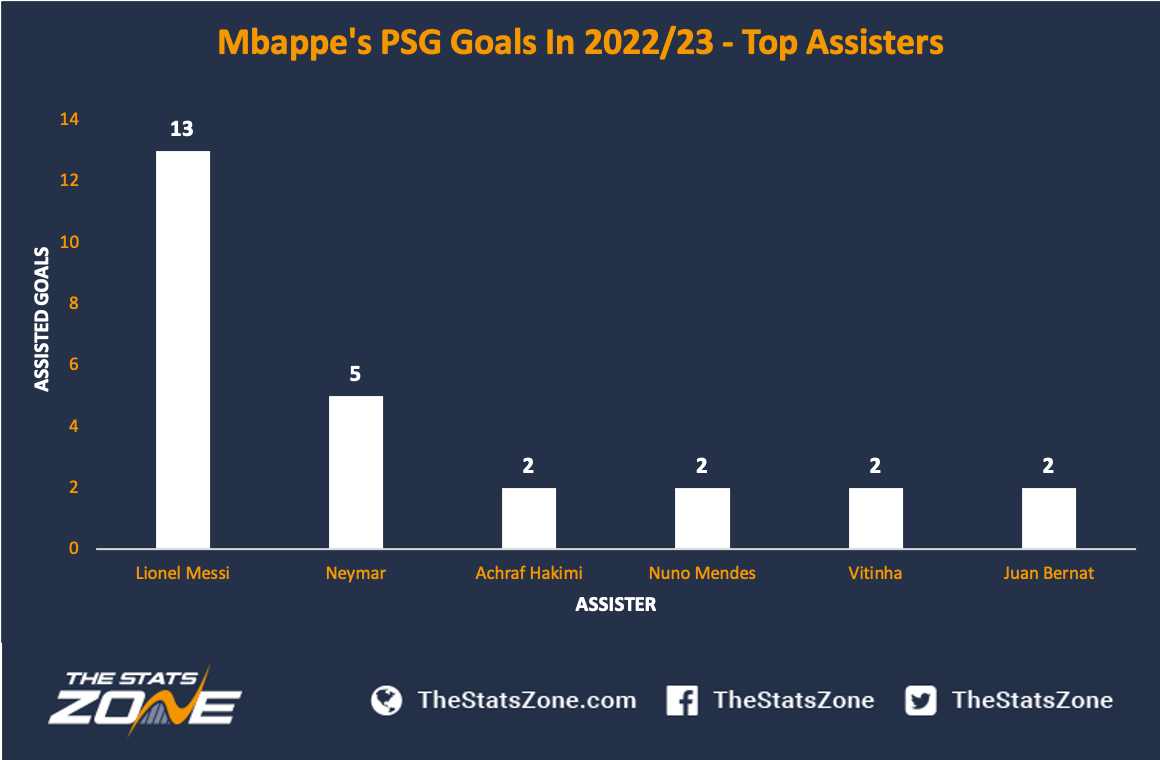 Whilst Argentine superstar Lionel Messi commands plenty of attention for his own goalscoring exploits (

click here

for our breakdown of his 102 international goals scored for Argentina), the 35-year-old is also responsible for assisting 32.5% of Mbappe's club goals so far this season.
Messi is also the only PSG player to have assisted Mbappe a double-figure number of times in 2022-23 (13 currently).
See how Kylian Mbappe's club goals this season have compared to Erling Haaland's