FPL Gameweek 14 – Team TSZ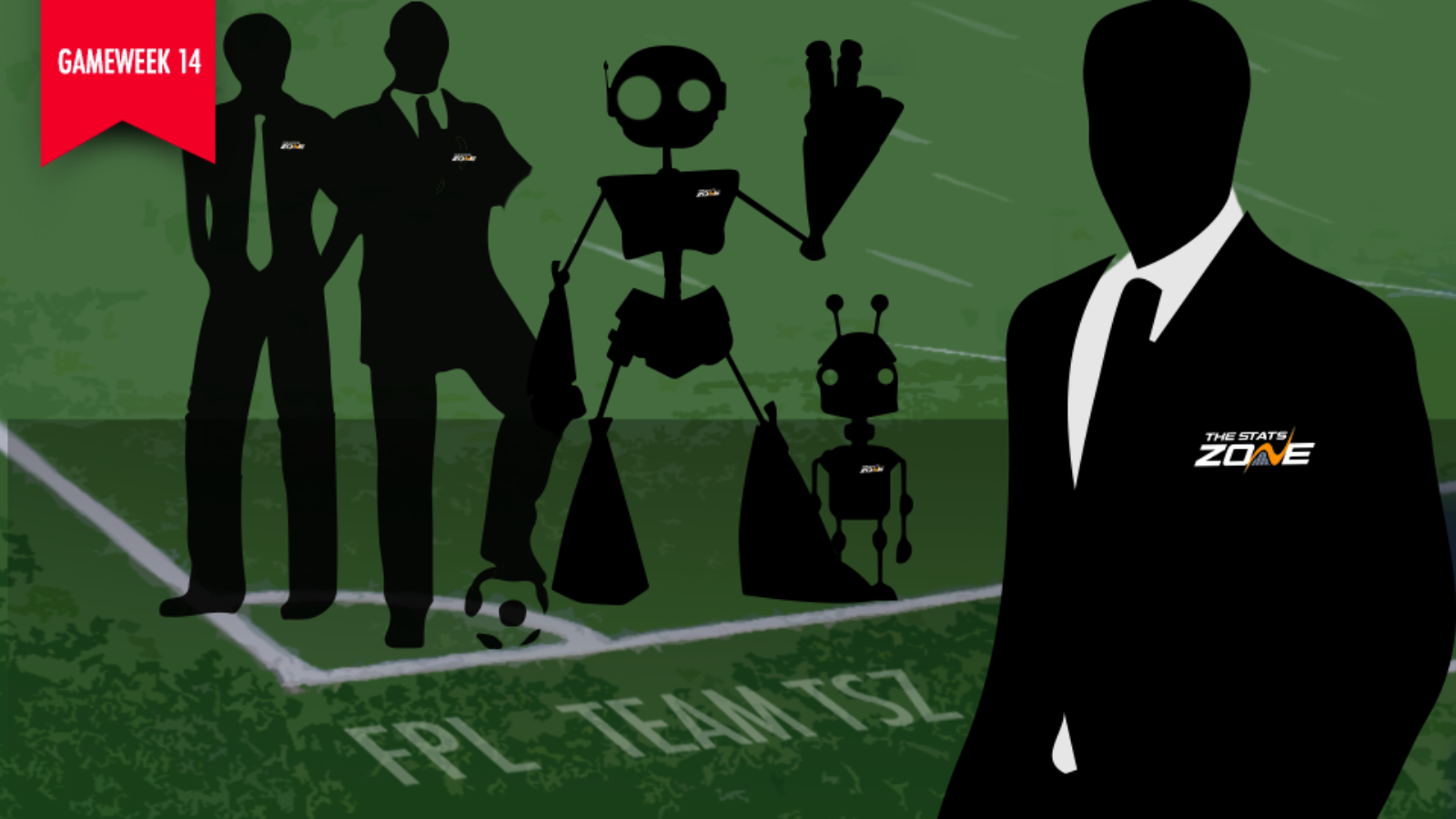 Once again this season, we've banded together to form our very own FPL site team, otherwise known as 'Team TSZ'. After finishing 1390 in the world in our debut campaign, how will we handle the pressure in the 'difficult second season'?
Decisions will be made collectively after polite discussion. 'Team TSZ' consists of:
Rob Esteva – Managing Director
Trystan Pugh – Sports Content Manager
Tim Blackwell – Chief Sports Data Scientist
HOW DID WE GET ON IN GAMEWEEK 13?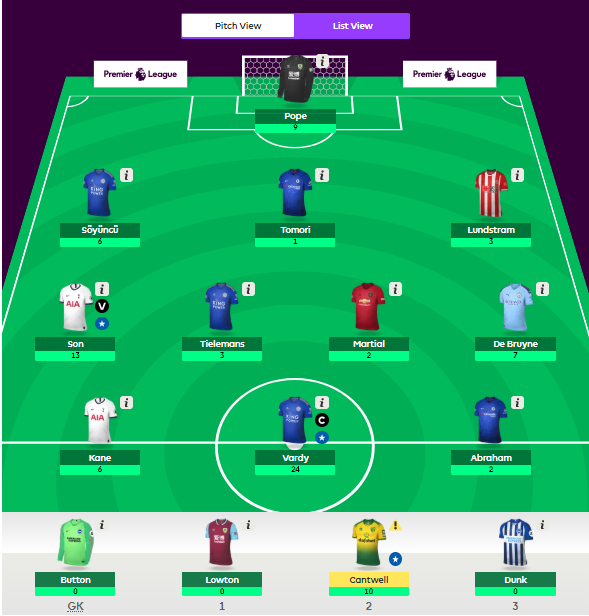 GW points: 76
GW average: 49
GW rank: 160,142
Overall rank: 198,798 (▲)
In a gameweek dominated by Jose Mourinho's genius, it has been hard to look elsewhere for inspiration, but Team TSZ deserve some credit for hauling themselves into the top 200k after what has seemed to be a difficult first third of the season. Indeed, the team's decision to wildcard early on can only be commended as highly as the great Jose Mourinho must be for his inspired first-half substitution of Eric Dier in the Champions League on Tuesday. That wildcard formed a bedrock of panic that allowed the TSZ team to slowly simmer in mediocrity until all seemed lost, but the foundations of an average season were to be quickly averted.
A snap decision in GW12 to bring in Jamie Vardy like everyone else, and stumbling across 18 points from Nick Pope over the course of the last two gameweeks, has seen the combined intelligence of Rob, Trystan and Tim soar into the higher echelons of FPL. Soar, you might say, as impressively as the Spurs' ball boy, whom Jose Mourinho graciously complimented by reminding us all of his groundbreaking performances as a Creative Sideline Playmaker back in the 70s. Two big green arrows in a row, and 76 points in GW13 with a further 10 sitting unused on the bench is a remarkable shift in form. Rob, Trystan and Tim would like me to make clear, though, that they would hate it if they were praised for the recent shift in fortunes.
"It is the players doing the work," they nod, wisely. "We just click on their icons."
GAMEWEEK 14 TEAM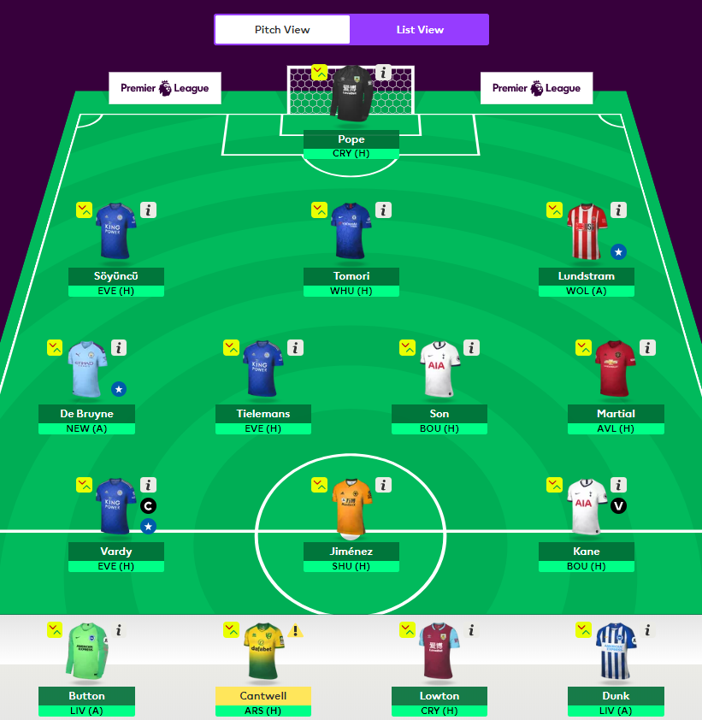 Formation: 3-4-3
Captain: Vardy
Vice-captain: Kane
Transfers made: 1 (Abraham > Jimenez)
Point deductions: 0
A rejuvenated Team TSZ trio faced me today with their complexions a little rosier and their eyes a little brighter, as they all in turn assured me that they do love FPL after all and never wanted to quit the game at any point. There was but one move to discuss this week, and for once they saw it through, in a shorter, happier and less passive aggressive discussion. Tammy Abraham's innocuous fall, as painful as it looked, has seen to sideline him for at least this weekend's game. Furthermore, thanks to Amazon's successful campaign to buy an extra weekend from the Bank of England and place it where Tuesday and Wednesday used to be, he will probably miss the following GW15 too.
This is a warning! Don't forget to set your teams in time for Gameweek 15. The deadline will be at 18:30 on Amaday (formerly Tuesday) with the last match of GW14 finishing at 22:00 Zonday (FKA Thursday).
There were a few candidates to choose from as Abraham's replacements, with the Chelsea striker sure to come back in once he has recovered. Surely most FPL managers will be looking to make the switch to Raul Jimenez, 2017-18's John Lundstram, after the Mexican bagged yet another goal for Wolves on Thursday night in the Europa League. Other decent options included Southampton's Danny Ings, and Burnley's Ashley Barnes and Chris Wood. Lys Mousset was also discussed, but it was clear that the three of them had already made their mind up, nostalgically perhaps, on Jimenez. The captaincy was the sole point of real contention this week. Rob wants Kane, but Tim and Trystan typically gang up on him and this was no exception. I am starting to feel sorry for Rob. Perhaps next season he and I should form a breakaway team.
Thanks for reading, and good luck in the gameweek!
For the rest of our FPL content, visit our Fantasy section!