FPL Gameweek 16 – Captain Picks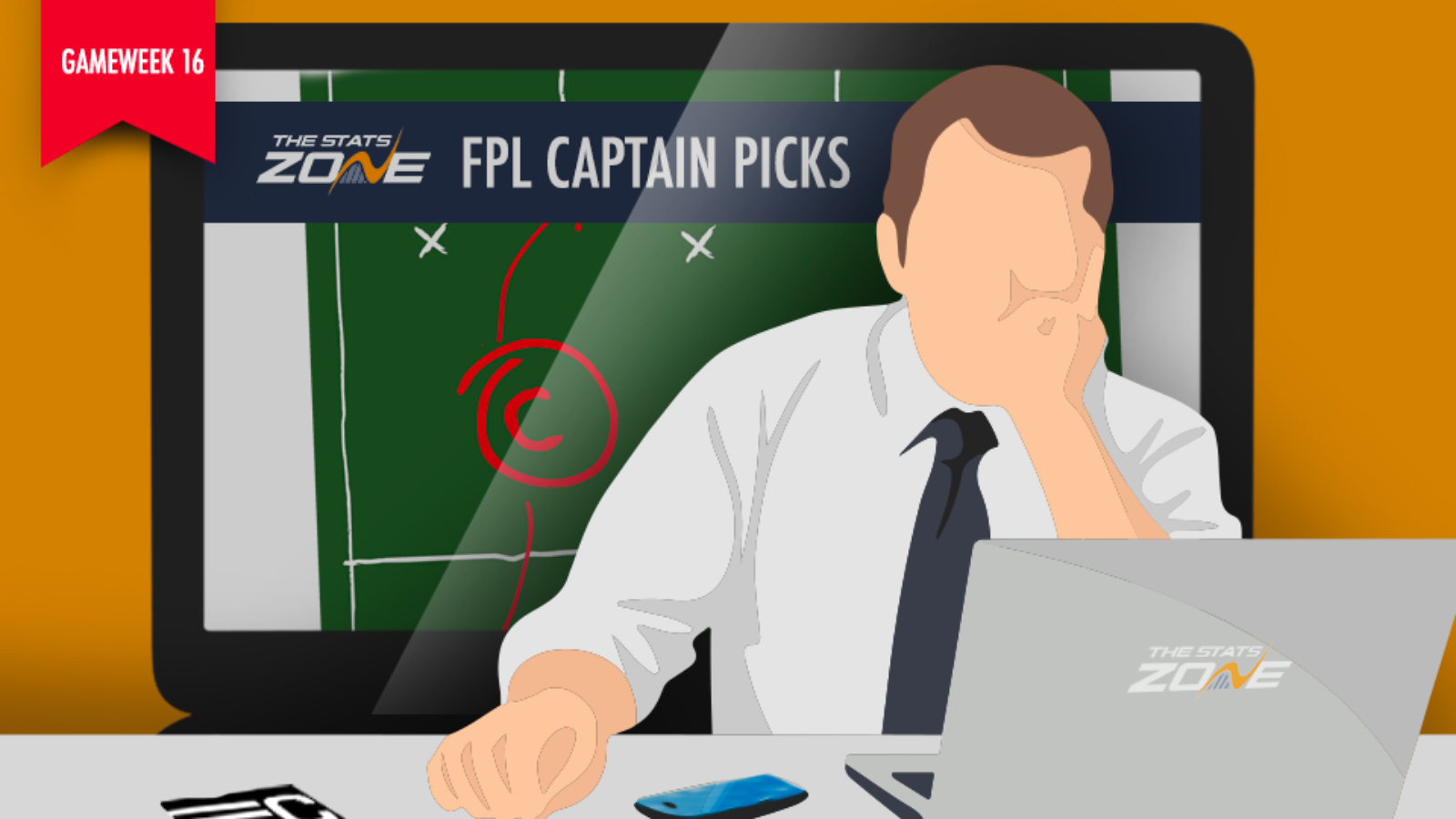 No sooner were they upon us but the midweek fixtures have come and gone in a whirl of predictability. Liverpool again registered three points with Sadio Mane (£12.2m) doing the business. Jamie Vardy (£9.9m) scored yet again, as did Danny Ings (£6.2m) and Marcus Rashford (£8.7m), while the rumours continued to intensify over the security of Marco Silva's job. On the plus side, Hayden Mullins is yet to be sacked by Watford, so it wasn't all the same.
Captaincy ©

🔸Pulisic & Jimenez seem to be the best bet this week 👀
🔸They both offer a good combinaton of goal & assist potential.

🔹Other decent options include Vardy, Lundstram, Mane, TAA, KDB & Sterling.

🔸Where do the other popular picks fit in?https://t.co/wpltqp3kJD

— Ted (@TedTalksFPL) December 3, 2019
On the captain front a mixed bag is the best way of describing Gameweek 15's picks, as the highs of Sadio Mane and Jamie Vardy, were tempered by the lows of Raul Jimenez (£7.7m) and Kevin De Bruyne (£10.3m). Then there was of course GW15's differential pick - Michy Batshuayi (£6.6m). While both De Bruyne and Jimenez could be considered unlucky not to secure any attacking returns, the selection of Batshuayi was, to put it mildly, an error in judgement.
Transferring him out on Saturday morning to Batshuayi, completely forgetting how much value I had tried up in him, is possibly the most stupid FPL transfer I've ever made pic.twitter.com/1WhiBSkxnx

— J Shannon (@jshannon82) December 1, 2019
The Belgian forward once again suffered the indignity of not starting after Tammy Abraham (£7.9m) continued to illustrate that Lampard's men are made of rubber, with the Englishman returning to the starting XI despite seemingly breaking his hip a week ago. Naturally, Abraham scored, which is not something the 1.4 million people who transferred him out should be bitter about. On the plus side, Batshuayi did at least get seven minutes on the pitch after Abraham brought himself off towards the end of the match suggesting he had picked up a knock... It does feel like we've been in this situation before – expect Abraham to definitely be fine to start at the weekend. Anyway, enough on that. As Gameweek 16 is already upon us, let's take a gander at the best captain options ahead of Saturday's 11:30am deadline.
PREMIUM OPTIONS
Jamie Vardy (£9.9m) vs AVL (a)
A new week yet the same story in what is Groundhog Day for this section of the captains piece. While "I Got You Babe" is something that should be solely reserved for conversations between Jamie and Rebekah Vardy, there will be many an FPL manager who feel just the same about Leicester's prolific frontman. The key word in a very busy office this week has been efficiency. In light of this, instead of continuing to highlight the same outrageous stats to support Vardy's inclusion as a captain option, I have boiled down the "Vardy section" of the captain's piece into a four-point weekly routine:
Suggest Jamie Vardy as a captain option in the latest captains article as he has now scored in (insert number) consecutive matches.
Place armband on Jamie Vardy.
Watch Jamie Vardy score for Leicester against (insert relevant opposition name here).
Rinse and repeat for new gameweek.
Sadio Mane (£12.2m) vs BOU (a)
Turns out the blank against Brighton in Gameweek 14 wasn't the start of an attacking lull for Mane, as Marco Silva's side kindly allowed Liverpool the freedom of Anfield to do as they please on Wednesday night. In a match where Everton's defence parted wider than the Red Sea, there was no irony lost as a sea of Reds waded through, led by Mane, who was involved in three of the five goals that were put past Jordan Pickford (£5.4m).
Captaincy an interesting one this week.

Mane (bou) my first choice but I do worry about rotation. It would appear it's his turn to sit out...

Vardy (avl) & Dele (BUR) also options I'm considering.

What's everyone thinking? 🤷🏼♂️

— The FPL Physio (@FPL_physio) December 5, 2019
Up next for Liverpool is a trip to the South Coast to face Bournemouth. In three starts for Liverpool against the Cherries, Mane has scored three times to go with one assist. Liverpool have also scored three goals in each of those games. With so many FPL managers captaining Vardy, Mane represents an excellent alternative for any player looking to gain ground.
Magnus Carlsen may have just lost in the #grandchesstour but he won't care...

...because he captained Salah and had Mane as vice, plus he's getting Kelly and Dendoncker points off the bench.

He's now just outside top 10 in the world 👀#FPL #GW15 #AmazonPrimeVideo

— Trystan Pugh (@TrystanPugh) December 4, 2019
Harry Kane (£10.8m) vs BUR (H)
Since the arrival of Jose Mourinho at the club both Heung-Min Son (£9.8m) and, in particular Dele Alli (£8.6m), have shown the new manager that they are players in which he can begin to build a team around over the next couple of years. Harry Kane (£10.8m), however, has just one goal in the three league appearances under the new manager – a record he will be desperate to put right sooner rather than later.
A first chance to do that comes this weekend when Tottenham play Burnley at the Tottenham Hotspur Stadium. The England captain has an outstanding record against the Clarets, with six goals in eight league appearances, including four in his last three. Sean Dyche's men have also been a little leaky as of late, conceding twice to Crystal Palace before letting four in against Man City. Known as not one to rotate too often, it has to be wondered whether the side will be a little leggy when they play Spurs following what was an exhaustive midweek match against City.
More than 15 league goals...

08/09 Zlatan - 25 goals
09/10 Milito - 22 goals
10/11 Ronaldo - 40 goals
11/12 Ronaldo - 46 goals (Higuain 22, Benezma 21)
12/13 Ronaldo - 34 goals
14/15 Diego Costa - 20 goals
16/17 Zlatan - 17 goals
17/18 Lukaku - 16 goals

(2/2) #FPL

— Soccer Simba (@Soccer_Simba) December 2, 2019
Tammy Abraham (£7.9m) vs EVE (a)
Following his miraculous return against Aston Villa, Abraham picked up right where he left off – scoring goals and collecting FPL points at an extremely budget-friendly price. He scored his eleventh goal of the season against old club Villa in GW15, his third goal in his last four appearances, with the only blank coming in the 2-1 defeat to Man City.
I think Abraham will play, if he wasn't gonna play Lampard would have already said

— FPL Baller (@FPLBaller) December 3, 2019
Up next for Chelsea is a trip to Goodison Park, to face an Everton side in free-fall. The Toffees' have now conceded nine goals in their last three matches, losing all three in the process and dropping into the relegation zone. The side look devoid of confidence at the moment and Chelsea will be wanting to put a show on in front of their home fans after losing their last home fixture to West Ham.
DIFFERENTIAL CHOICE
Gabriel Jesus (£9.6m) vs MNU (H)
A week too early on the Gabriel Jesus (£9.6m) bandwagon, the Brazilian was our differential captain choice on Gameweek 14. Back then he was owned by just 1.8% of FPL managers and it cost £0.1m less to acquire his services. Since then Jesus has bagged a brace against Burnley, 13 FPL points and more importantly the love of Pep Guardiola, who waxed lyrical over the striker's attitude during his GW15 post match presser.
Anyone know when Aguero is expected back?

Jesus looks kinda juicy atm😍

— The FPL viking (@TheFPLviking) December 3, 2019
With Sergio Aguero (£11.8m) still sidelined with a groin strain, Jesus will be set to lead the line again when Man Utd visit the Etihad stadium. United's defensive record has been less than stellar as of late, with the side failing to register a clean sheet in their last ten league matches. The fixture has also been one to produce goals in recent seasons as the two sides have shared nine between them over their last two league meetings at the Etihad.
Further to this, Jesus was also the Gameweek 15 pick of our Chief Operating Officer in our hotly contested differential mini-league – a sure sign that he does indeed read these articles. For those interested, the Differentials League is always thoroughly discussed in our weekly podcast, which is that thing that you used to mute at the top of the page if you were wondering what background noise is now missing whilst reading our articles. No more auto-play! But please - you ought-to play us of your own accord. You can now also find The Stats Zone's FPL Weekly on Spotify!
Finally reached bottom spot so I can choose first! Gabriel Jesus for me....my team needs some holy intervention!

— Rob Esteva (@robesteva) December 3, 2019