FPL Gameweek 11 – Projections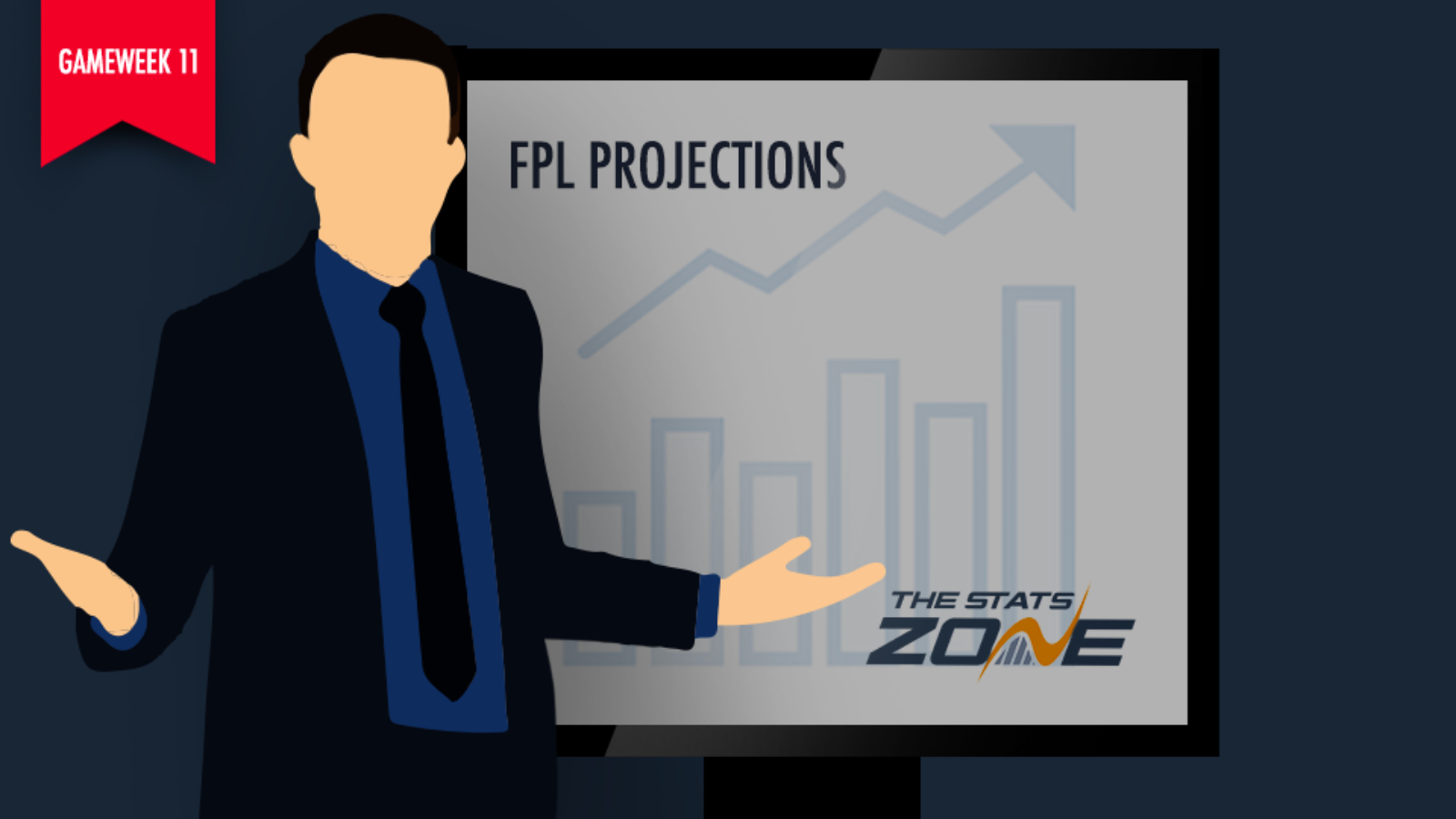 A total of 48 points was achieved by the algorithm's Gameweek 10 line-up – a frustrating amount which was heavily-helped by the 20 of Jamie Vardy (£9.3m), as Leicester humiliated Southampton in a historic 0-9 devastation. It didn't predict the surprise hauls of Ayoze Perez (£6.1m), Christian Pulisic (£7.2m) and penalty-saving Tim Krul (£4.5m), as Riyad Mahrez (£8.5m) and Sergio Aguero (£12.1m) were selected here yet dropped by Pep Guardiola for the second week running.

No clean sheets were collected by Dean Henderson (£4.6m), Andrew Robertson (£6.9m), Matt Doherty (£6.0m) or Matt Targett (£4.4m) but there were assists for Mason Mount (£6.9m) and Kevin De Bruyne (£10.2m), albeit this was originally given as the Belgian's goal. This correction by the Goal Accreditation Panel robbed many managers of at least two points. The optimum squad was also robbed of a second half Danny Ings (£6.0m) appearance, as Southampton's early red card and 0-5 half-time deficit forced some early changes from the manager. They didn't work.
OPTIMUM SQUAD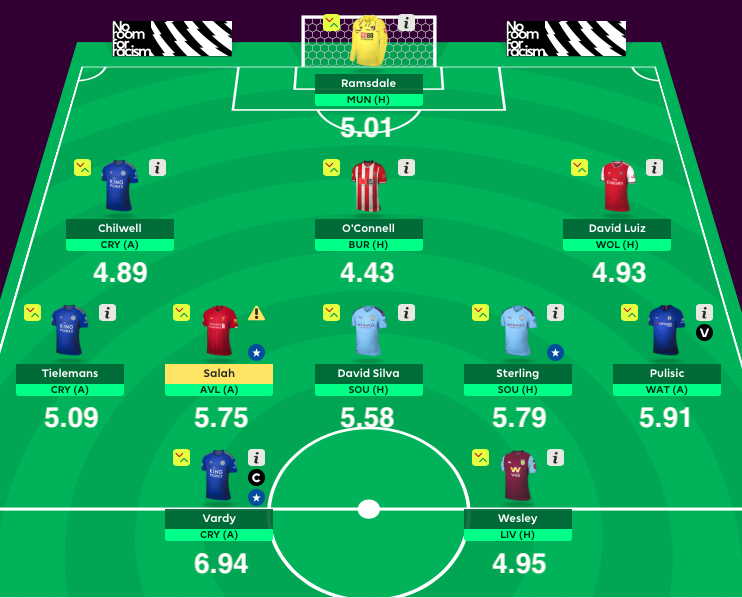 As the old saying goes, you wait ages for a clean sheet than two come along at once. That's how Aaron Ramsdale (£4.5m) and the Bournemouth defence saw events unfold recently. FPL managers raced to get Callum Wilson (£7.9m) for the enticing games versus Norwich and Watford, only to be trolled as both finished 0-0. Last season, the Cherries collected two clean sheets before hosting Man Utd in Gameweek 11 and that's exactly the same this time. Then it's Newcastle away, just like last year! Possibly the creepiest thing you'll read this Halloween.
The 3-5-2 line-up seems to be a reactionary team to last weekend, where Ben Chilwell (£5.5m) amassed 19 points during the massacre and was still only the third highest-scoring Leicester player that night. Their defence has conceded the league's fewest goals, alongside Liverpool and Sheffield Utd, and is about to visit a Crystal Palace side who have only scored four times at home. Jack O'Connell (£4.5m) represents the Blades as they face Burnley looking for a fourth shut-out in six games, with Arsenal's David Luiz (£5.8m) scoring from defence in Arsenal's last two home matches.
Top scoring outfield players under £7.5m 🔰 Pukki 57 🔵 Mount 54 🦊 Tielemans 48 🦊 Pereira 48 ⚔ Lundstram 47 🦊 Maddison 44 🦁 Wesley 44 🦁 Grealish 43 🦁 McGinn 43 🔨 Yarmolenko 43 🔴 Robertson 43 🔴 TAA 43 ⚔ Stevens 43 🔴 Ings 43 🐺 Jimenez 43

— Adam Hopcroft (@ahopcroft13) 27 October 2019
For those who can't fit the awkwardly-priced Vardy in their frontline but want to capitalise on Leicester's strong form and great fixtures, Youri Tielemans (£6.5m) is a great midfield alternative. He has rediscovered the form that he ended last season in by scoring against Burnley and Southampton, as well as Burton Albion in Tuesday's Carabao Cup tie. Throw in two extra assists, and Tielemans is on fire right now. Pulisic not only replaced Callum Hudson-Odoi (£6.0m) in the Chelsea team, but proceeded to score the weekend's third hat-trick. After netting his first goals in English football, the optimum squad has chosen Pulisic for Saturday's trip to Watford.
Raheem Sterling has been involved in 8️⃣ goals in his last 🖐 home #PL matches against Southampton Against no side has he been involved in more home goals in the league #FPL https://t.co/KwtY0kU84V

— Fantasy Premier League (@OfficialFPL) 30 October 2019
Raheem Sterling (£12.1m) is in great form and, crucially, was rotated for midweek Carabao Cup action as Aguero, Mahrez, Gabriel Jesus (£9.5m) and Bernardo Silva (£7.9m) played most of the match. He returned from scoring two England goals by assisting against Crystal Palace, bagging a hat-trick and two assists versus Atalanta and notching the opener at home to Aston Villa. His xFPL (expected FPL) points total of 24.66 is the highest during the last three gameweeks, too. The budget-friendly David Silva (£7.7m) is also chosen, having scored in consecutive league games. Only Sterling, De Bruyne, Mo Salah (£12.4m) and Sadio Mane (£11.9m) have more midfield points this season.
When asked about Salah's 84th-minute substitution after scoring the winner against Spurs, Jurgen Klopp allayed fears that his recent ankle injury had re-occurred. "It's good but the longer the game goes, the muscles get a bit tired", said Klopp. "We had other players, still options to change, and that's what we did. No, nothing serious." Up next is Aston Villa, who have conceded the most shots with 188. Curiously, their striker Wesley (£6.1m) is predicted to produce some attacking returns against this top-class defence.
Alot talking about Vardy's "unstainable" stats One area he excels in 👇 xG per shot (since start of 18/19) 🍒 Wilson 0.25 🦊 Vardy 0.24 🔴 Aubameyang 0.23 🔵 Sterling 0.21 🔴 Mane 0.19 🔵 Aguero 0.18 🔴 Salah 0.16 ⚪ Kane 0.16 No wonder his conversion rate is always high

— Adam Hopcroft (@ahopcroft13) 29 October 2019
Something to chill the blood: Jamie Vardy has yet to face four of the six leakiest Premier League defences based on goals conceded (Everton, Watford, Villa, Norwich - he faces them all from GW14-17).

— FFScout Neale (@SkontoRigga) 26 October 2019
We can't end without once again mentioning Jamie Vardy, whose brilliant form has earned him this week's captaincy despite going up against a strong Palace home defence. He has gained 900,000 new owners since Gameweek 8 and around 500,000 of that has been since his Friday night exploits. With wife Rebekah stealing the spotlight during October's international break, the striker has completely stolen it back since. Quite simply: no Vardy, no party.
BEST OF THE REST - GOALKEEPERS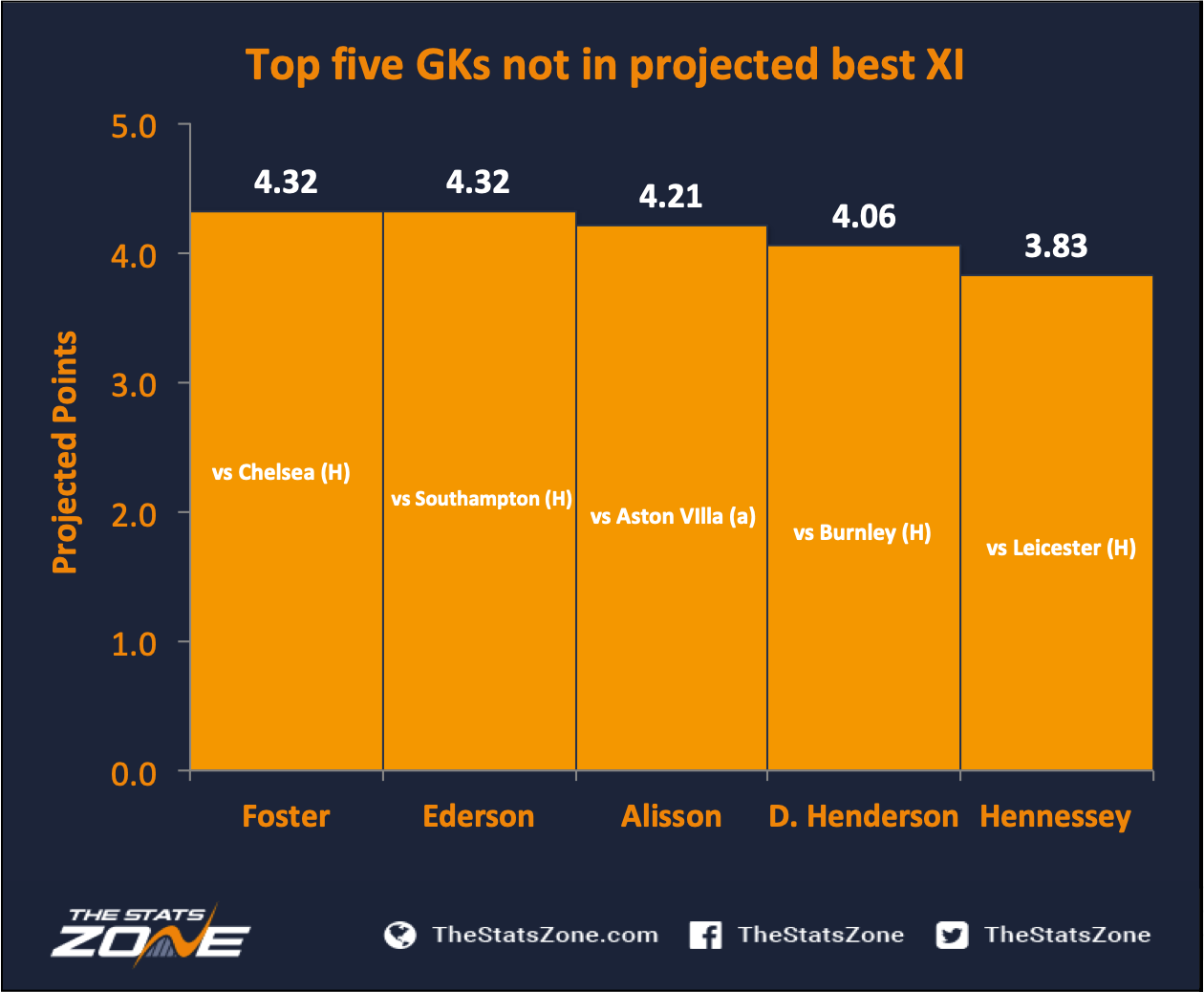 BEST OF THE REST - DEFENDERS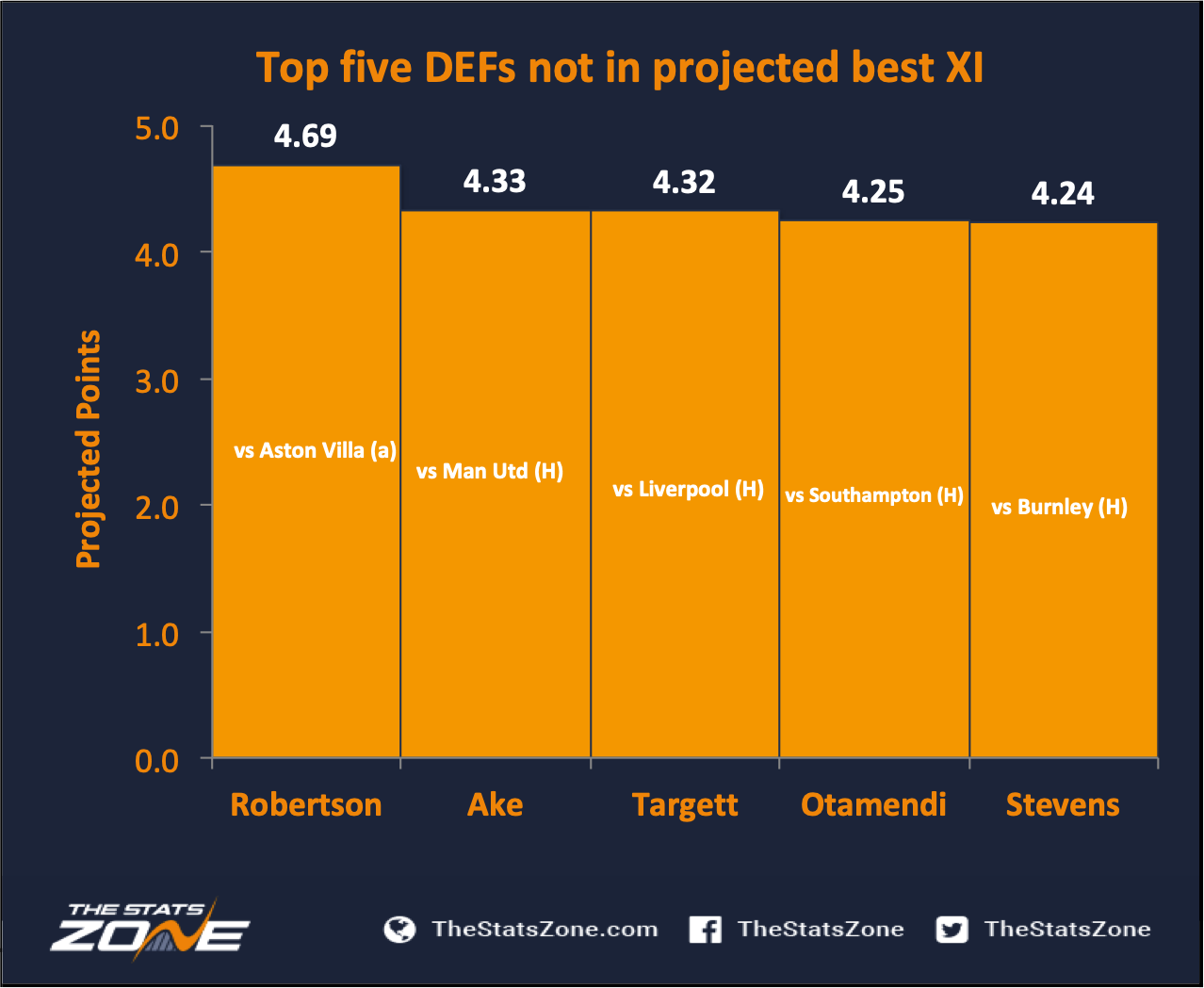 BEST OF THE REST - MIDFIELDERS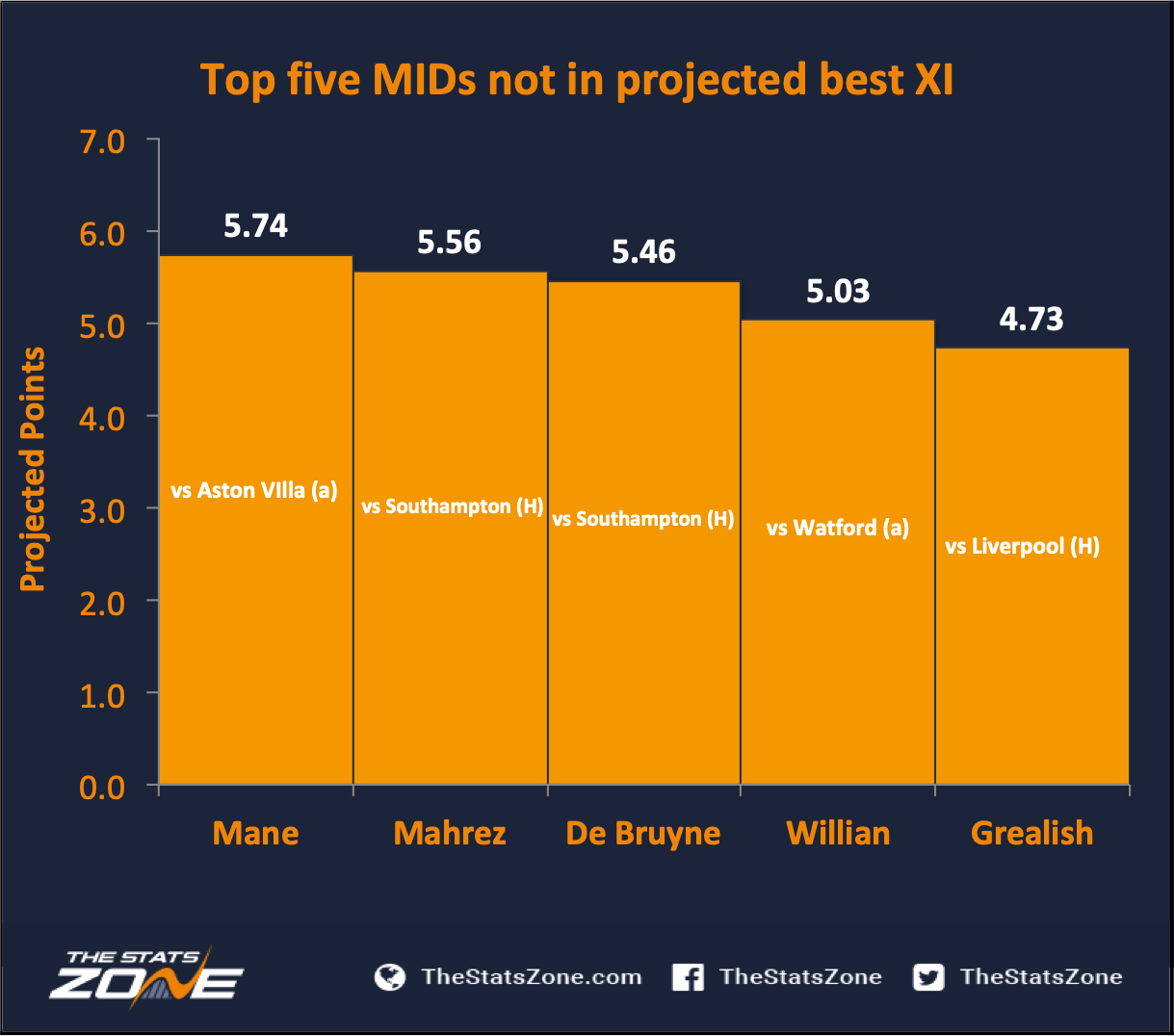 BEST OF THE REST - FORWARDS