March 29, 2023 3:05 PM
Last modified date: March 31, 2023 6:35 PM

Alex Sarwar
102 and counting! A statistical breakdown of Lionel Messi's international goals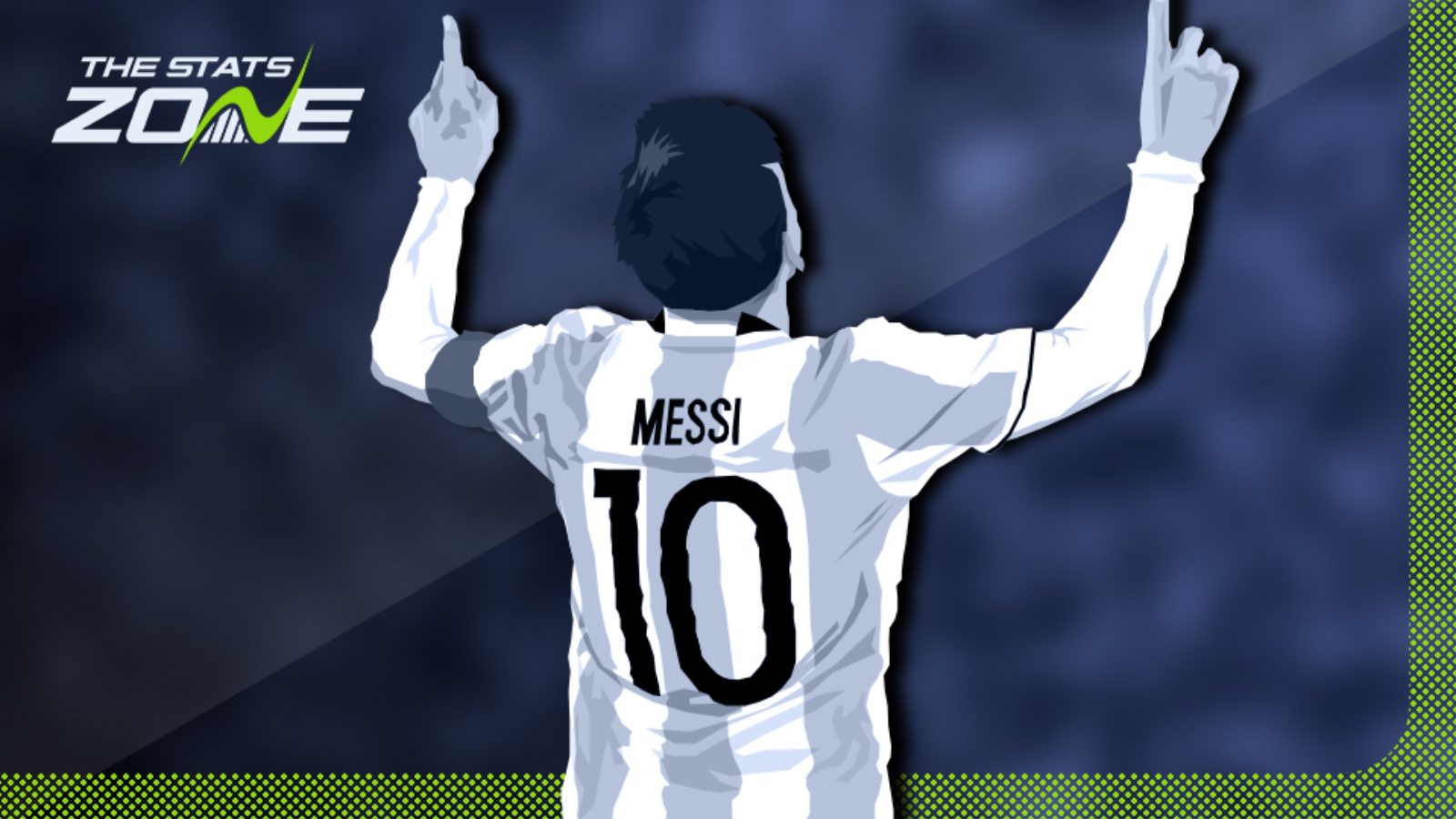 Seven-time Ballon d'Or winner Lionel Messi made history last night, surpassing a century of goals for Argentina and becoming the third man in men's international football to do so. The Olympic Gold medalist, Copa America champion and recently-crowned FIFA World Cup winner continues to earn universal acclaim and break records for his beloved country.
In this article we break down all 102 goals scored by Messi for La Albiceleste, starting with his maiden left-footed strike against Croatia in March 2006, all the way through to his ninth hat-trick in national colours in Argentina's 5-0 victory over Curacao a little over 17 years later.
BY YEAR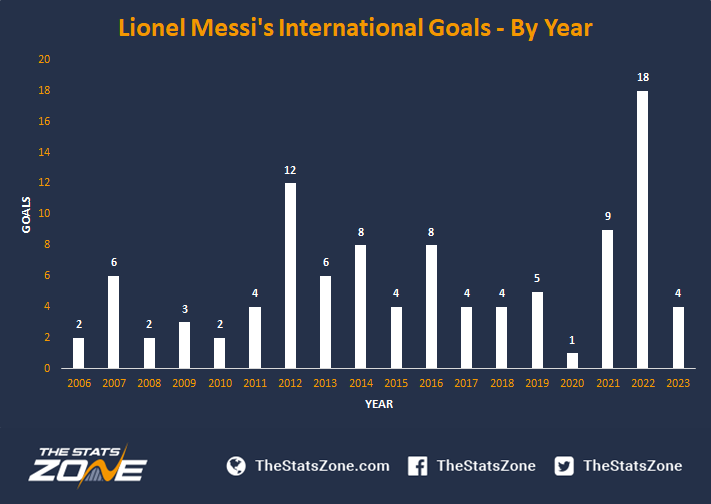 2022 saw Messi enjoy his most prolific year in an Argentina shirt going forward, scoring 18 goals over those 12 months.

As it stands, Messi has hit double figures twice in a calendar year across his career for Argentina, but with four goals already to his name in 2023, he'll be confident of hitting that landmark for a third time.
BY COMPETITION
Almost 50% of Messi's Argentina goals were scoring during international friendlies.

Of Messi's 26 goals scored in major international tournaments, seven of those came during Argentina's triumphant 2022 FIFA World Cup campaign.
BY PITCH AREA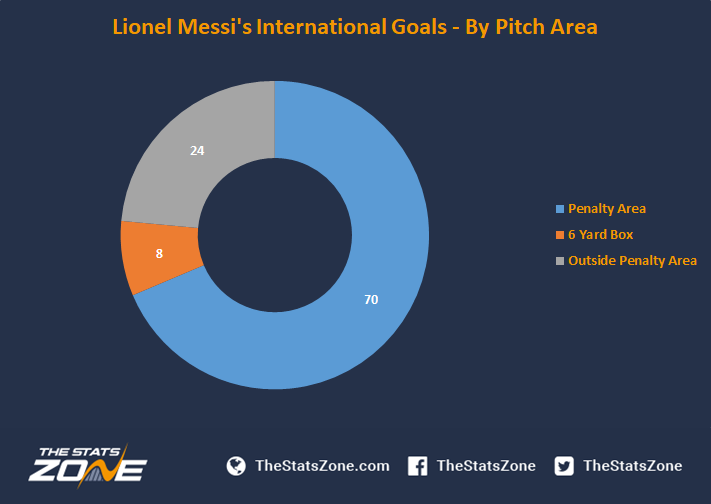 70 of Lionel Messi's 102 international goals have come from inside the penalty area (not including 6 yard box goals).

Only eight of Messi's goals in national colours have come from inside the 6 yard box.
BY METHOD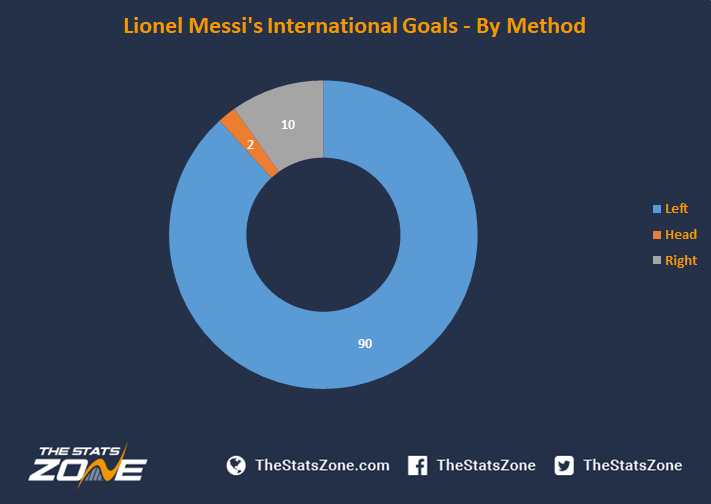 Just under 90% of Messi's 102 goals were scored with his left foot.
Messi has now racked up exactly a century of goals for Argentina scored by foot, with the remaining two being headers.
BY GOAL TYPE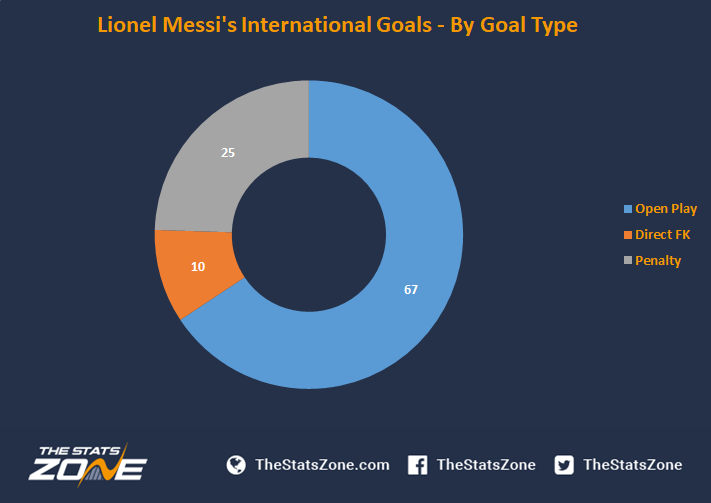 Less than a quarter of Messi's 102 goals came via the penalty spot, 25 in total.
Messi has scored almost double the amount of open play goals compared to those scored from either a free kick or penalty.
BY HALF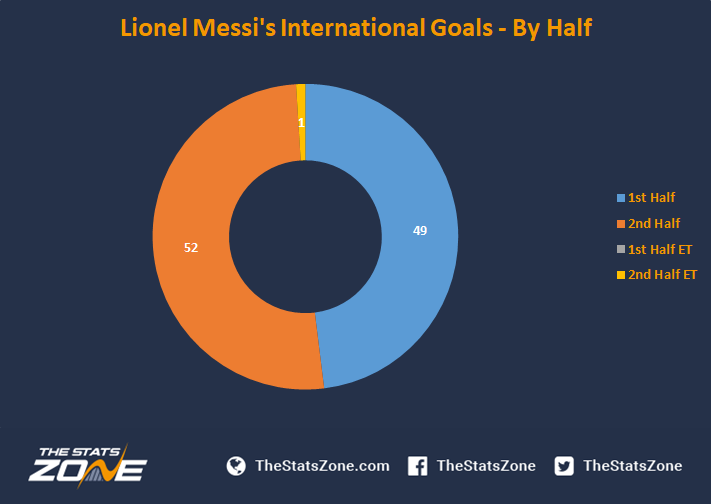 The difference between Messi's first half and second half goals is almost non-existent, the 35-year-old netting 52 of his 102 goals in the second half, compared to 49 in the first half.

Messi's only goal scored in extra-time for Argentina came in the 2022 FIFA World Cup final against France, although that did not turn out to be the winning goal as Les Bleus came back to force penalties.
BY MINUTE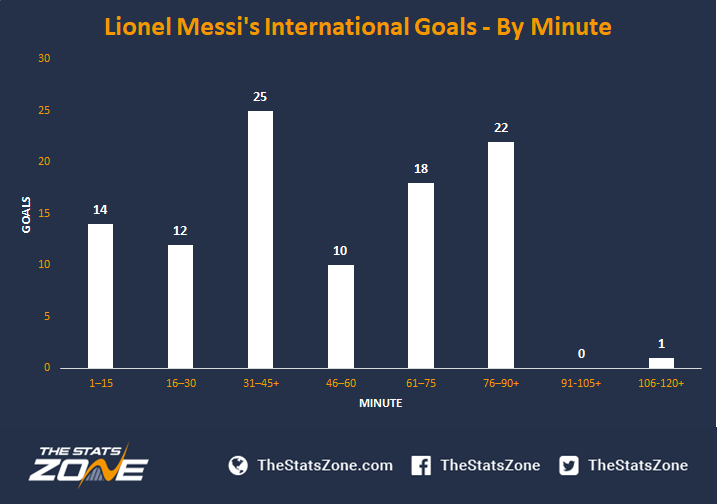 Over a fifth (24.51%) of Messi's 102 international goals came between the 31st and 45th minute (including injury time). However, just 9.8% were scored between the 46th and 60th minute.

Messi was often on the scoresheet late on, scoring 22 times between 76th and the 90th minute (including injury time).
NATIONS SCORED AGAINST
The Argentine superstar has scored against Bolivia eight times (7.8% of his total), across his senior international career, more times than any other international opponent.

Messi boasts five goals against bitter rivals Brazil, he has only scored more against three other nations (Bolivia, Ecuador and Uruguay).
GOALKEEPERS SCORED AGAINST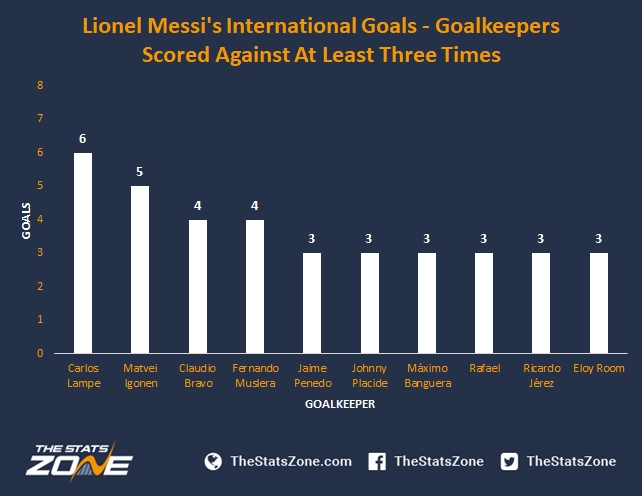 Bolivian stopper Carlos Lempe has given up the most goals against Messi across his international career, conceding six overall, two less than Messi's overall total of goals against Bolivia as a whole.

Messi's hat-trick against Curacao to reach over 100 goals for Argentina sees current Curacao 'keeper Eloy Room become the 60th goalkeeper to concede to Messi in a senior international match.
TOP ASSISTERS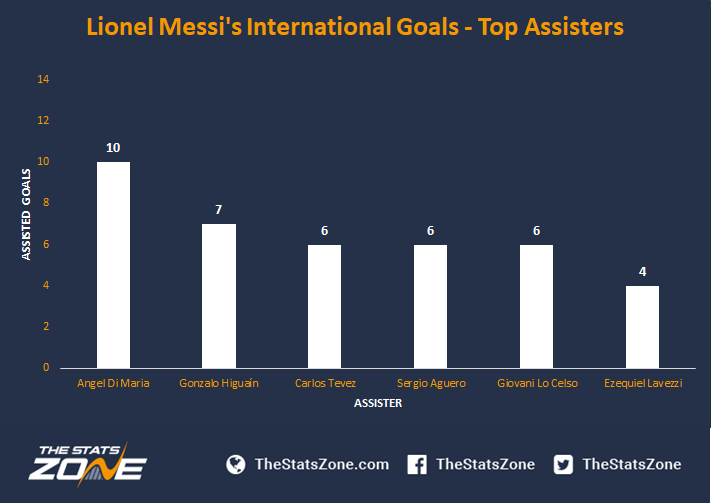 Long-time teammate Angel Di Maria is the only player whose assists for Messi has reached double figures (ten) with 9.8% of Messi's 102 goals for Argentina set up by Di Maria.
Two assists by Giovani Lo Celso for Messi against Curacao, including for his historic 100th goal, means that Lo Celso has now contributed an assist for 5.9% of Messi's Argentina goals.
Also against Curacao, Nicolas Gonzalez became the 25th player to assist Lionel Messi in an international match.