MMA Preview – Pedro Munhoz vs Frankie Edgar at UFC Vegas 7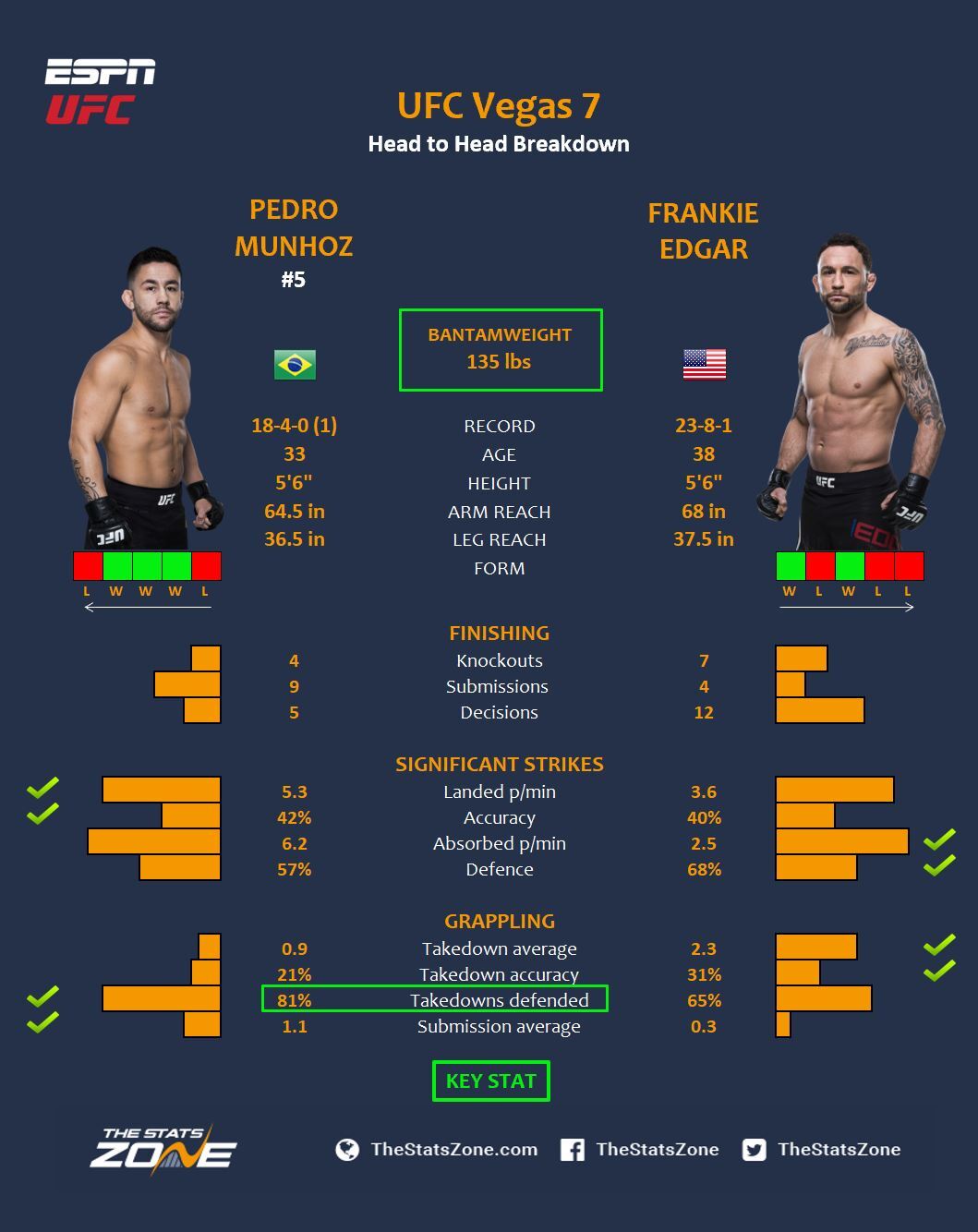 Stats sourced via ufcstats.com
PEDRO MUNHOZ VS FRANKIE EDGAR LOWDOWN
Fourth time lucky for Pedro Munhoz and Frankie Edgar who were originally scheduled for UFC 251, then UFC Fight Island 1 and then UFC 252. Munhoz now finally welcomes Edgar to the bantamweight division providing they can make it to the octagon.
Munhoz is a very tough test for a debut in the division but Edgar would not accept anything less. The Brazilian has only lost two of his last nine in the stacked division, After John Dodson snapped a four-fight winning streak with a close split decision, Munhoz went on to outpoint Brett Johns and then claim his two biggest knockouts. Firstly, over Bryan Caraway and then coming out victorious in a brawl with one of the most dangerous boxers in the division, Cody Garbrandt. However, he is now coming off a unanimous decision loss to Aljamain Sterling.
Edgar is a legend competing in the upper echelon of the sport for well over a decade but all those wars and young hungry fighters have finally caught up with him and he has lost three of his last four. After a vintage dominant performance against Yair Rodriguez, we saw Edgar get knocked out for the first time courtesy of a vicious uppercut from Brian Ortega. Edgar then bounced back with the 12th decision of his career but he then got completely outclassed by Max Holloway in a title fight and then got finished again by the Korean Zombie who mercilessly put him away in the first round.
PEDRO MUNHOZ VS FRANKIE EDGAR PREDICTION
Bantamweight was probably Edgar's division all along but now at the age of 38 and coming off two losses and the second knockout of his career, has this move come too late? The worrying sign for Edgar is that we have finally seen his chin wilt and Munhoz can crack.
For once, Edgar will not be giving up size to his opponent, but Munhoz has more knockout power in his hands. He also has dangerous leg/body kicks and with a black belt in Brazilian jiu-jitsu he will hunt the neck and attack off his back.
That said, Edgar has never been submitted and his wrestling could be the key to avoiding the hands and kicks of Munhoz as well as the submission threat on the ground. We know what to expect from Edgar and that will be bringing a relentless pace, using combinations and level changes to set up the takedown.
Edgar is either going to wrestle his way to a decision banking on his cardio in the championship rounds or Munhoz is going to pull off a quick finish. If he can conduct the range and avoid the takedown, the Brazilian can eat up Edgar's legs with kicks and test that chin or even jump on a guillotine when Edgar shoots in. Either way, this is going to be a fascinating battle.
Winner: Edgar via Decision