Despite having one of the biggest ego's in the game, Zlatan Ibrahimović is also one the most loved footballers in the game, whether its scoring 30-yard bicycle kicks or interviewing himself on social media, he never fails to create a talking point. He is living proof that age doesn't have to slow you down, at the age of 34 he is still producing week in week out, breaking records and winning titles. He has scored in the Champions League with six different clubs and won 13 league titles in four different countries proving his consistency across a range of teams and countries. He has over 50 Individual honours/ awards including winning the Guldbollen (Swedish Footballer of the Year) for the last nine years in a row, the FIFA Goal of the Year (Puskas award), UEFA Team of the Year, has been the top league scorer on five occasions and has six Player of the Year awards. An outstanding career by anyone's standards and one which many people are hoping will carry on in the Premier League.
The following article will look at just how fantastic this career has been and if it is showing any signs of slowing down. Going through his club history we will be talking about the importance of the goals he has scored, the match results when he has scored and which competitions he has scored in. We will also be looking at his transfers between clubs and the amounts spent to obtain his signature.
During this article, two reoccurring terms you will see are '1st Goal' and 'Winning Goal'. For the purpose of this article, the definitions of both these terms have been defined below:
1st Goal – the 1st Goal of the game whilst the match is 0-0

Winning Goal – the goal that put the team one ahead of their opponent come the final whistle, e.g. if a team wins 5-2, their 3rd goal in the game is the 'winning goal'
Club History
Malmo: 1999-2001
Starting in his home country of Sweden he broke through into first team football at Malmo where it didn't take him long to make an impact, although he was only there a few seasons and scored just 18 goals during his time there, the importance of these goals is why he stood out. 10 out of these 18 were match winning goals and on 8 occasions he scored the 1st goal of the match. He also never lost a game in which he scored in, winning 11 and drawing one of the 12 different games he scored in.
Ajax: 2001-2004
Earning himself a £5m move to Ajax he struggled to break into the starting line up at first but again it wasn't long before he started making waves, scoring in the league, cup and Champions League during his three seasons there. With just under a quarter (23%) of his goals for Ajax being winning goals he certainly knew how to produce when needed. This is where his 1st trophies came, winning two Eredivisie titles, one KNVB Cup and a Johan Cruijff Shield.
Juventus: 2004-2006
A large part of his career was spent in Italy and the club that began it off was Juventus, spending £12m on the striker to contribute goals in which his strike partner Trezeguet was struggling with due to reoccurring injury problems. He didn't fail to disappoint, he had a great first season and although his second season was less prolific due to a slight role change he still managed 26 goals (23 league and 3 Champions League). Again showing his importance with a third of all his goals being match winning goals. His win ratio was a stat which slumped, winning just 65% of the games he scored in but still managing to win the Serie A title in both seasons. However, following the Calciopoli Scandal, Juventus were stripped of both of these and relegated to Serie B.
Inter Milan: 2006-2009
Although not ready to leave Italy, it was time for a change of club, he needed to play top flight football and it was Inter Milan that were willing to pay £20m to bring him in. This spell was arguably his greatest to date because it really put him on the map as a world class striker. He scored consistently over three seasons, scoring on his debut and going on to win the Serie A title in all three seasons as well as two Supercoppa Italiana's. He won a massive 86% of all the games he scored in and was a vital cog in the Inter Milan success story, with 35% of his goals being 1st goals and 40% of them being winning goals.
Barcelona: 2009-2010
In a huge deal, which included Samuel Eto'o moving in the opposite direction, Barcelona spent a whopping £59m to bring the match winning scorer to the then Champions League holders. Although his time here was short and didn't match up to the goal scoring stats he saw at Inter Milan, his trophy cabinet saw a huge impact winning La Liga, two Supercopa de Espana's, a UEFA Super Cup and the FIFA Club World Cup all in one season. He started off by scoring in his 1st five league matches, something never done before by a new signing at Barcelona.
AC Milan: 2010-2012
Back for his 6th and 7th seasons in Italian football, AC Milan initially took him on loan for the first season before spending £24m on the 29-year-old for the following season. Although being a key part of AC Milan's attack, scoring 21 winning goals and 22 1st goals, it was the match results which was the problem, failing to win the league in his second season there following his permanent transfer which was his 1st season without a league title since 2003. He won just one Serie A and one Supercoppa Italiana during his two seasons back in Milan.
PSG: 2012-2016
At the age of 30 it seemed as though the striker might be on the decline as he moved to France to play for the upcoming PSG. This was not the case. Being a marque signing for PSG he definitely lived up to expectations in his four seasons there winning the Ligue 1 title in every season as well as three Coupe de France, three Coupe de Ligue and three Trophee de Champions. Here he reached back up to the heights we saw during his defining spell at Inter Milan, winning 85% of the games he scored in and losing just 3%. He produced the fastest ever Ligue 1 hat-trick against Troyes in March 2016 taking just nine minutes and broke the record for scoring in consecutive matches in his last season when he found the back of the net 9 games in a row. He played a huge part of PSG's rise, producing the goods when needed, scoring 47 winning goals and 48 1st goals during his time, winning a total of 100 points for PSG over four seasons.
Sweden: 2001-2016
It's no surprise that producing at club level the way Zlatan did, you are going to be selected to represent your country, and when selected, are going to have great expectations put upon you. After calling time on his International career at EURO 2016, he had accumulated 62 goals for his country, producing the match winning goal with a 3rd of these. Carrying the weight of a nation can be difficult however and you will always end up being judged on what you produce in tournament football.
The graph above shows where his 62 goals have come. He has played in 29 World Cup Qualifying games scoring 19 goals, however unfortunately has not scored at a World Cup Final Tournament, despite being involved in both the 2002 and 2006 Finals playing a total of five games. He has produced in the EUROs, however scoring six goals and being Sweden's only player to score in three consecutive EURO Final Tournaments (2004, 2008 and 2012) but unfortunately not being able to make it four at EURO 2016. One improvement which may have helped would have been his goals away from home, he scored 37 goals at home and just 19 away from home (the other six being in the EURO Finals and therefore at neutral venues).
He is the all-time top scorer for Sweden so to see just how much of a difference he makes to the team in the big games, we have looked at his top 10 favourite opponents in terms of goals scored.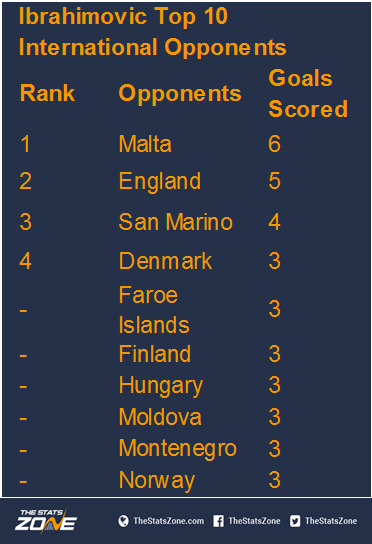 We see here a lack of big names, which may be in part due to the fact that clubs play a lot of qualifying games and only face the bigger opponents in tournaments or friendlies. England fans may be thankful of his retirement from international football given that they are 2nd on the list. The more patriotic of you will now be reliving the 4-2 defeat to Sweden when Zlatan scored all four including a 30-yard bicycle kick which left Joe Hart stood watching and Ryan Shawcross bundling into the back of the net.
So we have established he is a solid and consistent goal scorer for his country but we all know every strikers' method is different as some, for example, may favour long range shots, whilst others such as Van Nistelrooy was more of a poacher, famously never scoring a goal for Manchester United from outside the box. The diagram below shows where Zlatan has scored his goals from.
Zlatan seems to be able to do either at international level. Scoring 10 times for Sweden from outside the box (I'll try not to mention the 30-yard overhead kick again) and 52 times from inside the box, with 14 of those in the six yard box. Below shows how he scored each of these goals.
Being a right footed played it is no surprise that a majority (47) of his goals have come from his right foot and just eight from his left foot. The interesting point here is just six goals with his head. The other goal was scored from a body part other than his feet or head.
Getting better with age
From what we have seen above, it is clear to see that Zlatan has had a fantastic career and has proven himself in five different countries, winning the league in four of them. Below we can see the amounts paid by each of the clubs that have bought him over the years.
We can see the peak with the transfer to Barcelona after having three amazing seasons at Inter Milan. Following this, as expected with an aging striker, the amounts paid drop despite the fact his performances were far from showing signs of dropping. Quite the opposite. At PSG he has arguably had one of the best periods of his career with what he has done for them, being the more prolific than at any of his previous clubs.
When looking at what minute he has scored each of his career goals shows up an interesting verdict. 1st of all, he is one of only two players who have scored in every minute of a game during his career (the other being Cristiano Ronaldo).
There is not a lot of variation, however there is a slight incline as the game goes on, meaning he can finish a game just as strong as the start and play a pivotal part of the attack when the game gets to its latter stages. The blue line is the trend line and shows the average goals scored per minute.
Here is a graph to prove that age is just a number and that Zlatan shows no sign of slowing down in his 30s. The graph below shows his average goals per season at each club.
With the exception of his move to Juventus, this has increased year on year which is a phenomenal stat. This is very exciting news for Manchester United fans who are hoping for him to confirm his move to the Theatre of Dreams anytime now. Can he do for them what he did for PSG and be able to get them back up to the top of the league to win himself a 14th league title in his 5th different country. Having his average goals scored per season rise is great, but it's the importance of these goals which is what makes a difference and what Manchester United fans will be looking for.
Here we see a similar story with an upward trend as his career goes on. He had a stumble at Juventus before an amazing time at Inter Milan which he hasn't looked back from since with his time at PSG throwing up the best stats of his career in this area, averaging 12 1st goals and 12 winning goals per season. From one player, this is a great contribution to have each season and is surprising that there aren't more clubs fighting for his signature.
Where next?
It seems Zlatan is far from done, and you could say, is in the prime of his life at the minute, throwing up the best stats of his career whilst in his 30s. He is available on a free transfer, scores with all body parts in all areas of the pitch and has averaged 40 goals per season in the last four years. Wherever he has been he has won trophies, winning 13 league titles in the last 15 seasons and collecting 30 trophies in total. He is a massive asset for any team and football as a whole, which to the delight of all fans, seems is still not over. But wherever he ends up, it is almost guaranteed he will score goals and win trophies as he has done consistently during his 17-year career.
Form is temporary, Zlatan is permanent.