When the greatest manager in European Cup/Champions League history took on his first job of head coach at Liverpool, Bob Paisley was in a state of deep anxiety. His goalkeeper Ray Clemence remembers, "I think when he first succeeded Shanks (Bill Shankly) he was a bit overawed. I'll never forget him standing in the dressing room in the summer of 1974 on the first day of pre-season training and telling us, 'Shanks has gone and they're giving me the job even though I don't really want it!'"
Facing his squad of players for the first time as their manager was sickening. And he wasn't young: 55 years old. Nowadays we would regard such an opening statement by a manager as a sign of weakness, yet he went on to become the most successful manager in Liverpool's history.
So imagine a youngster in his 20s standing in front of a squad of players for the first time, some of whom are older than him, knowing they are consciously thinking how young he is, maybe even how young he looks.
This was the unnerving situation facing one such manager when German club TSG 1899 Hoffenheim stunned the Bundesliga in February by appointing the league's youngest ever manager, Julian Nagelsmann, when he was just 28 years old!
His first hurdle? To break the pre-conception of youth by asserting his own ideas and principles with such conviction that his players focused more on the content of his instruction than his age.
Hoffenheim were deeply entrenched in the relegation mire, a pressure more intense than any championship-chasing giant could imagine, when Nagelsmann was called upon to avert the drop. Odds on success were lengthened as few had heard of this name outside the club's own confines.
Lying second from bottom of the Bundesliga, Nagelsmann convinced his players that they could compete! A 28-year old at the helm guided his troops to seven wins from their next 12 matches to ensure safety with one point to spare! His name became commonplace and celebrated. But only in Germany.
Now his name is becoming commonplace and celebrated further afield as Hoffenheim remain the only unbeaten team in the Bundesliga this season, and their supporters are fretting with unaccustomed excitement at the astounding third place they currently occupy in the championship race.
Nagelsmann is unsurprisingly the only manager in his twenties running the rule over a club in the top 10 leagues of European football. In fact, moving into the 30s category, only eight other managers in the top 10 leagues have been appointed: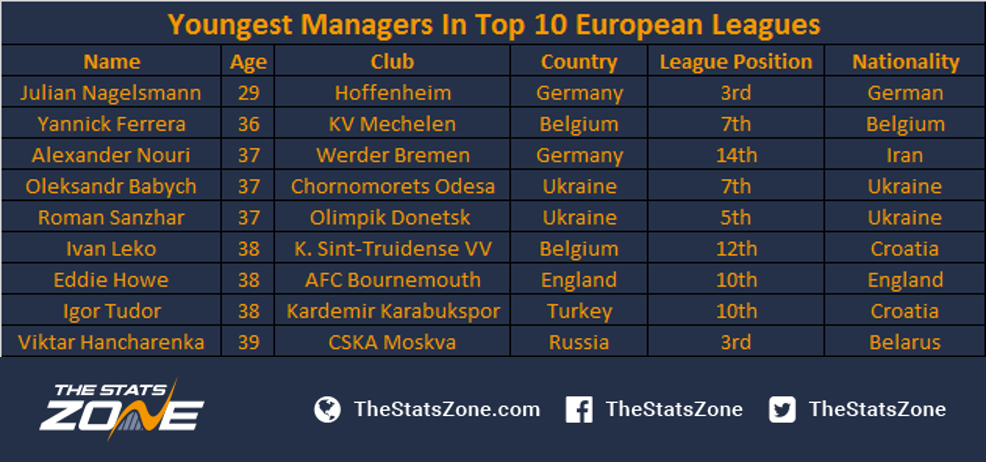 Eddie Howe is one of them, and at 38 years of age, he is universally touted as England's great young hope. His achievements could provide the staged platform for an engaging debate: Claudio Ranieri or Eddie Howe, whose achievements are greater? The instinctive response is of course Claudio Ranieri, but that's because we all know what happened last season. Inexplicable. Miraculous. And of course deserving of any debate about 'greatest' achievements.
Well, here's an argument for Eddie Howe: he led Bournemouth to the Premiership for the first time in the club's 117-year history, but you're not awarded the inaugural 'Football League Manager of the Decade Award' for one achievement only.
Howe was the youngest manager in the Football League when Bournemouth appointed him in December 2008. He had just turned 30. Little risk in recruiting a youngster to lead your charges when they have a 17-point deficit to reverse the certainty of relegation into the ridiculous-to-contemplate miracle of survival. Come the season's end, Bournemouth survived! Howe was lauded and approached by clubs up and down the country. Loyalty prevailed however, as did Howe and Bournemouth as they guided one-another to promotion the following year despite a season-long transfer embargo.
Howe did accept the temptation of moving on to pastures new with Burnley, but it wasn't long before he returned to his favoured Cherries and guided them to another promotion to the Championship before automatic promotion to the Premiership.
Not many managers can boast promotions from the trap-door of non-league football up the ladder of each division in England's highly-competitive leagues and into the wonderland of Premiership Eden. Being boastful of his extraordinary journey would have been forgiven, embraced even for such a young manager, but Bournemouth's supporters were instead the toast of Howe's humility, "It shouldn't be them thanking me, it should be me thanking them. It is a family club and deserves its moment in the sun."
Their thanks to their manager is nonetheless unceasing, in fact higher than ever before as Bournemouth currently sit in the top ten of the Premier League table with more British players in their squad – sixteen English, two Irish and a Scotsman – than any other club. It is testament to Eddie Howe's reputation as a manager that not many people are surprised by Bournemouth's position. Already we are taking for granted his excellence, so let's just remind ourselves, Eddie Howe is 38 years old!
To give Nageslmann and Howe's achievements all the more context, the average age of managers in the top 10 leagues in Europe is currently 50.
If European trophies are considered the necessary acquisitions for the title 'great manager', then Nagelsmann and Howe have higher mountains to climb. If in fact Nagelsmann – in the unlikelihood that he is actually thinking about this – still has a chance to become the youngest European-winning manager in history, a title currently held by Andre-Villas Boas, who was 33 years and 213 days when his Porto side claimed the Europa League in 2011.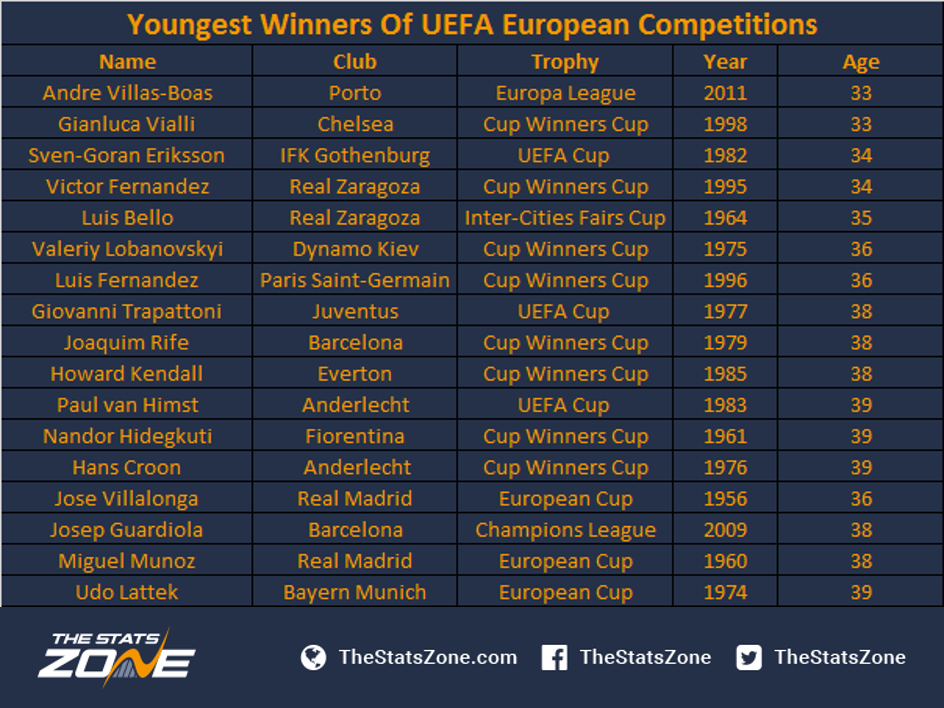 Having shone a light on managers in their 20s and 30s, it would be dismissive of us to consider early 40s as being too old to define as young in managerial terms. Many managers are deserving of recognition, namely: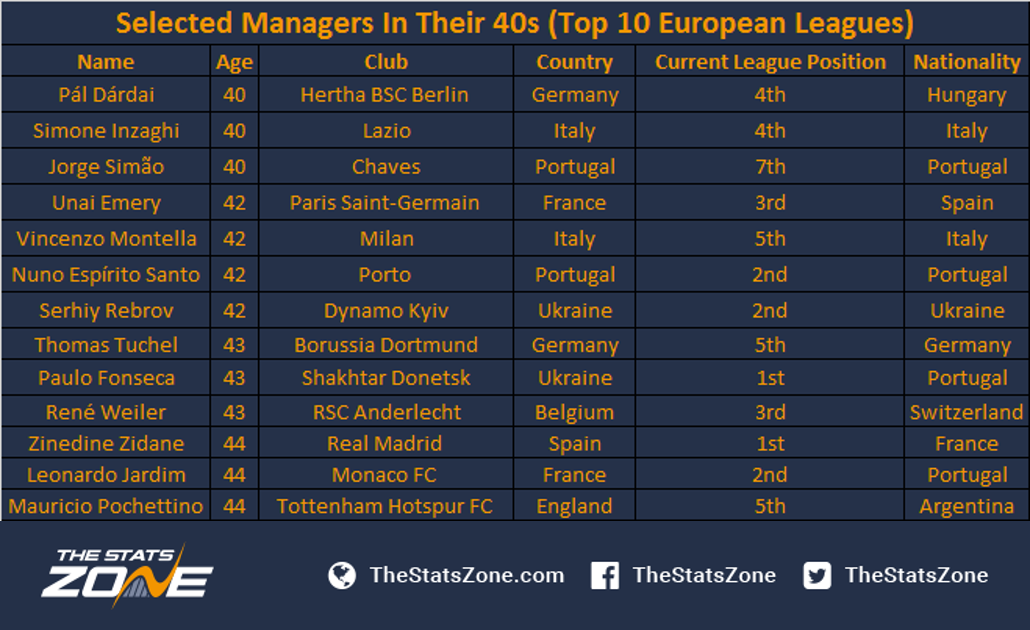 Zinedine Zidane is of course the name that cries out for a mention. Despite his 44 years of age, his relative inexperience as a manager makes his Champions League winning achievement and current status as runaway leader in La Liga impressive. His Real Madrid side are still unbeaten this season.
However, one other manager deserving of praise louder than the most frenzied church-inspiring gospel singer is Paulo Fonseca. This 43-year old, who replaced the legendary Mircea Lucescu at Shakhtar Donetsk 6 months ago, is currently achieving more than anyone across the continent.
Fonseca is the only manager besides Zidane to remain unbeaten on the domestic and European fronts combined. His players dominated their Europa League group with six wins from six, scoring 21 goals in the process, more than any other in the competition.
Domestically, bearing in mind Mircea Lucescu lost the last two league championships to Sergei Rebrov's Dynamo Kiev, Fonseca has reversed the order of supremacy in spectacular fashion. 16 wins and 2 draws have endeared Fonseca to Shakhtar's supporters; their Lucescu-directed anthems on the terraces (which continued even after Fonseca's appointment) are now proudly and lyrically transformed to the inspiration of their new maestro.
Last week's 4-3 win over Rebrov's Dynamo Kiev (far more convincing than the score-line suggests) secured the title with four games to spare. They lead with a 13-point advantage over Rebrov's side in a league that only plays 22 games a campaign. Fonseca is now held aloft as championship vanquisher, and if he remains unbeaten, the tag 'invincibles' will lay to rest the spirit of Lucescu who was never able to reach this formidable achievement in an otherwise extraordinary career.
Many of football's greatest managers started young when setting tentative steps into the landscape of the unknown, but those greats knew one objective would sustain them through long careers: encouraging their squad of players to go even beyond their perspective of their own potential, not only in football but in life, to achieve a genuine sense of fulfilment and a degree of contentedness, and by so doing, the managers would be achieving the same for themselves.
The following began their managerial journeys in their 30s: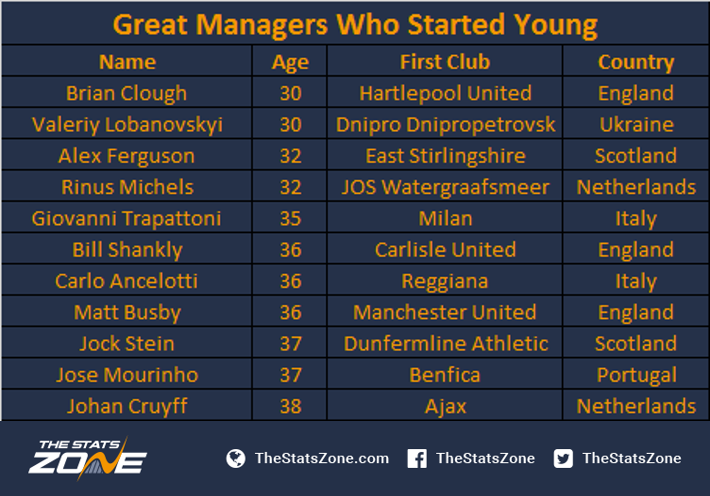 All these managers reached their ultimate destination as champions on the European stage, knowing they had done so against the best players in European football and of course against the colossus of managerial counterparts along the way. And each of them achieved European glory during their 30s and 40s, and are the iconic benchmarks for all to follow.
In today's world of increasingly short-term objectives, with supporters piling on the pressure with heated impatience after a couple of losses, chairmen gamble with their reputation, their own funds and the fragility of their club's top-division status when choosing the manager to lead their club forward. Opting for youth – especially of an unknown quantity – is therefore an act of absolute courage.
Frank Briel and Jochen Rotthaus were the chairmen of such courage when they appointed their 28-year old Julian Nagelsmann. What a message to the rest of Europe's uncertain club owners that giving youth a chance in the hot-seat of managerial discomfort can be the most emphatically repaid policy than any other; the younger the manager, the higher the risk, but also the deeper the feeling of pride when it comes off!
As we enter the second half of an already highly-entertaining season, gladiatorial battles now commence in the knockout stages of European competition. Perhaps the managers of all 48 clubs remaining in the Champions League and Europa League may find inspiration in some of the iconic names – as well as not-so-well-known names – in the chronicles of past winners.