Here we will look at a handful of world class attacking players and investigate their impact under different managers, i.e. which managers get the best out of these players or players not performing for certain mangers. For the purpose of this investigation we will look at league goals scored and goals per game in the league for players playing at the same club under different mangers (e.g Messi at Barcelona under Pep Guardiola and Luis Enrique etc). All statistics are accurate as of 13th
April 2016.###>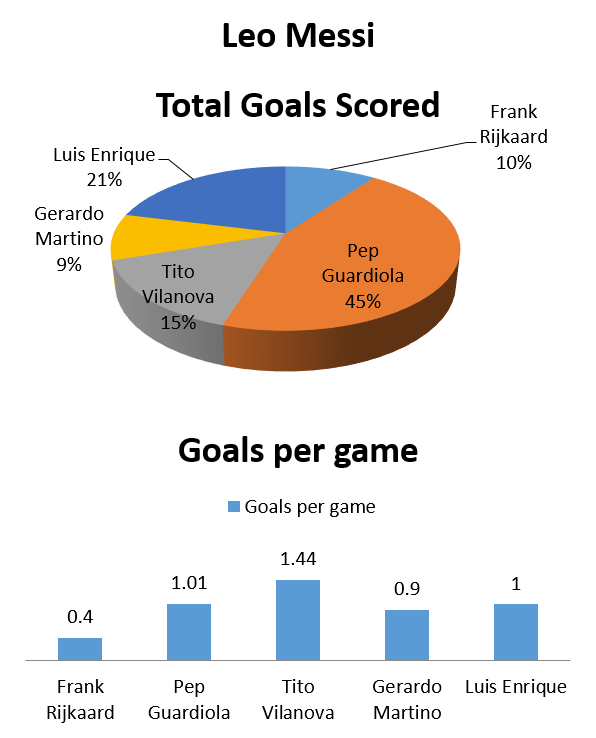 - Lionel Messi scored the highest amount of his goals when under the management of Pep Guardiola. However this is to be expected given the striker played under Guardiola for 4 seasons, the joint highest amount of time under 1 manager.
- The statistics show that Messi had the greatest goal per game ratio when playing under Tito Vilanova; however these results have to be taken with a pinch of salt as he played under Vilanova for just 1 season and performed exceptionally scoring 46 times in just that one season.
- The interesting statistic here is Messi's performance under Pep Guardiola as he manages to score at just above a goal per game in a time span of 4 seasons which shows incredible consistency.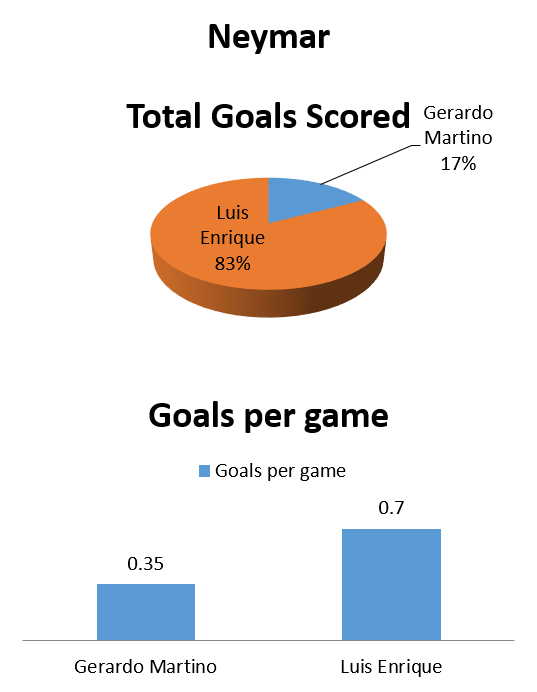 - Neymar has scored a higher percentage of his goals under Luis Enrique but this is to be expected as he has played more games. Luis Enrique has increased Neymar's goals per game ratio but this could be down to the player adjusting to the Spanish league and his team mates rather than down to the impact of the manager. However this might be slightly harsh on Luis Enrique with both Neymar's and Messi goal per game ratio improving under his leadership.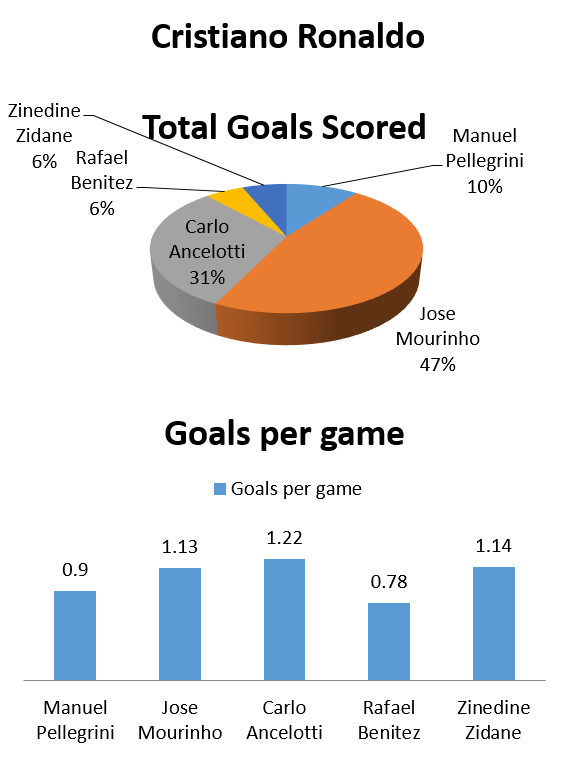 - Cristiano Ronaldo has shown a high level of consistency in terms of goals per game under the management of Jose Mourinho and Carlo Ancelotti; however it is the Italian manager that has been able to get the best out of the forward.
- In Rafael Benitez's short spell in charge of Real Madrid he failed to get the best out of Ronaldo (which ultimately may have cost him his job). However since Zinedine Zidane has taken over Ronaldo has returned to his usual high standards, suggesting he prefers his management style over that of Benitez.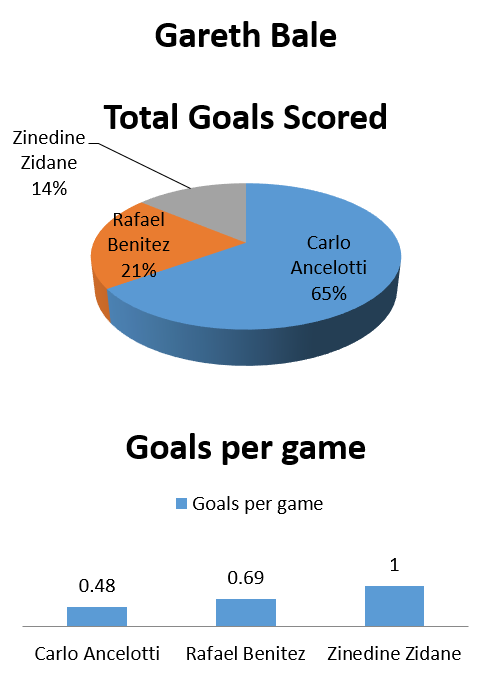 - As expected Gareth Bale scored the majority of goals under Carlo Ancelotti as he has manged Bale for the longest period of time at Real Madrid. Unlike Cristiano Ronaldo, Gareth Bale improved his goals per game ratio under Rafael Benitez but Bale has continued to further his development in Zidane's short spell in charge.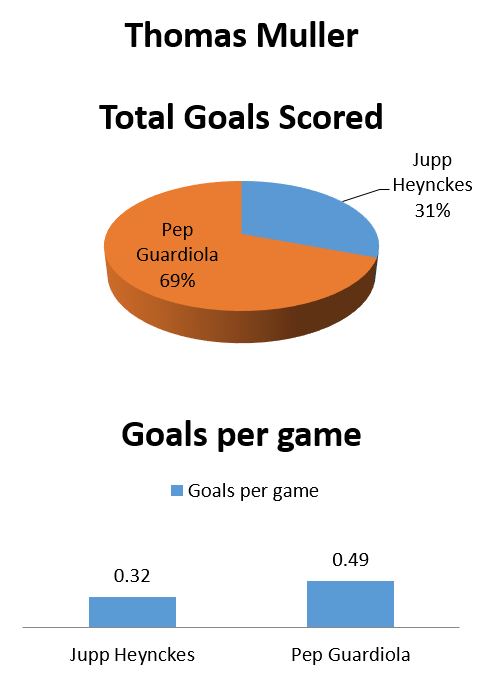 - We appreciate that Thomas Muller often occupies the positions behind the recognised striker and therefore his goal scoring ratios are not going to rank as highly as other players featured.
- However what these stats do show is that Pep Guardiola is able to get the best out of his attacking players and not just the strikers; Muller's goals per game ratio has improved under Guardiola which shows the ability of the manager to make tactical adjustments to get the best out of a player (i.e. in this case improving the goal threat of Muller and adding a greater attacking threat to his team).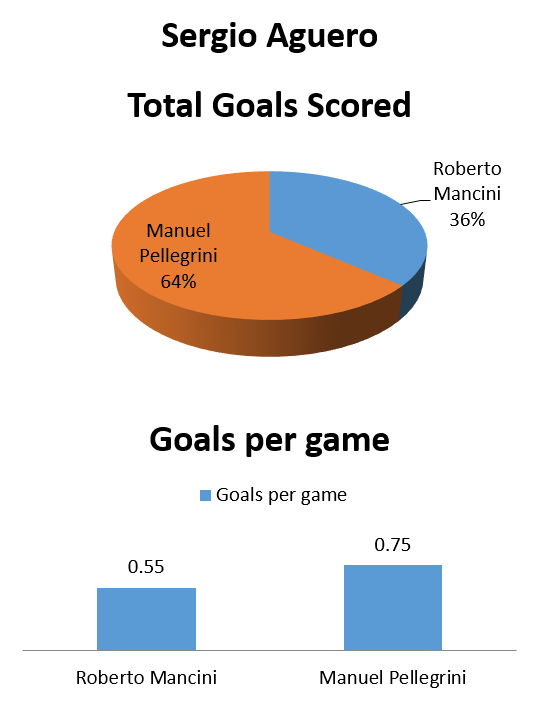 - Sergio Aguero is recognised as probably one of the most deadly strikers in the Premier League in the last few seasons. The striker helped Manchester City claim their first Premiership title in his first season under Roberto Mancini but has continued to improve his goals per game ratio under Manuel Pellegrini. This suggests that the relaxed approach from Manuel Pellegrini has been able to get the best out of Aguero rather than the more charismatic management style of Roberto Mancini.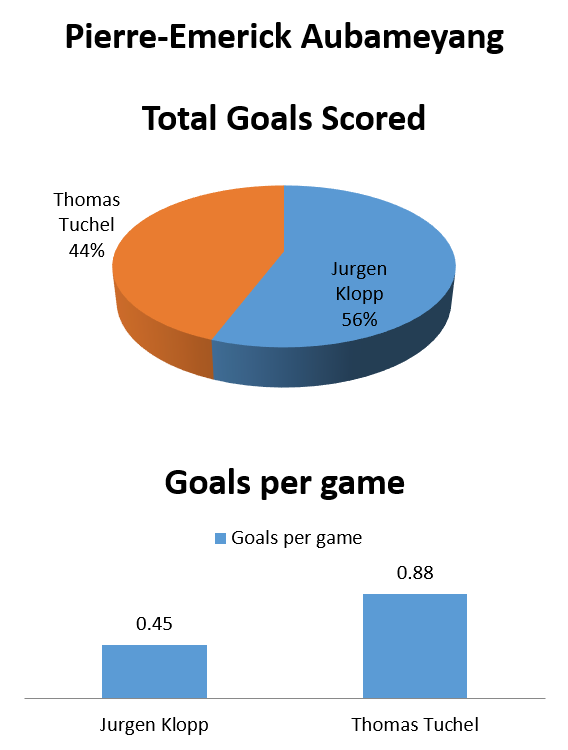 - Pierre-Emerick Aubameyang is one of the hottest strikers in world football right now with rumours of a big money move away in the summer failing to go away! A lot of this speculation has come around due to his performances under Thomas Tuchel. The striker has been playing at the top of his game under Tuchel and has almost doubled his goals per game ratio.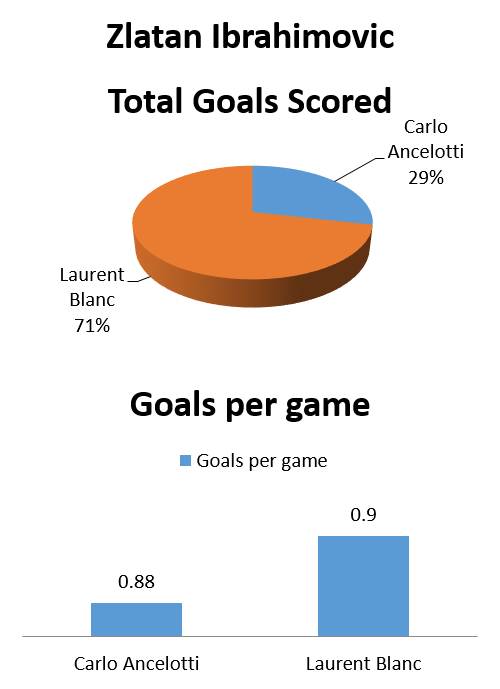 - Last but by no means least is Zlatan Ibrahimovic. The swede has expectedly scored more of his goals under Laurent Blanc as he played under Blanc for longer at PSG. His goals per game ratio under both Carlo Ancelotti and Laurent Blanc have been exceptional. This shows that both managers have been able to get the enigmatic striker to perform at a very high level, with only Messi and Ronaldo performing at a greater goals per game ratio on a consistent basis
- The capability of Laurent Blanc to slightly increase the ageing striker's goals per game ratio over a nearly 3 season period must be commended. Nevertheless will Laurent Blanc continue to get the chance to keep Ibrahimovic performing at such a high level or is a move to the Premier League on the cards in the summer?
Looking ahead to the future it will be interesting to see whether Pep Guardiola can come into Manchester City and further improve Sergio Aguero, as well as nurturing young talents such as Raheem Sterling and Kelechi Iheanacho. It's also a similar story for Carlo Ancelotti, can he go into Bayern Munich and get the best out of the attacking talent at the club, in the same way he did with Cristiano Ronaldo? Will Zlatan find similar success under a different manager in a different league?
Let us know what you think?