Many smaller leagues and nations around Europe often struggle to see large amounts of money thrust into their competitions and the SSE Airtricity League in Ireland is no different. Clubs involved in these smaller leagues often earn peanuts for winning their respective leagues when compared to teams even finishing in last place in bigger leagues across Europe. Therefore, these clubs are all striving to qualify for Europe and the financial rewards that go with it.
The qualification rounds for the UEFA Champions' League Group Stage and Europa League Group Stage have begun and are still ongoing for the 2016/2017 season. This year, four Irish teams earned their place in the qualifying rounds in Europe; Dundalk (2015 Irish Champions) in the Champions League and Cork City (second place in 2015), Shamrock Rovers (third place in 2015) and St. Patrick's Athletic (fourth place in 2015) in the Europa League.
The 2016 edition of the Irish League has seen somewhat of a cash injection, with the total prize fund increasing to €475,500 from €315,000 (this figure covers both the Premier Division and First Division). The 12 clubs in the Premier Division will be competing for a total prize fund of €371,500; which brings into stark focus the lack of financial clout in the League when compared to what Aston Villa received for finishing in last place in the Premier League last season – approximately €1.4 million. Let's have a quick look at the breakdown of how much money clubs will earn dependent on what position they finish in the 2016 Irish League.

UEFA Europa League
As mentioned above, three Irish teams (Cork City, Shamrock Rovers and St. Patrick's Athletic) earned their place in the Europa League qualifying stage and they all entered in the First Qualifying Round. Unfortunately, Shamrock Rovers fell at the first hurdle, losing to RoPS of Finland, whilst St. Patrick's Athletic advanced one round further before losing to Dinamo Minsk of Belarus. Cork City are still flying the flag for the Irish League in this competition but they face a tough test against Genk of Belgium in the Third Qualifying Round.
So let's take a look at the breakdown of money distributed to see how much Shamrock Rovers and St. Patrick's Athletic have earnt and how much Cork City could earn with continued progression.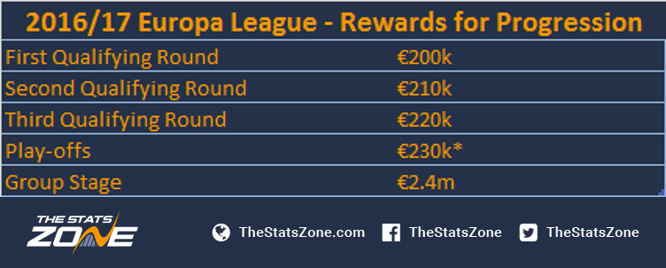 *Clubs will only receive the play-off fee if they failed to qualify for the Group Stage.

We can see already see how important progression to even the Europa League qualifying rounds is to the Irish teams. Shamrock Rovers have earnt €200k, St. Patrick's Athletic €410k and Cork City have already earnt €630k, with further riches available if they can get past Genk- this is significant money to these sides when you remember the winner of the Irish League in 2016 will only receive €110k.
UEFA Champions League
Dundalk's reward for winning the Irish League in 2015 was entry into the Second Qualifying Round of the Champions League. The Irish side performed heroically and got past FH of Iceland, becoming the first Republic of Ireland side to win a Champions League tie since Shamrock Rovers in July 2011. This victory set up a Third Qualifying Round match against BATE Borisov, where they trail 1-0 from the first leg with the second leg taking place on Tuesday 2nd August.
The finances for participation and progression through the Champions League qualifying rounds are detailed below: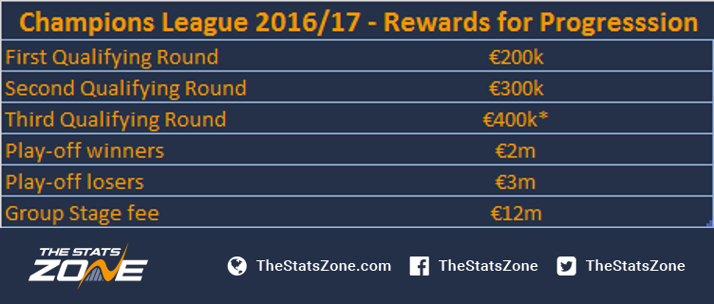 *Third Qualifying Round fee only received if club not involved in Play-off Round

The magnitude of the game for Dundalk on Tuesday is massive; the Irish side have already pocketed €900k for reaching the Third Qualifying Round. If they can overturn a one goal deficit and go on to win the tie, they will enter the Champions League Play-off Round. Even losing the tie to BATE Borisov will see Dundalk enter the Europa League Play-off Round, in which they will earn at least €230k for participating. In addition to this, any domestic champion who fails to qualify for the Group Stage of the Champions League will receive €250k – a scenario which would benefit Dundalk.
Victory against BATE Borisov will pocket Dundalk a further minimum of €3 million, even if they lose in the Play-off Round. They would then go straight into the Europa League where they would earn an additional €2.4 million, as well as a further €360k and €120k for any wins or draws they could manage. if Dundalk can continue the theme of the year of the underdog and get into the Group Stage of the Champions League, then they could pocket themselves €14 million as well as the money from TV rights and performance related bonuses too.
By looking into the money available in both the European competitions, we can clearly see how important they are to the smaller leagues. This can be very problematic for the smaller teams in the leagues trying to compete against the clubs that have earned the solidarity payments and are able to attract the better players due to being able to afford wages and transfer fees. The future looks bright for both Cork City and Dundalk, but without investment (or gross-mismanagement of the top clubs), the chances of any teams challenging them is remote. It is good news for the few but arguably bad for the league as a whole, especially if they do pick off the top players from the other clubs. If this is the case for Ireland, then that will almost certainly be the same in dozens of the smaller leagues around Europe. Albeit not comparable to the Premier League and those numbers, but it is a case of the rich getting richer…