Golf has evolved considerably over the years from an 'old man's game' to an out and out athletic discipline. At the pinnacle of the game The Masters tournament is played at the famous Augusta National Golf Club every year since its introduction in 1934; hosting 50 of the world's top ranked players and past champions each second Thursday in April at the beginning of the British spring time – often referred to by many an amateur as the 'start of the golfing season'. And for these few reasons, maybe this is precisely why this tournament alone leads so many golf fans and others licking their lips in excitement.
Past Master champions really is a who's who of golf; Jack Nicklaus, Tom Watson, Tiger Woods, Gary Player, Arnold Palmer and Phil Mickelson to name a few. Consequently, it is little surprise with the lush green grass, blooming spring shrubbery, and famous pre-tournament Par 3 competition - and not to mention the eight months between major championships - that this event is the most eagerly anticipated during the golfing season. The tournament rarely fails for inspiration and excitement in all corners of the world, yet there has not been a European Champion since José María Olazábal of Spain in 1999 some 17 years ago. During a stretch of 19 years (1980/99), 11 European players were crowned champion, nevertheless before and since these times there have been none – so will The 2016 Masters finally be the year and if so, who?
Past Champions
American players lead the way in number of Wins (59) and individual champions (36) which is probably to be expected taking into account they created and have hosted the event at the same course since its institution. The same can be said for The British Open Championship having by far and away the most European (predominantly English & Scottish) Winners; therefore with the landscape of golf having become a more International game in recent years with the current Top 50 players in the Men's World Rankings being from 19 different countries it is safe to say the face of the game has changed. This is evident in the additional three majors; The British Open, The U.S. Open and The U.S. PGA Championship. Since 2010, these three championships have provided 6 different nationalities of winners, but more importantly 9 out of the possible 15 winners (60%) have been European – so why do European players appear to struggle at Augusta?
Augusta National Golf Club
Many an expert - past and present – have consistently suggested that in order to be successful, a player must have the ability to draw the ball with ease (for right handed golfers) with eight holes playing as a dog-leg right to left. For a left handed golfer to achieve the same ball flight, a gentle and controlled fade is required, which does suggest why Phil Mickelson and Bubba Watson (five titles) have been successful in recent years. Therefore, a player who can manoeuvre the ball both ways with ultimate control has a big advantage over the rest of the field. During the 2015 event, four of the leading six Greens In Regulation placed in the final top six, demonstrating the importance of shot shaping and ball striking.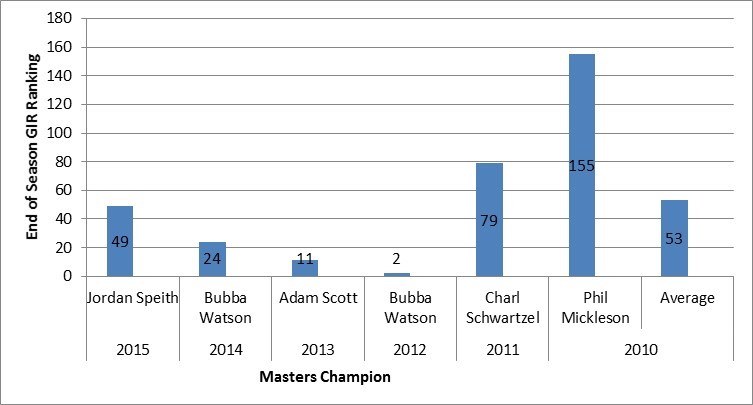 However, as can been seen in the graph above of the past six champions, the average end of season ranking for Greens In Regulation (GIR) is a modest 53. This demonstrates that although sound ball striking is important, it is not the difference between 1st and Missed Cut (MC). With Augusta being renowned for large, sloping and fast greens - some of the most difficult in the game - simply being on the wrong side of the hole can be detrimental. For instance, having a 25 foot putt uphill can be easier than an 8 foot putt downhill; suggesting simply hitting the green is not enough.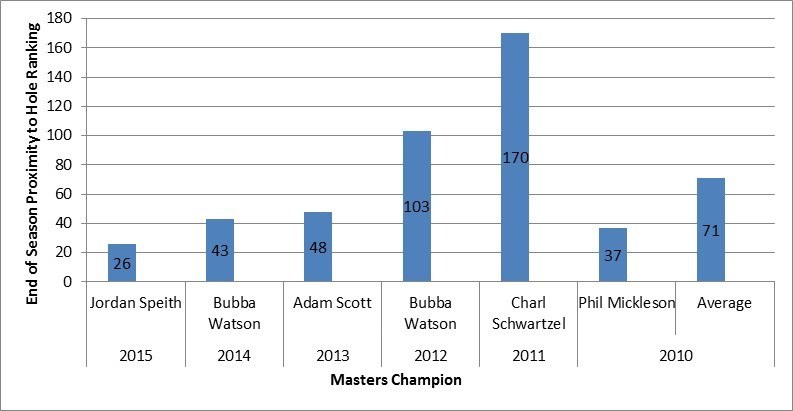 As is evident in the graph, the average proximity to the hole ranking is 71, which although appears average is slightly misleading. Charl Schwartzel and Bubba Watson both had difficulties pre and post Masters with their games and were at the time shock winners. As anomalies, it does enhance the argument that strong ball striking coupled with shorter proximity to hole averages are crucial. In order to achieve this, a good course-management is required and it is regularly repeated how rookies struggle due to the lack of understanding on and around the greens.
Augusta is different to other major courses mainly down to the fact that a premium for driving accuracy is less significant due to the lack of semi-rough and thick rough. A wild drive regularly leaves the player with the opportunity to shape the ball around and underneath trees in order to get it back in play or onto the green as was seen in the 2012 play-off. This further proves why good ball striking and the ability to manoeuvre the ball in both directions are fundamental. Nevertheless, if driving accuracy is not as imperative to success as many courses, then driving distance must hold much weight.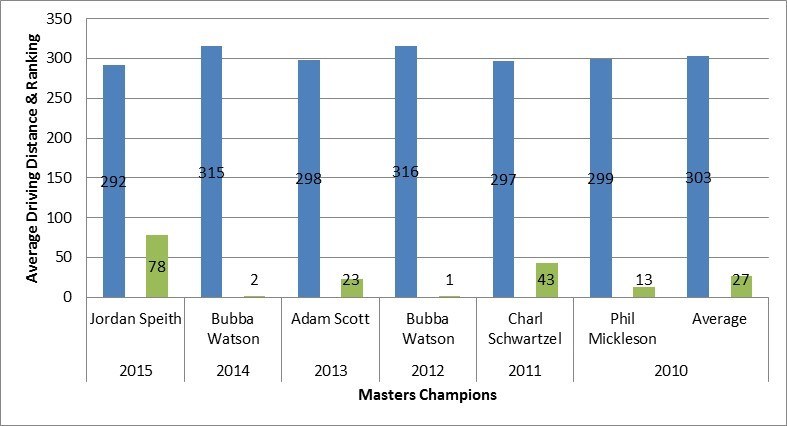 The statistics show that five of the past six (excluding Spieth) average around the 300+ yards from the tee. With a course that does not have a premium on driving accuracy, this type of driving distance can be a huge advantage over the field and unlike some previous statistics, where good and bad weeks can vary drastically with results, driving distance is more constant, meaning the longer hitters over recent years have an advantage. Augusta as a course has changed significantly over the years, often with annual delicate changes that the viewer doesn't even notice (and this is no coincidence), yet none more so than its length. Since 2010 the course has been lengthened to 7,435 yards from 6,800 yards in 1940; and once taken into account the added elevation yardage, the ability to hit the ball a long way is a key factor in success.
In modern times, The Masters has thrown out the odd surprise winner; from Trevor Immelmann's 2008 wire-to-wire victory to the unexpected Zac Johnson's 2007 win – and even more surprising freezing cold spring weather. Yet the history of champions is cluttered with greats – players attributing in the history of unbelievable ball striking and driving powers, the central skills necessary to win at Augusta.
Therefore, it is only logical, with the big, fast and slopping greens that putting performance is an essential characteristic to winning. However, putting is always the key to success due to the largest number of shots required per round coming from this skill area, and whoever does succeed come Sunday afternoon, we predict already they will have performed strongly on the greens. As a result, strokes gained tee to green may have the strongest uncovering on which European may be crowned the 2016 champion.
THE CANDIDATES

Rory McIlroy: if it was not for his 2011 back nine meltdown, he would already possess a famous green jacket. His imperious tee to green play gave him the lead for 63 holes only for his 4 shot lead to crumble away in front over his very eyes. Nevertheless, he went on to win The US Open only 7 weeks later and has since cemented his golfing genius in the history books already with 4 majors to his name.
He is the obvious European favourite – but why? Taking into account the key statistics highlighted, he has averaged no less than 305yards since that famous 'bottle' and is already the No.1 ranked strokes-gained tee to green for the 2016 season without his best stuff. Furthermore, removing 2015 due to injury, McIlroy has ranked highly in G.I.R and Proximity to the Hole likewise, demonstrating his game is perfectly suited to the Augusta layout. With Rory's long game being so consistently effective, he would require a strong week on and around the greens, and at present is ranked a lowly 204th in strokes gained putting and 83rd in Scrambling – although early in the season, these are areas of his game that have let him down regularly in the past and he will need to find something come April.
McIlroy is deservedly a pre-tournament favourite, not only as a European but Internationally. However, with such a long wait since the last major (U.S. PGA), the preparation, over-eagerness and general bad timing often plays a part for the favourites – so which other European genuinely has a strong chance of owning a Green Jacket.
Jordan Spieth won the 2015 Masters with a Sharpe all round game but specifically a 'red hot' putter. Jordan was 3rd for putts per green average during the week and ended the season ranked in the top 2 for 9 of the key putting stats, demonstrating further the importance of a 'sizzling' putter. With him averaging 'only' 292 yards from the tee, his length is not as much as a weapon as it is for others and shows the importance of a solid all round game.
The current World Rankings are an obvious place to start. Henrik Stenson who is ranked number 5 certainly has the ball striking attributes to be in contention Sunday afternoon and has lead the G.I.R rankings in recent years. His trusty 3 wood which is accurate and long means he has a quality few possess, nonetheless his scrambling and putting consistency lets him down all too often. Henrik has regularly been in contention for tournaments over the last 3 years but has not won since the season ending Race to Dubai event in 2014 showing that for all the excellent long game skills, the short game is the missing link. He would need a better than good week on and around the greens and although probable, something suggests no (Top 10).
Justin Rose, ranked number 7 has similar abilities to Stenson and a stellar Masters record to justify a favourite. Furthermore, a winner of the 2013 U.S. Open proves he can get the job done under the most intense of pressures and his performances in recent Ryder Cups will do him no harm. However, yet again his putting attributes are a worry – for someone who hits the number of G.I.R. as Justin, it is little surprise that the flat stick falters on occasion. From a technical perspective though, the putting stroke looks fundamentally weak and is prone to missing from short range – with Augusta's incredibly undulating and fast greens, holing out from 5 foot and within will be vital. Unless something changes mechanically, it is hard to see a win (Top 10).
The up and coming Andy Sullivan who is an almost certain 2016 Ryder Cup player has the traits to do well at Augusta. The ability to manoeuvre the ball both ways has been mentioned by many a playing partner, he hits it long and straight, putts very well and can withhold pressure – as seen when taking Rory McIlroy to the final hole at the 2015 Race to Dubai final – but as a rookie, the course management may just get the better of him (Top 25).
The always consistent and impressive Matthew Fitzpatrick has made quite the impression since turning professional with 1 win to date and numerous top 10's. Brilliant on and around the greens, accurate from the tee and has played The 2014 Masters (making the cut) as an amateur after winning The 2013 U.S. Amateur Championship. However, as a shorter hitter the course may just be that little too long for him at this current stage in his career, and when some are hitting 9 irons into greens compared to hitting a 5 iron, it would require an incredible ball striking and course-management week (Make Cut).
The aging Sergio Garcia who appears he doesn't believe even he can win makes for a difficult argument. The relaxed Irishman Shane Lowry is possibly a little too streaky to manage 4 strong rounds at the Augusta layout to see a winning total. The experienced and returning Paul Casey has been at the top of the game in the past and knows what it required, but with years of serious injuries and family life being a factor, a major at this stage of his career may just be out of reach. Russel Knox, Martin Kaymer, Victor Dubuisson, Bernd Wiesberger, Chris Wood and David Lingmerth – all excellent players in their own right and on their day could certainly compete, but to win, just seems out of their grasp both psychologically and technically.
Therefore, the best chance Europe has of a 2016 Masters champion is Danny Willett. Currently ranked at a career high 13th
in the world, Danny has become one of the world's best players over the past 2 years. With Danny being solely a European Tour member he is not ranked on the PGA Tour statistics; however, his
average driving distance for the 2015 season was 298 yards with 65% of drives landing in the fairway
– he is not only a long hitter but accurate also, the perfect combination for Augusta. For the past five years on the European tour he has hit
over 70% of greens in regulation
suggesting he takes advantage of his driving skills with sound ball striking. This was most evident when
he came 3rd in the 2015 WGC Match Play event
and finished runner-up to Rory McIlroy in the 2015 Race to Dubai, proving he can perform on the biggest of stages. Injury has hampered his progression since turning professional in 2008 after an impressive amateur career, yet with a good team around him it appears he has discovered an effective way of dealing with them and his game has developed to world class status as a result. If he can stay injury free and keep building on his game that he has done to date, his relatively modest career so far will no doubt see him contend for many events in the future, and The 2016 Masters could well be the one.
###>