The big news in recent weeks in the world of English football has been the appointment of former Crystal Palace defender Gareth Southgate as the new England Manager. However, as he prepares to take in an array of games over the festive period to weigh up his options before the next set of qualifying games in March, one player who will not be causing him a selection headache will be current Crystal Palace winger Wilfried Zaha.
Lack of opportunities since making his last appearance for the "Three Lions" in 2013 has led him to make the bold decision to switch allegiance to his country of birth, the Ivory Coast.

Many Crystal Palace fans will have been scratching their heads when the recent squads were announced in October and November, wondering perhaps why Zaha wasn't included but teammate Andros Townsend was.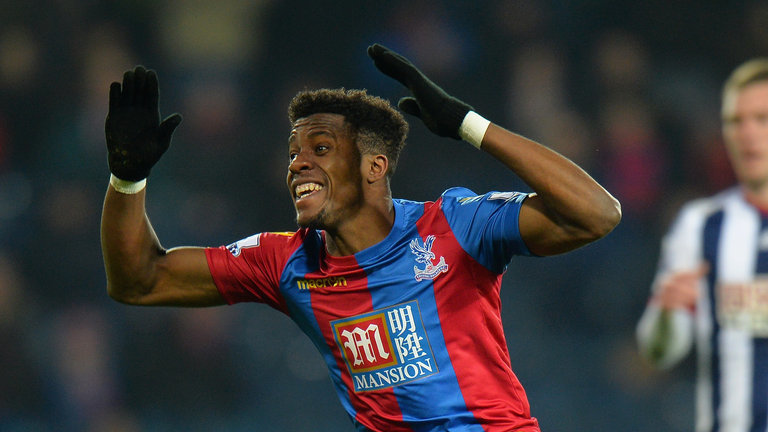 To fully understand this selection and the reasons why this young talent hasn't had the opportunities at international level we examine the statistics of the current England wingers this season and show comparisons with Zaha over the same period. Given the poor showing from the team in Euro 2016, it could be argued that England have let one slip through the net.
We begin by examining the current goals and assist totals of Zaha compared with two of his Palace teammates:
From the table, we can see that Zaha has been Palace's main creative output so far this season, with Christian Benteke in particular benefitting from the winger's invention. Alan Pardew's men have scored 27 goals up to this point, with Zaha being involved in 11 of them.
This table also shows a lack of competition in the side. For the past two seasons Zaha played alongside Yannick Bolasie, and this season, Andros Townsend who joined Palace from Newcastle in July. The lack of a third winger of the same ilk may result in complacency as the season progresses. Some might say this is expected in a team operating just above the relegation zone, however in a team challenging for the Champions League, squads are awash with international talent, where international caps are almost a necessity when a signing is made.
We now turn our attention to English wingers at other Premier clubs, to see where they are after the first 15 games of the season:

This season, Wilfried Zaha has so far been more productive than these players in terms of combined goals and assists, although Liverpool's Adam Lallana's stats are noteworthy given the fact that he has only played 878 minutes up until this point.
The last signing of the Sir Alex Ferguson era at Manchester United, big things were expected of the young Zaha, who having secured promotion for Crystal Palace with two goals in the play-off semi-finals and winning the decisive penalty in the final, was expected to play a big part in the new era at Manchester United under David Moyes.
Games were few and far between for Wilfried at Manchester United, four in total in a turbulent two years which included a loan spell at relegation stricken Cardiff City where he made 12 appearances, scoring no goals.
A return to Crystal Palace helped Zaha return to the form that made Manchester United shell out £15m for a player that never played in the Premier League previously.
Over the subsequent seasons Zaha has played a part in sustaining his clubs place in the Premier League. However, as is the case with every attacking winger, goals and assists are expected: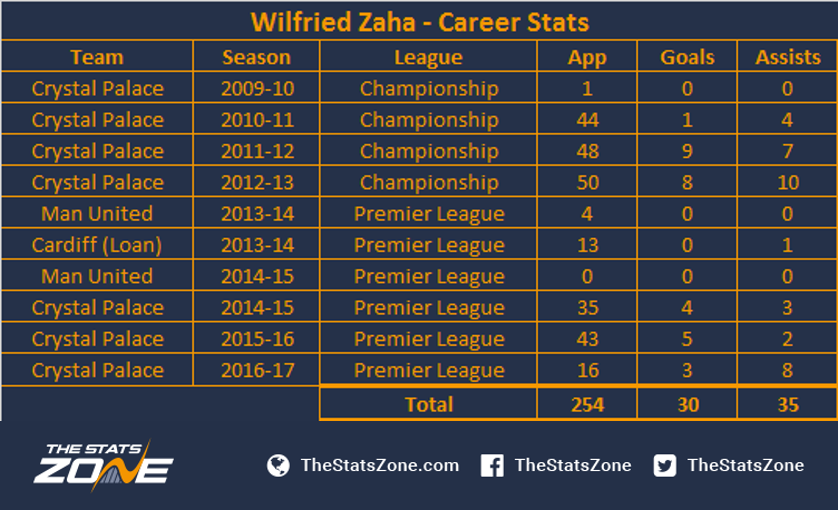 In a struggling team this term, Zaha has been the bright spark. Three goals and eight assists so far shows a man coming of age. Often derived for his poor final ball and cantankerous attitude, through a tough period – including six defeats on the bounce – he has shown England what they will be missing with his pace and power.
This, in a season that began with a transfer request from a player that may have thought that being at a 'top' club was the only way to force his way into the England Squad. Looking at the table below, he may have a point. 19 out of 23 members of the Euro 2016 squad came from teams who finished in the top eight: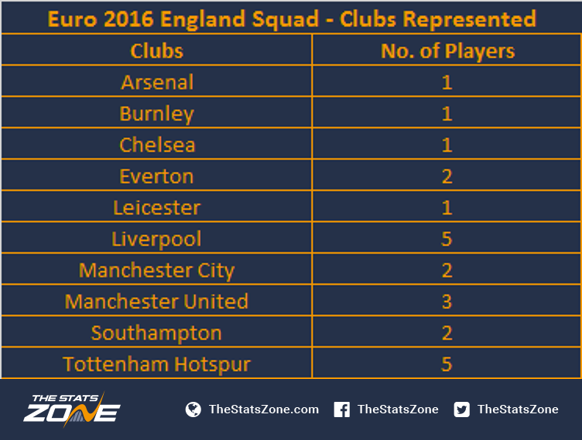 The new England manager was recently spotted at Selhurst Park during Palace's vital win against Southampton. It is not known if he tried to seek out Zaha to plea for patience, but for Southgate and England, it may be too little too late.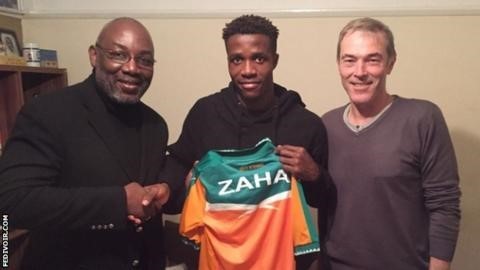 Zaha with Augustin Sidy Diallo, left, President of the Ivorian Football Federation, and national team manager Michel Dussuyer, right
Ahead of Wednesday night's fixture between Manchester United and Crystal Palace, Zaha may be wondering what might have been had Sir Alex Ferguson decided to delay retirement. Will he have had the chances to shine under his guidance? He may yet be held in the same esteem as Raheem Sterling - a player who made his international debut in the same game as Zaha. All we know is that Zaha has always had the talent and it seems that African Champions Ivory Coast will be the nation who profits.