The 100th Open de France, played at one of Europe's finest courses, Le Golf National, is hosting one of the strongest fields in the events history. With it being the centurion year of such a historical event on the European Tour, as well as the host course for the 2018 Ryder Cup and the fact this tournament clashes with the WGC Bridgestone Invitational, the tour are offering extra Ryder Cup points for those who make the cut and classing it as two events played. Subsequently, this has enticed many of the European American based players to enter. As a result, world number three Rory McIlroy and Masters champion Danny Willett are present as well as nine Major champions, 21 European Ryder Cup players and 31 of the world's top ranked 100 players, all the makings for a special event. Consequently, a good finish this week could all but cement a place on the 2016 Ryder Cup team.
The 2016 Ryder Cup Team and Contenders
Danny Willett, Rory McIlroy, Chris Wood, Matthew Fitzpatrick, Henrik Stenson, Justin Rose and Sergio Garcia have all but sealed their places within the team due to superior world ranking points and season form. Andy O'Sullivan and Rafa Cabrera Bello have been examples of consistency over the last 18 months and are currently in the team; however they will still require a strong finish to the season in order to guarantee their places.
With nine places certain through world ranking points and Euros (€) won, the remaining three members are picked by captain Darren Clarke. These three players are likely to be based on season form and those on the cusp of the team will be strong favourites to be selected. Notably, Shane Lowry is defending his WGC Bridgestone Invitational in America and will not be present along with Russell Knox and Soren Kjeldsen with all three being on the boarder of qualifying for the team at this stage of the season.
Nevertheless, there are four European players who are on the verge of qualifying – they are; Thorbjørn Olesen, Lee Westwood, Thomas Pieters and Martin Kaymer. With a mixture of two rookies in Olesen and Pieters, two time major champion Kaymer and a Ryder Cup legend in Westwood, the race to qualify is heating up.
Final tournament position for the 2016 European Tour season was analysed for each of the four players to assess form. It is evident that each player has had 'streaky' seasons where good and bad results are evident with little consistency on show. Remarkably, each player is yet to achieve a tournament win this season whereas the top seven have all been successful Internationally. This further highlights the importance of a strong finish at the Open De France where a win for any of the four players will virtually guarantee their team position.
Both Olesen (11) and Kaymer (12) have played significantly more events this season to date than the other two players which could suggest why they have made more tournament cuts. Furthermore, both players have had consistently better finishes suggesting their games are in good shape heading into the main part of the season. Notably, each player has been in contention to win this season without getting over the finish line - could this week be the breakthrough or is the pressure of a Ryder Cup year to much to handle?
Le Golf National – The L'Albatros Course
Le Golf National has spent the last ten months undergoing redevelopment works to prepare for the 2018 Ryder Cup. As a result, this will be the first time the upgraded layout will have been played since its closure. Furthermore, many of the world's best are also participating this week in order to better prepare themselves for The British Open in two weeks' time.
Le Golf National combines the traditional feel of a links with the modern features of target golf. During the summer months it traditionally plays firm and fast with slick greens, vast undulating fairways and countless links-style bunkers, making it one of the strongest tests of golf of the European season. The L'Albatros Course will require a premium on driving accuracy as shown with recent past champions Graeme McDowell, Miguel Ángel Jiménez and Martin Kaymer, notoriously accurate drivers of the golf ball. Additionally, the 470-yard par four, surrounded by water, averaged 4.60 in 2015 and was ranked the hardest hole in The 2015 Race to Dubai.
Kaymer boasts a highly impressive record around the L'Albatros course with an average finish of 16th since 2009, demonstrating his liking for the course. Westwood also fairs well with an average finish of 19th but has only played the tournament four times in that time period. Both Olesen and Pieters have a respectable average placing but have fewer starts since 2009 due to them gaining European Tour status.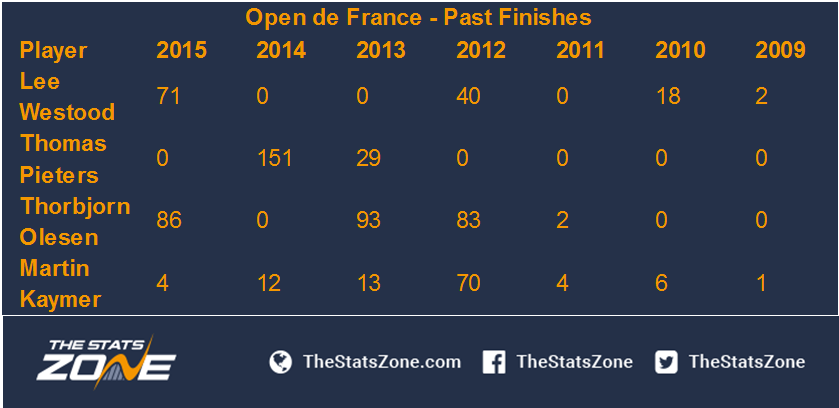 Additionally, baring 2012, Kaymer has not placed outside the Top 15 in his last seven starts in the event with a tournament victory in 2009, furthering his reputation around the L'Albatros. Particularly, both Westwood and Olesen have each finished as runner-up since 2009, but their course form elsewhere has been relatively poor.
Tournament results were analysed both pre and post The 2016 Masters to measure form at the start and middle of season. The most significant rise is Westwood, with a modest average finish of 65th pre-Masters and a highly impressive finishing average of 13th post-Masters. Finishing runner-up at The Masters must have given a timely boost in confidence to Lee who has started to play some of his best and most consistent golf in recent years during the middle of this season.
Olesen has also significantly increased his average finish position from 66th to 23rd – a rise of 43 places – making him an inform player heading into the latter stages of the season.
Although Kaymer has only increased by 28 places, this is due to his consistent play throughout the season where he has averaged inside the Top 50 pre-Masters and Top 25 post-Masters. His solid play to date could soon be rewarded, but without a win on tour for two years, he needs to start converting.
Peiters however has only increased four places from 44th to 40th. His early season good form has slowed down at the wrong time, meaning all that good work could be in vein. He must start turning his season around soon if he is going to be a 2016 Ryder Cup rookie that so many had tipped.
Where they currently stand
Both Kaymer and Pieters have a large margin to decrease in order to catch the final automatic qualifying spot in Mathew Fitzpatrick. Now of course this will depend strongly on Fitzpatrick's form as much as their own, to which could rule them out of automatic qualification through the European Points method, with Mathew being one of the most consistent players in world golf. However, a Top 10 finish for Westwood and Olesen could bring them very close to the required mark.
As highlighted, the final two automatic qualifying spots are those of Andy O'Sullivan and Rafa Cabrera Bello who are yet to win this season and would be Ryder Cup rookies. Each of the four players analysed should be seeing their best chance to qualify through the World points system, but with many European Tour events carrying fewer points than the bigger tournaments, the Open De France and the remaining two majors will be their best opportunities.
With 64 extra points available for the winner, Olesen would finalise his position within the team with a victory. Nonetheless, a poor showing this week could result in a missed opportunity, requiring him to either perform well in the majors – which has not been the case in his career to date – or contend regularly in his remaining European Tour events, a big ask for a rookie.

Westwood is certainly feeling confident with his game at the moment and the results justify that. With strong showings in the first two majors of the season it is fair to suggest another win is just around the corner for Lee. Therefore, his consistent play could still be enough to qualify and with a steady finish this week and in his remaining events where many world ranking points will be available, it could just be enough.

Kaymer is a strong favourite heading to Le Golf National and if he is able to lift the trophy come Sunday afternoon, he can all but guarantee his place in the Ryder Cup. Unfortunately for him, this week may be his best chance of clawing back the much needed points (minus the majors). Martin is very much a confidence and momentum player and it may be very important for him to get a win during this in form spell in the middle of the season. If he does not capitalise on his good play, a captain's pick may be out of the questioning.

Peiters needs to find his early season form and start competing to win again. It has been nearly four months since his last notable result which is a long time in golf and for a rookie to turn around would require a lot. Nevertheless, a player of his potential could find a way, but it feels like this may be one Ryder Cup too soon and he'll learn from the experience.