Atlanta Falcons wide receiver Julio Jones racked up 300 receiving yards from 12 catches and a touchdown last weekend in his team's 48-33 win over the Carolina Panthers. That standout performance immediately led to headlines claiming Jones to be the best wide receiver in the game today.
There is little doubt the formidable Jones has been one of the best receivers in the league since Atlanta drafted him and he joined the league in 2011. The Falcons GM Thomas Dimitroff handed the Browns two number one picks, a two, and two fours to move up from 27th in the draft to sixth to select Jones. A huge price to pay but one that is paying off handsomely.
In the very same draft, the Cincinnati Bengals selected another wide receiver with similar traits with the fourth overall pick – AJ Green. There are numerous similarities in terms of size and speed between the two speedsters, but who is the better of the dynamic duo?

Looking at the raw numbers, Green has the edge in receptions but that is largely due to having played 11 more games since they both entered the NFL. That does flag up one area which Green has the edge over Jones and that has been durability, as the Falcons receiver suffered a foot injury in 2013 which saw him miss 11 regular season matches.
However, Jones dominates the receptions and yards if we break it down over per game averages. Despite playing 11 less games, Jones actually has more yardage than Green.

If we look at touchdowns, it is Green who edges this stat with 47 in his 80 matches compared to Jones' 37 from 69. When looking at the per game ratio, Green maintains that edge, claiming 0.59 per game compared to Jones' 0.54. The statistics are quite comparable when we look at their big play ability as Jones has the edge in 20+ yard receptions while Green just beats him in 40+ yard plays.

The next data set we looked at was to compare their contribution to their respective teams. It is clear to see that the Bengals' reliance on Green is much greater compared to the Falcons' use of Julio Jones. It is difficult to argue whether that is a pro or a con to either player or team given the different styles of offense that the two teams employ. It is however interesting to see that while Jones is unquestionably the Falcons' number one receiver, they do not overuse him and spread the ball around their offense significantly more than the Bengals and other teams have with star wide receivers in recent years – the Detroit Lions and Calvin Johnson is one prime example.
The debate has continued throughout the week around Green and Jones but how do the pair measure up with the receiver considered the best right now? Antonio Brown entered the NFL one year before Jones and Green and is well on his way to a Hall of Fame career.

Looking at the same timeframe (excluding his rookie season), Brown's numbers are not that much different to either Jones or Green. The one notable difference is the number of receptions as the Steelers and Big Ben actively look to get him involved in their play as much and as often as possible. That said, he has not always had Big Ben available due to the QB's injury problems, so these numbers could have been even greater had the partnership been in tandem the whole time.
Taking receptions aside, Jones and Green have the edge in TD frequency rates and measure favourably in yards per catch also.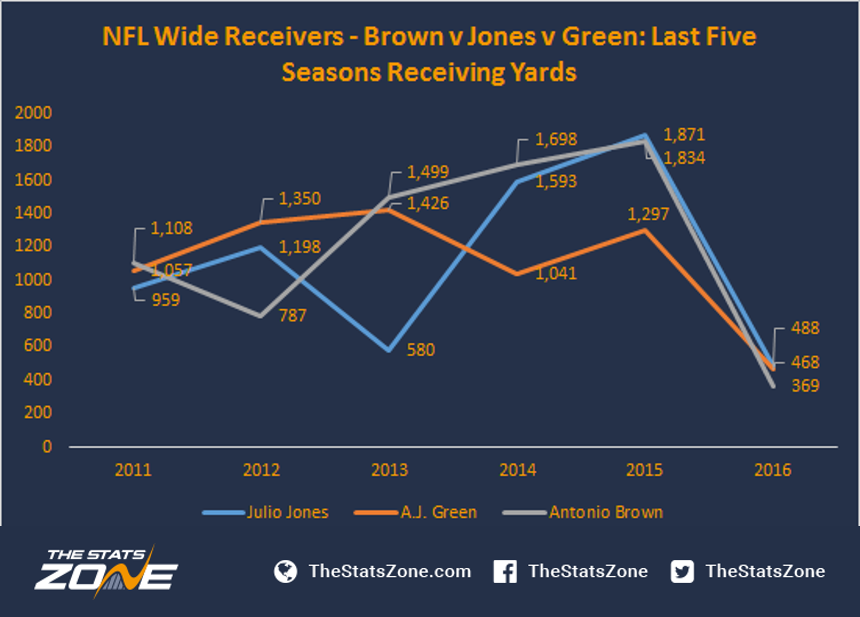 Jones' impressive start to the season is in line with his impressive career trend, which apart from his injury-hit 2013 season, has shown improvement each season. Green has been the most consistent over his five seasons, racking up over 1,000 yards every season. While the sheer volume of Brown's involvement in the Steelers' offense is seeing him rack up some incredible numbers, there's little evidence statistically however that sets Brown apart from the other two, and assuming Jones can stay fit, he could very well put up numbers this season to edge ahead of both Green and Brown. The only thing he appears to be lacking is a colour as his surname!