The NFL draft is today and it's already been making headlines with two blockbuster trades. Both the Titans, who owned the first pick, and the Browns, who owned the second pick decided to trade those picks away for hauls of picks later on in this draft and in future drafts. That threw up a few questions for us here at The Stats Zone that we decided to look into.
· Is it better to have more draft picks later in the draft or fewer early ones?
· Who has been the best at drafting players over the last five years?
· How good are teams at picking players?
We collated all of the picks over the last five drafts and assigned points to each player based on four categories.
· Games played (0.1 points)
· Seasons as primary starter (1 point)
· Times voted to the Pro Bowl (3 points)
· Times picked as an All Pro (5 points)
All of points gained by a player are assigned to the initial team that drafted them even though many may have moved to a new team. Initially, we decided to simply rank the teams based on the average points per year they received from the picks they made. This then removes any bias towards having a greater number of picks and accumulating more points and removes any bias towards the picks from the earlier years which would have also accumulated more points simply from having the opportunity to feature in more games over the longer timespan. The results were interesting and gave us a top five of:
1. Carolina Panthers
2. Tampa Bay Buccanneers
3. Oakland Raiders
4. Arizona Cardinals
5. Chicago Bears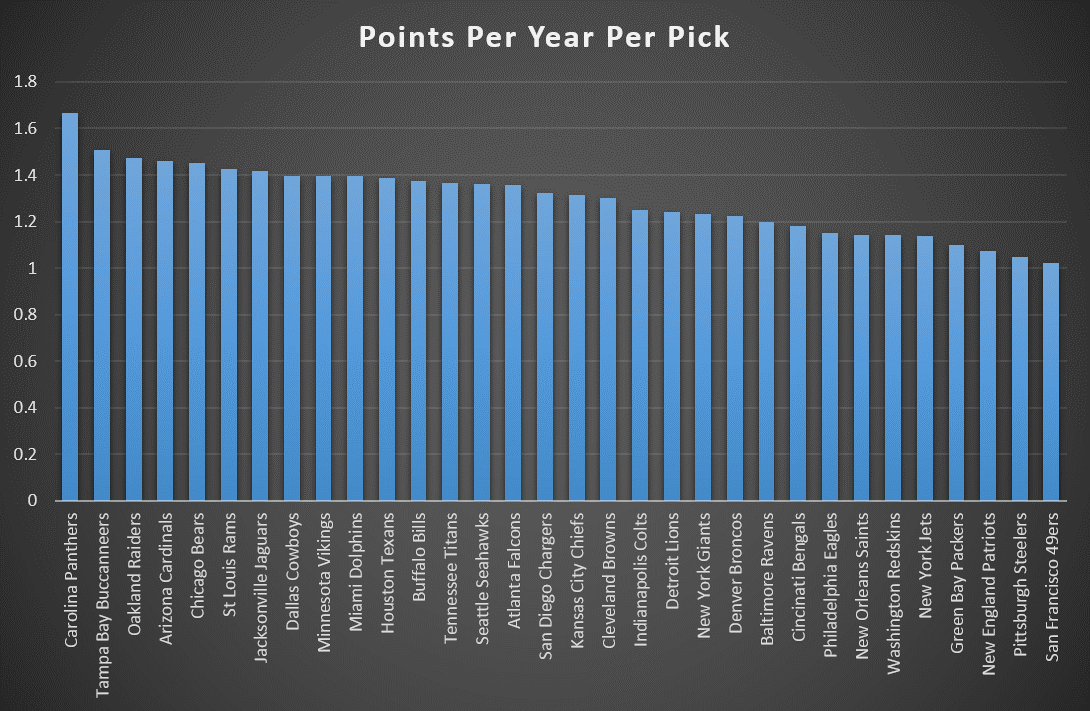 Seeing those teams in the top five is not unexpected. Carolina and Arizona were regarded as two of the best teams in the league last year; Oakland and Tampa Bay were both viewed as young teams with up and coming talent who fell two and one games short of the playoffs respectively. You could argue that Chicago is the anomaly as they haven't had a winning season for a few years now, but you also have to remember that the players picked might not necessarily been impact players such as quarterbacks, running backs and wide receivers.
It gets interesting at the bottom end where we have the following five teams.
28. New York Jets
29. Green Bay Packers
30. New England Patriots
31. Pittsburgh Steelers
32. San Francisco 49ers
New York are no great surprise here as they have been a poor quality team for a number of years as reflected in their record over that time. The four others are somewhat of a surprise as during that span they have all been among the most successful teams in the league. However before we take this too far it's worth looking more deeply into where the teams picked players with regard to the rounds they picked them in.
We decided to see how the points gained by players varied between rounds. The table below shows the yearly average points accrued per pick for each of the seven rounds of the draft over the past five years.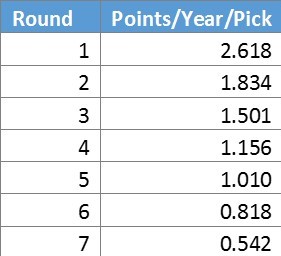 So picks in round one produced nearly five times as many points as picks in the seventh round and 1.4 times as many points as round two picks. We then decided to weight the points based on which round each player was picked in to determine which team is getting the best value out of their picks as this should be a more representative approach to determining how well teams draft.
Next we normalised this data to create multipliers for each round. The first round is our baseline and so the multiplier is 1. The table below shows the multipliers for each round based on our analysis.
When we introduce these multipliers into the data we get a different picture. The top five drafting teams become:
1. Oakland Raiders
2. Seattle Seahawks
3. Jacksonville Jaguars
4. Miami Dolphins
5. Minnesota Vikings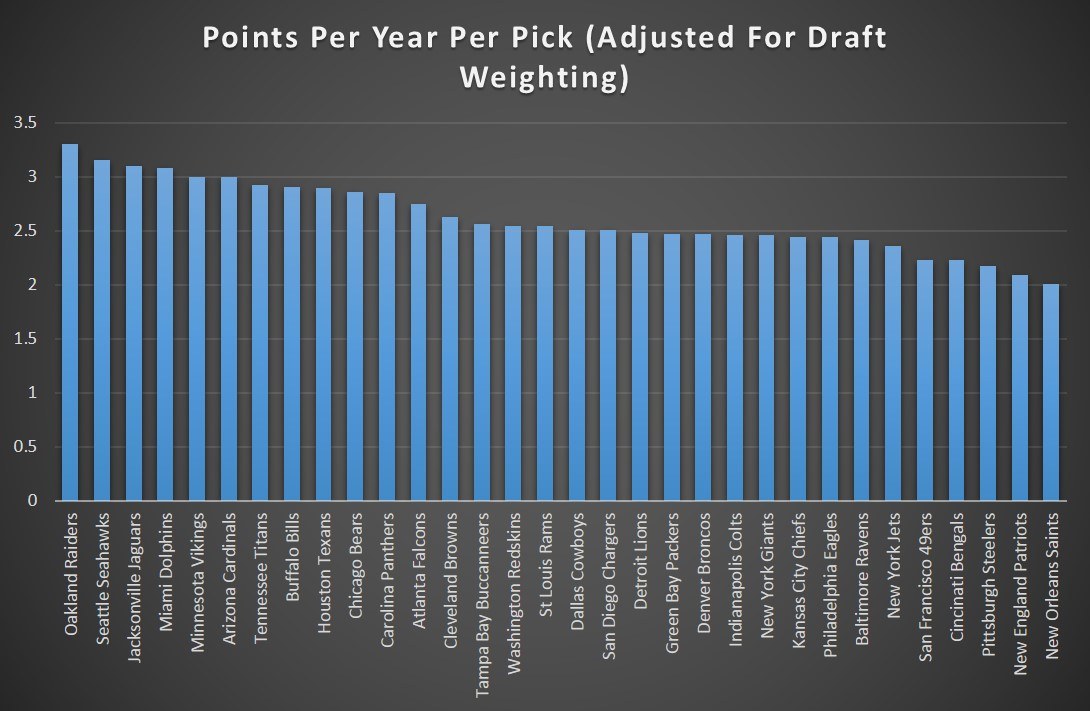 Of the original top five we had only the Oakland Raiders remain in the round adjusted top five. This suggest two things. The first being that the teams in the non-adjusted top five hit on their early round picks more often through the five year period. The second thing we can infer is that the teams on the round adjusted top five were able to be more successful with their later round picks. Oakland have been successful in both areas and although they have spent a number of years fighting the Cleveland Browns for the 'honour' of the worst team in the league, they now appear ready to mount a challenge with a young and talented roster. Similar can be said of the Jacksonville Jaguars who have not been much better than Oakland over the past five years. They have built a young roster through the draft, significantly strengthening that through free agency, which could mean they are poised to make an even stronger challenge than Oakland this season.
One final observation is that all of the teams in the top five have picked a quarterback in one of the last five drafts and that quarterback is now their starter. Three were first round picks and then there was one in each of the second and third rounds.
After the round adjustment the new bottom five teams are:
28. San Francisco 49ers
29. Cincinnati Bengals
30. Pittsburgh Steelers
31. New England Patriots
32. New Orleans Saints
There are three teams who were in the bottom five in the non-adjusted rankings with the addition of Cincinnati and New Orleans. What's interesting here is that New England have been commended for their great drafting strategy over the last decade, but according to our rankings over the last five years they have been one of the worst.
Who were the best value picks?
Not only did we look at team results we also looked at the individual players and have come up with a top five list of the best value selections over the past five years. We've done this based on their overall points and selected the top ten from each draft over the last five years to get the following: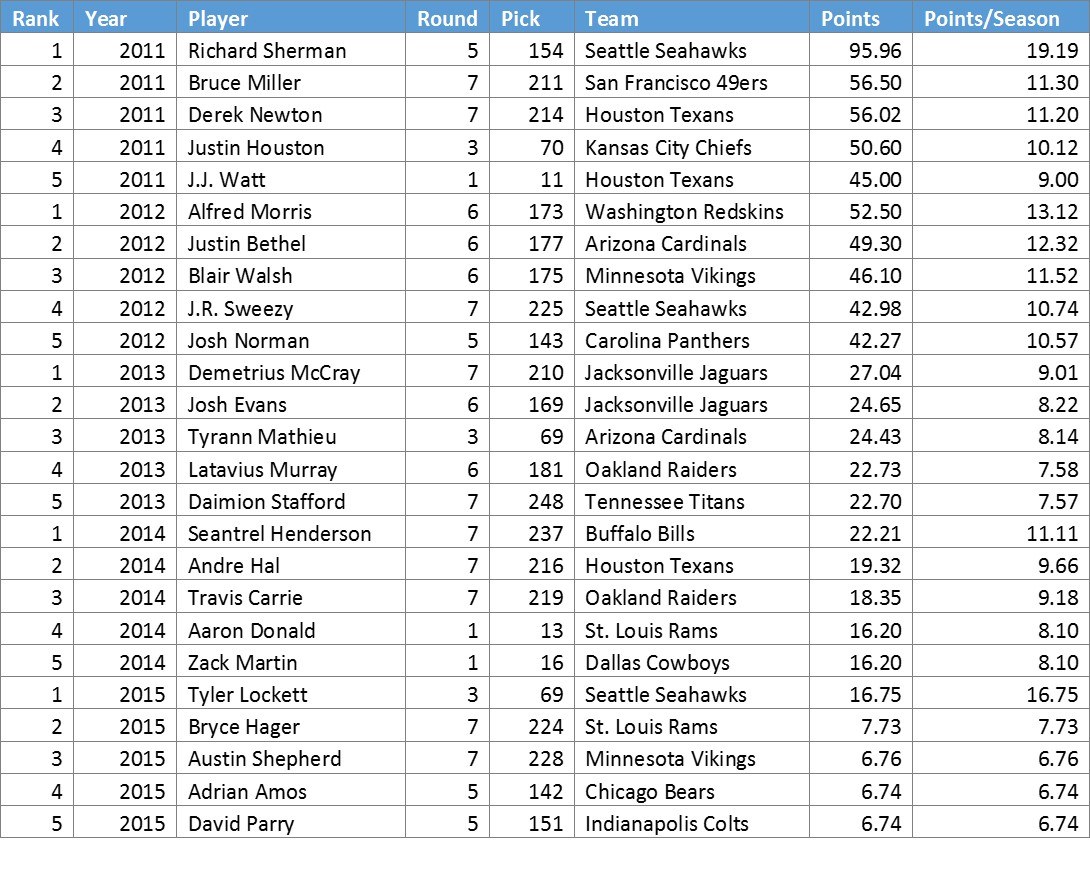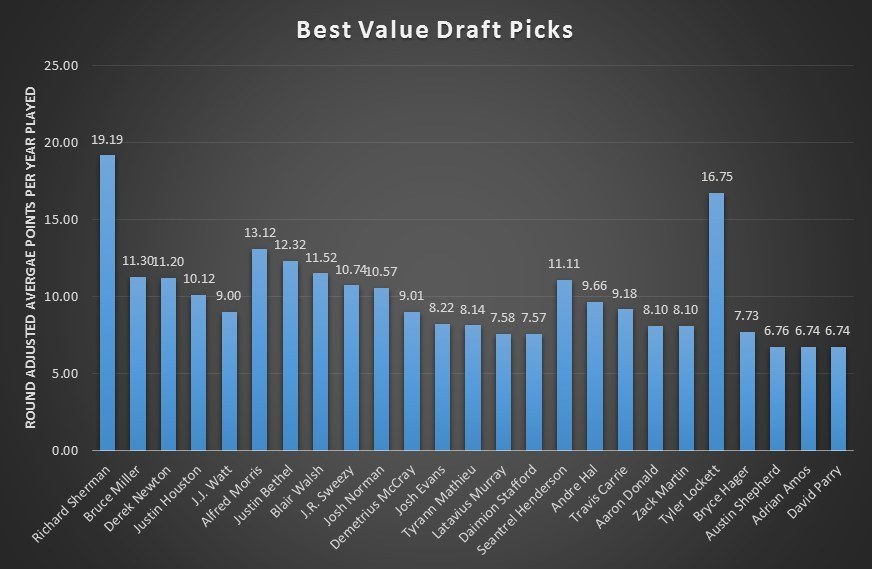 Seattle Seahawks players dominate this list. They have managed to find a high level contributor and top five value pick in three of the past five years. Statistically Richard Sherman is the best value pick over that period followed by Tyler Lockett. Lockett however is early on in his career and that makes his rating right now very susceptible to natural variance.
Who had the best draft year?
The top five drafts belong to the following teams
1. Seattle Seahawks (2012)
2. Oakland Raiders (2014)
3. St. Louis Rams (2014)
4. Denver Broncos (2011)
5. Seattle Seahawks (2011)
The emergence of Seattle twice on this list at this point is no surprise. It goes long way to explaining their success in recent years. Unlike building through free agency they have had the luxury of building the core of a team on a lower salary at a younger age. However, with that comes potential problems over the coming years of having to sign these players to long terms contracts. This means that the window for making the most of your draft picks is generally shorter than it could be if there was no free agency.
The analysis we have done here only gives a snapshot of drafting success at this point in time. For many of the players it's too early in their careers to assess whether they were a good or bad pick. Our data will become more representative over drafts further back in time as drafts nearer the current day are far more volatile and likely to change significantly over the coming years. We also realise that our data could be much more granular in terms of measuring the actual impact of a player on the team's success per season, per game or even per play! This however would be an enormous task and seeing as the purpose is to get a generalised overall picture that isn't really necessary for what we want. One important observation is that the ability to draft well does not necessarily equate to overall success as a team on the field and neither does drafting poorly have that link. Finally if nothing else this study shows that later round picks should not be forgotten about. Whilst it might be less likely that a team is able find a talented player in the later round, late round picks are often thrown into trade deals as an afterthought and accumulated through compensation for losing players through free agency at quite a high rate. So there's definitely an argument for trying to accumulate a number of picks rather than a single higher pick to increase your chance of finding a player able to contribute to the team.