Following Germany's tame semi-final exit at the hands of hosts France at Euro 2016, their starting line-up and substitutions during the game soon came under scrutiny. After Mario Gómez had succumbed to injury in the quarter-final victory over Italy, Germany then opted to field Thomas Müller in a more advanced central position rather than playing the man with the most international goals in their squad, Lukas Podolski. Podolski didn't even make it onto the field as a substitute in that game despite Germany drawing a blank in front of goal.
Germany ended the tournament with more international goals in their squad than any other side at the European Championship (217) but things are very different following the start of their qualifying campaign for the 2018 World Cup. A few of the squad that went to France are struggling with injuries but more significantly, Podolski has announced his retirement from international football. It's a substantial void to fill, especially after also losing Germany's all-time top scorer Miroslav Klose following the 2014 World Cup. TSZ will look into the numbers to examine who the contenders are to become Germany's next #9.
Euro 2016 Qualifying
Thomas Müller has become an extremely effective individual for both club and country over the last few years. This was evident during Germany's qualifying campaign for Euro 2016 when he was his country's top scorer.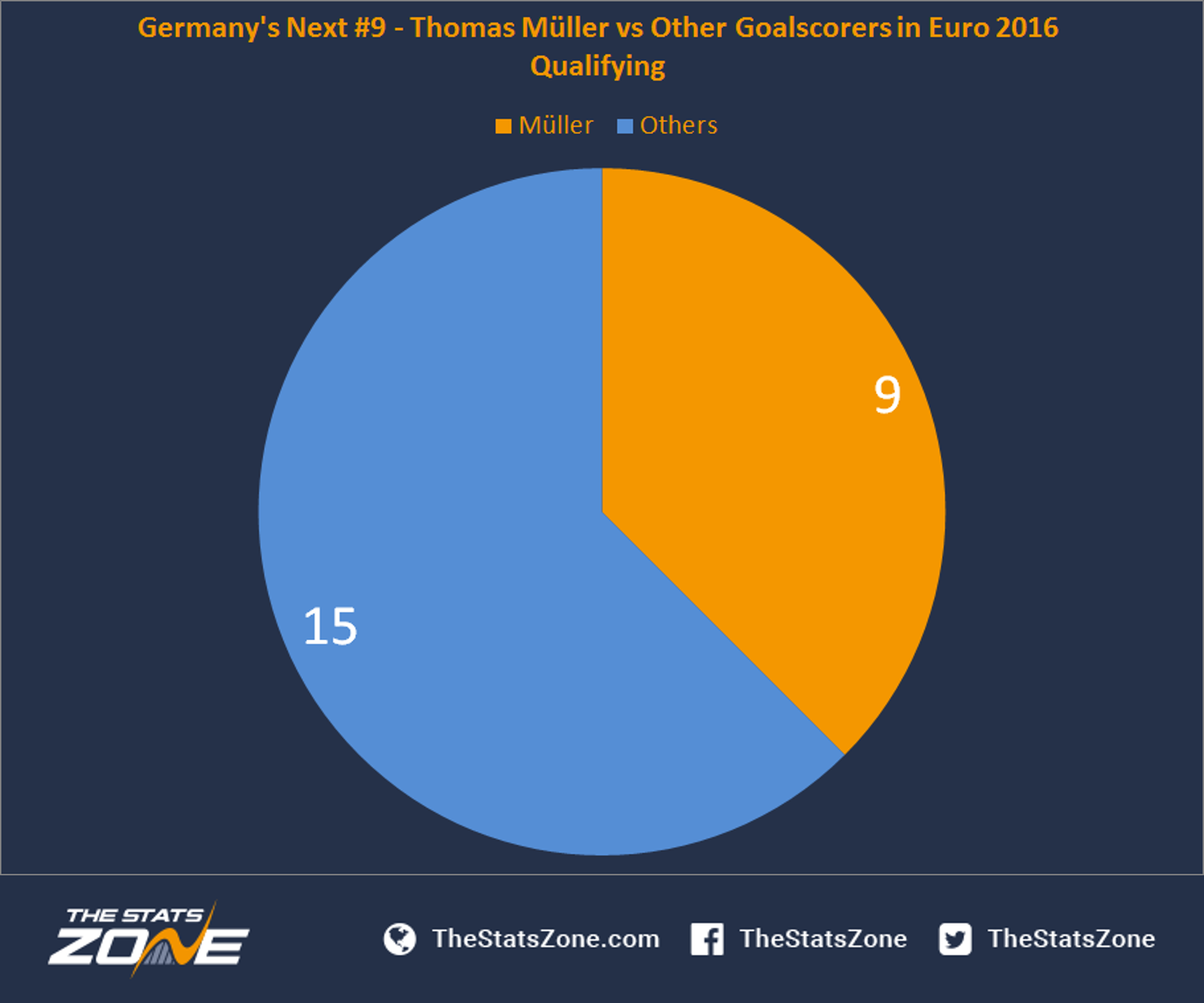 Müller was the key man in front of goal, scoring nine out of the 24 goals (37%) that Germany scored in their 10 games. However, his importance to the squad that went to France became more evident when the final squad was named. Although another eight players also managed to find the back of the net for the Germans, some of those weren't present at Euro 2016 which made Müller's role look even bigger.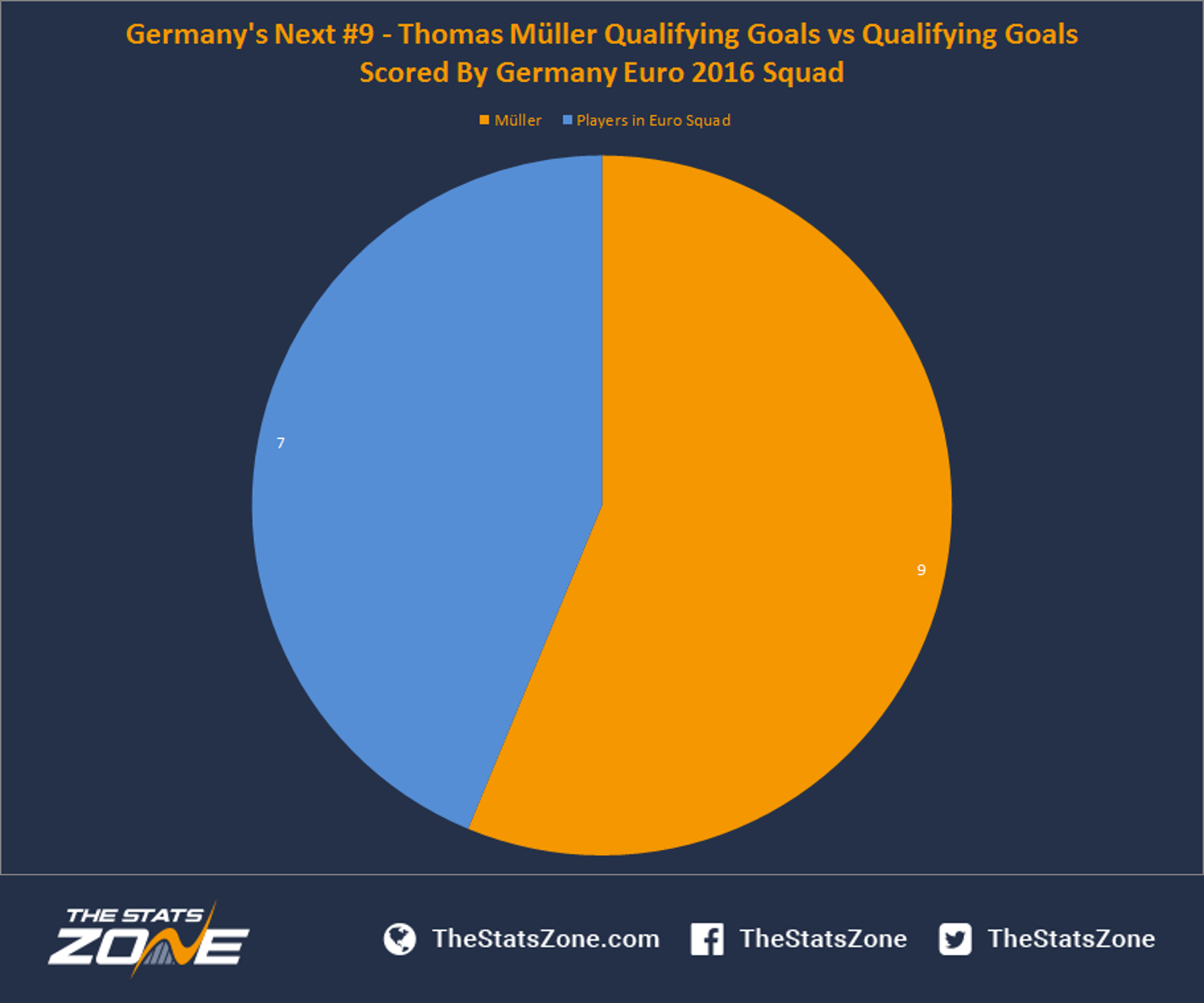 Of those 24 goals that Germany scored, only 16 were represented in France. This meant that Müller's contribution was going to be even more vital with his nine goals now outscoring the rest of the squad who had only contributed seven goals. This saw his influence increase from 37% to 56% in terms of goals scored within the squad.
Euro 2016
As mentioned earlier, Germany's squad had scored a total of 217 international goals between them by the time they exited the European Championships. Excluding the three goalkeepers, 15 of the 20 outfield players ended the tournament with at least one international goal to their name.
What makes the above table even more impressive is that the five players who hadn't contributed a goal were relatively new to the national team, with all of them having seven caps or less to their name. On top of this, Germany also had eight players in their squad who had scored over 10 international goals which is no mean feat. This stat in part is probably why Podolski wasn't needed to be relied upon as it might have been felt there were enough goals throughout the rest of the squad to see them through.
With Müller's importance already well highlighted, he was the man Germany trusted to score the goals to send them to the final but he was unable to do so. In fact, he didn't find the back of the net throughout the entire tournament, and he even missed a penalty in Germany's penalty shootout victory against Italy in the quarter-final. In Müller's defence, he normally enjoys more of a free-role than the one asked to play in the France game but following Podolski's subsequent retirement, it meant that a void was developing in the Germany squad.
Recent and Current Squads
Germany's first game since Euro 2016 came in the form of a friendly against Finland in which the Germans were 2-0 victors. The game served as Bastian Schweinsteiger's farewell game as he too stepped away from the international arena and with it, Germany lost another 24 goals from their squad as they headed to Norway for their first qualifier for the 2018 World Cup. Schweinsteiger and Podolski between them contributed 72 goals for their national team, meaning their unavailability alone would cost Germany 33.18% of the total goals from the Euro 2016 squad.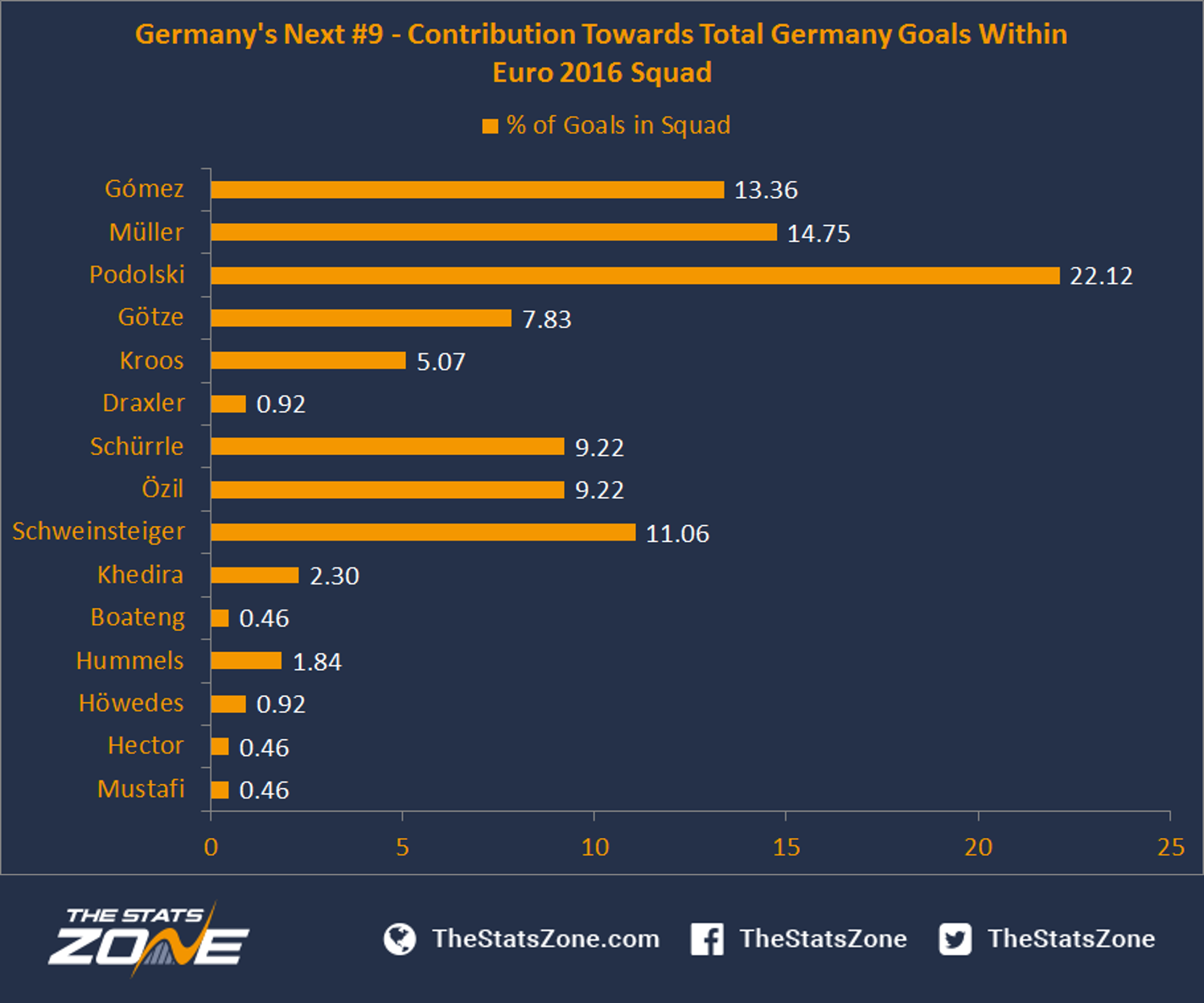 The bad news didn't stop there for Germany. Jérôme Boateng, André Schürrle, Julian Draxler and Mario Gómez were also unavailable, meaning 124 goals out of the 217 from the Euro 2016 squad would be missing from the trip to Norway (57.14%). However, this didn't seem to deter the Germans too much as they ran out comfortable 3-0 winners.
Following the Finland friendly, the Germany squad (now minus Schweinsteiger) contained 95 international goals, a reduction of 56.22% from the Euro 2016 squad. That number would have been 93 but two players who were brought in to replace those unavailable in Karim Bellarabi and Max Meyer have two international goals to their name between them, with the latter scoring his first goal for the senior side in the Finland friendly.
After their two 3-0 qualifying wins against Norway and Czech Republic, Germany are preparing to face Northern Ireland as they look to maintain their perfect start to their qualifying campaign. The squad has a different look to it from the Euros with a big shift of percentage of goals in the squad.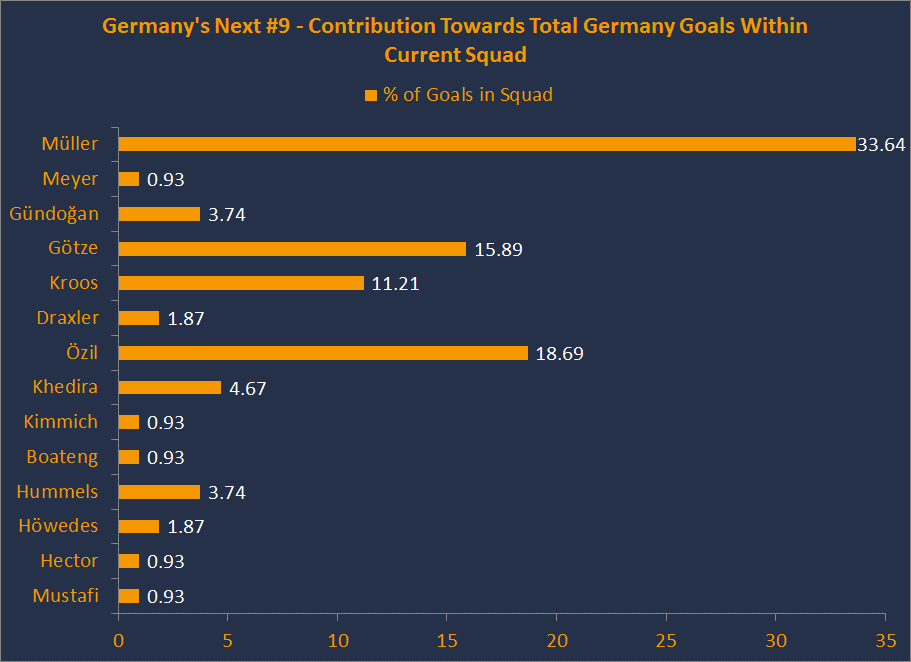 The emphasis on Müller in the current squad has become more evident based on the above. His contribution has risen from 14.75% to 33.64% due to the various retirements and injuries. With this in mind, it seems that Germany need to find a striker to replace the goals that they have lost over the last few years.
The Contenders
After the loss of Klose in 2014 and now Podolski, even though he wasn't always played as an out-and-out striker, the next in the pecking order to be Germany's talisman up front has fallen to Gómez. However, he isn't getting any younger and cannot be relied upon to be the sole striker for Germany in the coming years. It's looking more and more likely that the world champions need some fresh talent up front so we'll assess the options below:
Thomas Müller – Age: 27, Caps: 80, Goals: 36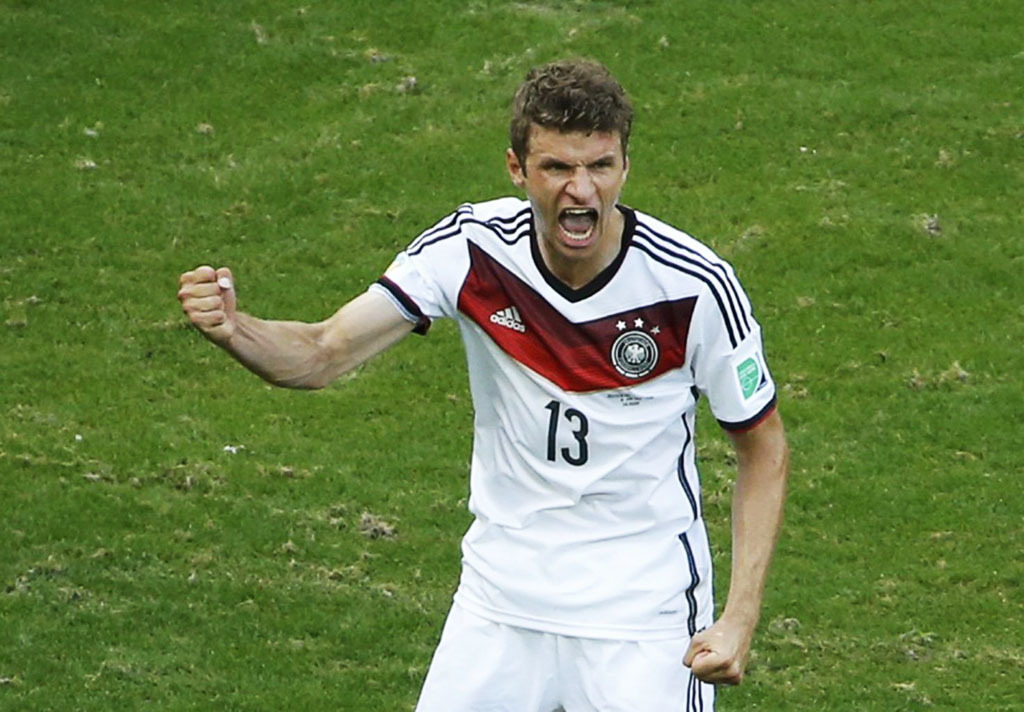 As already referred to, Müller isn't an out-and-out striker but can play the role through the middle of the pitch if required. After Podolski's retirement, the Bayern Munich man is now the highest scorer in the current squad and has a chance of breaking various records for the national team before he retires, if he carries on at his current scoring rate. He has the ability to score any kind of goal and regularly finds himself in good goal scoring positions, but he's unlikely to be the number 9 in the long-term with his best position in the free-role down the right.
Mario Götze – Age: 24, Caps: 59, Goals: 17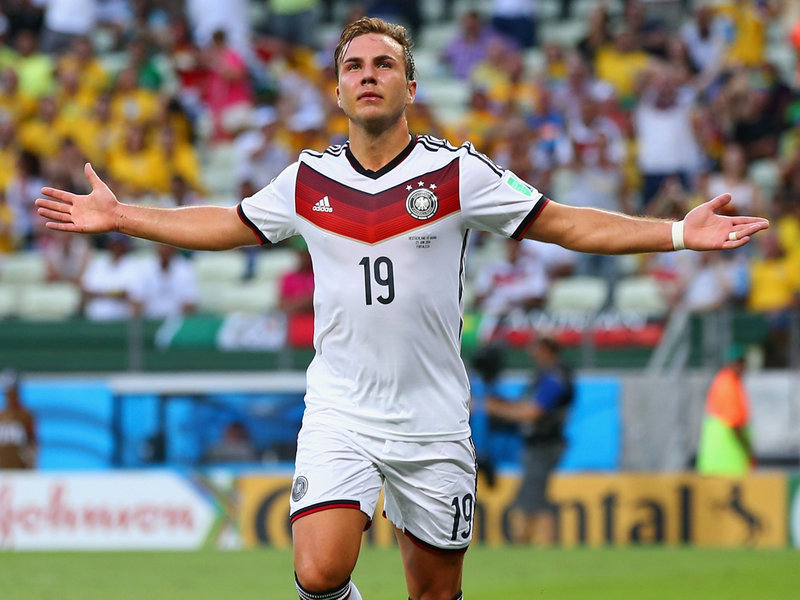 Another who isn't an out-and-out striker, Götze has played the main striker role for both club and country for the last few years. Pep Guardiola often deployed Götze in the false 9 role for Bayern Munich, but having moved back to Borussia Dortmund for the 2016/17 season, this may see him play in his more favoured attacking midfield role. Guardiola felt he needed to dominate games more when playing as the focal point but he struggled in this capacity; Götze prefers to play just off a front man with the ball at his feet.
Kevin Volland – Age: 24, Caps: 7, Goals: 0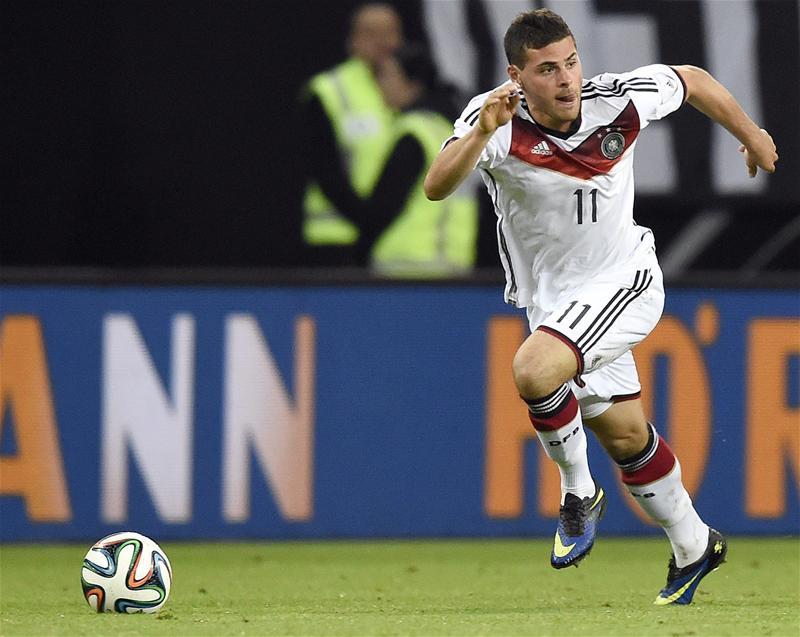 Volland has yet to find the back of the net for the senior side, having scored 13 goals for the U17s through to the U21s. Volland is capable of playing as the main striker but prefers playing out wide and cutting inside which doesn't make him an ideal candidate for the main striker role, however a lack of alternatives have made him a potential contender. Volland has consistently scored goals in the Bundesliga but will be keen to break his international duck, especially if deployed through the middle.
Max Kruse – Age: 28, Caps: 14, Goals: 4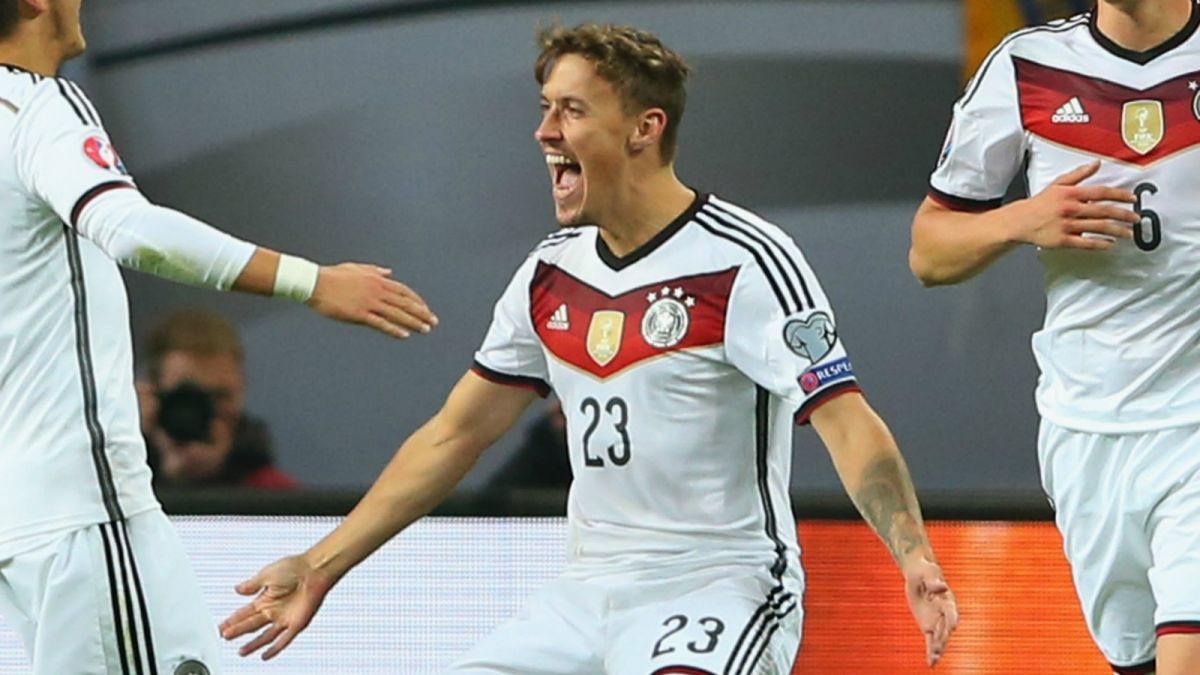 At 28, Kruse isn't likely to be the long-term option either but could certainly fill in when Gómez is unavailable. He has just four international goals to his name at senior level from his 14 appearances but will feel he can add to that tally if given a chance. That chance may not be forthcoming though after he was dropped and fined for off-field reasons earlier in the year which ultimately saw him miss out on selection for Euro 2016. He's fairly limited as a striker and doesn't offer much aerially but is capable of holding the ball up which could come in useful if he can regain his place in the squad.
Nils Petersen – Age: 27, Caps: 0, Goals: 0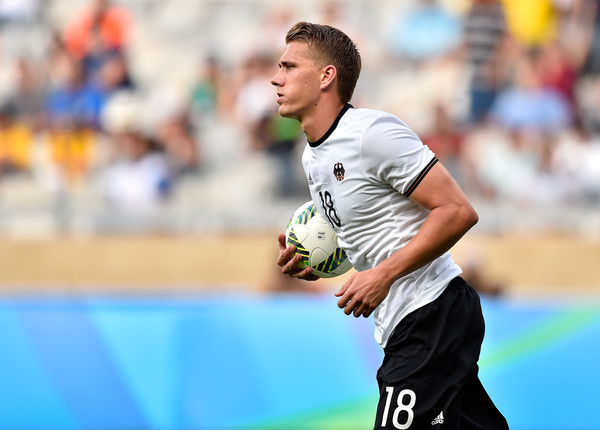 This one is a little from left-field but after his performances at the Olympics and the lack of alternatives, Petersen could come into contention. The striker bagged six goals in six games in Rio, representing Germany as one of their overage players despite having never previously represented them at any age group. He's never been prolific at the highest level but his goal scoring exploits for Freiburg in the 2015/16 Bundesliga season saw him net 25 goals from just 34 games in all competitions. If he can have a breakout season in the top tier following Freiburg's promotion, he could find himself receiving a call-up to the senior side. As it stands, he's scored two goals in six appearances this season, despite only starting one game.
Timo Werner – Age: 20, Caps: 0, Goals: 0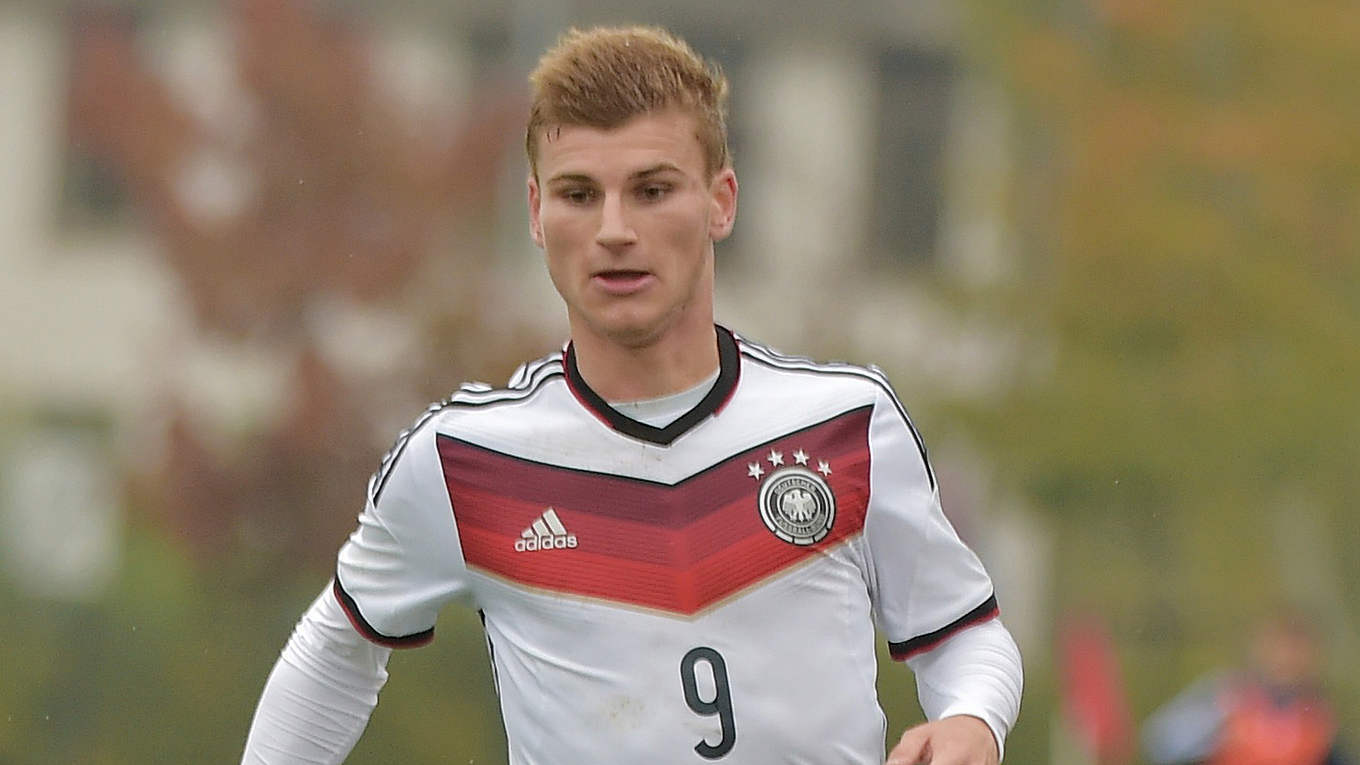 When Werner broke through at Stuttgart in the 2013/14 season, he looked like he had the world at his feet and was tipped for big things. Whilst it hasn't quite panned out like that so far, he is still only 20 and has plenty of time to live up to those early expectations. A move to RB Leipzig for the current season may be what's needed for the technically gifted Werner. His ability to carry the ball may help him break into the senior side, and his record at youth level is extremely eye-catching with 21 goals from 24 games playing at U17, U19 and U21 level.
Davie Selke – Age: 21, Caps: 0, Goals: 0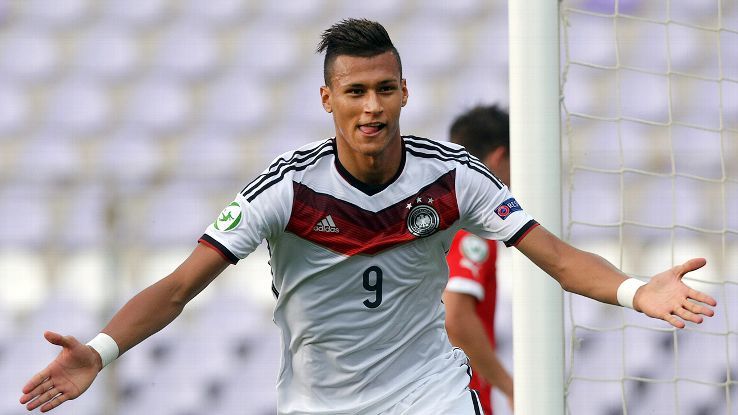 Possibly the most likely to take on the main striking role in years to come, Selke is very highly-rated and could break into the senior team over the next year or so. Standing at over 6ft 3, he has the physical presence required to fill the void up front for Germany. but he's also quick and powerful to compliment his stature. He's another who has been prolific at youth level, scoring 19 goals from 22 games at various levels from U17s to U23s. He's composed in front of goal and demonstrates clever movement with intelligent runs within the box. He could be exactly what Germany need and whilst he isn't quite at the level required at the moment, his time might not be too far away as he continues his development on the back of two goals at the Olympics and a goal for Germany U21s against Russia U21s in their qualifier for the 2017 U21 European Championships.
Summary
With German coaching methods altering over recent years, there's been a huge increase in the number of technically gifted players that Germany have produced and the conveyer belt of talent shows no signs of slowing down. That has been to the detriment of striking talent though, meaning the well is almost dry in terms of finding a suitable replacement for Podolski and offering an alternative to Gómez.
This hasn't gone unnoticed, even within the Germany camp, with Müller stating recently that more presence was required up front. He acknowledged that Germany have a lot of technical talent – too much in fact – but there needed to be an alternative as the main striker, a "beefier" option. He admitted that there wasn't much choice beyond Gómez. Despite that, Germany manager Joachim Löw has said that his team don't necessarily need to play with a number 9, as backed up by Müller's four goals from two qualifying games.
The options listed may all play their part at some point, with some playing bigger roles than others. In terms of finding the striker that Müller believes is needed, there aren't many choices at the minute and there is little doubt that Germany are struggling to produce a genuine out-and-out striker. Until that happens, the Bayern Munich man may continue to carry the goal scoring burden for his nation.