With Love Island 2019 firmly underway, we take a look at the current favourites for this year's poolside victory. It is what it is! It is what it isn't!

GIRLS
Amy 6/4
Lucie 2/1
Amber 5/1
Molly-Mae 7/1
Yewande 10/1
Anna 14/1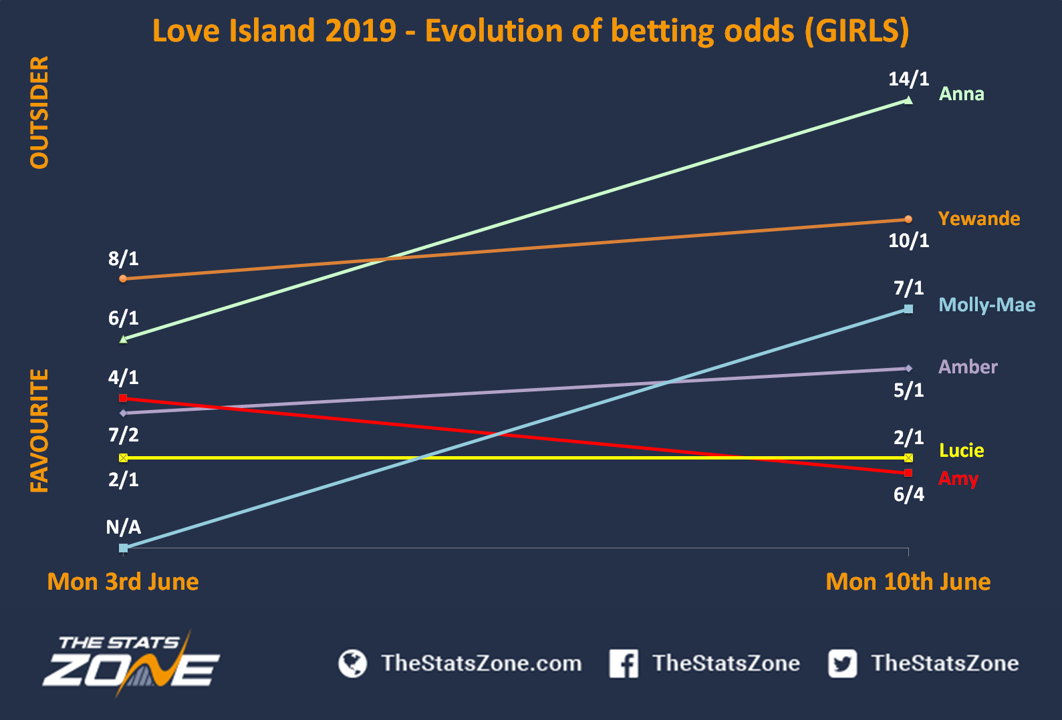 * Odds are taken from Betfair on 10/06/19
BOYS
Curtis 5/4
Joe 10/3
Tommy 7/2
Danny 9/1
Michael 10/1
Anton 16/1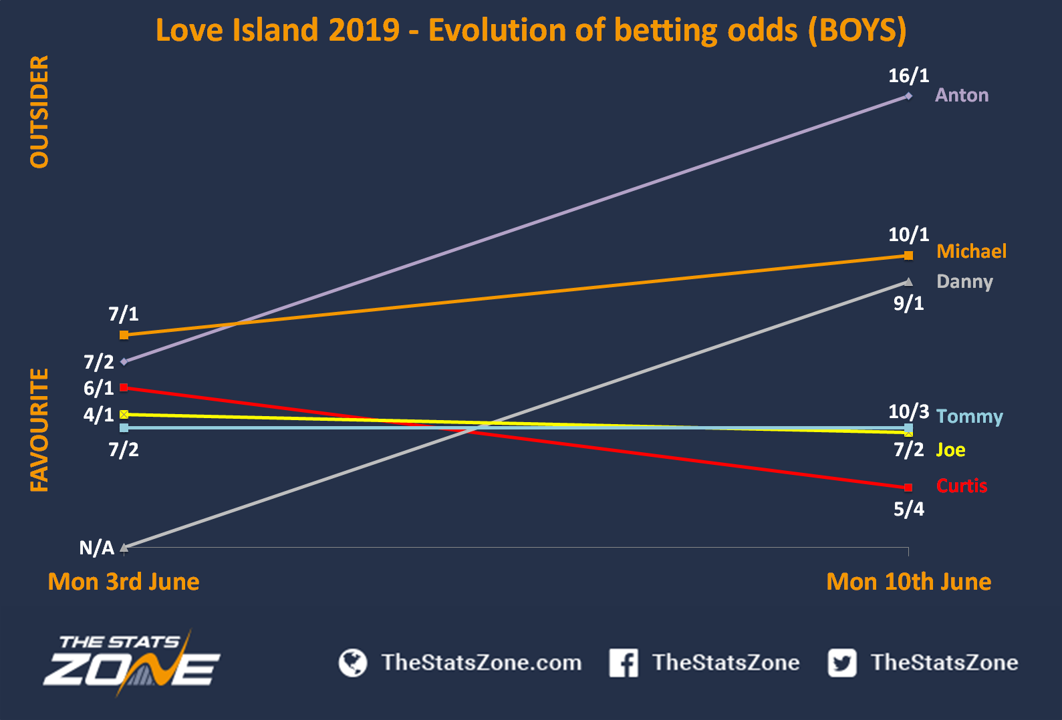 * Odds are taken from Betfair on 10/06/19

Following the news of Sherif's departure from Love Island earlier today by mutual consent, I've had to rewrite several sentences. Come to think of it, he was largely absent from last night's episode, and Anna appeared to be quite upset during her one-sided chat with Anton about the failures of Project MMA. As of yet, we have not been given a reason for his dismissal, although plenty of theories have been thrown around social media which we are not bold enough to print here.
Otherwise, there have been some clear movers and shakers since Day 1 in the betting markets, particularly for Callum, who has moved and shaked back home as the first villa victim of a Recoupling. Amber decided, as many of us already had, that he was too nice for the dog-eat-dog world of Island life and promptly dumped him for another platonic partner, Anton, who is less nice. The Scot has fallen by the wayside since his early 6/1 odds and now finds himself the least likely male to win Love Island alongside Anna, who is now at 14/1. Our newest contestant, Danny, finds himself at 9/1 but is unlikely to challenge the top order if he continues to pretend to like Yewande. Twitter has already passed judgement on him.
Yewande is one of the clear fans' favourites but needs to find herself a partner, platonic or otherwise, if she is to survive the show. Especially as it appears Michael is no longer an option in his pursuits for Amber. Danny, and indeed Molly-Mae, will not last the week if he plays the tried and tested flirt-with-the-favourite card.
Amy and Curtis, as a legitimate couple, are evens to win the contest as things stand. In fact, Amy keeps almost calling him her boyfriend which is TOO SOON Amy, even for Curtis who seems impossibly nice. You can expect the producers to attempt a shake up soon, as this season gets lambasted from some fans for a lack of drama, but it is hard to see what will separate them. As Day One-ers (Curtis technically entered that evening), they have plenty of the characteristics to coast their way to victory like Dani and Jack before them.
Elsewhere, Joe's reputation appears to have recovered after his bout with Tommy Fury over Lucie, and the pair are second-favourites as things stand as the villa's other established partnership. This goes to show that viewers have a short memory if things work out 'even'. Lucie coupled with Joe and Tommy coupled with Molly-Mae. It is Tommy who has fallen down the pecking order, if what the birds are pecking is betting odds, and he looks to be in danger too. He may well have fallen victim to his bromance with Curtis, as the dancer is charming the viewing public with his advice, be it worldly, spiritual, or simply how to cook eggs. Danny faces a big popularity test if he picks MMA over Yewande over the coming days, as she is likely to end up being the remaining islander in the next recoupling if he does. Michael and Amber may well be outsiders after what might transpire tonight.