The FA Cup third round weekend is always a much anticipated feast of football, as it marks the point at which Premier League and Championship teams enter the fray in the sport's oldest cup competition. So, as excitement builds ahead of this highlight of the sporting calendar, we take a look at the percentage of home ties given to the 92 clubs currently plying their trade in the top four leagues.
The following chart highlights all clubs who have played over 60% of their FA Cup ties at home, and at the opposite end of the spectrum, those teams who have played at home under 40% of the time. The sample used is from the 2000/01 season to the present day for all matches from the first round proper onwards (up to and including the third round draw this season). Replays and matches played at neutral venues are not considered in this analysis.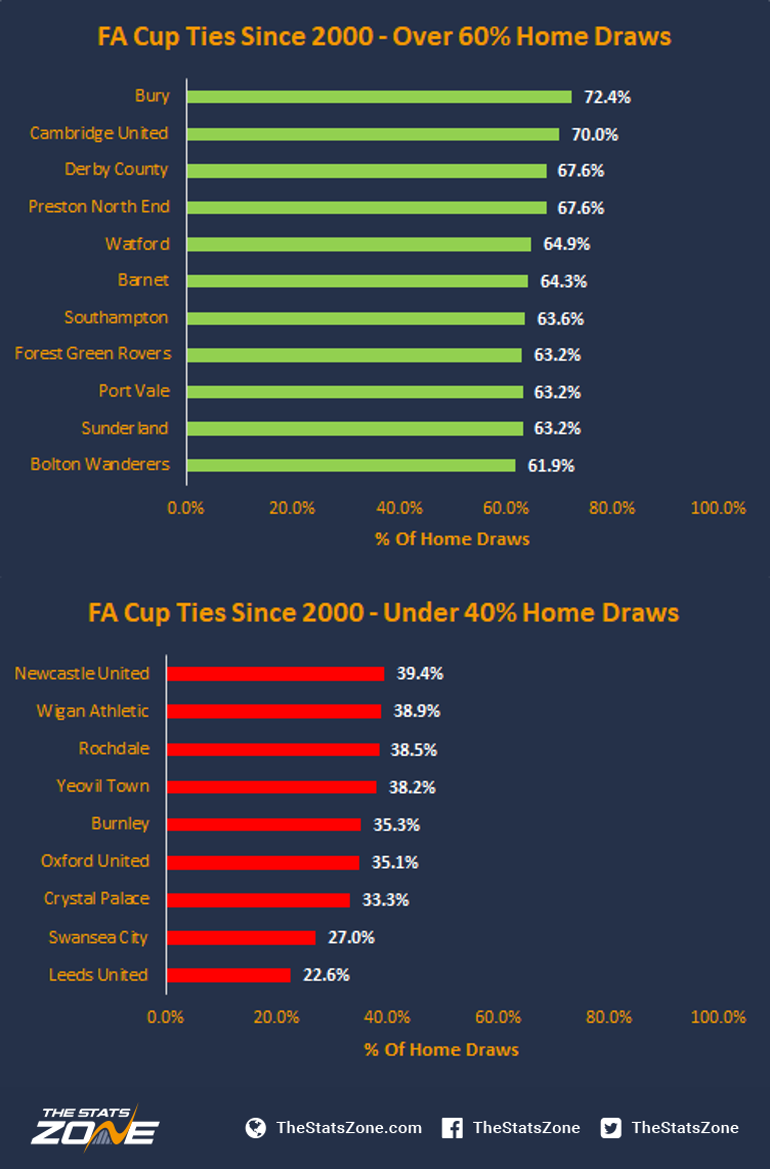 League One outfit Bury have been awarded the highest percentage of home ties since the 2000/01 season – with 72.4% equating to 21 home matches and just eight on the road, although they were drawn away in the first round of this year's competition.
Of clubs currently competing in the Premier League, Watford have received the most home FA Cup draws since 2000 (64.9%), and they have once again been handed a tie at Vicarage Road in the third round this year (Bristol City).
Cambridge United's away defeat to Newport County in the second round in this season's competition brought to an end a run of 11 consecutive home draws in the FA Cup.
Leeds United have been the unluckiest team in the football league in terms of home draws, as they have played just 22.6% (seven out of 31) of their FA Cup ties at Elland Road since the 2000-01 season. They are once again on their travels as they face Newport County in the second round.
Swansea have not been handed a home draw in the FA Cup since the 2012-13 season - a run of eight consecutive away ties.
Five clubs have received the same number of home draws as away draws since 2000 - Stoke City, West Bromwich Albion, Ipswich Town, Norwich City and Shrewsbury Town.