Any discussion of the best "number nines" currently operating in world football will usually involve mention of Robert Lewandowski, the prolific Polish striker plying his trade in the Bundesliga with Bayern Munich. Indeed, his record in the Bundesliga in the past seven years at both Bayern Munich and before that, Borussia Dortmund, stacks up against any genuine centre-forward in world football. With Lewandowski recently scoring his 100th goal in all competitions for Bayern – in just his 136th game – we wanted to see where does he stands in Bayern's storied past when considered against some of the greats to have led the line for the Bavarian giants. In order to properly gauge Lewandowski's status, we have examined his record in comparison with some of the most prominent attackers to have featured for Bayern over the last 50 years, with a particular focus on their record in the Bundesliga. The players we have pitted Lewandowski against are:
Gerd Müller
Claudio Pizarro
Karl-Heinz Rummenigge
Mario Gómez
Giovane Élber
Dieter Hoeneß
Roland Wohlfarth
Thomas Müller
Carsten Jancker
We began by examining the total number of goals scored by these players in the Bundesliga, including those goals scored for teams other than Bayern.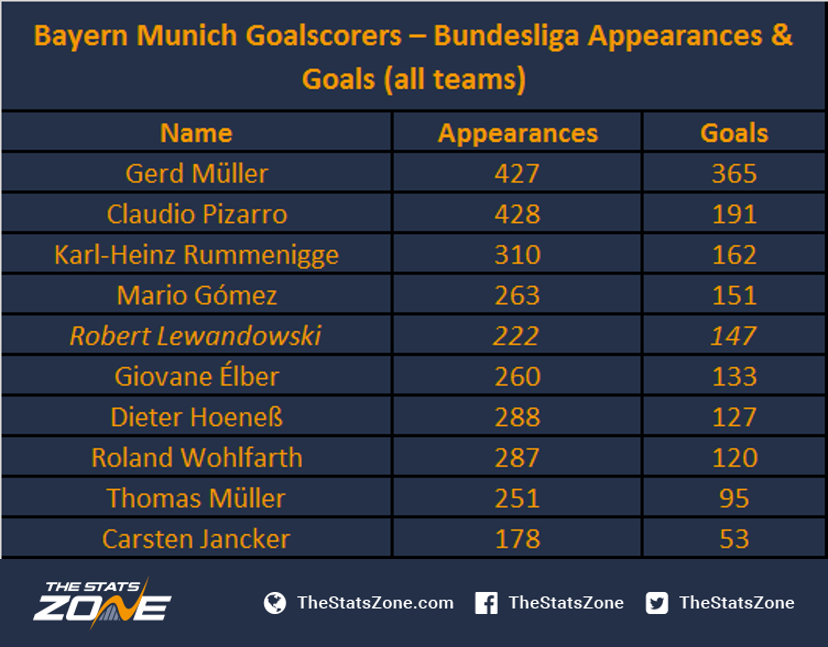 Lewandowski's quality is immediately apparent, with his prolific spell at Borussia Dortmund, along with his recent success at Bayern, leaving him with 147 Bundesliga goals in total. This leaves him fifth in our tally, although he will have high hopes of overtaking at least the next two in the list even if Mario Gomez is still playing, and scoring, for Wolfsburg. Indeed, he is already the second highest foreign-born goalscorer in Bundesliga history, with only Claudio Pizarro ahead of him. Whilst Pizarro is also still playing in the Bundesliga, given he is now in his 39th year it is perhaps fair to suggest he will not be adding significantly to his 191 goal tally. With Lewandowski now only 44 goals behind Pizarro, achieving second place in our list is also certainly well within Lewandowski's reach.
Bayern Munich Bundesliga goals
Having seen how Lewandowski compares to these players when all of their Bundesliga goals are included, we decided to see how he fares when strikes for Bayern are considered exclusively, as no doubt Bayern fans will value these goals above those for other teams when considering how their great goalscorers measure up. To do this, we examined the number of goals each has scored for Bayern and considered their goals per game ratio to give an idea of just how "deadly" each of the goalscorers really are.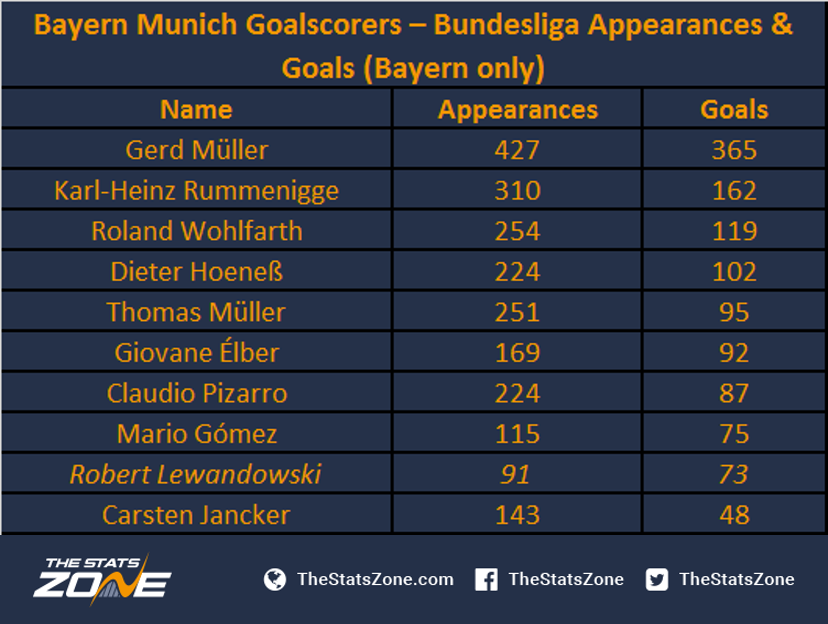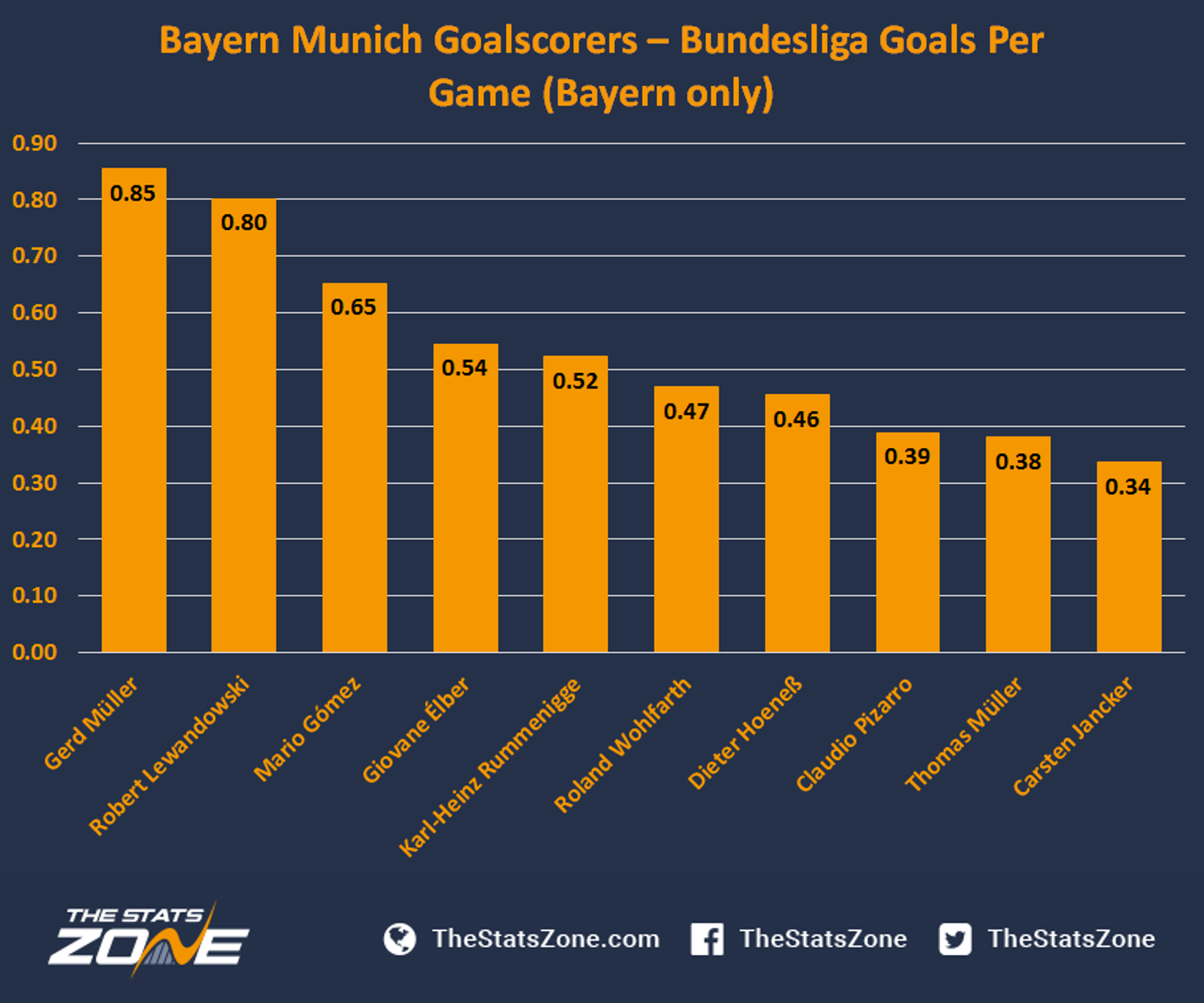 Whilst the fact Lewandowski has only been a Bayern player for two full seasons (plus the current campaign) means that his overall goals tally is beaten by all but one of the goalscorers in our comparison, his goals per game record is a different matter. In this respect, he is beaten only by the irrepressible Gerd Müller, with his 73 league goals for Bayern coming at an extraordinary rate of 0.80 goals per game. This is 0.15 goals per game better than Mario Gómez in third place, and 42.42% higher than the legendary Karl-Heinz Rummenigge whose 162 Bundesliga goals – all for Bayern – arrived at a rate of 0.52 goals per game. For some further outside context, it is worth noting that during his prolific spell in the Premier League, Thierry Henry scored his goals at a rate of 0.68 goals per game for Arsenal, which serves to emphasise quite how extraordinary Lewandowski's record at Bayern Munich really is.

International goals
Having considered how Lewandowski's domestic record compares against the other Bayern legends in our list, we then looked at their respective international records. Whilst their records at international level won't necessarily be decisive in the minds of Bayern fans when considering their favourite or most prolific goalscorer, it will serve to provide further evidence as to where Lewandowski sits in the pantheon of Bayern greats. After all, the very best strikers will usually be expected to have delivered for their countries as well their clubs.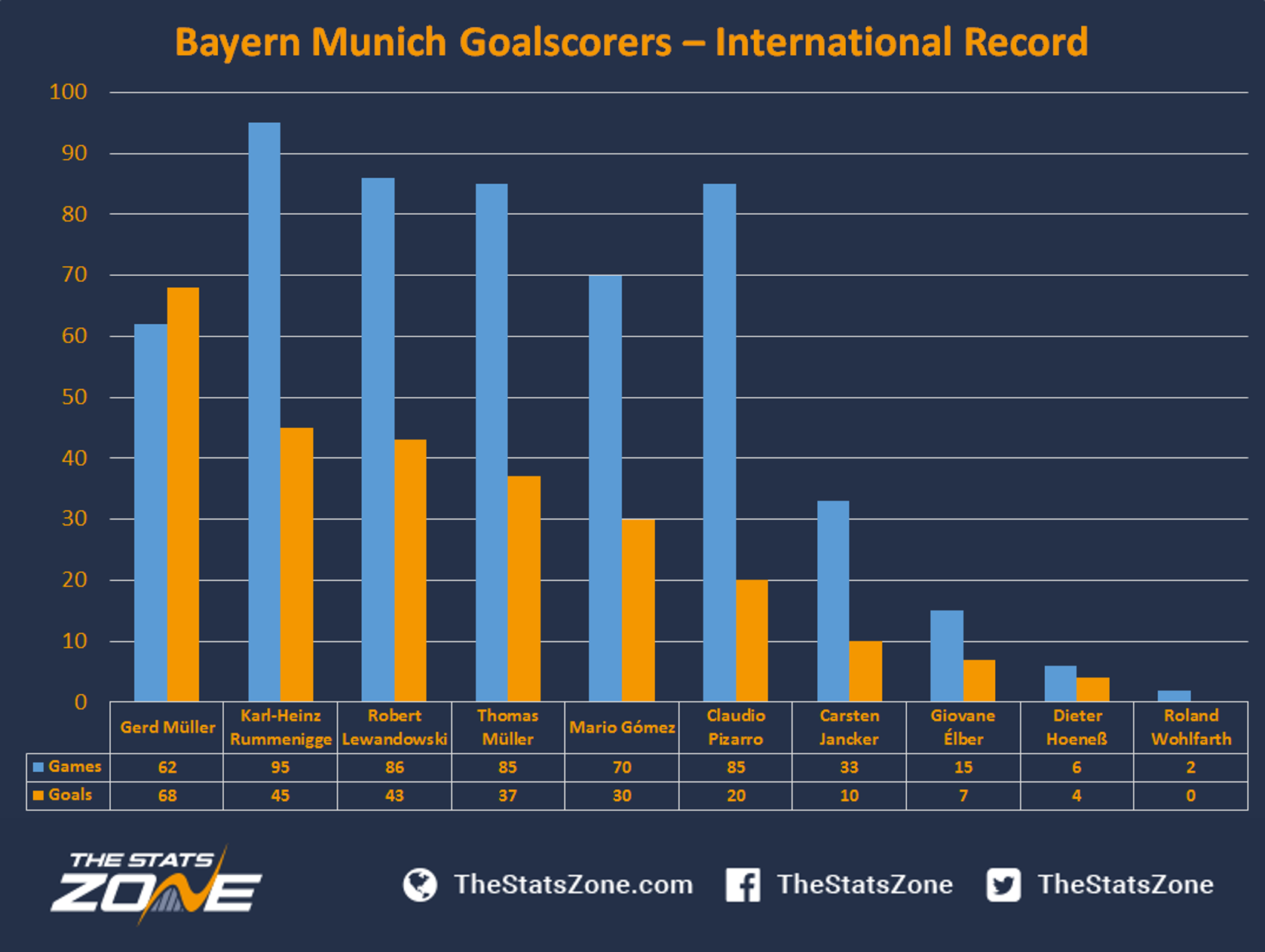 Again, the stand-out performer is Gerd Müller, who managed to score his 68 international goals in a scarcely believable 62 games. Of course, an argument can be made that some of those goals will have been scored against weaker opposition than the more recent players face given the general "narrowing of the gap" in international football between the bigger and smaller nations. Nevertheless, "Der Bomber's" record of 1.10 goals per game is still quite incredible. Lewandowski currently sits in third with 43 international goals, closing fast on Karl-Heinz Rummenigge's 45 goals. Lewandowski's goals have come at a rate of 0.50 goals per game which is some way short of his record in club football, yet remains a more than respectable record at international level. This is reinforced by the fact that this scoring rate is bettered only by Gerd Müller and Dieter Hoeneß in our comparison, and in Hoeneß's case, his four goals in six games can hardly be compared to an international career which already comprises 86 games.
Of course, sadly for the majority of German based Bayern fans, whilst Müller's goals were for Germany, Lewandowski has been finding the net for Germany's rivals Poland. To the neutral however, this perhaps makes Lewandowski's record all the more impressive given Poland have not enjoyed the same level of success as Germany. In this respect, it is likely that a striker playing for Poland will have less chances to score than one playing for Germany, making Lewandowski's 43 goals even more creditable. One thing is for sure, Lewandowski is far more than a mere domestic level performer.
Trophies won as a Bayern Munich player
We then looked at the number of trophies each of the goalscorers we have chosen for comparison has won whilst a Bayern Munich player. No doubt those players who have been part of – and contributed to – trophy winning sides will be thought of in even higher regard by Bayern Munich fans.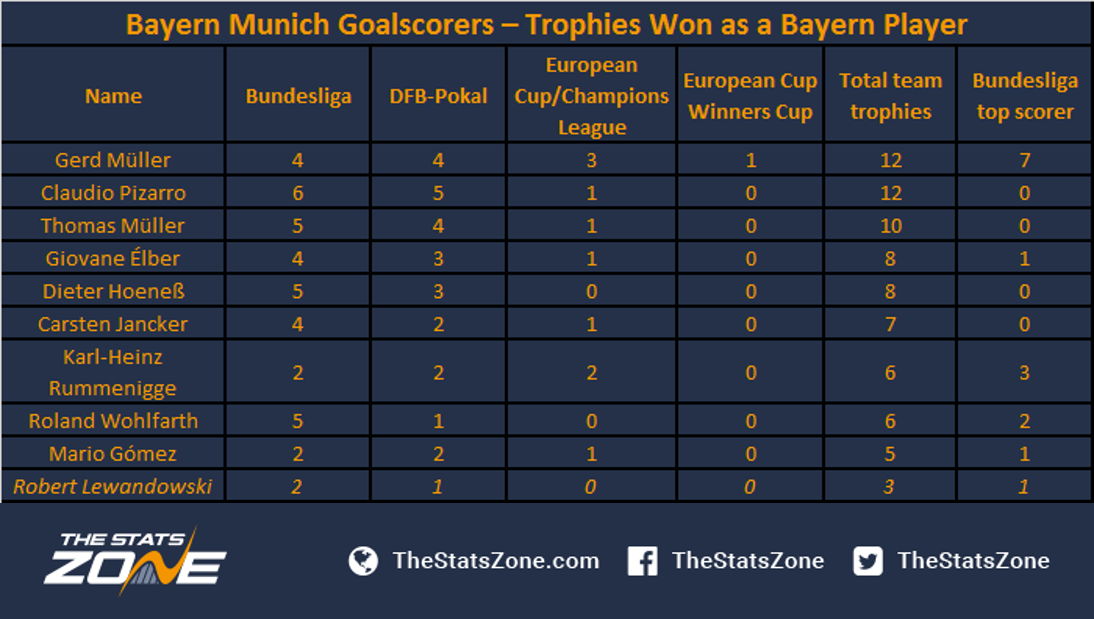 All of the players in our comparison have enjoyed trophy winning success, which is perhaps unsurprising given Bayern's pre-eminence in German football over the last 50 years. Again, Gerd Müller tops the list in joint first place with Claudio Pizarro, as both players amassed 12 major trophies as Bayern players. Pizarro's excellent record in this regard across two spells with Bayern perhaps helps explain his revered status amongst Bayern fans, despite not scoring as many goals as some others in our comparison. In terms of individual trophies, Gerd Müller was also top scorer in the Bundesliga on no fewer than seven occasions, which is more than double anyone else on our list. Lewandowski is currently at the bottom of our list with two Bundesliga title wins as well as one DFB-Pokal cup win. Of course, it should be noted that the Pole is handicapped in this comparison by the fact he has been a Bayern player for less than three full seasons. In this respect, two title wins in two seasons - and on course for another this season – as well as one cup win certainly show that Lewandowski is helping the team be successful. Indeed, with a Champions League quarter-final to come as well as a domestic cup semi-final, it would be fair to say that Lewandowski's trophy tally could be rising significantly in the coming months. If it does – particularly if Bayern can secure another Champions League win – then Lewandowski's reputation and standing amongst Bayern fans will rise yet further.
Lewandowski projected goals
Finally, having considered Lewandowski's current record, we decided to examine how his record may look if he continues with his current prolific goalscoring form. Lewandowski has been a Bayern player for less than three years and as a current player, his goal tally can reasonably be expected to rise significantly if he maintains his current form and isn't tempted into plying his trade elsewhere. After all, four or five more prolific years with the German champions are bound to affect how highly rated he is in comparison with the other legendary Bayern goalscorers of the past. In order to examine how many Bundesliga goals Lewandowski may end up with if he stays at Bayern over the coming years, we took the average number of games he has played in the Bundesliga each season and multiplied this by the goals per game figure we looked at earlier. This then allowed us to speculate how many goals Lewandowski may get should he stay a designated number of seasons.
Lewandowski actually has a very enviable injury record, meaning that since he arrived in the Bundesliga he has played, on average, just over 32 games per season out of a league calendar comprising 34 games. For the purposes of this prediction, we therefore presupposed that he would also feature in 32 games in the seasons ahead.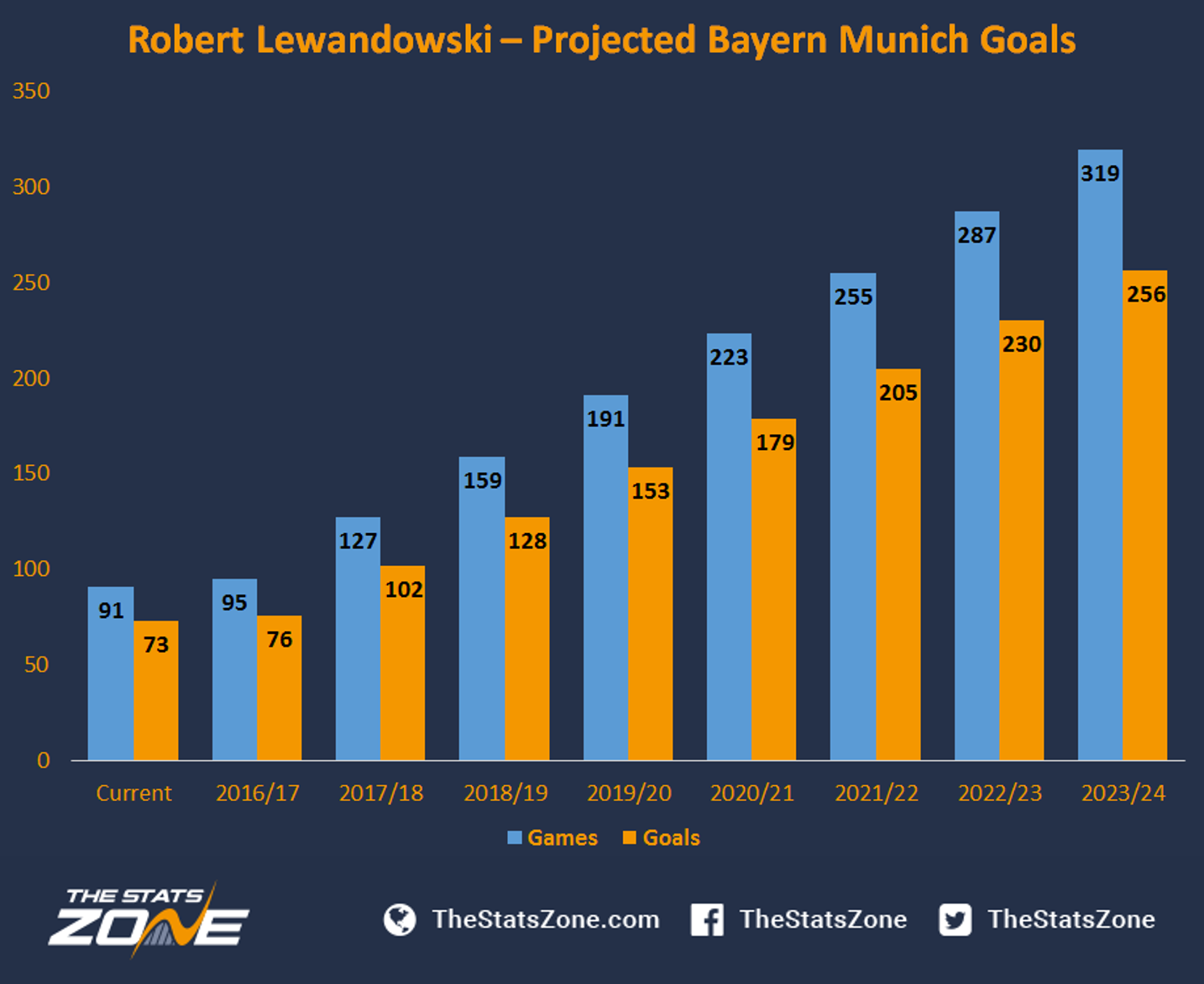 Given Lewandowski is 28, we reasonably expected that he would be playing at the top level for a maximum of another seven years, which takes him beyond his 35th birthday. Of course, as Zlatan Ibrahimović is currently proving, it is not impossible he could continue to perform - and score – after this time, but most strikers have begun an irreversible decline by this age and it could not be expected that he would maintain his appearance or his scoring record beyond this age. Indeed, it is perhaps doubtful he can keep up his current record within those seven years but as our graph evidences, if he does manage this at Bayern, there is little doubt that he will secure his place in Bayern folklore forever. Indeed, he will comfortably surpass Karl-Heinz Rummenigge as Bayern's second top scorer in the Bundesliga, netting 256 goals. He will also - barring some miracles elsewhere - become the second top Bundesliga goalscorer of all time, particularly when his 74 Borussia Dortmund goals are added to the tally which would leave him on 330 goals in total. This only leaves Gerd Müller's total of 365 goals ahead of him, and whilst it is not impossible that Lewandowski could improve upon his current rate and therefore challenge this figure, it would appear unlikely that he would be able to sustain this for the next seven or more seasons. It seems Gerd Müller's record is safe. Of course, Müller's namesake, Thomas, is a year younger than Lewandowski and still playing but given his goals per game ratio is a comparatively low 0.38 goals per game, it is difficult to see how he could challenge Lewandowski should they both play a comparable number of games, let alone come close to Gerd Müller's even higher figure.
Conclusion
When attempting to compare and contrast players from different generations, it is clear that it will be impossible to definitively state one is better than another. After all, subjective opinions will be impossible to remove from the equation. Where one person may value overall goals, another may value longevity, or trophies won. Indeed, sometimes, statistics will be removed from the equation entirely. For instance, Eric Cantona was not the longest serving, top scoring, or most decorated player in Manchester United's history, but most fans who saw him play will agree unequivocally that he is a club legend. However, our analysis can undoubtedly help give an idea of how Robert Lewandowski compares to some of the great attackers to have played for Bayern.
On this basis, it is clear that Lewandowski fares very well in almost all our areas of comparison. His goals per game record is outstanding, his international record stands up against almost all of his rivals, and he has won the title in each of his full seasons whilst remaining on course to add a third this season. Perhaps the only things that Lewandowski lacks to be considered a true great are longevity, and European success. After all, whilst his current record means it is perfectly reasonable for him to be mentioned in the same breath as greats of the game such as Gerd Müller and Karl-Heinz Rummenigge, these two scored goals season after season for Bayern. In addition, both won the European Cup at least twice (three times in Müller's case) and being part of success such as this helps cement any player's place in history.
Of course, the opposite can also be true. One only need to look at how Mario Gómez's Bayern career is sometimes judged by reference to the chances he spurned in the Champions League final of 2012, rather than his impressive goalscoring record during his time at Bayern. On both these fronts, only time will tell if Lewandowski can maintain his current scoring record and perhaps add a European trophy or two to his resume. If he does, then as our projections show, there is perhaps only one man in Bayern's history who he will struggle to overtake; the astonishing Gerd Müller who topped every single one of our areas of comparisons. In this regard, Lewandowski can consider himself unlucky to be up against a genuine legend of not just Bayern Munich, but football in general.