Michael Jordan, Kobe Bryant, Magic Johnson and Kareem Abdul-Jabbar are names we often hear regarding the topic of who's been the best player in the history of the NBA.
LeBron James is always included on that discussion, but somehow his accomplishments are always taken for granted because "the league isn't what it used to be" or simply due to the fact that "his track record in the NBA Finals isn't good."
Well here at The Stats Zone, we want to bury all those myths and personal opinions. We are going to analyse by the numbers whether LeBron deserves to be included among the best players to ever step on an NBA hardwood while comparing his numbers to some of the other all-time greats.
To judge LeBron, we must take a look at his numbers on an individual just to realise how consistent he's been over the years. He entered the league with a lot of hype surrounding him as the first overall pick in the 2003 NBA Draft, but he didn't back away from it – instead, he embraced it and became one of the most dynamic players the NBA has seen in the past 30 or 40 years.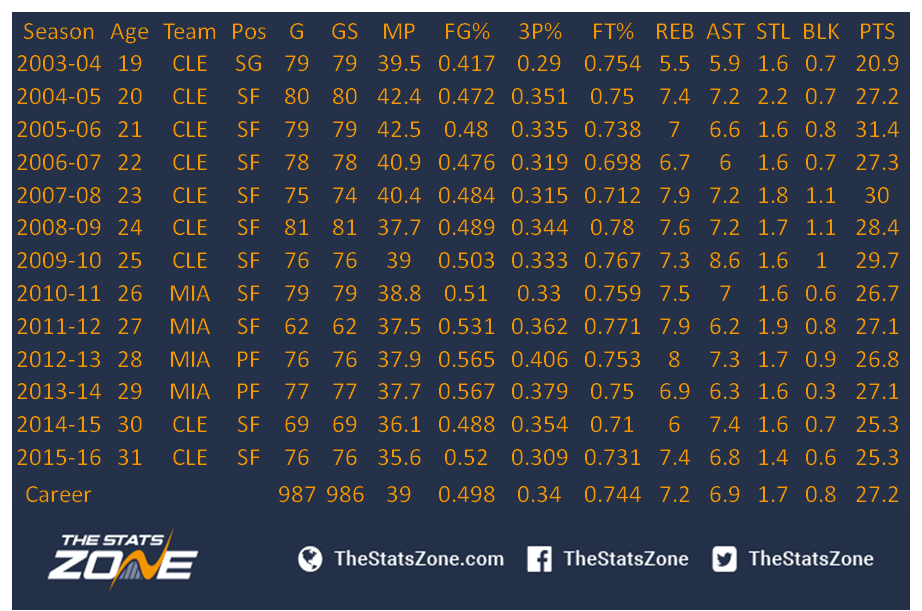 LeBron is currently in his 13th season and his second one as a member of the Cleveland Cavaliers, following his successful four-year tenure with Miami Heat. James however, is just 31-years-old, so he has a few years left in his prime. He already has 26.833 points, 7.067 rebounds and 6.815 assists (all per game) during the regular season, becoming the youngest player in NBA history to reach at least 26,000 points during a 114-106 win over the Detroit Pistons on January 29, 2016.
Considering his numbers, only Michael Jordan, Oscar Robertson and Magic Johnson are decent comparisons due to the impact each of them had on both sides of the ball. The numbers might not rank James near the top, but he has one clear advantage- longevity. Let's dive into the numbers first.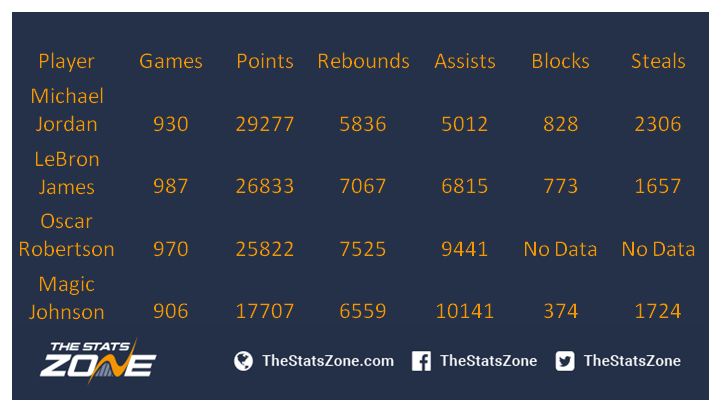 Robertson played 14 seasons in the NBA, Johnson played 13 and Jordan played 15, although his two final years with the Washington Wizards weren't exactly productive. James, on the other hand, has a few more years at his best and he could easily top most numbers in a couple more years.

In terms of individual accomplishments, few players have done what LeBron has. James has been selected to the All-Star Game in each of the last 12 seasons; was included in the All-NBA Rookie Team in his first year; and he's been part of the All-NBA Team in each of the next 12 years, including nine straight years on the first team. He also has been included in the All-Defensive Team six times, has won the Finals MVP and the All-Star Game MVP twice each, and has taken home the regular season MVP four times.
Considering his popularity and his status as one of the faces in the NBA, he's likely to be selected to the All-Star Game for as long as he decides to continue playing, just like Kobe Bryant. But if we start looking at which players have at least 12 inclusions in the All-NBA Team, to go along with four Regular Season MVPs and two Finals MVP Awards, the list shrinks considerably.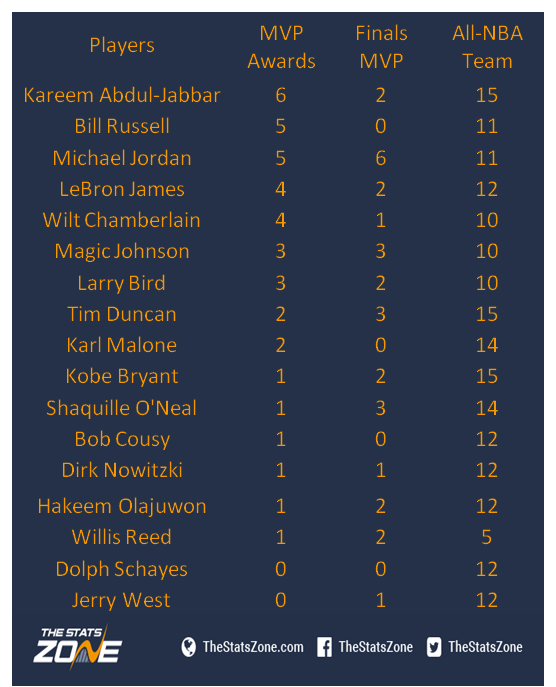 The list comprehends all players who have either four MVP Awards or two Finals MVP Awards or 12 All-NBA Team selections. However, if we start analyzing which players fit the criteria for all three categories, then Kareem Abdul-Jabbar and LeBron James are the only two that match. Michael Jordan just missed the cut since he only has 11 All-NBA Team selections to his name, but we all know if he hadn't retired, he would have earned a few more.
One of the biggest knocks in James' career is the fact that he's only won two rings despite playing in six NBA Finals. The San Antonio Spurs (twice), the Dallas Mavericks and the Golden State Warriors all prevented James from lifting the Larry O'Brien Championship Trophy more than twice, and chances are, the Cavs will also come short during the current 2015-16 finals against the Warriors for the second straight year.
Why would that be a problem? Even if James doesn't reach the Finals through the rest of his career, he shouldn't be left aside simply because he couldn't win a team sport on his own. To put things into a clearer perspective, here's a list of memorable NBA players who happened to win less than two rings throughout their careers. It's the perfect example to show that rings don't necessarily mean greatness.

Especially after we realise players like Robert Horry (seven), Steve Kerr (five) and Will Perdue (four) each have more championship rings than James. Sure, all of them were good players in their own right, but it would almost be an insult to say they will have a bigger legacy than James, simply because they have more championships under their belts.
James still has a few seasons left as one of the league's top three players, and he has easily four or five more years in which he can be productive and still make an impact on the offensive end of the floor. He currently ranks 13th in total points scored in the history of the league (counting both NBA and ABA in the case of players that played on both leagues), and he could easily crack the top 10 as soon as next season.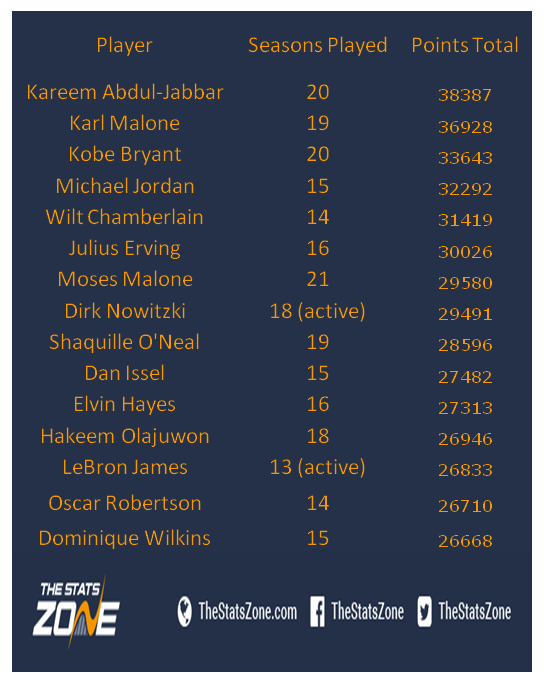 Reaching Kareem Abdul-Jabbar's mark of 38,387 points could be a bit of a stretch, but if James decides to play until he's closer to his 40th birthday, then chances are he could finish his career as the top scorer in NBA history. James, it must be said, has averaged 27.2 points for 76 games per season. If we project those numbers over the next five years, then James would have 37.168 points by the end of his 18th NBA season. He would be 36-years-old by that date, and would have to score only 1,219 more points to move into the top of the all-time scoring list.
Yes, his collective numbers and his record during the NBA Finals aren't exactly appealing. But the fact that he's been one of the most consistent players in the history of the game, and considering how many accolades he's already collected in a career that has – at the very least – five more years at the top level, the truth can't be denied- LeBron James could easily finish his career as the best player to ever step on an NBA court.
After all numbers don't lie, my friends.