It is difficult to remember amongst all the glitz and clamour of the Love Island carnival that each year two contestants actually win a competition. After multiple rounds of coupling, re-coupling, getting mugged off and cracking on, voters decide on their favourite pair to win £50,000. The £50k can be stolen or shared by the individual contestants in a clever ITV stunt bringing back daytime TV's most gross depiction of actual humanity – "Golden Balls".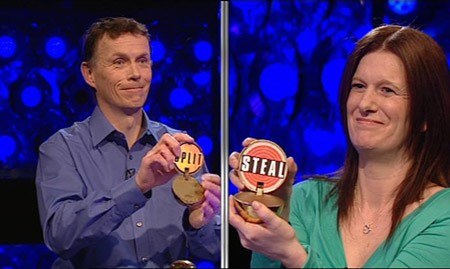 For the more discerning reader, parallels can also be drawn with Robert Kilroy-Silk's ill-fated gameshow from the turn of the millennium:
Two steals? Nobody wins the money. A steal and a share? Capitalism. Two shares? £25k each and one big sigh of relief for the viewing public. It is a good thing that so far all four couples have split the money, as all but one of them went on to split in the 'real world' soon after. Only series 2's Nathan and Cara are still (probably) sharing a bank account. They also share a matrimonial bond and a child together. Lovely.
GEOGRAPHY
So, what does it take to win Love Island? Other than excellent genetics and/or dentists? Below we have our first graphics from TSZ's very own doctor, Tim. In the spirit of Love Island, and in homage to last series' Dr. Alex, the man single-handedly keeping Soltan in business, we will refer to him as Dr. Tim from here on out.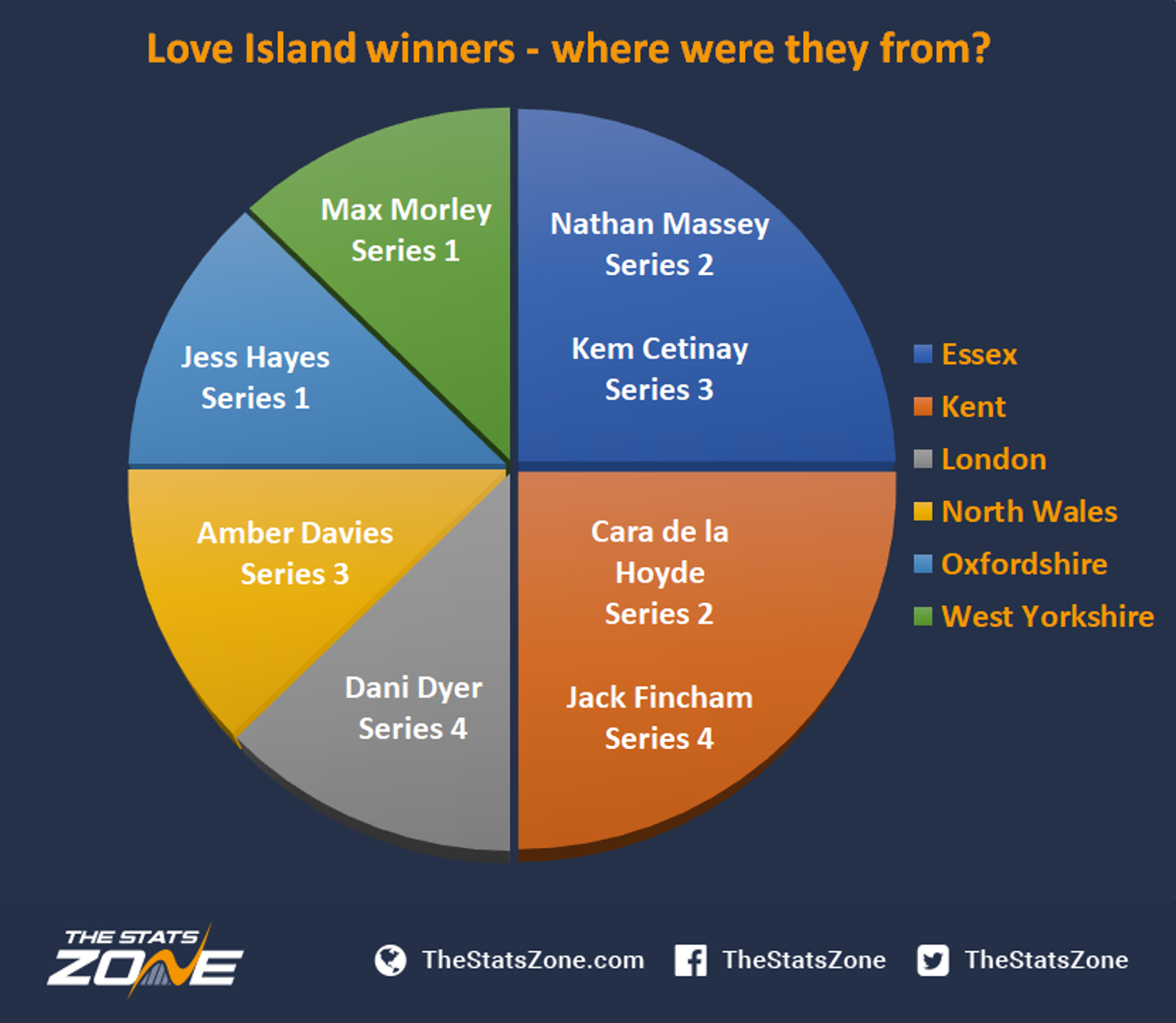 Within the eight winning contestants we see the expected representation prejudice to English contestants, as seven out of eight are from within that biggest bit of the UK. However, S1's Max aside we see an overwhelming favour for contestants from the south, and south-east of England more specifically. While, of course, London (the capital of England FYI) is situated here, it is interesting to note that half of the winning contestants are from either Essex or Kent.
Before we are rebuffed for listing S3's Amber Davies as from 'North Wales' and not 'Clwyd', please note that we do not choose the Islanders and therefore are not responsible for the regional representation of the show. That being said, Amber's win as one of just three Welsh contestants is a great anomaly and an important victory for Wales itself. As the only contestant from the north of the country in that trio, perhaps an even greater victory in that particular national divide. Sorry, South Wales. (EDITOR COMMENT – mustn't ignore Mid Wales as a region in itself. Sincerely, Trystan from Mid Wales).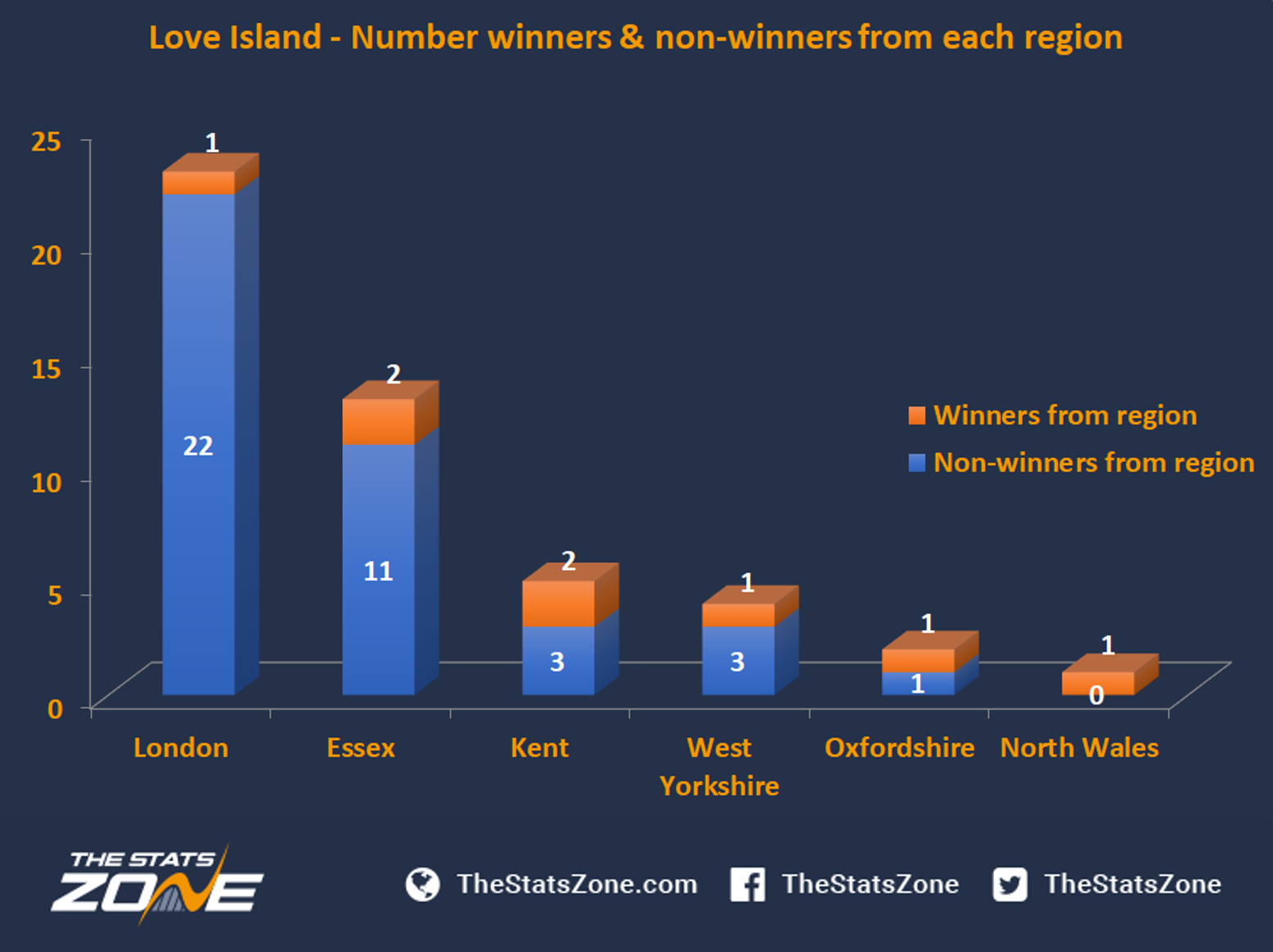 DURATION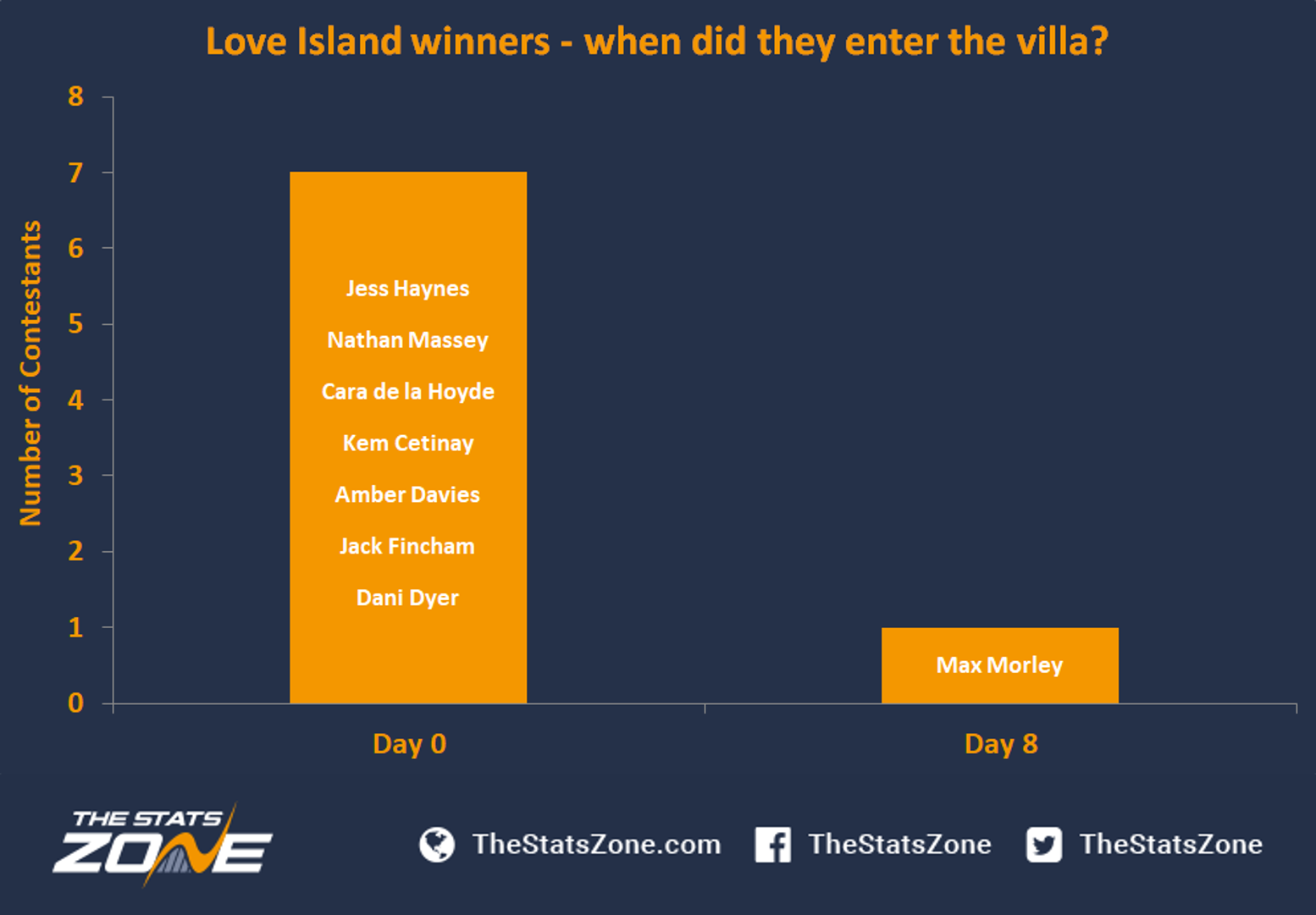 Series 1's Max Morley finds himself an outsider once more as the only contestant of the eight winners to have not started from the outset of the show. His winning partner Jess, as well as Nathan and Cara, Kem and Amber and Dani and Jack were all original cast members of their respective series and therefore garnered the most screen time to bond with the audience. While late additions give the show its drama, the latecomers tend to be fodder for existing couples, to cause rifts between rivals and break-up wandering-eyed partners. Furthermore, while many non-original cast members go on to be very popular and make the live final, it seems the viewing public make up their minds far earlier in the series as to their chosen champions. This can be seen most clearly in ITV's viewing figures, where S4's Jack and Dani were never below 50% of the public popularity vote throughout.

Last year's voting results -> https://www.itv.com/loveisland/news/your-love-island-2018-voting-results
COUPLING
Additionally, the longevity of a couple has in most cases been a key factor in the winning contestants. Below is a graphic depicting their longest-lasting 'couple-up' – not necessarily with their winning partner. Max's late addition in S1 sees Jess as an outlier here with a total of four different couple-ees, but of course she was waiting for the one. Jess and Max split six weeks later.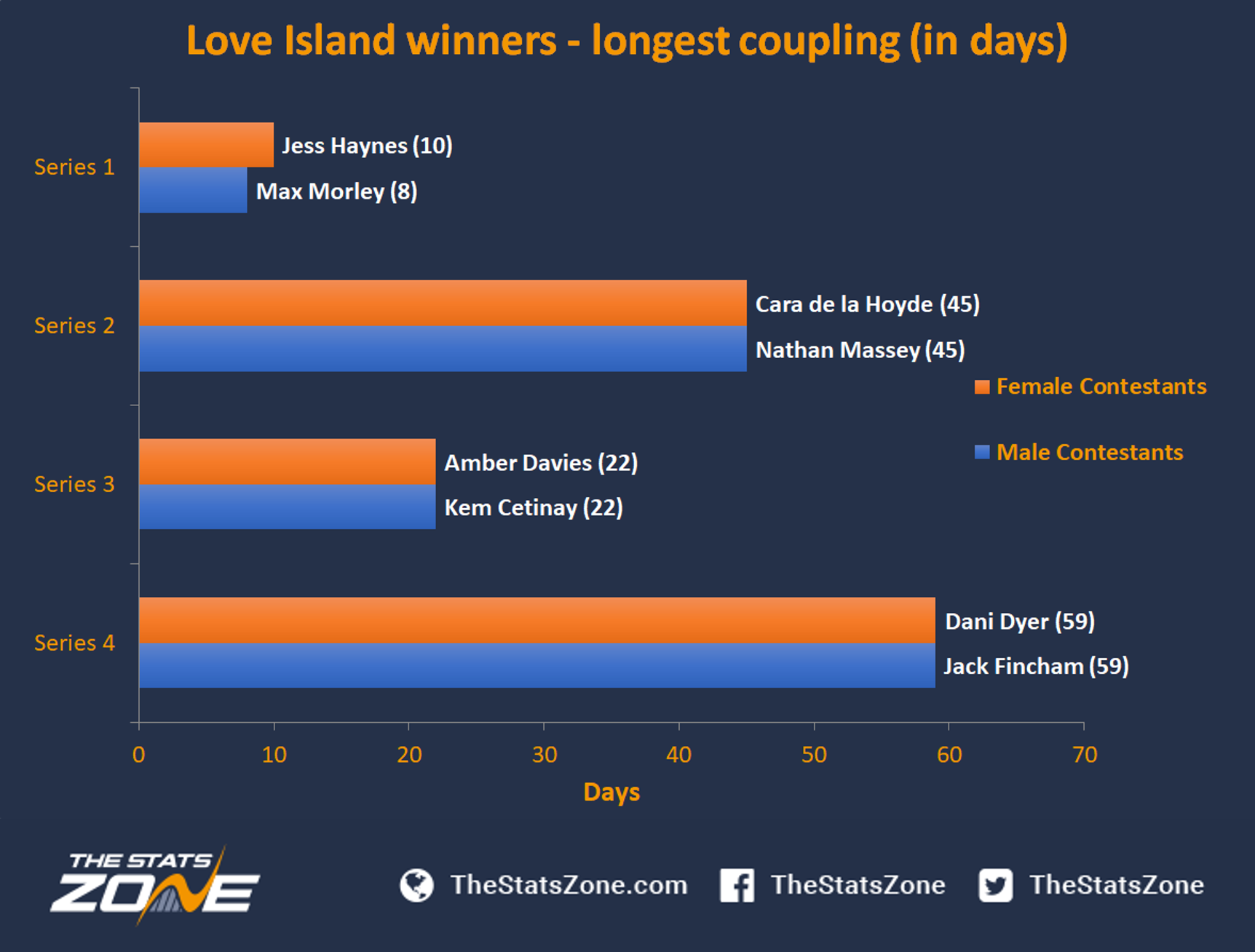 S2's Nathan and Cara and S4's Dani and Jack illustrate the viewing public's adoration for a seemingly genuine connection, meaning that 50% of winning contestants coupled up with the same partner on Day 1 and never looked back. Nathan and Cara are married with a child which, joking aside, is quite nice. Jack and Dani were resilient throughout their time on the show but did go through a few re-couples after their win, resulting in one big re-couple where they officially consciously uncoupled. Kem and Amber from S3 offer something of a false statistic here, as this graphic shows the longest duration of one stint as a couple, and not the total days spent with their winning partner.
Who knew Love Island could be so numerical? Unfortunately, not me, or I would have retracted my offer to write these articles.

Kem and Amber had a few wobbles during their stay in Majorca, before Kem made the ultimate Love Island gesture by asking her to be his girlfriend in a long and protracted way. Via a series of sugary texts on strategically placed phones, he led Amber around the villa before approaching her rather menacingly at the hot-tub.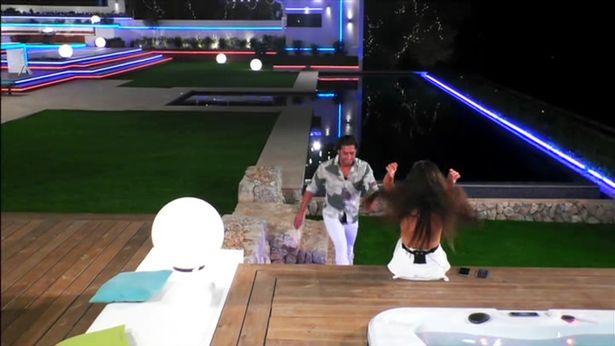 "Operation Amber" as it came to be known was, arguably, a stroke of genius from Kem and may well have won them the competition. Love Island viewers are partial to an inventive piece of romancing. As with Scott's S2 classic where he proposed the same question to Kady in a message written with beach towels. There are rumours Boohoo have demanded the next relationship to be proposed in a message made only of their clothing and associated brands. Am I joking? Or is cynicism simply the gateway to truth? Ask Eyal, resident Love Island deep-thinker, next time you see him.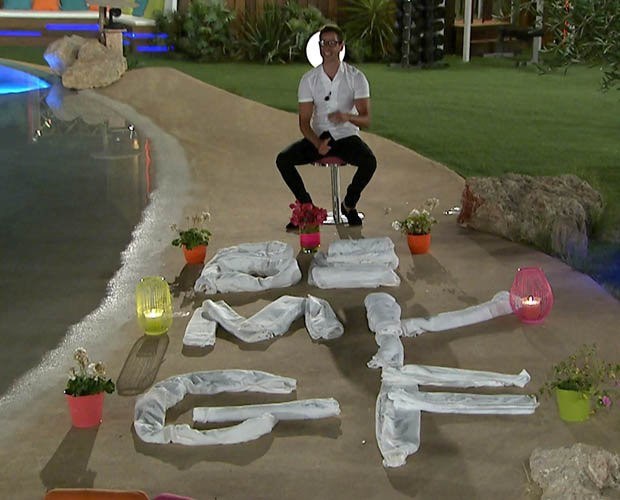 WHAT DOES THIS ALL MEAN?
To conclude, we have some initial findings. To have the biggest chance of winning Love Island you have to be a southerner (tick), an original cast member and a quick decision maker, as the public want to believe in you from the outset. You do not necessarily have to spend the duration of Love Island together, just as long as you re-couple with enough time for the public to forget about Chyna and Nathan (?) and via a grand gesture that takes at least 20 minutes to orchestrate. You heard it here first. If on Monday night a couple of southerners choose each other and appear to get on remotely well, they could well be your champions come August.