Ronald Koeman, the much decorated goal scoring defender, oversaw two very successful years helping to establish Southampton F.C as top six contenders in the English Premier League. It was this glowing success that raised eyebrows amongst fans and pundits alike when Koeman left his position at Southampton in favour of Everton, a team that finished 11th during the 2015/2016 season, 5 places and 16 points below Southampton. So, what can Everton expect from the Dutch legend as their new manager?
Koeman's career win % makes for interesting reading due to some varying success rates. It appears that when Koeman stays at a club for two or more seasons, he boasts a win % record that is both impressive and consistent. This is most certainly the case with his two previous jobs; Feyenoord and Southampton.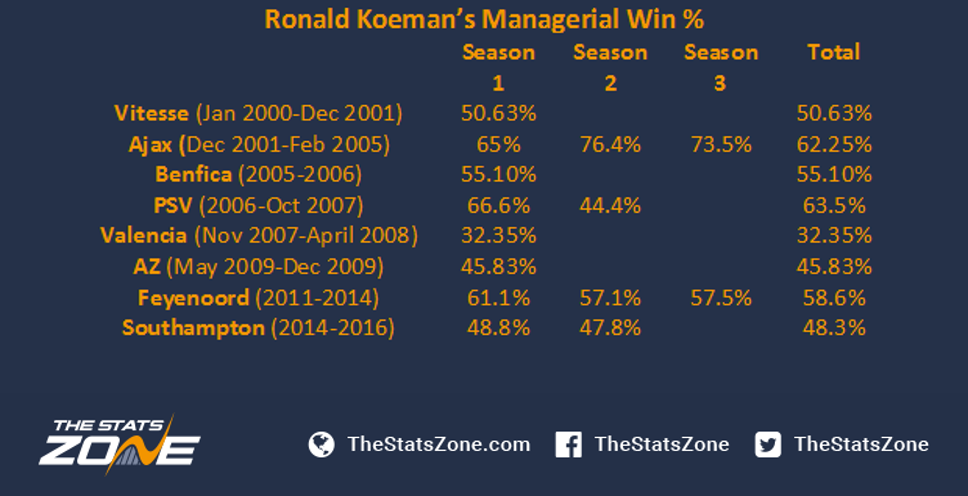 Domestic League Success
In terms of domestic league progression, Koeman's teams once again appear to be consistent performers when it comes to final league position. When looking at the clubs he has managed for a minimum of two full seasons, on two separate occasions he has suffered from a slight decrease in league position during his second season – something he managed to avoid most recently with Southampton.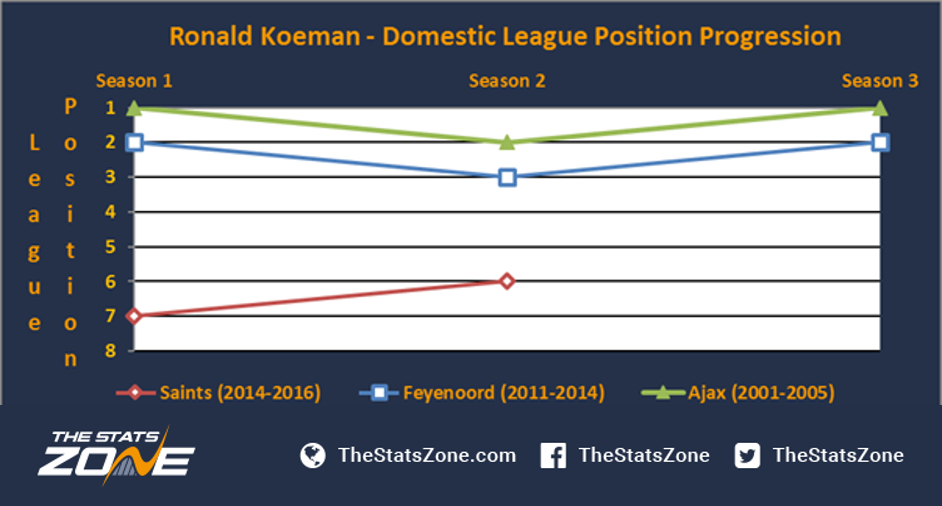 Ronald Koeman's success as a player made him a household name for many European football fans, but how does his managerial record stack up against the so called "top teams"? In England, he gained a respectable eight wins and 40.3% of available points against the "top teams", which included beating each of them at least once during the 2015/2016 season.

* Top Teams = Man City, Man United, Chelsea, Arsenal, Tottenham & Liverpool
In Holland, he recorded almost 50% of available points against his closest rivals, and an impressive 70% of all available points against the rest of the league.

* Top Teams = Ajax & PSV
Cup Success
As a manager, Koeman has tasted domestic cup success twice; once with Ajax (2001-2002) and once with Valencia (2007-2008). However, how do his most recent cup runs compare?
During his time at Southampton, he never took them past the fourth round of the FA Cup, and only managed the fifth round of the League Cup on two occasions. These included humiliating defeats to League One outfit Sheffield United during the 2014/2015 season, and a 6-1 trashing at the hands of Liverpool at home during 2015/2016.
At his time with Feyenoord, he once again never tasted cup success, making it to the quarter finals on two occasions, eventually losing out to PSV and Ajax respectively. During his first season in charge, he once again suffered at the hands of lower league opposition in the form of Go Ahead Eagles, who dumped his team out of the cup in the third round.
European Success
As a player, Koeman amassed an impressive European trophy cabinet, including the European Cup (now Champions League), but how have his teams fared in Europe under his managerial guidance?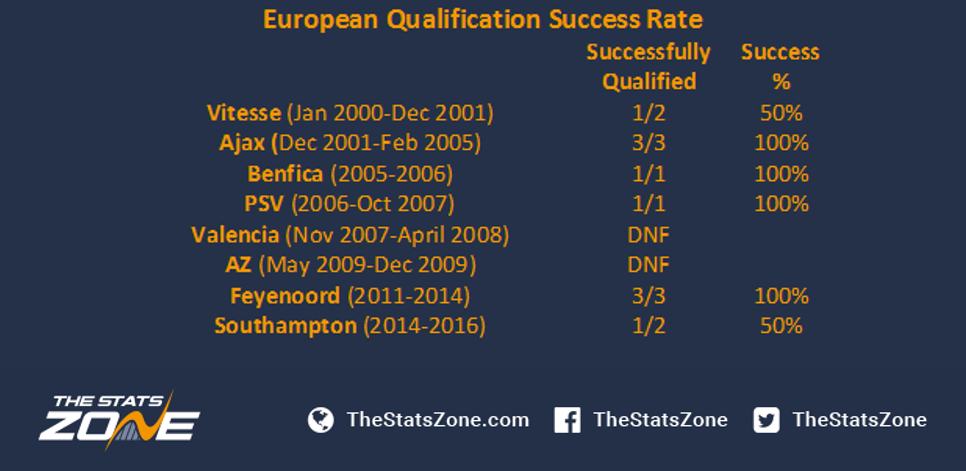 DNF = Did not finish the season
In terms of qualifying for Europe through league position, Koeman has a near perfect record throughout his whole career. Only on two occasions has he not finished a season with his team placing in a European spot. However, his record in European competitions is somewhat different.
During his two seasons at Southampton, they were only able to flirt with the idea of European football. Having qualified for the Europa League, Koeman's Southampton failed to make it to the group stages, falling at the last qualifying hurdle against FC Midtjylland. A similar pattern emerges when comparing his record with Feyenoord; Koeman twice failed to make it through Europa League qualification and once through Champions League qualification.
However, during his brief ill-fated time at Valencia (2007-2008), he experienced a group stage of European football as a manager and took charge of their Champions League campaign.
A disappointing campaign, that consisted of a solitary away win against Schalke, but also a shock 2-0 defeat to Rosenborg at the Mestalla Stadium.
Player Recruitment
Football managers can only work with what they have in front of them, so how successful have Koeman's first few major signings turned out? During his first season at Feyenoord, there wasn't a great deal of transfer activity; John Guidetti's loan was a huge success, becoming the club's top scorer that season. However, Guyon Fernandez's career at Feyenoord never took off. Touted as the replacement for Luc Castaignos, his time under Koeman was marked with poor performances and ill discipline.

However, his recruitment record is somewhat different at Southampton. Although Koeman operated as part of a transfer committee, he still held some influence towards incoming players. All three of Koeman's early major signings have been key first team players in Southampton's success during his reign as manager.

Interestingly, Koeman also managed Pelle for Feyenoord from 2012-2014, with the fiery Italian scoring 50 goals in 57 games, seemingly encouraging Koeman to bring him immediately to Southampton. Koeman also signed Jordy Clasie for Southampton after working with him previously during their time together at Feyenoord.
Time will tell if Ronald Koeman made the correct career decision in moving to Everton. One thing is clear though – as a player he was a winner, and despite a patchy managerial record, he has proven to be a success in the English Premier League. Either way, an exciting new season is just around the corner.