As Liverpool fans protest against increased ticket prices, we ask which stadium offers the best value for money in terms of match day entertainment, and how Anfield compares.
Liverpool fans staged a protest against Fenway Sports Group's (FSG) proposed ticket price rise for next season, with up to 10,000 fans walking out of Anfield in the 77th minute of Liverpool's Barclays Premier League game against Sunderland, reflecting the new £77 match-day ticket price, an increase of £18. The same week, also in a protest against ticket prices, Borussia Dortmund fans launched tennis balls onto the pitch during their team's German Cup game against Stuttgart.
It's not surprising that any Barclays Premier League fan would be upset at any price rise given the financial boost clubs will receive from next season's TV rights as Sky and BT Sport splash out over £5 billion between them, and the further £3 billion expected from international TV rights. As the war on ticket prices is quickly gaining momentum, we look into whether the fans on Merseyside are justified in their protest, and which club has offered the best value for money this season.
Currently, the most expensive match-day tickets (BBC Sport, Sky Sports, Independent) can be bought at the Emirates for £97, and the cheapest on offer is at top-of-the-league Leicester City, where tickets can be picked up for just £22. So where does Liverpool feature on this list? No surprises here, the four most expensive tickets are sold by the London clubs Arsenal, West Ham, Chelsea and Tottenham, respectively. Liverpool rank fifth at £59, £1 more than rivals Manchester United and Manchester City. Increasing ticket prices to £77 will still leave them fifth on the table, but it is difficult to justify such a gulf between them and their neighbours in the north-west.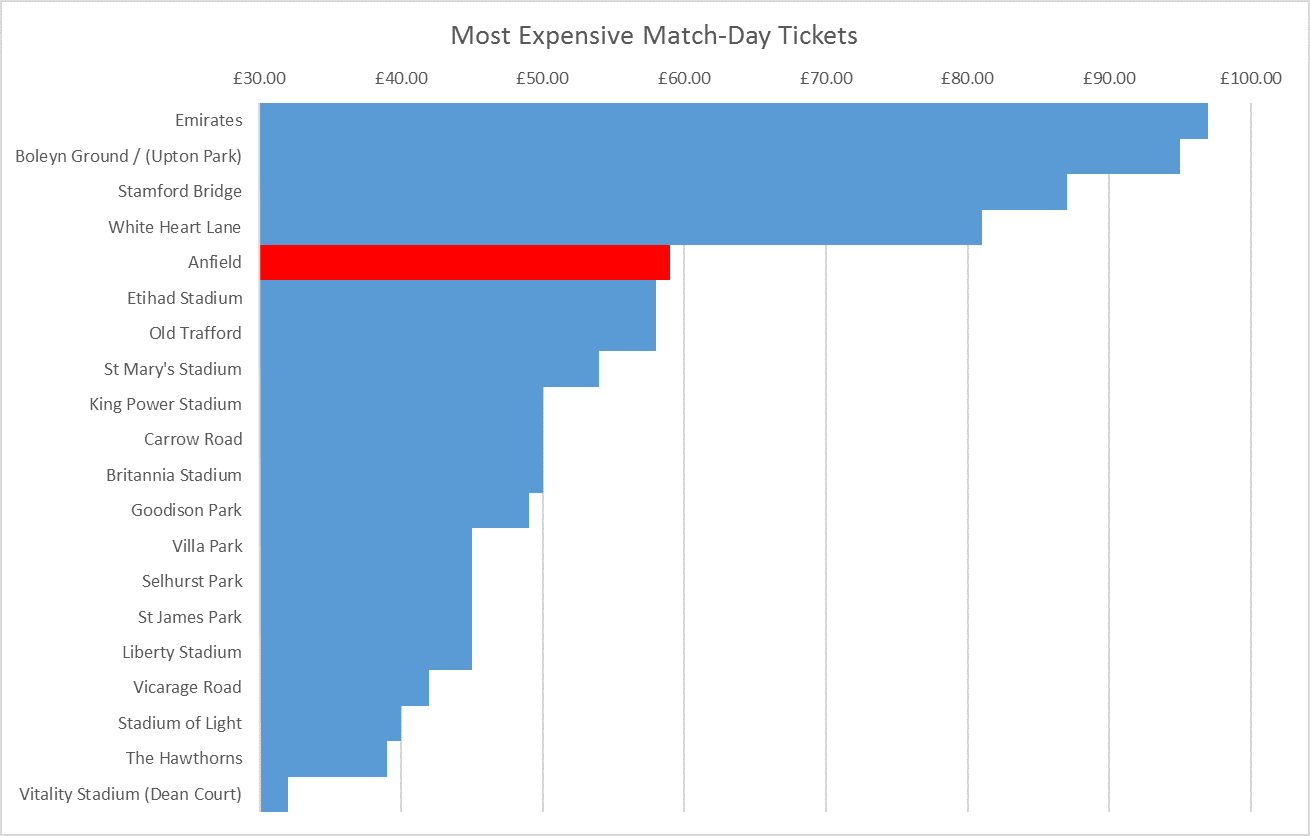 Looking this time at the cheapest match-day tickets on offer, again Liverpool doesn't perform well. With tickets for current league-toppers Leicester City priced from just £22, Liverpool's cheapest tickets, at £37, leaves them third bottom, where no Liverpudlian wants to be, ahead only of Manchester City and Chelsea, who's cheapest tickets are £42 and £52, respectively.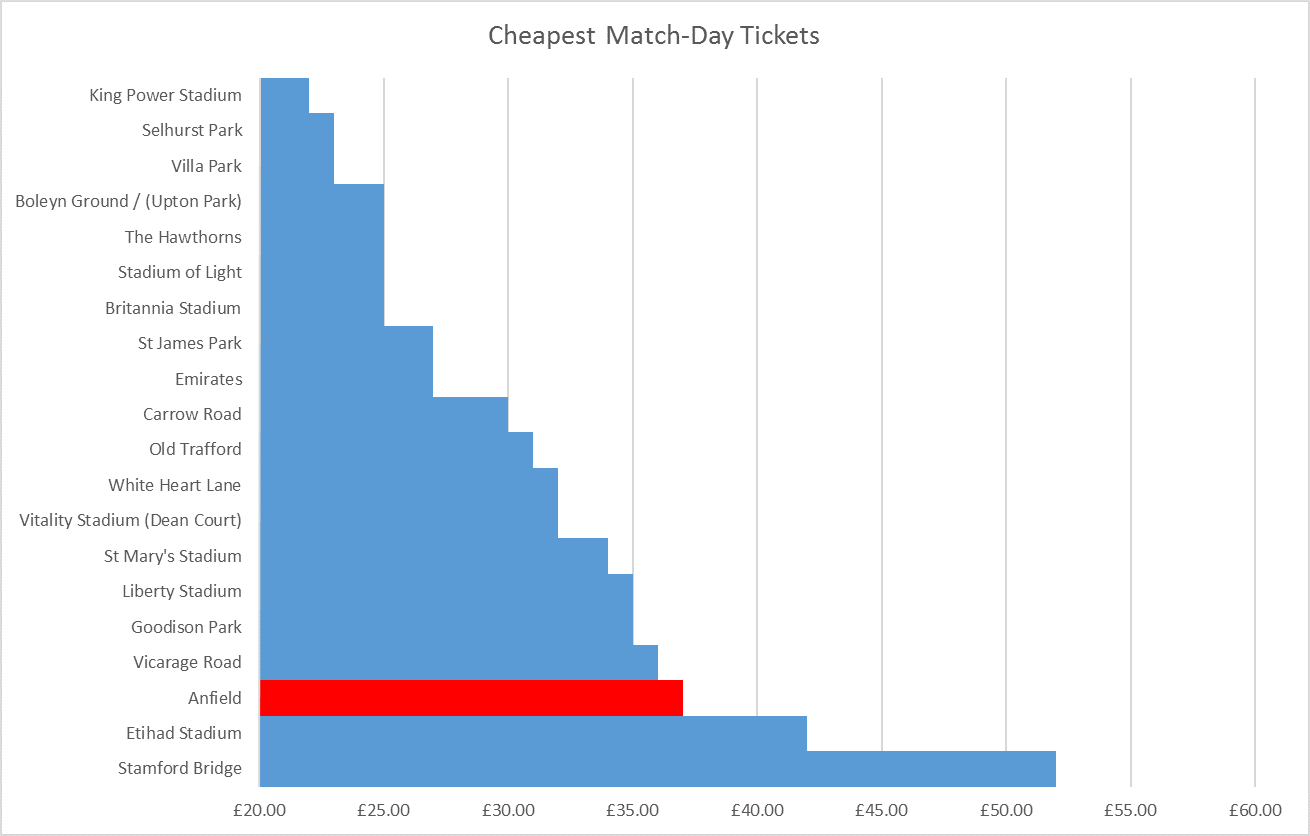 If any home fan had the choice, it's highly likely that many would state exciting attacking football, lots of goals scored, multiple clean sheets, and bagging each and every point available as the ideal qualities in their club. However, from a neutral perspective we will look at all goals, all shots, all passes in the attacking third (let's face it, neutral or not, no fan wants to see 90 minutes of side-to-side and backwards passing along the halfway line) for both the home and away teams, and weigh these up against the cost of attending each ground, in order to establish which stadium hosts the team providing the best value for money entertainment. Are Liverpool fans right to be aggrieved? What other fans should be chanting for cheaper tickets? And whose fans should be satisfied that every penny is worth it?
Using stats provided by Opta and SoccerSTATS (up to and including Feb 13th) we can easily see that West Ham fans have witnessed the highest average shots on goal, at 29 per game. Anfield features fourth on the list with 28, and, unsurprisingly, Old Trafford is bottom of the table, averaging just 21 shots per game. Turning our attention to goals, Goodison Park and the Etihad Stadium top the table, both averaging 3.8 goals per game. Much like Liverpool's true league position, Anfield finds itself middle of the road in ninth place with 2.8 goals per game. At the bottom again is Old Trafford, with a lowly 1.7 goals per game. Finally, if we look at passes in the attacking third, Anfield finds itself in the lofty position of third, with an average of 306 completed passes in the attacking third per game, with only fans at the Emirates (310) and the Etihad (312) witnessing more.
On the face of it, it would appear the members of the Kop should be relatively satisfied with the level of entertainment provided at Anfield; a few more goals would see them feature near the top of all three categories. However, if we delve a little deeper and bring price into the equation, does this paint a different picture?
Looking at the price per goals witnessed, focusing on the most expensive tickets (£59 in Anfield's case), Liverpool sits in twelfth position, with each goal costing the fan £21.45. Could be worse, right? However, removing the over-inflated London clubs from the equation sees Anfield quickly drop to sixteenth, with Villa Park, Vicarage Road, Britannia Stadium and Old Trafford below. If FSG had their way and prices had risen to £77, Anfield would sit second bottom of the pile (not including the London clubs). With the Vitality Stadium offering its' most expensive ticket at £32 and goals raining in at Goodison Park, it's not surprising to see Bournemouth and Everton top of the list, with each goal costing fans just £12 and £13, respectively.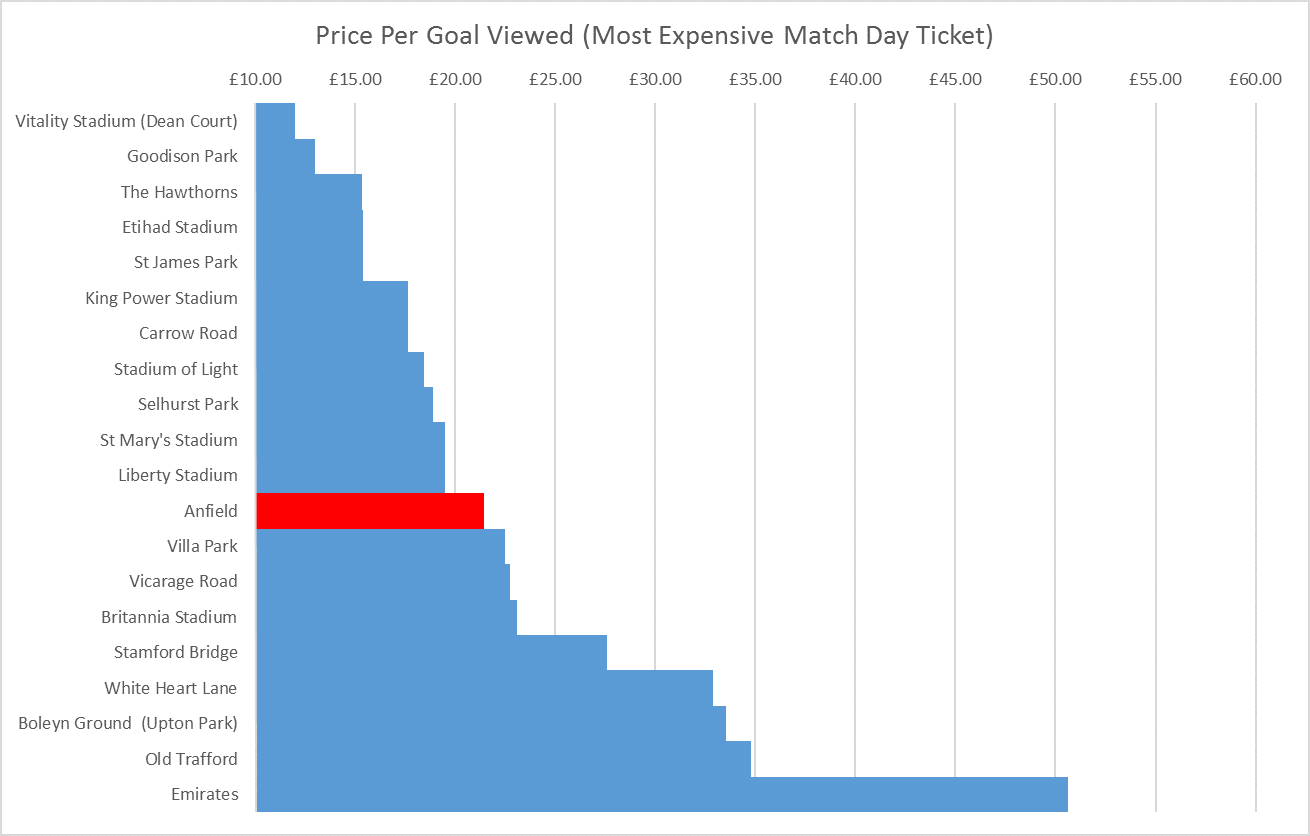 Moving onto shots viewed, it's a similar tale. On the face of it, Anfield ranks twelfth again, with each shot costing the spectator £2.08. Again, if we forget the London clubs, and increase the price to £77, Liverpool once again find themselves second from bottom, ahead only of rivals Manchester United. Once more, the Vitality Stadium tops the list, with the Stadium of Light and The Hawthorns closely behind.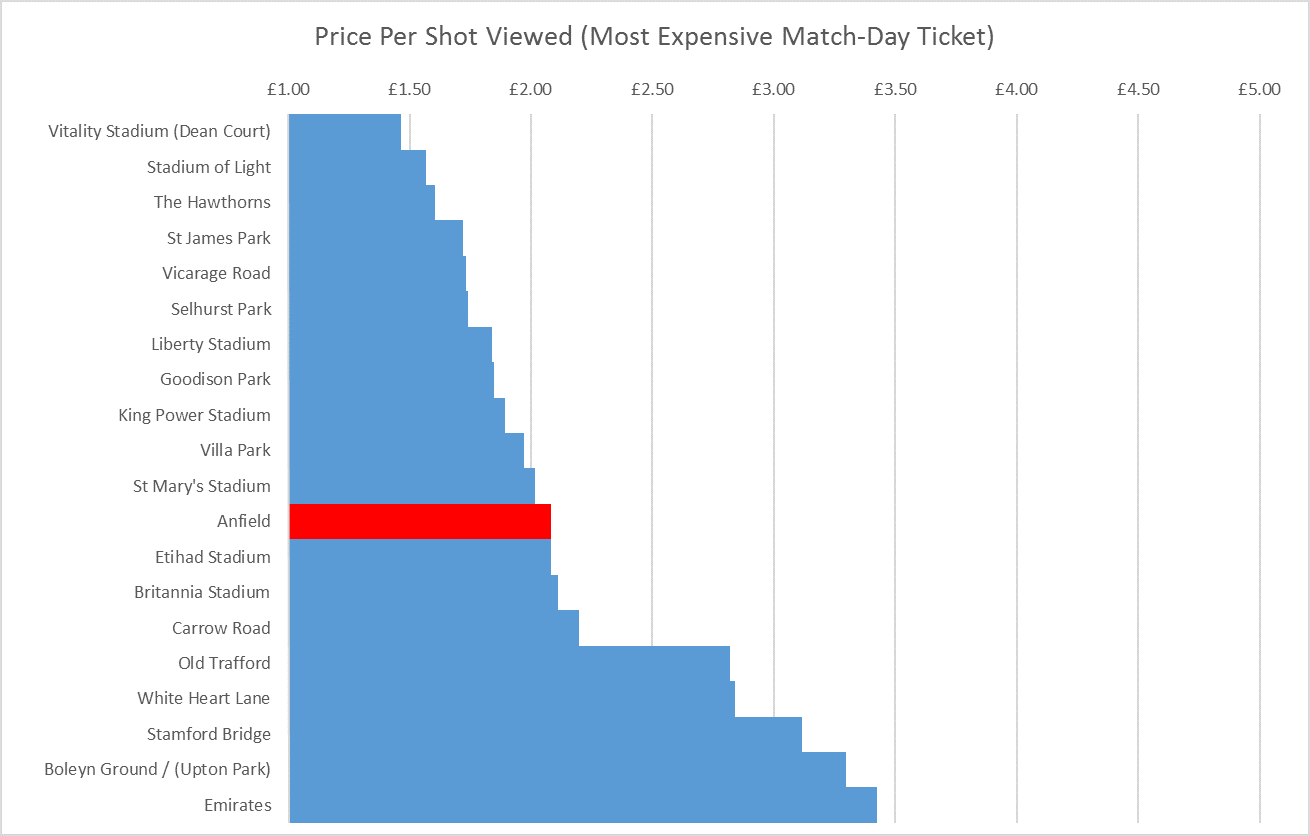 No surprises that when looking at attacking passes, much like Liverpool, Anfield's performance is mediocre, leaving it in thirteenth position, with each pass costing fans £0.19. For consistency, in removing the London teams, Liverpool sits fifth from bottom, and if we review the £77 ticket they would, in fact, be bottom of this category. Once again, the Vitality Stadium, The Hawthorns and the Stadium of Light fill the top three spots.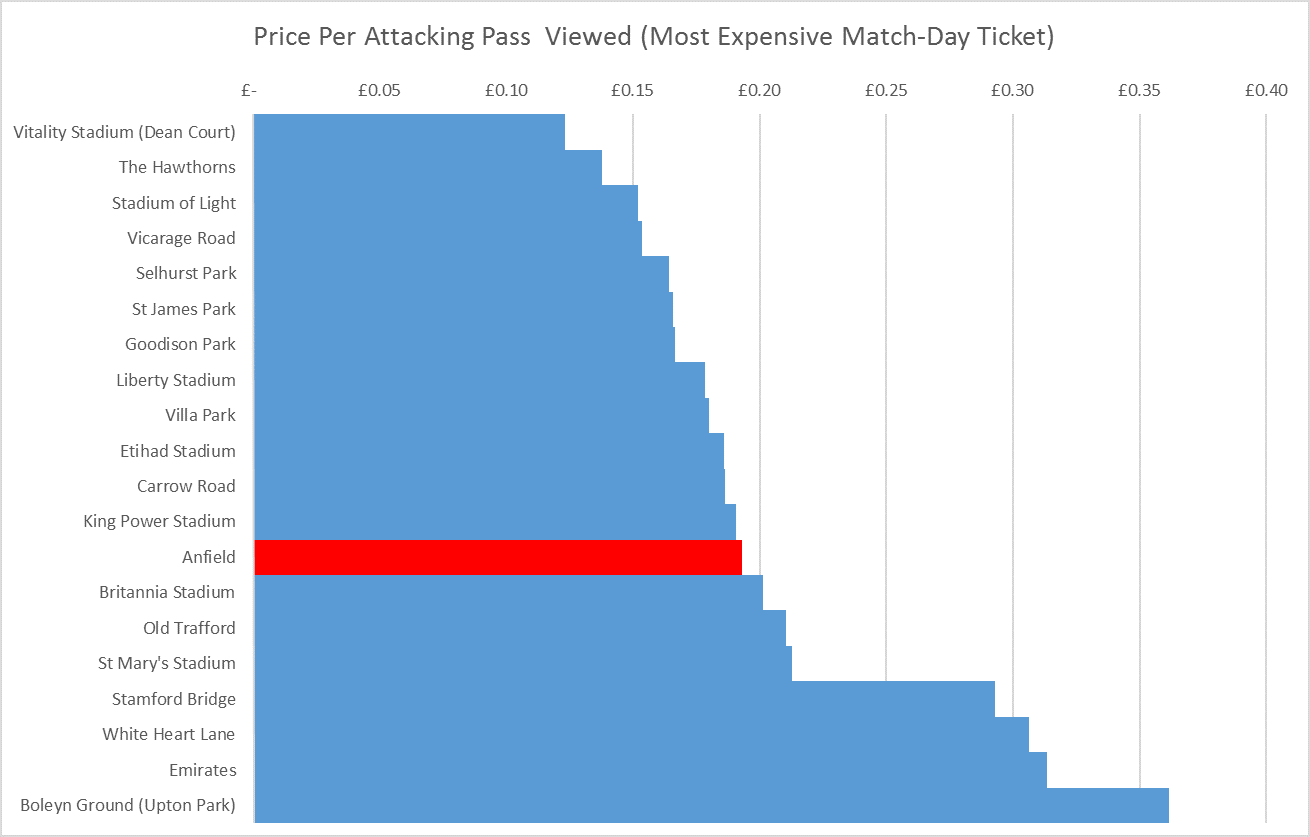 You can argue that removing the London clubs is flawed, but according to the latest data from the Office for National Statistics the average earnings in London are now almost double that of the rest of the country. Removing these clubs therefore levels the playing field. By doing this it is clear to see that Anfield is not currently offering good value for money, so by proposing a 30% increase on ticket prices, it's no wonder that the red army came out in force. So who else has a right to protest? Amusingly, after pushing Tony Pulis out the door, in a drive for more entertaining football, The Britannia consistently features near the bottom of our lists. Following Manchester United's dull and tiresome displays all season, Old Trafford is left languishing at the bottom in all three categories, and with tensions simmering below the surface it wouldn't be surprising if the Red Devils are the next to march in protest.
It's worth noting Bournemouth's Vitality Stadium (Dean Court), tops all three categories as providing the best value for money; however, this may offer a false impression, as in all three categories—goals, shots and passes—the Vitality Stadium lingers nearer the foot of all three tables. However, with their most expensive match-day ticket significantly cheaper than all their rivals, it is sure to provide a great value for money day out. Others worthy of note are The Hawthorns and the Stadium of Light.
For argument's sake, if we had looked in more detail at the cheapest tickets on offer, Liverpool feature predominately in middle of the table across all categories, and King Power Stadium features near the top in all categories owing to Leicester's superlative displays to date.
As we know, FSG eventually backed down and announced a ticket price freeze for the next two seasons, which appears the fans from the Kop have won this battle, and, after having looked into the numbers, justifiably so. However, with increasing friction between the Kopites and FSG it remains to be seen who will win the war long term.