The Lowdown
WAKEFIELD TRINITY
Wakefield sit comfortably in mid-table but will have been hugely disappointed to have let slip a three-score lead against Warrington in the second half last weekend.
They are able to count on centre Joe Arundel and back-rower Matty Ashurst after injury and they come back into the 19-man squad in place of Jordan Crowther and Max Jowitt to boost them.
After being rested last week, veteran full-back Scott Grix will come back into the starting line-up ahead of Max Jowitt and that is another big boost to the team as they try to snap this winless run.
Head Coach: Chris Chester
Squad: Tinirau Arona, Joe Arundel, Matty Ashurst, James Batchelor, Mason Caton-Brown, Anthony England, David Fifita, Liam Finn, Ashley Gibson, Scott Grix, Dean Hadley, Keegan Hirst, Craig Huby, Tom Johnstone, Ben Jones-Bishop, Danny Kirmond, Jacob Miller, Sam Williams, Kyle Wood
Unavailable: Mitch Allgood (Injured), Bill Tupou (Head), Reece Lyne (Knee), Chris Annakin, Mikey Sio, Anthony Walker, Jordan Crowther, Max Jowitt
CATALANS DRAGONS
The Catalans saw their three-match winning run broken in Wigan last week but they will not be too disheartened by that as they travel back over to the UK for this game.
After missing the last seven matches due to a thumb injury, key man Greg Bird makes his long awaited return and that provides the Dragons with a massive boost coming into this game.
Krisnan Inu is also fit again so he will start which means Ugo Perez and Alrix Da Costa drop out as the French side seek to avenge their loss to Wakefield earlier in the season.
Head Coach: Laurent Frayssinous
Squad: Paul Aiton, Lucas Albert, Louis Anderson, Lambert Belmas, Greg Bird, Thomas Bosc, Julian Bousquet, Remi Casty, Vincent Duport, Ben Garcia, Tony Gigot, Krisnan Inu, Thibaut Margalet, Sam Moa, Richie Myler, Mickael Simon, Iain Thornley, Luke Walsh, Fouad Yaha
Unavailable: Justin Horo (Injured), Luke Burgess (Knee), Jason Baitieri (Injured), Jodie Broughton, Brayden Wiliame, Paul Seguier, Ugo Perez, Alrix Da Costa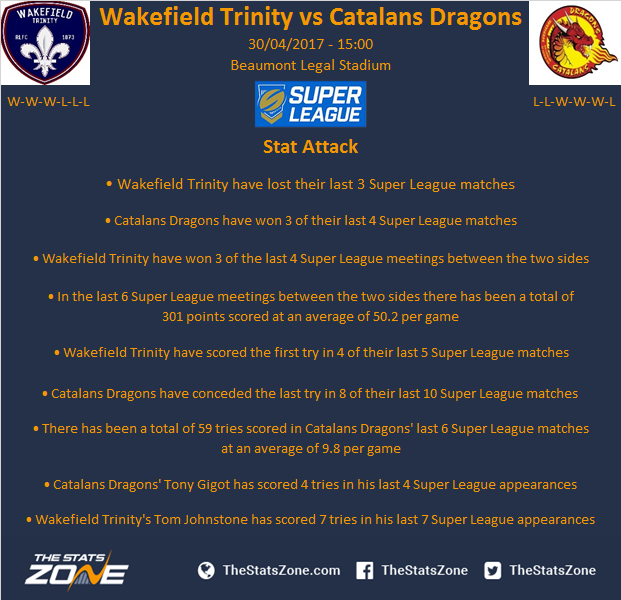 Analysis - what to expect
Wakefield have been incredibly streaky in recent weeks and they are currently on a three-match losing run, but they will be kicking themselves for losing to Warrington last week. They will seek to bounce back and make this a tough game for the Catalans but they have to play hard for the full eighty minutes. Little to choose between these two sides, but the flair of the Dragons could see them steal the points from this away day.