The results of a remarkable study revealed today by top internet analysts show that the World Wide Web may implode in on itself due to increasing levels of online fury from Merseyside-based football fans.
Cyberspace experts have warned users worldwide to save all documentation, photos and files they have stored online to physical flash memory devices, as the combination of Liverpool supporters' rage that Joel Matip and Dejan Lovren are somehow still starting games at centre-half for the club, and the frothing vitriol displayed by Evertonians towards toiling Dutch manager Ronald Koeman, shows no sign of relenting.
Scientists fear that the continuation of such high levels of frenzy would place excessive amounts of pressure on the internet, and could ultimately cause social media sites such as Twitter and Facebook to give way under the pressure.
Fans of Jurgen Klopp's side remain apoplectic that the German saw fit to start this season with only three centre-halves, two of whom were unconvincing at best throughout the 2017/18 season, while the other looks an awful lot like a 31-year-old Estonian signed from a mid-table Bundesliga side for absolute peanuts, because that's exactly what he is.
The Reds have a squad filled with exciting attacking talent, but their defensive issues have led to unprecedented internet-based incredulity. During the club's Premier League outing against Newcastle United at St. James' Park, one online aggregator collated statistics which showed that over 100,000 angry tweets were posted in the 60 seconds after Joselu found space in the mile-wide gap between Liverpool's two centre-halves and had the ball kicked in off his leg by Joel Matip. Over 50% of the tweets suggested that Matip "needs to learn to jump ffs", while ¾ apparently suggested that Lovren "should have been left behind to fend for himself in Turkey after he ballooned that penalty over the bar against Besiktas."
For the Blues, meanwhile, their poor run of form means their supporters are arguably even angrier than their red neighbours. Having christened themselves the 'Merseyside Billionaires' and after spending a record amount in this summer's transfer window, Evertonians across the region declared their days of woe over and were ready to usher in an era of success the likes of which the club has been forced to jealously watch Liverpool enjoy over the decades.
Despite this, the club spent £57bn on players used in the number 10 position that are all slower than evolution, leaving their squad extremely unbalanced. Koeman's insistence on playing all of his attacking midfielders at once has seen Gylfi Sigurdsson forced to play left-back, while Davy Klaassen's performances on the opposite defensive flank have drawn intense criticism.
This, combined with the debacle surrounding his choice of red Christmas tree decorations in December 2016, has seen Koeman become an increasingly unpopular figure with supporters. It is believed that 75% of tweets from Everton supporters so far this season have contained the words "f***", "off" and "Koeman" in some form.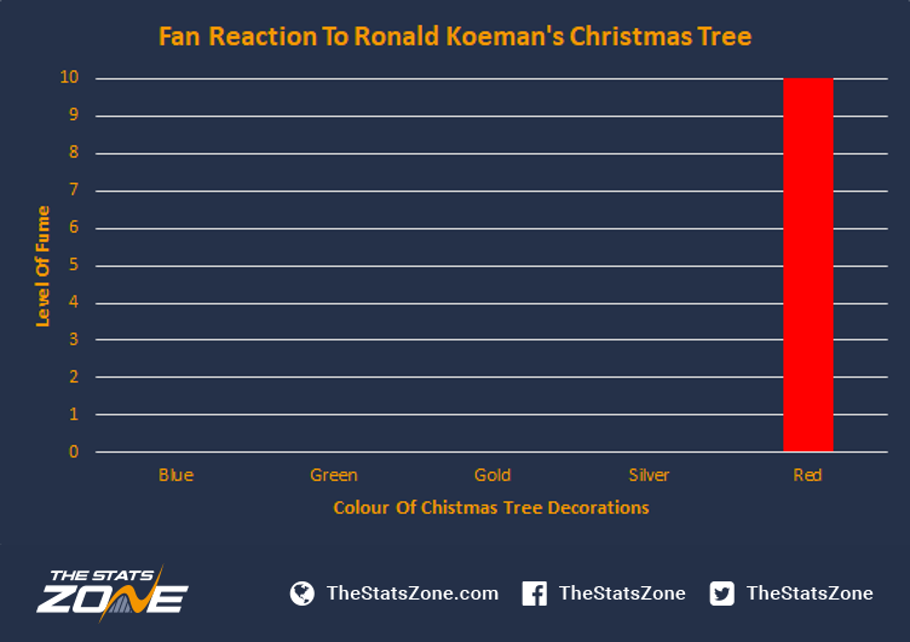 It remains to be seen whether either club can alter their fortunes, and in turn whether their supporters' anger can be calmed. But for now at least, the internet is in grave danger of erupting amongst this furore of footballing #hottakes.