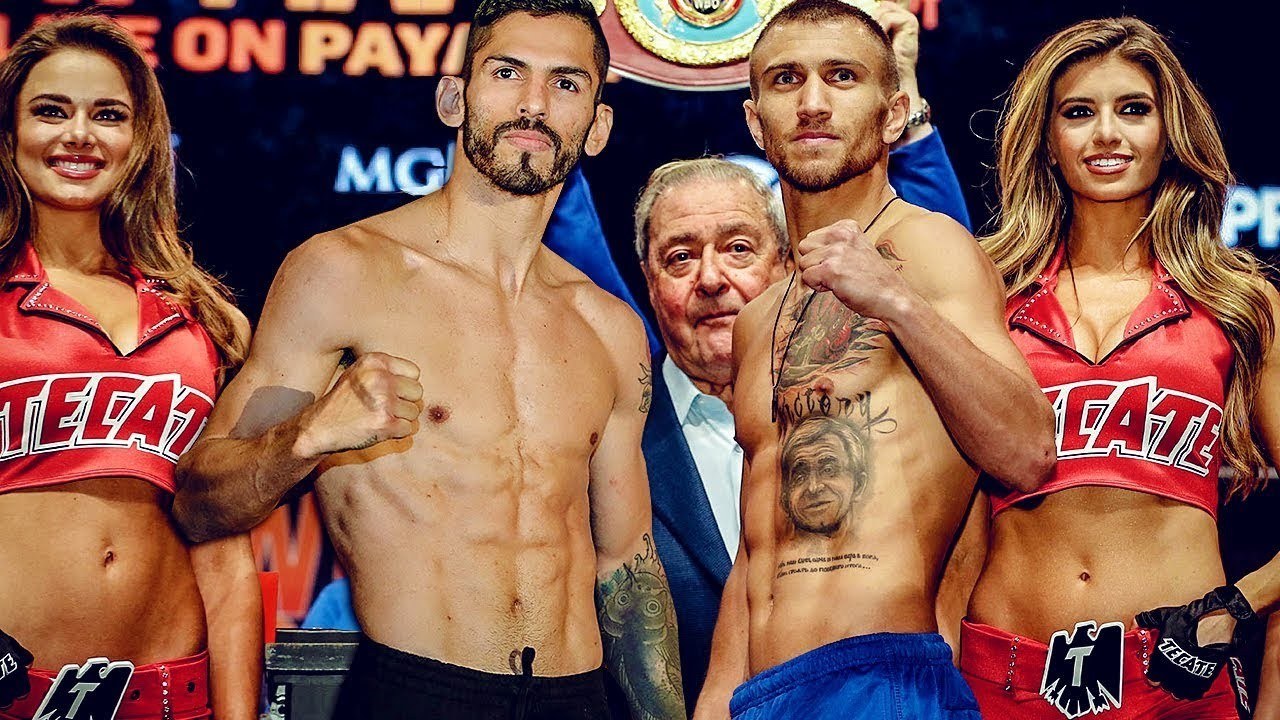 Two of boxing's current pound-for-pound best in Venezuela's Jorge Linares and Ukraine's Vasyl Lomachenko face off for the WBA lightweight title at New York's Madison Square Garden on May 12th. Linares defends the lightweight belt for the third time since winning it against England's Anthony Crolla and becoming a four-time world champion in three weight divisions in the process, while Lomachenko aims to become a three-weight world champion in only his 12th professional fight.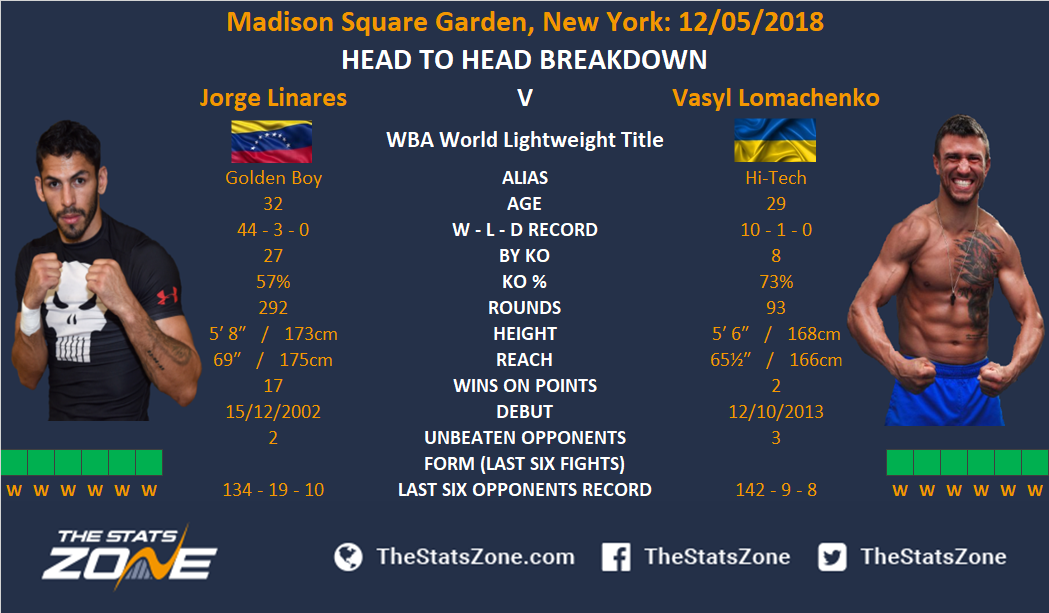 Although Linares has had 36 more professional bouts than his counterpart and been in the paid ranks 11 years longer, Lomachenko has had 397 amateur fights, losing just once before finally making the seamless transition into the professional game.
Linares is renowned for his speed, precision and world-class ability to box at range, making him a very difficult opponent to hit. Lomachenko on the other hand has no weaknesses and could in theory match Linares' strengths, but he also possesses the punch power to KO opponents at any point, as seen in his last bout against another P4P great in Guillermo Rigondeaux.
To become a three-weight world champion in just 12 fights means you must face the very best in each division and consequently, the Ukrainian has faced a higher calibre of opponent during his last six contests compared to Linares.
On paper, this has to be one of the hardest fights to predict between two great boxers.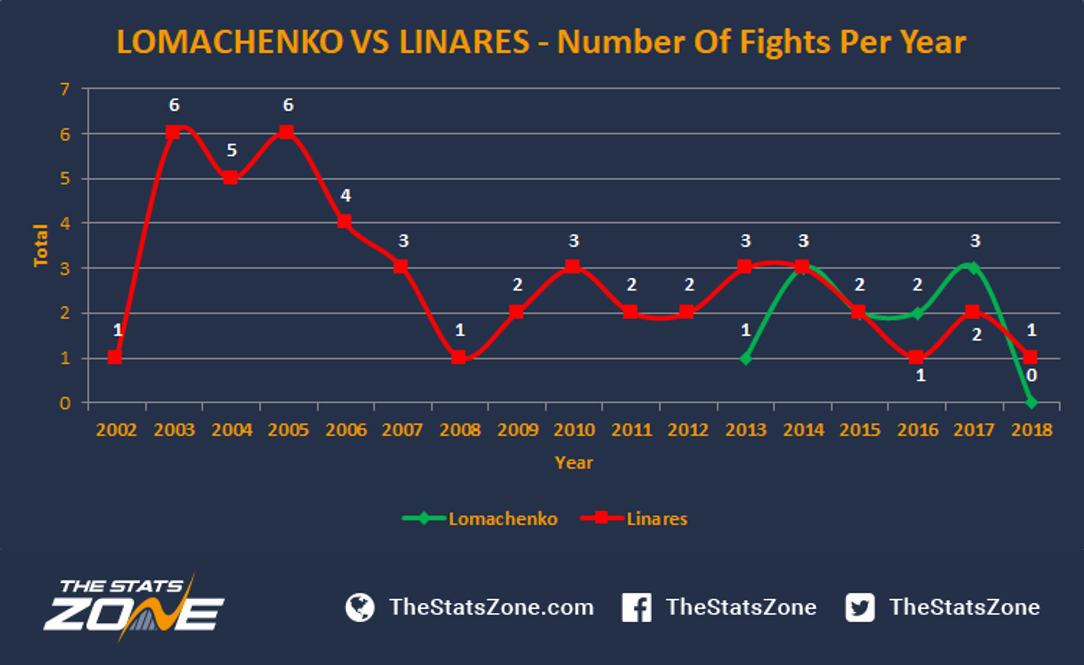 With only three years' age difference between the two boxers, the number of bouts per year demonstrates the differing paths each fighter has taken thus far.
Notably, Linares has already fought once in 2018 compared to none by 'Hi-Tech' with nearly two months' difference between their last outings; this could work in the Ukrainian's favour with the extra time to prepare with stepping up another weight division.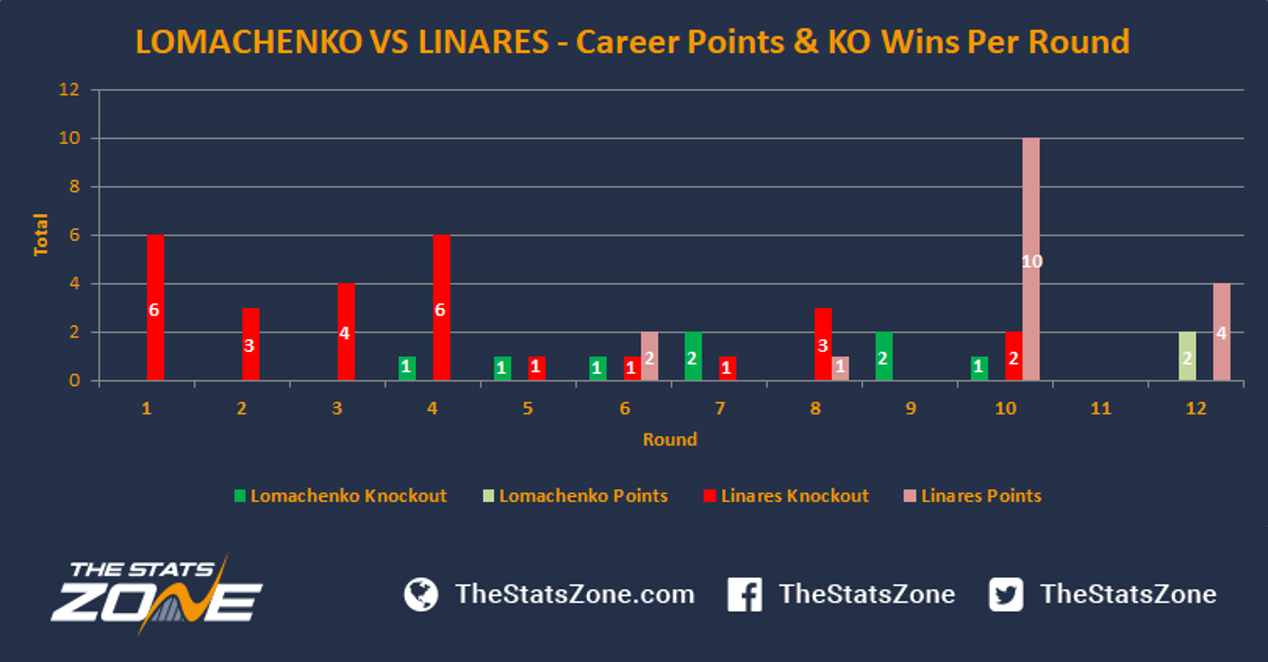 Linares has amassed 17 points victories from his 47 bouts, including his previous four fights which went the distance. Lomachenko's 73% KO ratio signifies the contrasting styles, which further make this a contest that could go either way.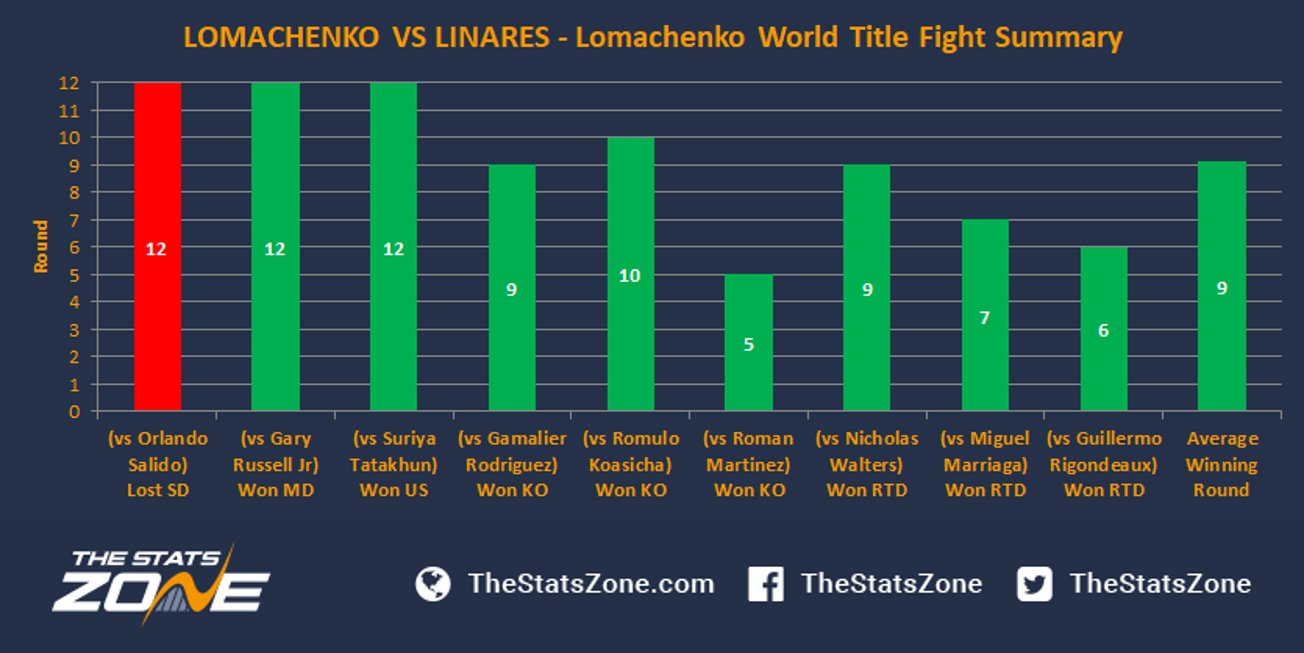 Lomachenko's only loss came via split-decision in just his second fight when he faced Orlando Salido for the WBO World Featherweight title. Since then he has been relentless, and the early setback could well have been the fast learning curve required to become boxing's next kingpin since the retirement of Floyd Mayweather and Andre Ward.
His two victories on points shows he has the skills to succeed this way, but the six KO's that have followed demonstrate he will come forward given the opportunity.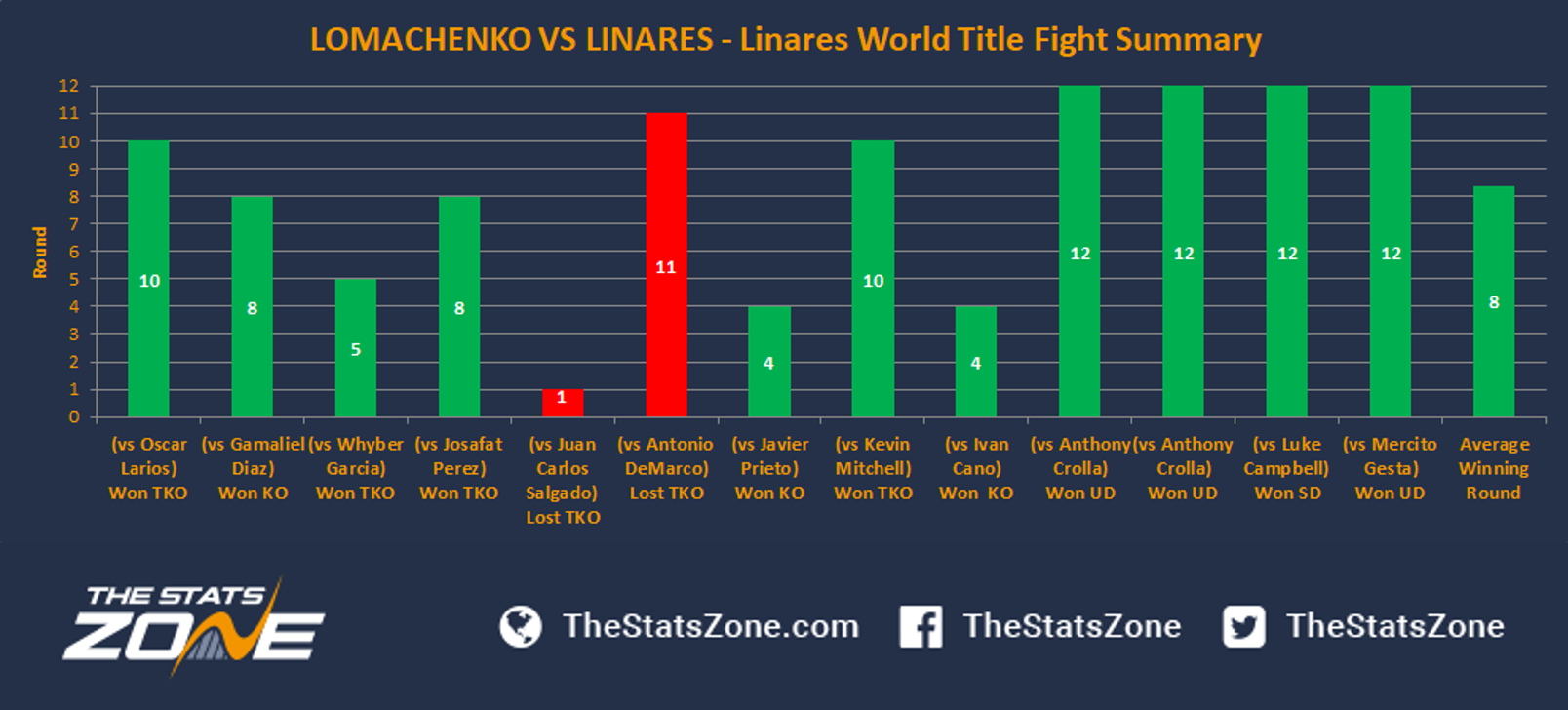 Linares' three career defeats – including two in world championship contests – have all come via knockout. Notably, none of the opponents were regarded as KO specialists which suggests Linares does have a somewhat suspect chin, an area that Lomachenko will highly test.
Nevertheless, the last four victories have gone the distance, perhaps as a result of a change in tactics at an age for a fighter who knows his craft inside out – a tactic that could be the difference once again in defending his belt.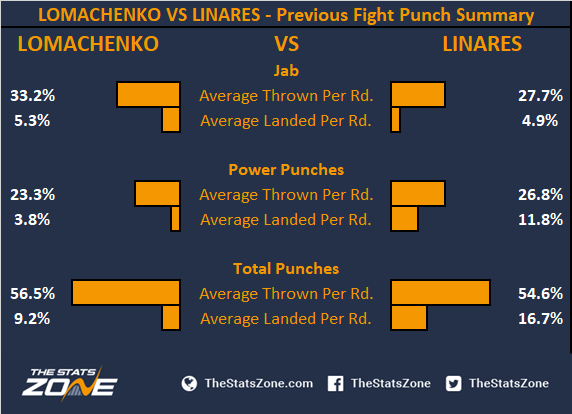 Linares' precision was once again on show during his previous bout against Mercito Gesta, landing 16.7% of his total punches thrown per round compared to just 9.2% for Lomachenko when he faced Rigondeaux.
'Hi-Tech' uses his jab more than 'Golden Boy' but surprisingly his power punches are less frequent and less accurate. However, although Linares is the more precise puncher, his weaker power will mean he is planning for another points victory as going for the KO is too dangerous.
Lomachenko will know he is unlikely to outbox Linares for 12 rounds but his more come-forward style could cause damage at any point.
In summary, this could be the fight of 2018 between two of boxing's very best. Linares has a very refined style and he knows what he must do for 12 rounds in order to win and as the more natural lightweight, he will be the heavier fighter on the night with the important reach advantage to box at range. Nevertheless, Lomachenko is younger, fresher and on the path to becoming one of boxing's very best. He possesses everything required to take the belt from Linares and perhaps is the only boxer in the division who can.
Even the statistics do not favour either boxer, but the Ukrainian possibly just has too much ability to change his style no matter what Linares throws at him. Furthermore, he has produced more convincing wins in recent outings making him TSZ's favourite, but whether that is via KO or on points is another matter.