When: Sunday 5th March, 3am (GMT)
Where: Las Vegas, Nevada, US.
Venue: T-Mobile Arena
What a fascinating card. The main event features the rematch between welterweight champion Tyron Woodley and Stephen Thompson. They fought to a thrilling draw at the historic UFC 205 in New York and will get another shot to prove who the king of the welterweight division is.
Rematches don't always garner the attention they deserve and this is no different. The first fight was one of the fights of the year so it is easy to assume this won't live up to the standard they have set. However, there is an incredible amount of anticipation to see how both fighters will approach this fight and what they have learnt from their first meeting. The first bout did not go as expected; Woodley surprisingly decided to keep the fight standing against the dangerous kickboxer even after a very successful takedown exchange, yet still pulled off two very dominant rounds. Thompson was hesitant in spraying his masterful striking yet still outpointed Woodley in three rounds. The two rounds that Woodley dominated earned him the draw and inflicted considerably more damage, yet Thompson survived knock downs as well as a tight guillotine.
So how will they adjust? With talent and fight intelligence in abundance, this rematch promises a violent chess match of elite martial arts. Will Woodley rely on his wrestling to close the fight out? Will he unleash his devastating leg kicks to defuse Thompson's weapons? Or will he uncork his trademark combination, ending in his explosive overhand right? What if Thompson is more aggressive than usual? What openings has he seen to counter-strike from the last fight? What new tricks has he been working on? There are so many variables in this fight that MMA fans are in for an intriguing contest.
For a statistical breakdown, see below: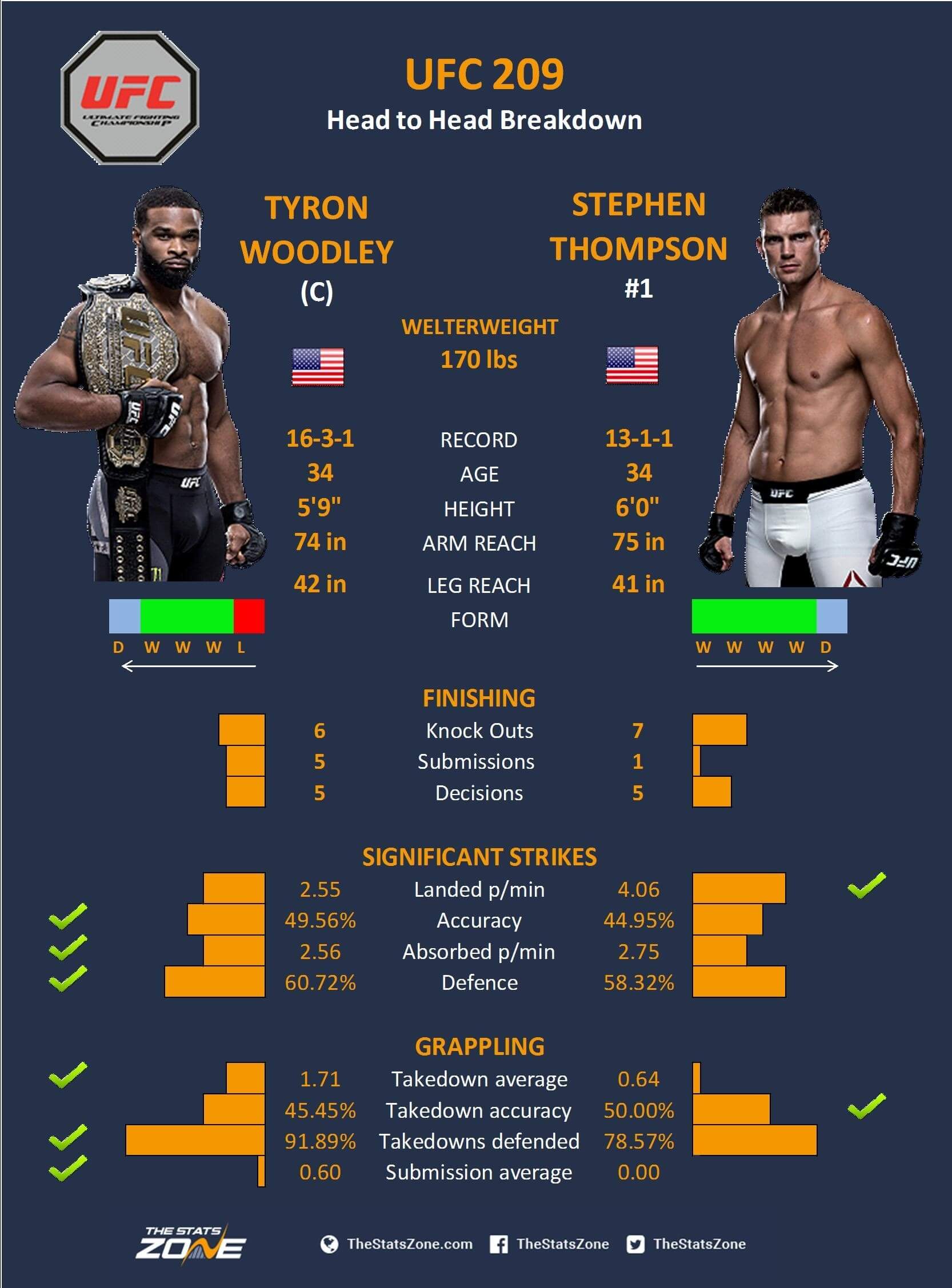 The next fight on the main card features UFC veteran Rashad Evans against the Australian Daniel Kelly. With only one loss to his name, Kelly will have confidence on his side although this may not be enough against the former light heavyweight champion. Although Evans has struggled to string three wins in a row since 2012, his record is saturated with legends and former champions and is as motivated as ever going into this fight.

For a statistical breakdown, see below: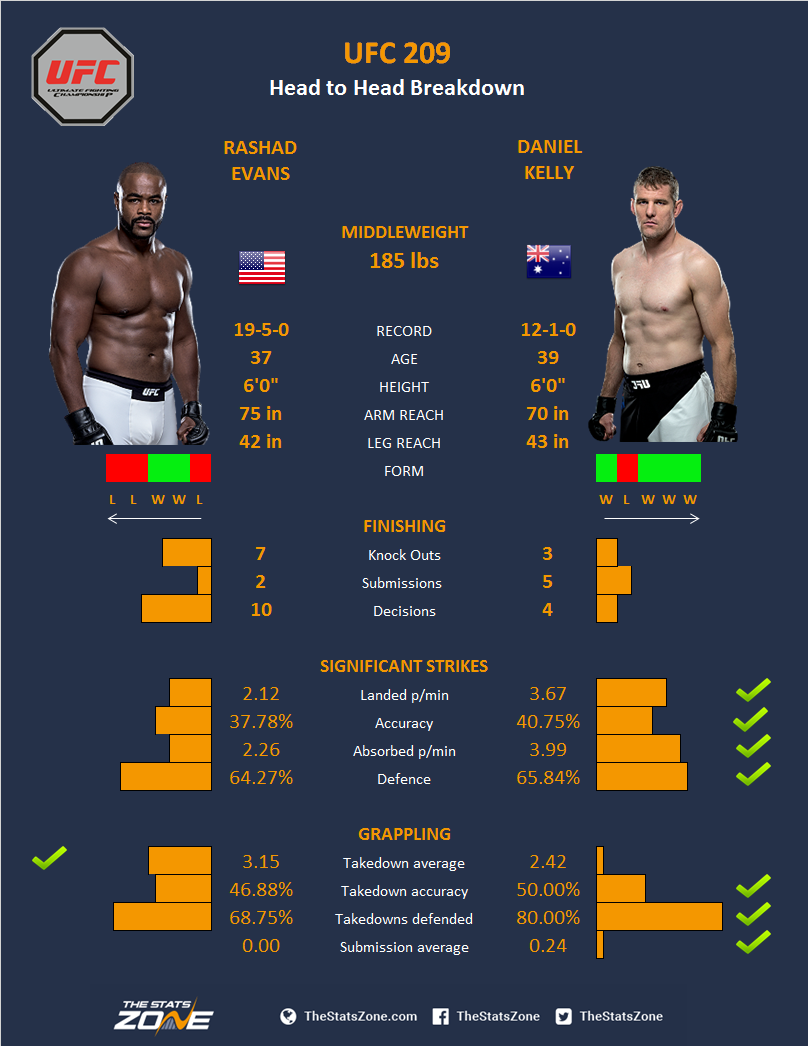 Another exciting clash sees Lando Vannata take on David Teymur from Sweden. Both fighters have only had two UFC fights so we cannot read too much into the statistics, but do expect fireworks. Teymur has had two fights – two knock outs, whereas Vannata has had two fights – one fight of the night and one knock out of the year! The fight of the night came when he stepped in to fight Tony Ferguson on short notice. Ferguson, now contending for a title shot, took Vannata lightly and nearly paid for it, numerous times. It was a back and forth war that had everything and was even a 'fight of the year' candidate, so fans will expect to be treated to another spectacle.
For a statistical breakdown, see below: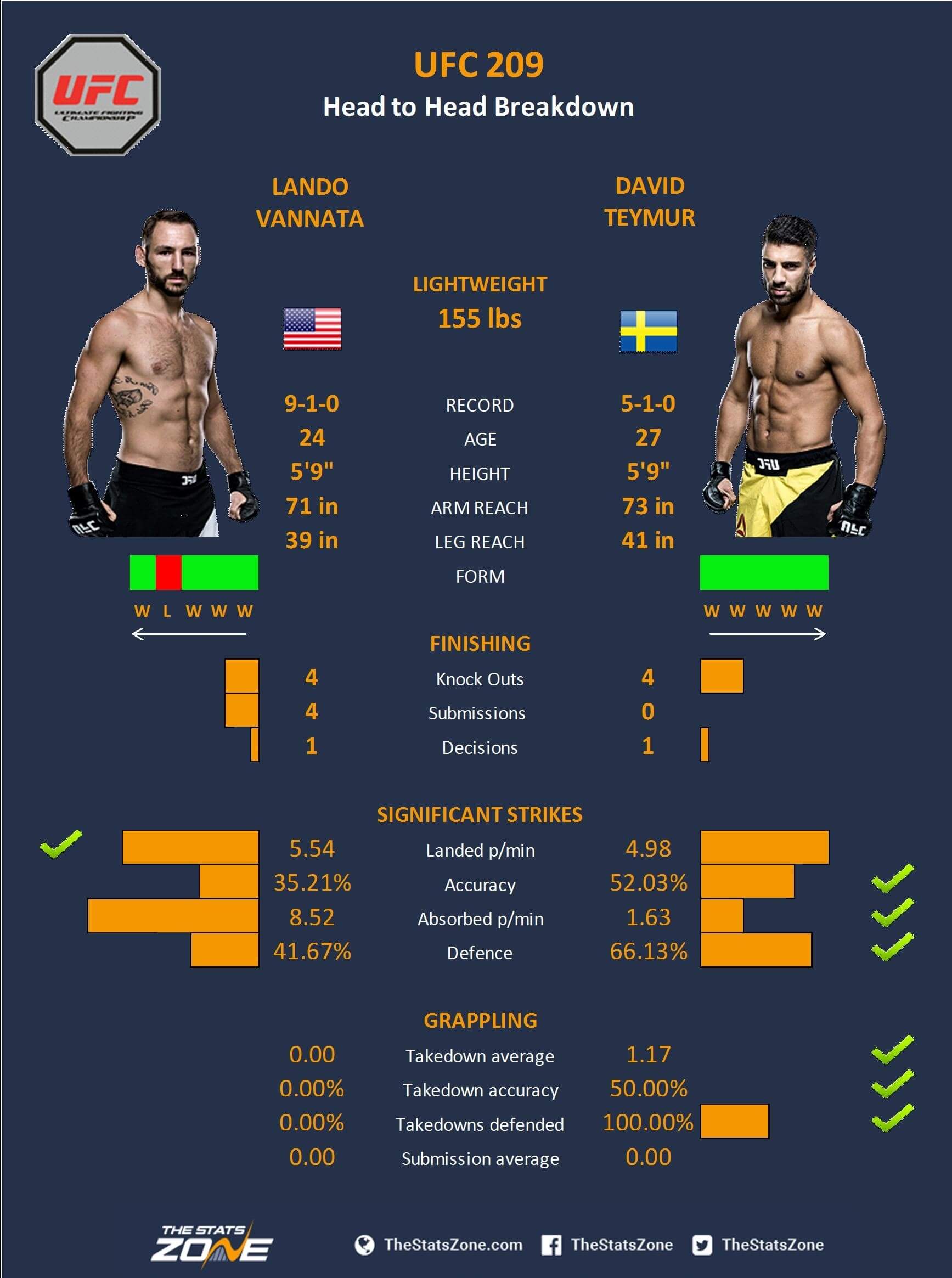 If you thought there was too much excitement already, well too bad because two of the most exciting heavyweights will be igniting the main card in the shape of striking powerhouses – Alistair Overeem and Mark Hunt. Hunt is a crowd pleaser of the highest calibre who loves nothing more than to stand and throw bombs at his taller opponents, but this will be welcomed by Overeem who is arguably the most decorated MMA striker of all time.
For a statistical breakdown, see below: