The UEFA women's Euro 2017 tournament is now underway in the Netherlands, with this 12th edition of the competition having been expanded from 12 to 16 teams.
We've compiled some statistics on the players in each squad. Let's first take a look at the average age of each competing nation: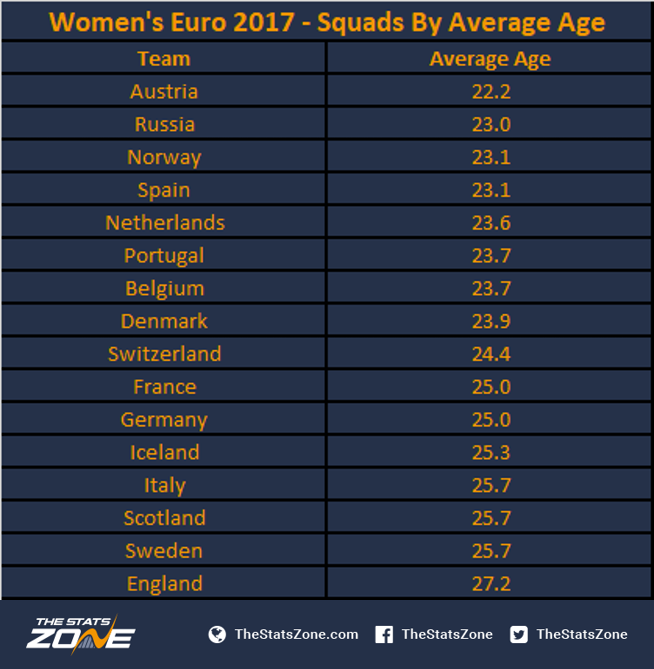 The youngest squad in the competition is Austria, who boast an average age of just 22.2.
The England squad are comfortably the oldest, with their average age of 27.2 coming in at 1.5 years older than Italy, Scotland and Sweden.
The average age of all players in the tournament in 24.4.
The oldest player at the tournament is Norway's Ingrid Hjelmseth, who is 36.
There are four 16-year-olds at Euro 2017 - Davinia Vanmechelen (Belgium), Agla Maria Albertsdottir (Iceland), Frida Leonhardsen Maanum (Norway) and Viktoriia Shkoda (Russia).
Next we look at which clubs are the most represented in the tournament.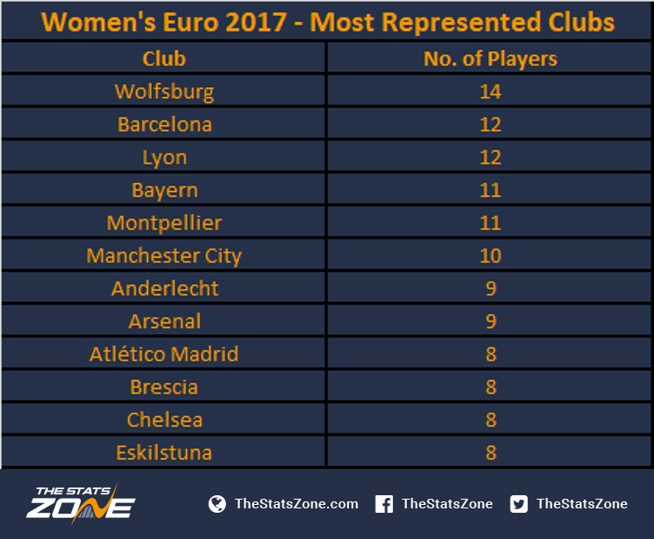 Domestic double winning German outfit Wolfsburg have 14 of their players competing in Euro 2017, just ahead of Barcelona and last season's UEFA Women's Champions League winners, Lyon.
Manchester City are the most represented English team, with 10 of their players on show. Nine Arsenal players are at the tournament, just ahead of Chelsea with eight.
Which domestic league is the most represented?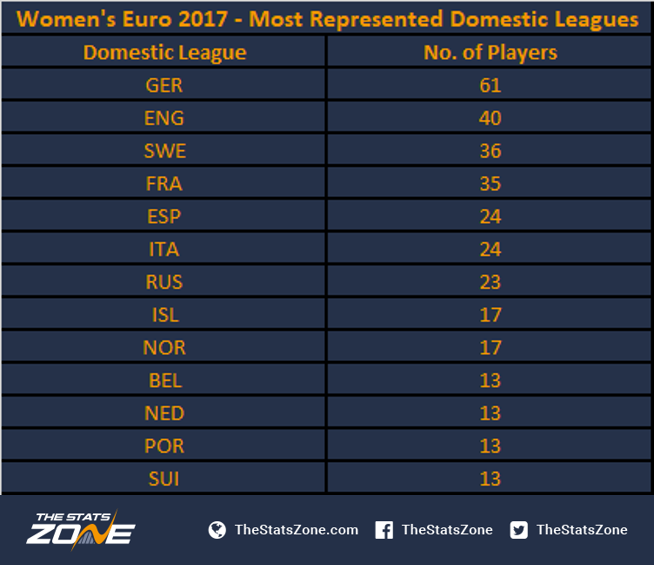 The German domestic league (Frauen-Bundesliga) is the most represented at Euro 2017, with 61 of their players competing on the international stage.
The English domestic league (Women's Premier League) are second with 40 players, whilst there are more players from the Swedish domestic league (Damallsvenskan) than the French (Division 1 Féminine), Spanish (Primera División Femenina) and Italian (Serie A) domestic leagues.