The final round of qualification for the 2017/18 Champions League (UCL) group stage begins tonight, with 20 teams competing in a two-legged play-off to determine who will make the all-important main draw.
The play-off round – introduced in the 2009/10 season – is split into two sections; the Champions Route and the League Route, and certain teams are seeded in both sections based on their UEFA club coefficient.
Let's firstly take a look at this year's ties:
Champions Route
FK Qarabag vs FC Kobenhavn (seeded)
15/08/17: FK Qarabag vs FC Kobenhavn
23/08/17 FC Kobenhavn vs FK Qarabag
Apoel Nicosia (seeded) vs Slavia Prague
15/08/17: Apoel Nicosia vs Slavia Prague
23/08/17: Slavia Prague vs Apoel Nicosia
Olympiakos (seeded) vs HNK Rijeka
16/08/17: Olympiakos vs HNK Rijeka
22/08/17: HNK Rijeka vs Olympiakos
Celtic (seeded) vs FC Astana
16/08/17: Celtic vs FC Astana
22/08/17: FC Astana vs Celtic
Hapoel Be'er Sheva vs NK Maribor (seeded)
16/08/17: Hapoel Be'er Sheva vs NK Maribor
22/08/17: NK Maribor vs Hapoel Be'er Sheva
League Route
Sporting Lisbon (seeded) vs Steaua Bucharest
15/08/17: Sporting Lisbon vs Steaua Bucharest
23/08/17: Steaua Bucharest vs Sporting Lisbon
1899 Hoffenheim vs Liverpool (seeded)
15/08/17: 1899 Hoffenheim vs Liverpool
23/08/17: Liverpool vs 1899 Hoffenheim
Young Boys vs CSKA Moscow (seeded)
15/08/17: Young Boys vs CSKA Moscow
23/08/17: CSKA Moscow vs Young Boys
Istanbul Basaksehir vs Sevilla (seeded)
16/08/17: Istanbul Basaksehir vs Sevilla
22/08/17: Sevilla vs Istanbul Basaksehir
Napoli (seeded) vs Nice
16/08/17: Napoli vs Nice
22/08/17: Nice vs Napoli
British interest lies with Liverpool and Celtic. Both teams are seeded, but how often do the seeded teams progress? We've dissected the historical data: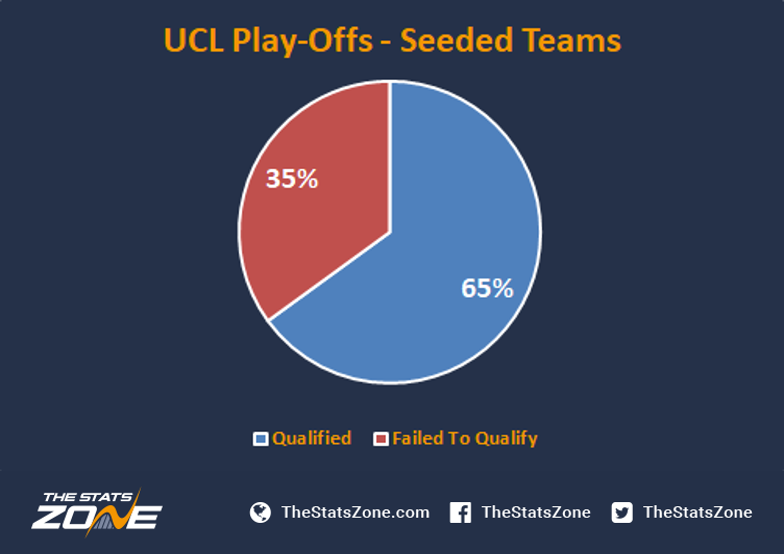 In the 80 ties that have taken place since 2009/10, almost two-thirds of the seeded teams have progressed to the group stage.
We can break this down further by looking at both champions (Champions Route) and non-champions (League Route):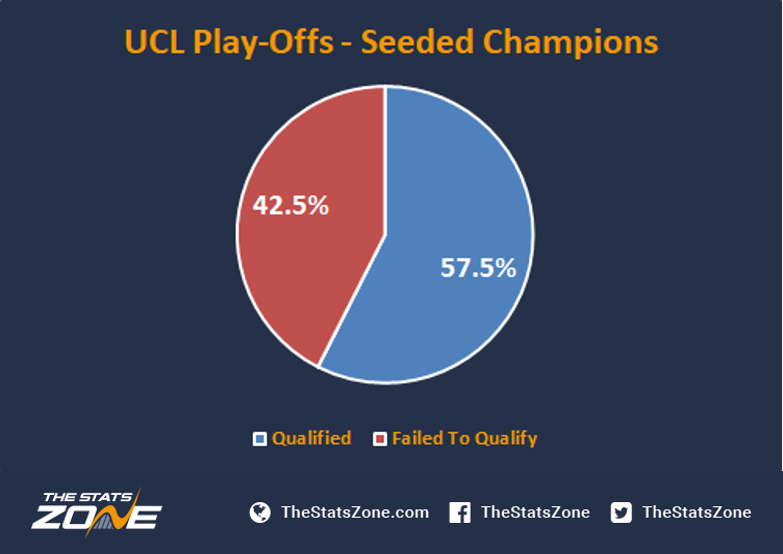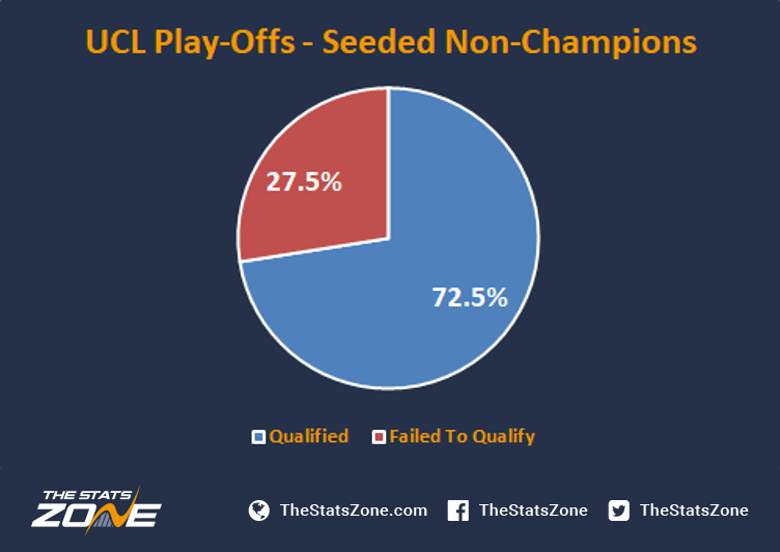 In the League Route, seeded teams tend to perform better than the seeded teams in the Champions Route, perhaps because the gap in quality in that section is greater than that of the teams who were champions of their respective domestic leagues.
Let's now take a look at which nations have been most frequently represented in the Champions League play-offs in the past: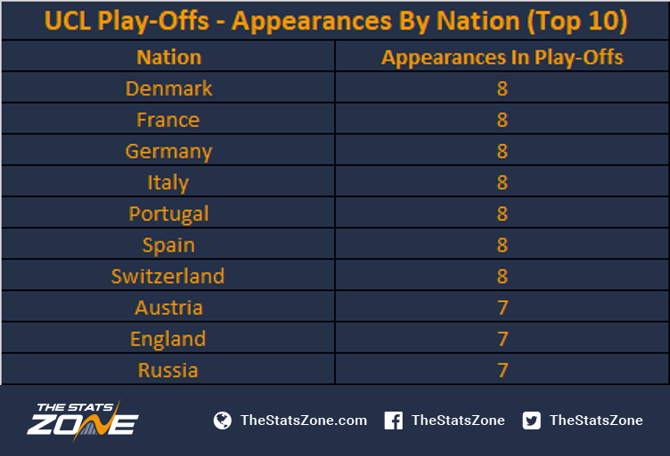 Since the play-off round was introduced, seven nations have been represented eight times, with teams from the top five European leagues (England, Spain, Germany, Italy, France) all appearing in the top 10. Of course, the UEFA coefficient system effectively guarantees representatives from these nations each season.
We now break this down into specific clubs who have made four or more play-off appearances: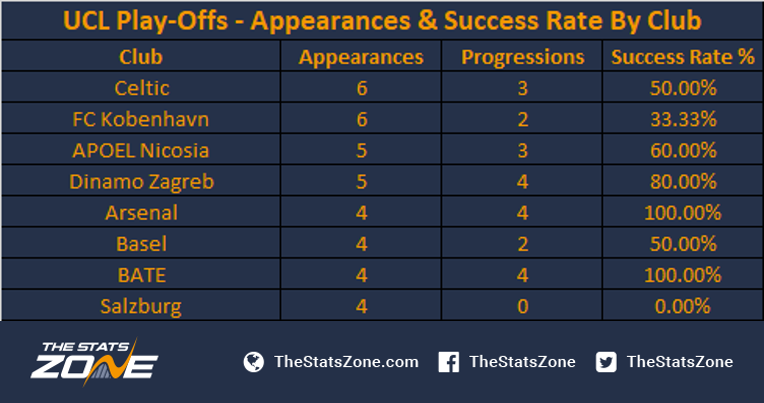 Celtic and FC Kobenhavn, who will both be making their seventh appearance this year, have been the most frequent play-off competitors. The Scottish champions have a 50% success rate at this stage, whilst the Danish giants have progressed just twice in six attempts. Liverpool fans may be heartened to see that English rivals Arsenal have a 100% progression rate from their four appearances, whilst Red Bull Salzburg have failed at this hurdle each time they have participated.