Here at TSZ we have put together a list of all the travel distances for the top six tiers of English football. The distances have been determined by using the shortest route by road on Google Maps (stadium to stadium).
This article focuses on the 2019-20 Premier League season.
TOTAL DISTANCES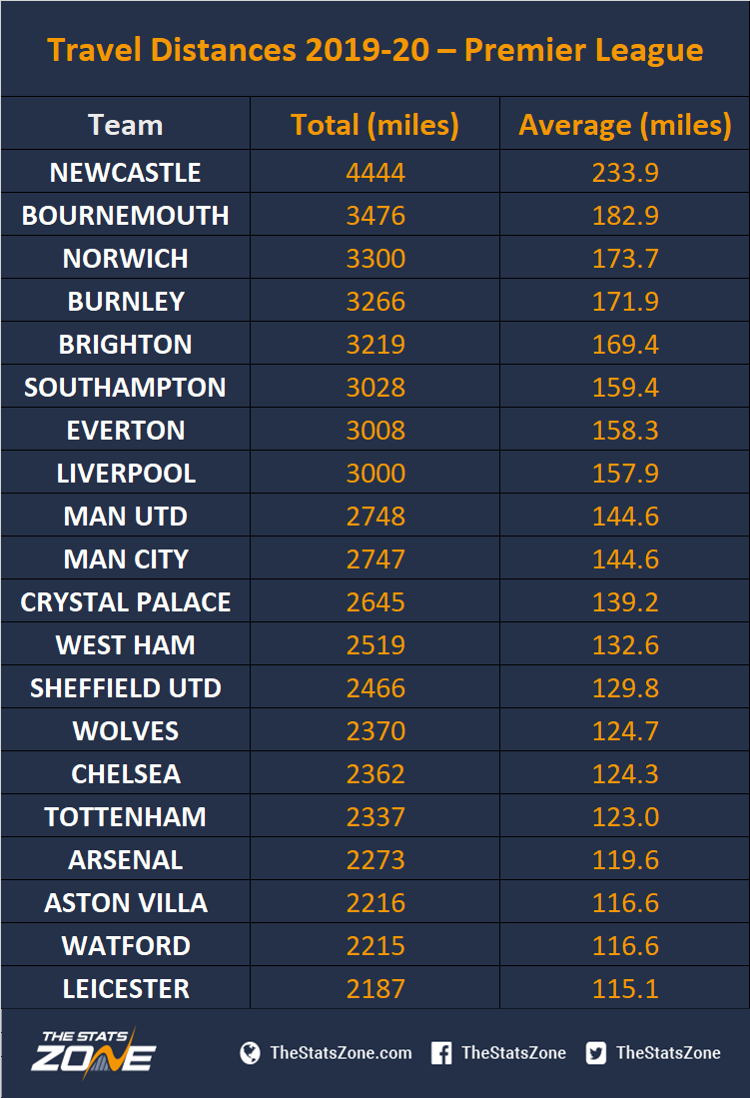 As the northern most team in the 2019-20 Premier League, Newcastle fans will have the furthest to travel next season. Their average away day commute will be 233.9 miles, meaning if any fan decides to attend all away matches they'll clock up 4444 miles of total travel distance - nearly 1000 more miles than the next closest (Bournemouth) - and that doesn't even include the trip home!
Leicester City fans have the honour of having to travel to least distance for their 2019-20 Premier League away days. Being situated in the Midlands has afforded fans of the club an average drive of 115.1 miles per away day - or 2187 miles in total.
WHAT IS THE LONGEST AWAY TRIP IN THE PREMIER LEAGUE?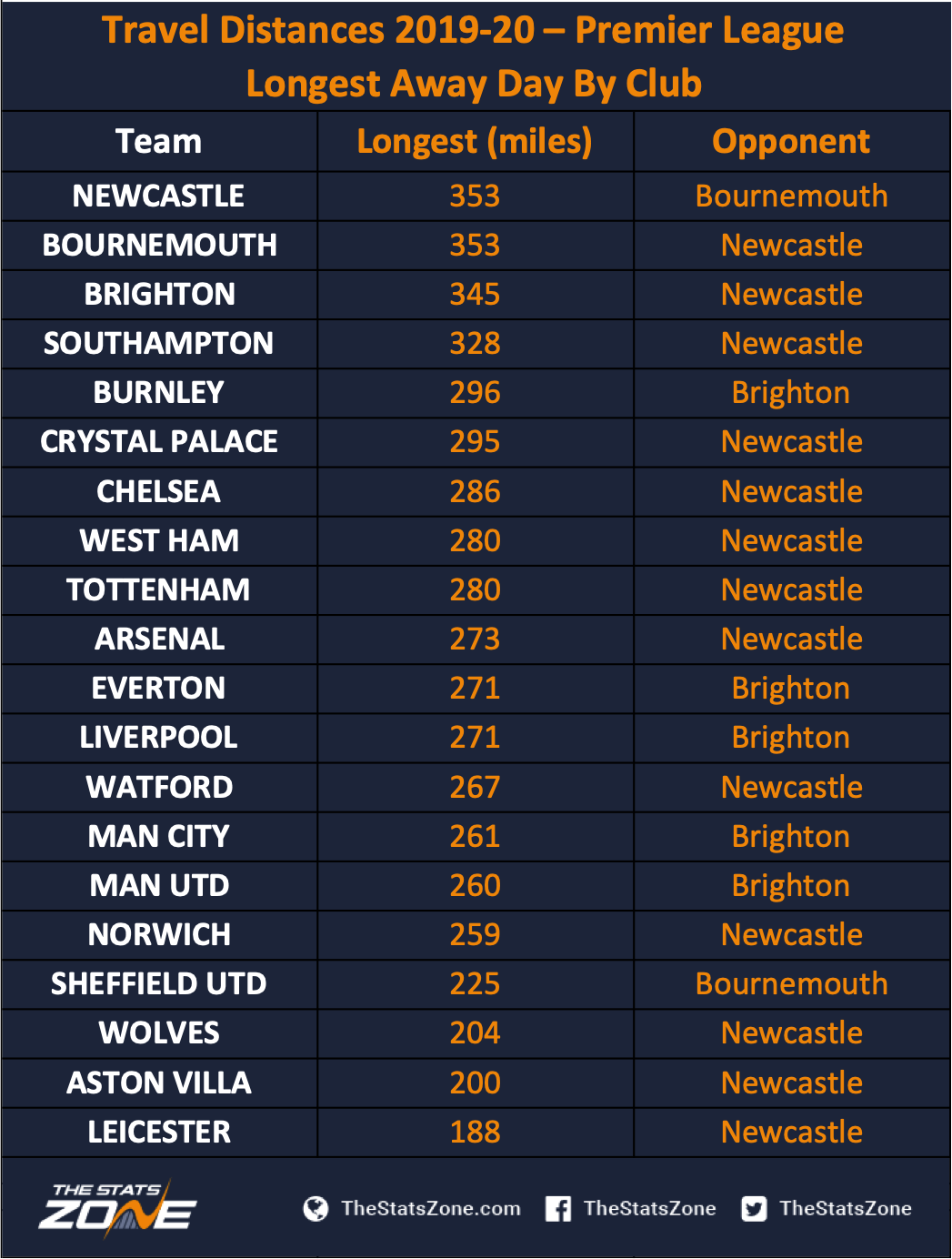 The match-up between Newcastle and Bournemouth represents the longest single away trip for all clubs in this season's Premier League (353 miles).
In fact, a trip to St James' Park represents the longest away day for fans of 13 of the Premier League's 20 clubs for the 2019-20 season.
Meanwhile, a trip to the beaches of Brighton or Bournemouth will be the reward for fans of the seven remaining clubs as Brighton (5) and Bournemouth (2) join Newcastle as the longest single away trip for an opponent.
WHAT IS THE SHORTEST AWAY TRIP IN THE PREMIER LEAGUE?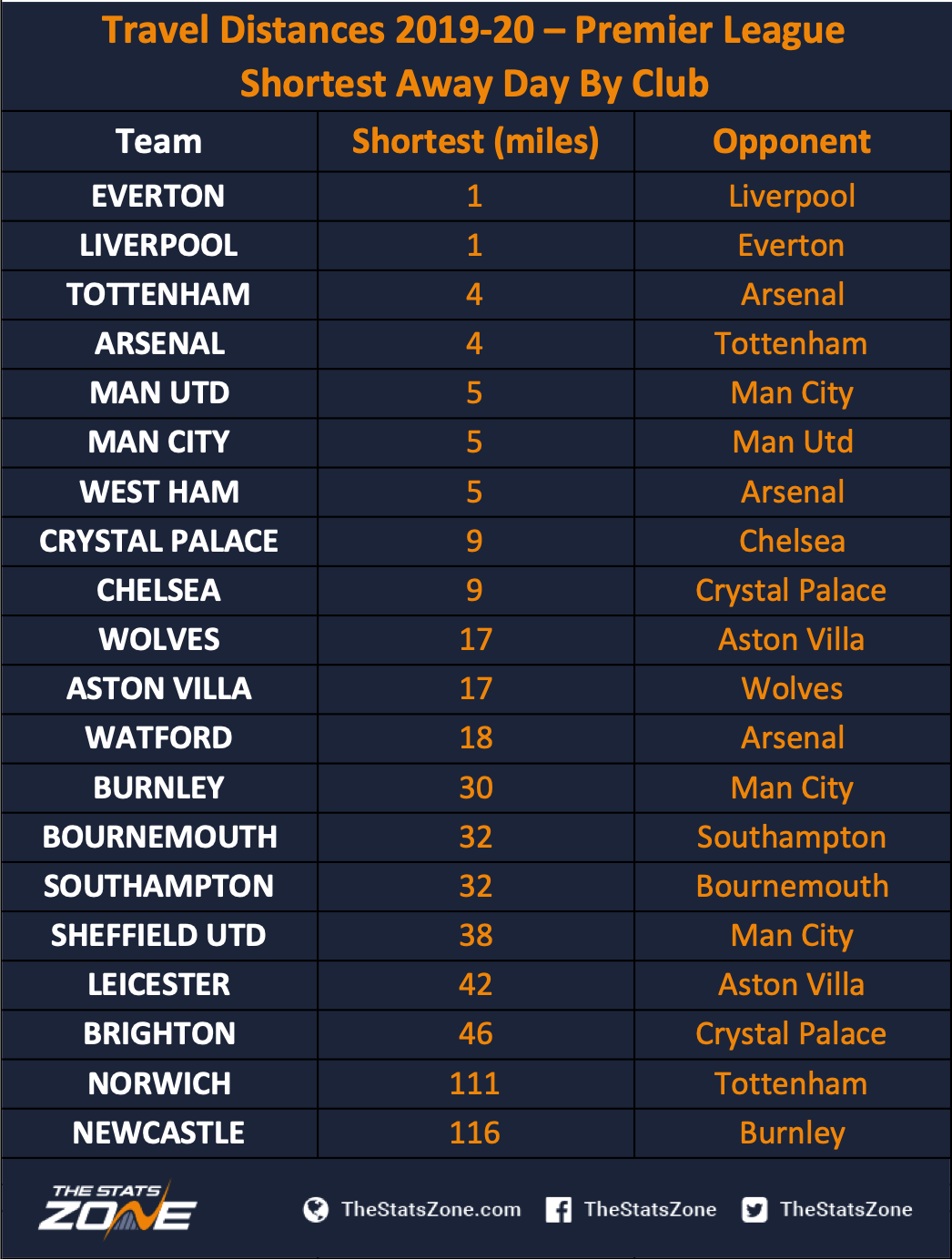 The closest match-up in the Premier League this season will be the Merseyside derby between Liverpool and Everton, as just the one mile separates the two stadiums.
Both Norwich and Newcastle will have to travel at least 100 miles per away match as even their closest opponents surpass that mark.

If you'd like to see a full 2019-20 fixture list and the individual travel distances for your club, please get in touch with us on our Contact page or via Twitter, and we will be happy to send you a bespoke graphic.