With Euro 2016 quickly approaching, TSZ decided to take a look at where the 24 squads that will be taking part came from and whether some countries favour bringing through players from the Under 17, 19, and 21's or opt for more experienced players who develop later on in their careers. The data presented will give a starting point for looking at the relationship between players who play in European competition at youth and senior level.
To do so we collected data on 690 European players who featured in any of the ten Euro 2016 qualifying matches. We then looked at whether they played in European competitions at youth level to see whether the transition through the national team youth systems was functioning.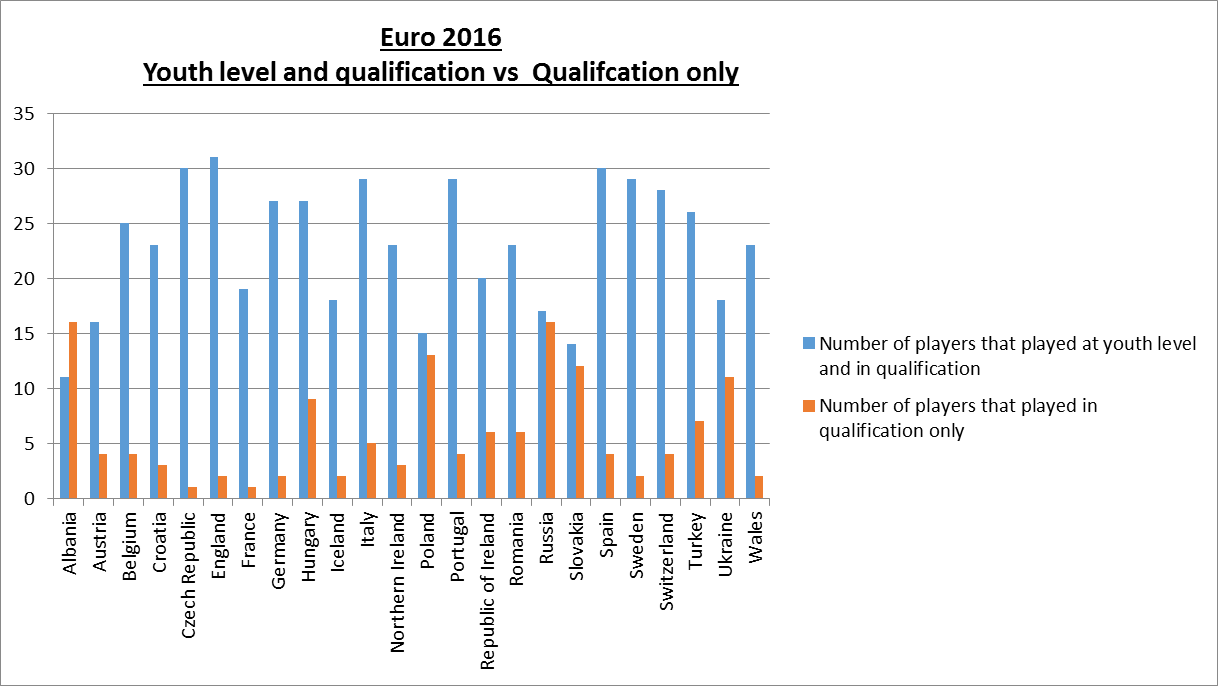 From this graph it can be seen that most countries have utilised their youth set ups as a starting point for players to progress into the senior squad and ultimately compete in Euro 2016 qualification. It would also be expected that many of these players will play in France with the deadline to name their Euro 2016 on May 31st.
The only team to utilise more players not having represented their nation at youth level are Albania. Arguably this could be because of the quality of their youth set up, the finances involved and also the fact that many Albanian players have been raised in other nations such as Switzerland and Turkey.
Interestingly, the six sides that are favourites to win Euro 2016 (France, Germany, Spain, England, Belgium & Italy) used an overwhelming amount of players that transitioned through youth level compared to those who did not which shows their faith in the youth system and giving players tournament experience at an early age.
In recent times, players such as Jack Wilshere, Alex Oxlade-Chamberlain, Luke Shaw and Ross Barkley have been a part of the senior set up in England and were not taken to youth tournaments. However Spain won the Under-21 European Championship in 2011 which came after the senior team's (many of whom played at youth level) 2008 Euro victory and 2010 World Cup triumph. It could be argued that the under-21 players had a belief they could win that trophy after seeing their role models win two trophies back to back which must have motivated this young team. Similarly, the World Cup-winning German national team consists of many players who won the 2009 Under 21 European Championships. Surely these successes cannot be a coincidence?
Looking ahead, it will be interesting to see whether countries who utilise their youth sets continue to be successful. The analysis undertaken here gives a basis for further investigation into areas such as whether it is the players who have played at youth level who make the difference. If that is the case, then surely it is time to settle the argument that taking part in Under-17, 19 and 21 competitions is a vital path in their international careers for younger players.