The ICC player rankings can be a confusing concept, with a sophisticated system catering to a number of variables such as workload and the number of total runs scored in a match, contributing to the number of points awarded to a bowler. Here at TSZ, we have decided to take an in-depth look at the wickets taken by the top five ICC ranked Test bowlers in order to gain further insight into these talented players, and see how they compare against one another. In this analysis, we will investigate the type of batsmen who these bowlers most commonly dismiss, how they take their wickets, who we would consider to be these players' "bunnies" and also look at particular matches within a series, in addition to wickets taken during specific innings.
1. James Anderson
Leading the pack is the seemingly ageless Englishman, James Anderson. Although he has had a few injury troubles of late, he is still as good as ever – taking wickets at will. Anderson's wickets are quite evenly spread throughout a batting order, however he has a particular liking for top order batsmen, with 26% of his 454 wickets being opposition openers. When we looked deeper into Anderson's 454 wickets, the results showed that a majority of his wickets were caught, opposed to any other form of dismissal.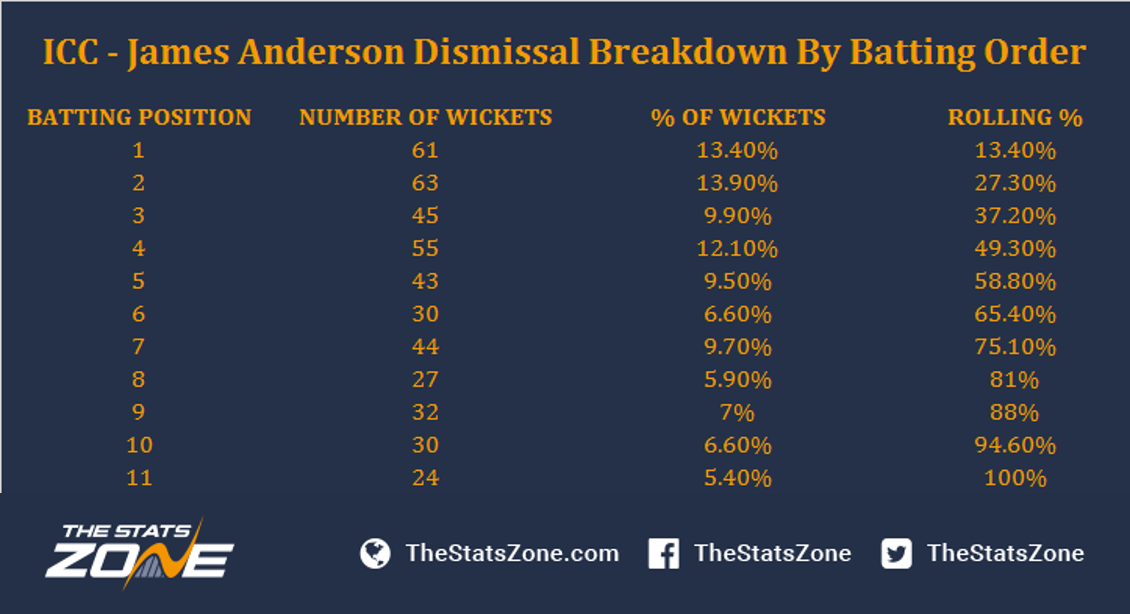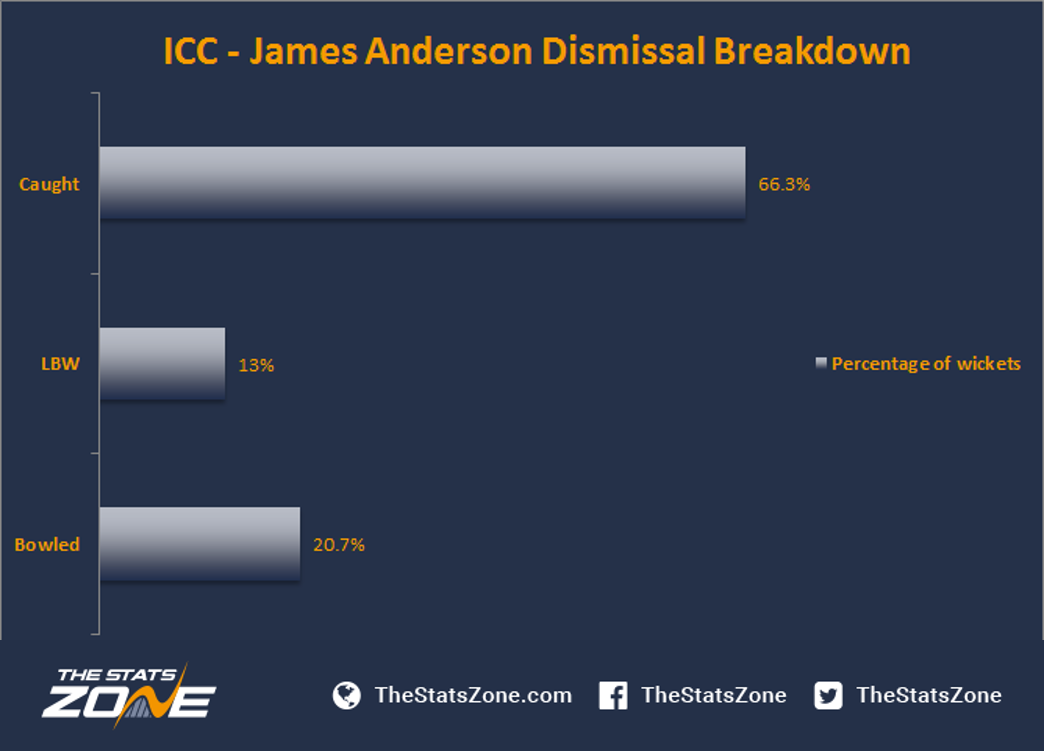 When listing Anderson's most common victims, Australians do not fare well against the man from Lancashire, with Peter Siddle (11 dismissals), Michael Clarke (9), Shane Watson (8), Brad Haddin (7) and David Warner (7) featuring in Anderson's list of most common scalps. Aside from Peter Siddle, no other batsman who features on this list bats lower than number seven for their respective countries, a testament to Anderson's sublime skills as a fast-medium bowler.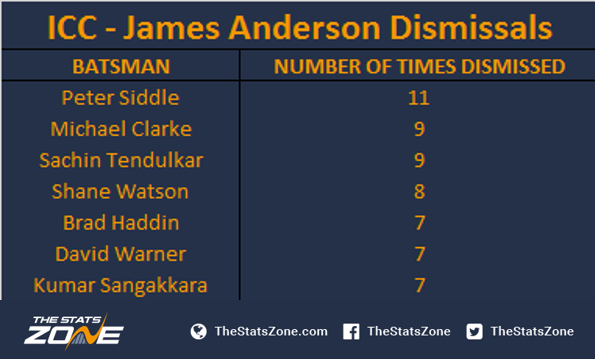 As we continue to analyse James Anderson's wickets, it is apparent that he is not as effective during the fourth innings of a Test match. In fact, only 12% of his wickets are collected during the final innings of a match. However, this result may be affected by variables such as target total for the opposition, the weather and of course, the amount of overs bowled in that innings. When Anderson's series wickets are analysed, there is a fairly even spread across Test matches in a series with an average of exactly four wickets taken per match.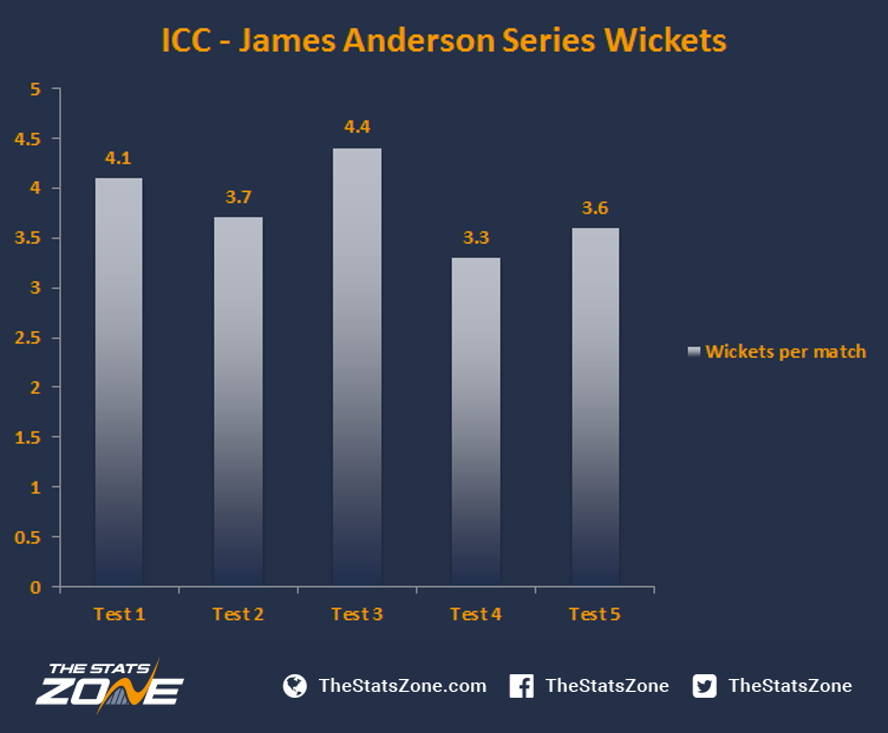 2. Ravi Ashwin
The first of two spinners ranked in the top five ICC Test bowlers, Ravi Ashwin has an extremely strong record for a bowler who hasn't played a massive amount of Test cricket (32 matches). Ashwin's victims are evenly scattered throughout the batting order, with a slightly better record against top order batsmen (1-3 on a scorecard). 34% of wickets are taken from the top order, 33% from the middle order and the final 33% being taken in the tail end. Ashwin's most common modes of dismissal differs to Anderson, with Ashwin having an almost even split between the amount of "do it yourself" wickets (LBW and bowled), and having catches and stampings taken from his bowling.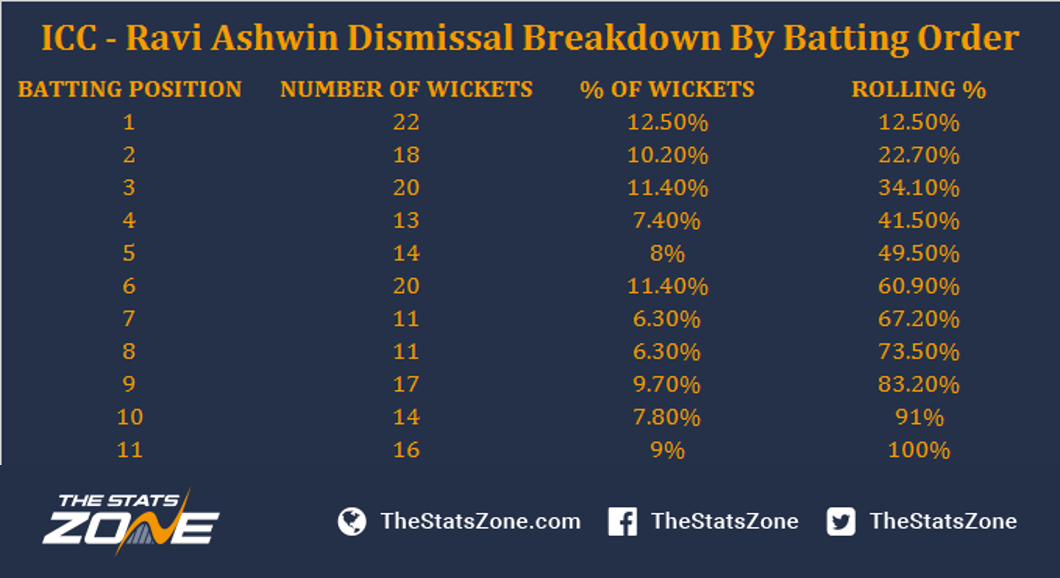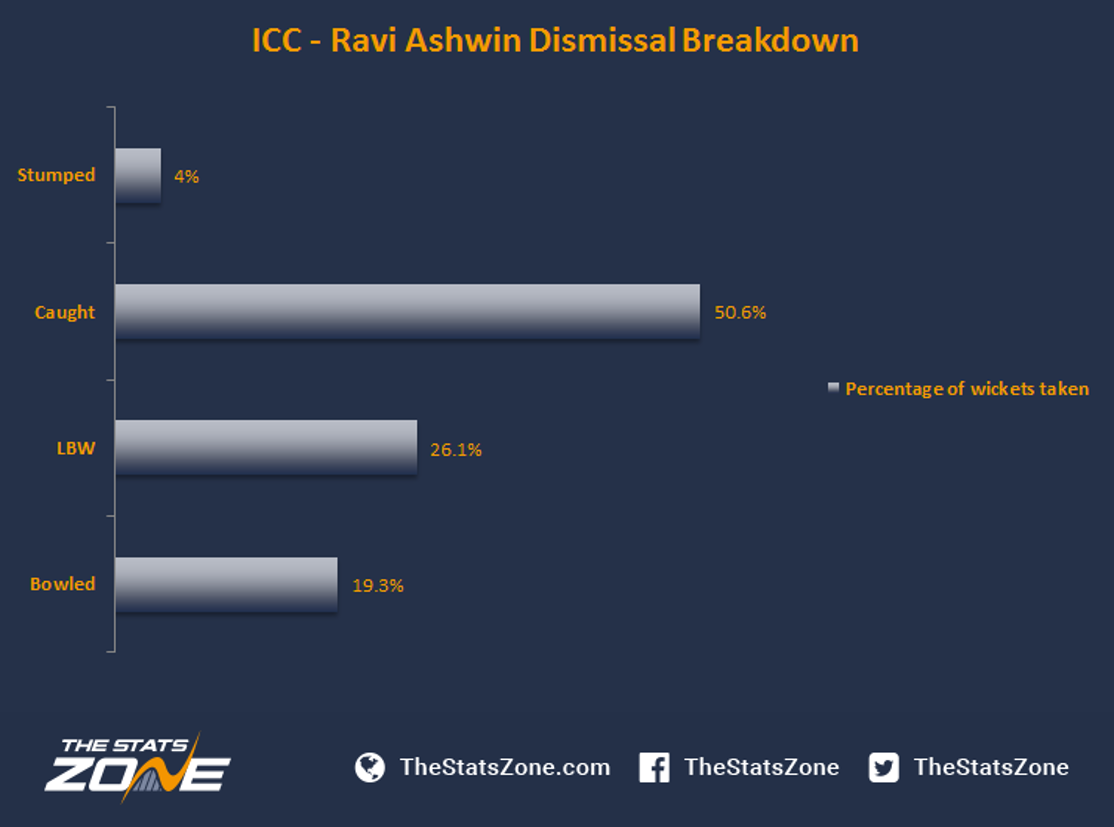 Although not as impressive a list as the rest of the top five, yet again Australians feature heavily amongst Ravi Ashwin's most common scalps, with four of Ashwin's six most dismissed batsmen being from the land down under. Although all of these batsmen are predominately top order players, only David Warner is considered to be a world-class batsman, therefore weakening this list.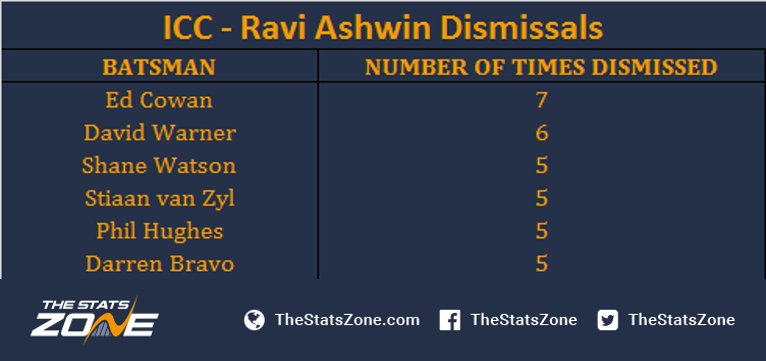 Ashwin also seems to struggle in the fourth innings of Tests, with just 15% of his wickets coming in what should be ideal bowling conditions for a spinner. However, watch out when you face Ashwin in the first Test of the series; the spinner dominates his opponents – averaging nearly seven wickets in series opening Test matches, whilst also boasting impressive average wickets per match (6.5) during the third Test of a series.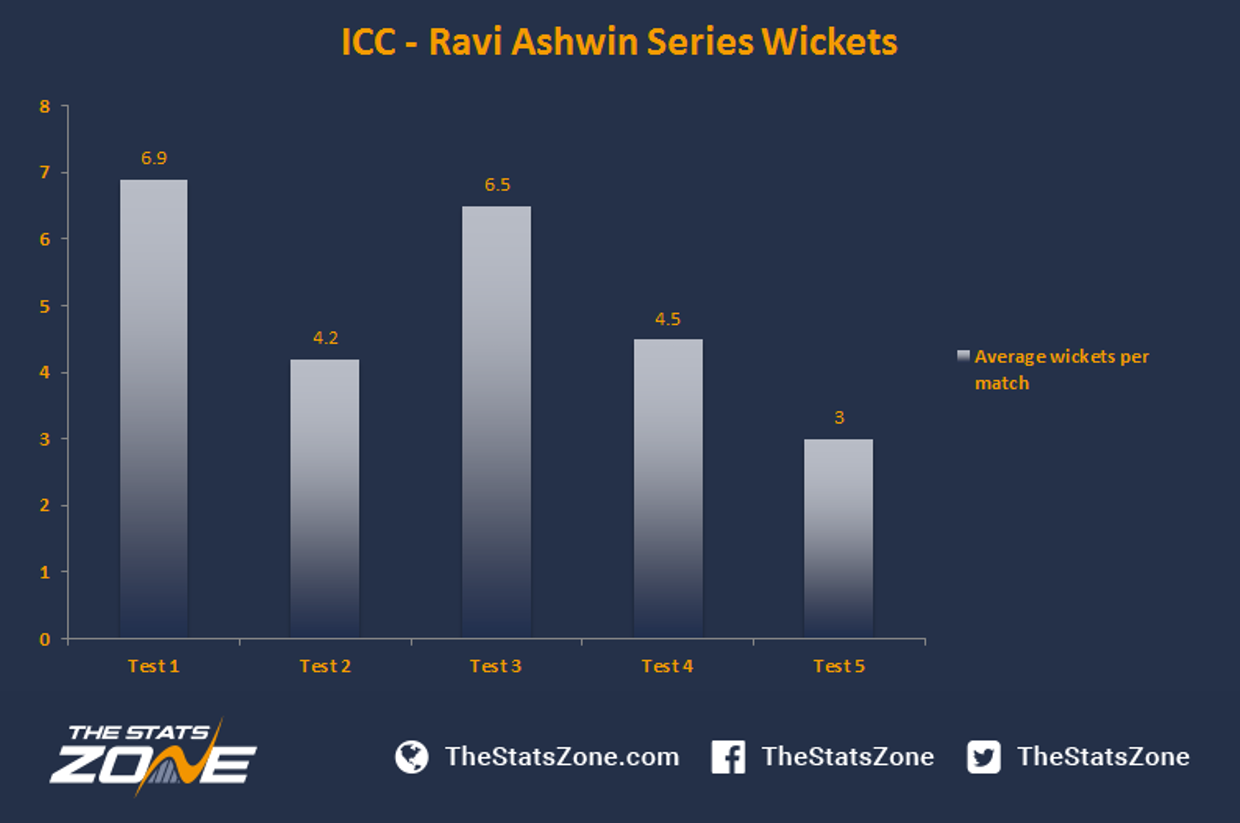 3. Stuart Broad
A picture of consistency since his debut, Stuart Broad has collected 345 scalps whilst forming the second best bowling partnership with fellow Englishman and number one ranked bowler, James Anderson. Yet again, the wickets taken show a fairly even spread, but when grouped it is apparent that Broad has a far better record against middle order batsmen (41%) when compared to top (32%) and lower order (28%) batsmen. Much like Anderson, the majority of Stuart Broad's wickets are catches, with just 30% of his wickets being from having his opponents bowled or trapped by LBW.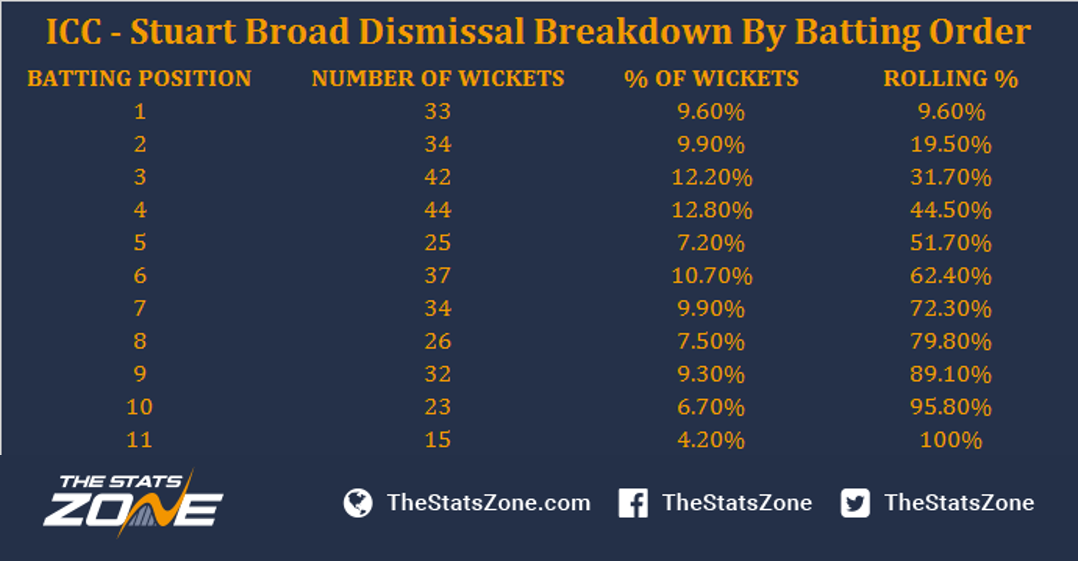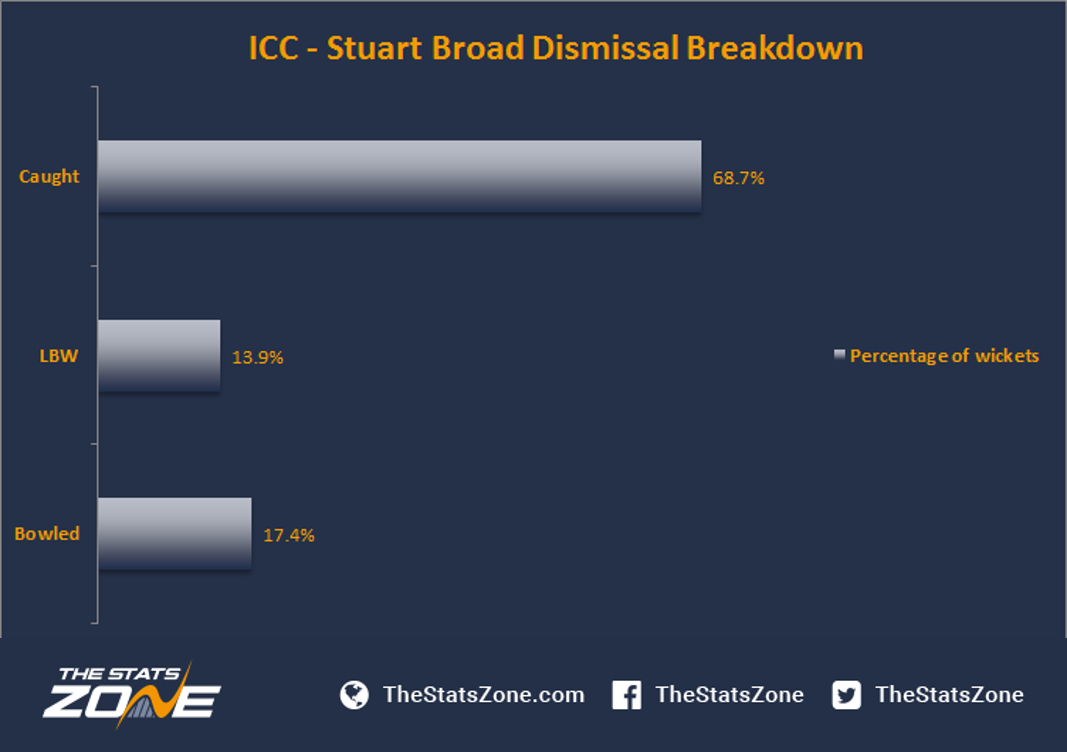 Like Anderson, Broad has an extremely impressive list of his most common wickets, with all of the batsmen on the list being top/middle orders for their respective country. The number of world-class batsmen included here would lead some to argue that Broad has the most impressive list when compared to the rest of the top five ranked Test bowlers.
Broad's stats here are again extremely consistent with most of the top five, as he takes the majority of his wickets in innings one and two. Broad's series match wickets are also quite evenly spread, however he does average almost one wicket more during fourth Tests (4.8) when compared to his overall average wickets per Test.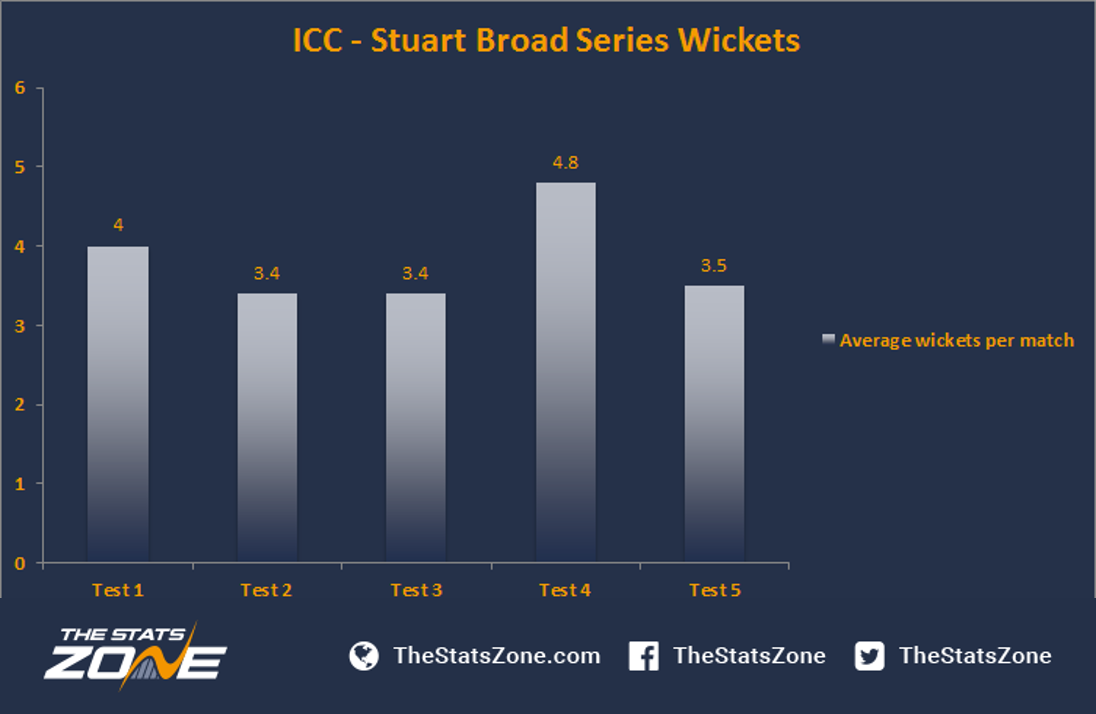 4. Yasir Shah
The most inexperienced of the top five, Yasir Shah has burst onto the scene in recent times, surging his way into the top echelon of bowlers, capturing 76 wickets in just 12 matches. The only slight on Shah's record is the number of wickets taken against top order batsmen (24%). However, due to the small number of wickets taken in his career, any number of wickets in the future will drastically change these numbers. Looking at Shah's modes of dismissal, he is much in the same mould as Anderson and Broad, with just under 40% of his wickets taken by dismissing the opposition by a direct bowl or LBW.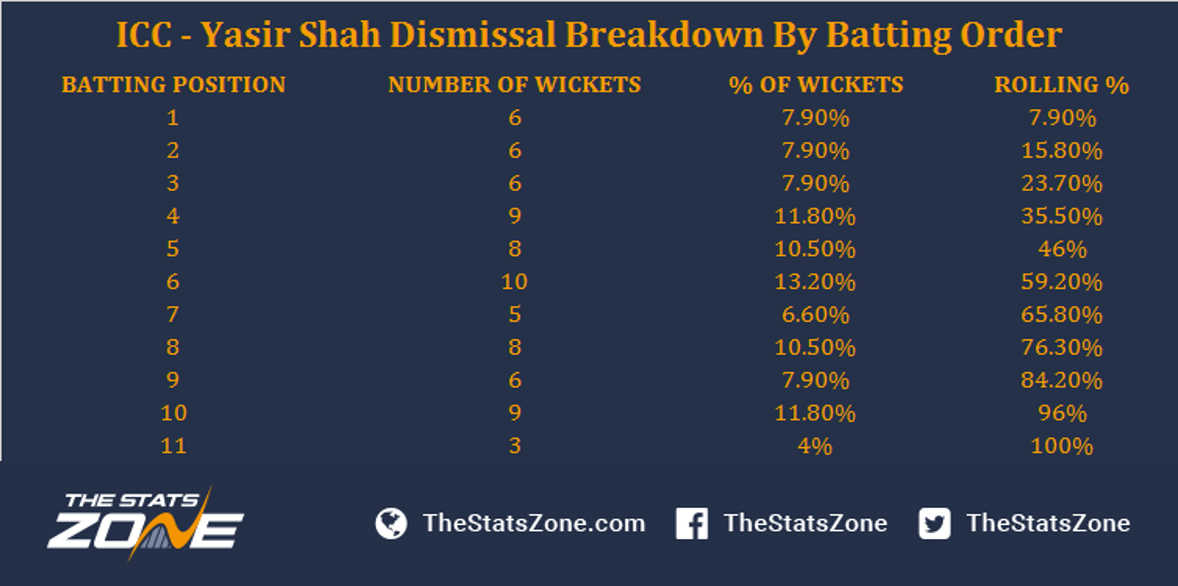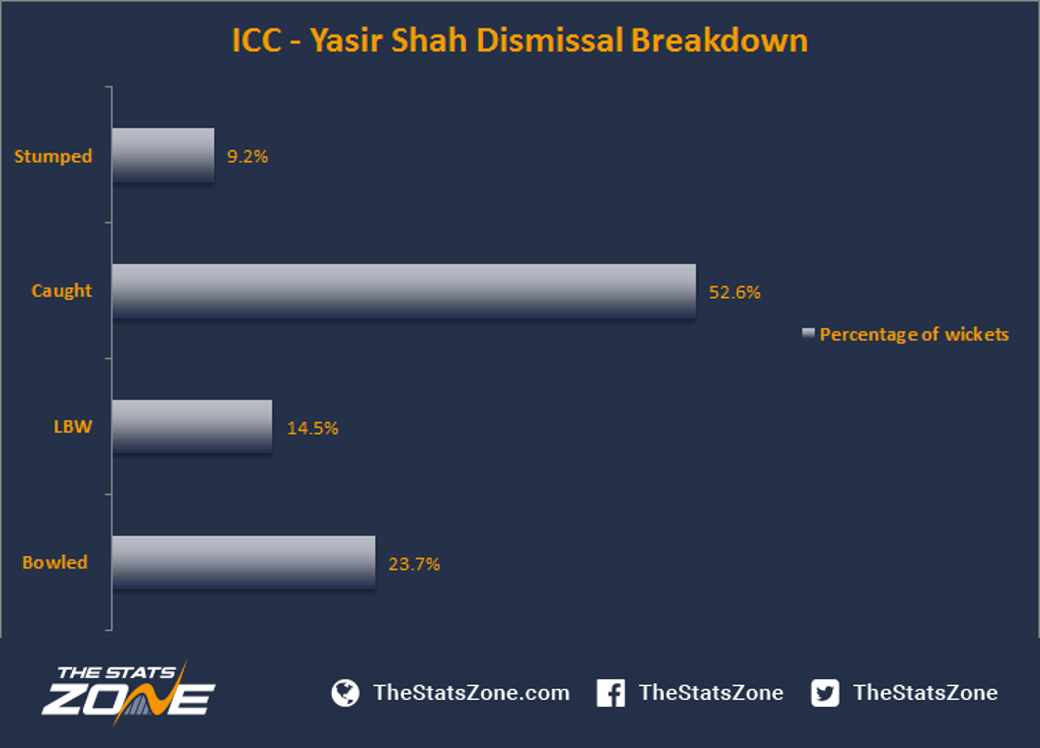 Although extremely young in experience (12 matches), Yasir Shah still has an impressive list of his most common wickets. Led by New Zealand's Ross Taylor (4 dismissals), Shah's list also includes highly rated batsmen Angelo Mathews, Alastair Cook and Australian Captain Steve Smith.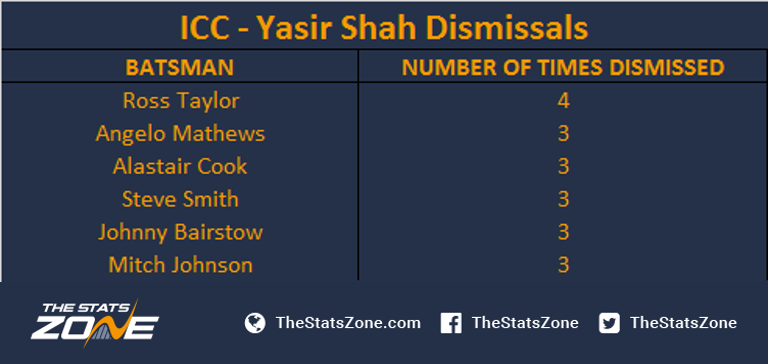 Where Shah differs greatly from the rest of the top five is the number of wickets taken in the fourth innings of Test matches, with a very impressive 32% of wickets taken. This is more like what is expected from a slow bowler, with the final innings of Test matches usually providing the most amount of spin on deteriorating pitches. Although his fourth innings wicket statistics are impressive, the number of wickets taken in the first innings of a Test match is almost a complete opposite to the rest of the top five, capturing just 15% of his wickets. So far, Yasir has been very consistent and has shown he can take multiple wickets no matter what number Test in the series.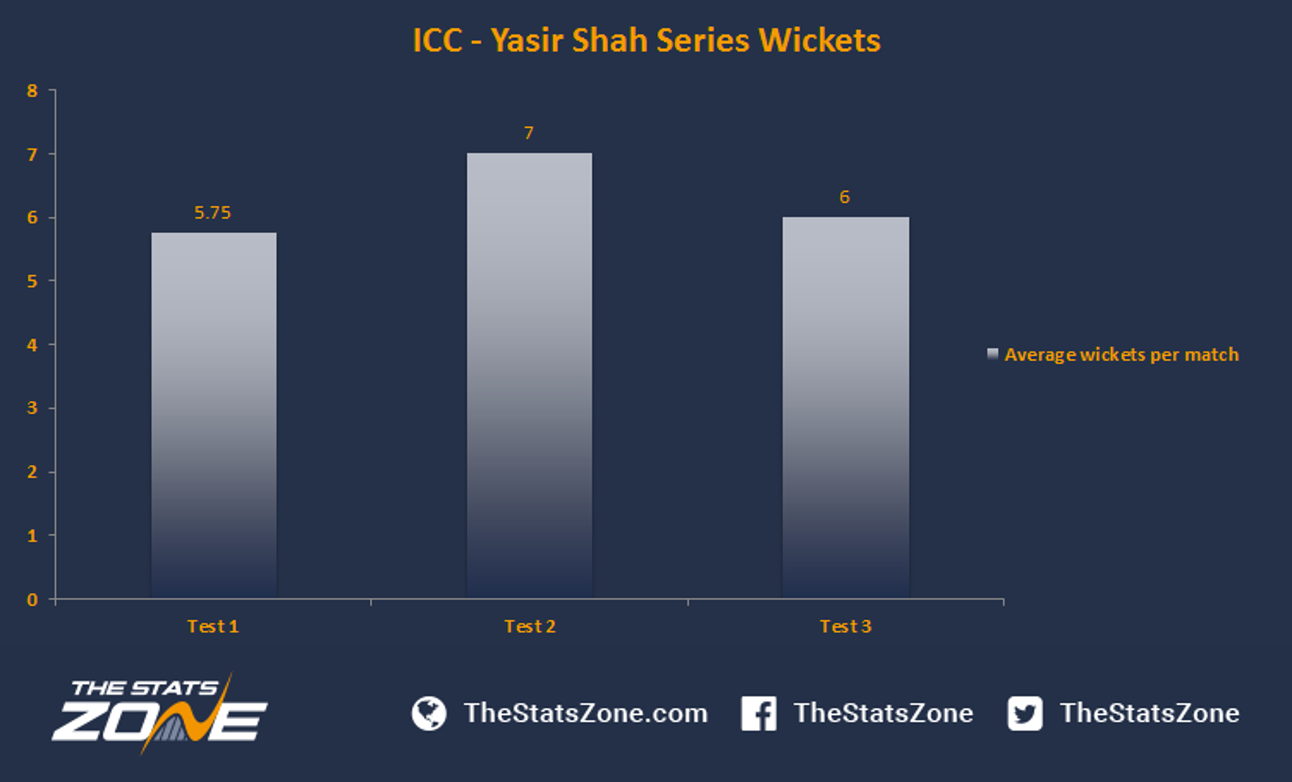 5. Dale Steyn
Rounding out the top five is South Africa's elder statesman, Dale Steyn. Although injury has impacted the number of Tests he has been able to play, the matches he has played have still been quite successful for the 33 year old. In his 10-year career, Steyn has captured 406 wickets, with an even spread of wickets taken against top, middle and lower order players. Much like Anderson, Broad and Shah, a majority of Steyn's dismissals are made up of catches.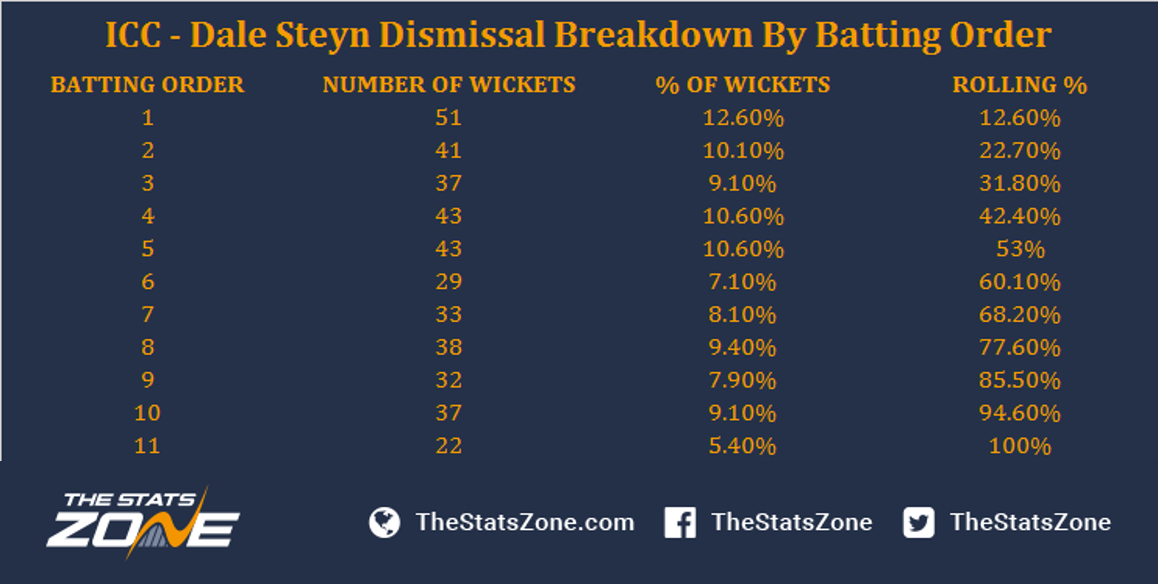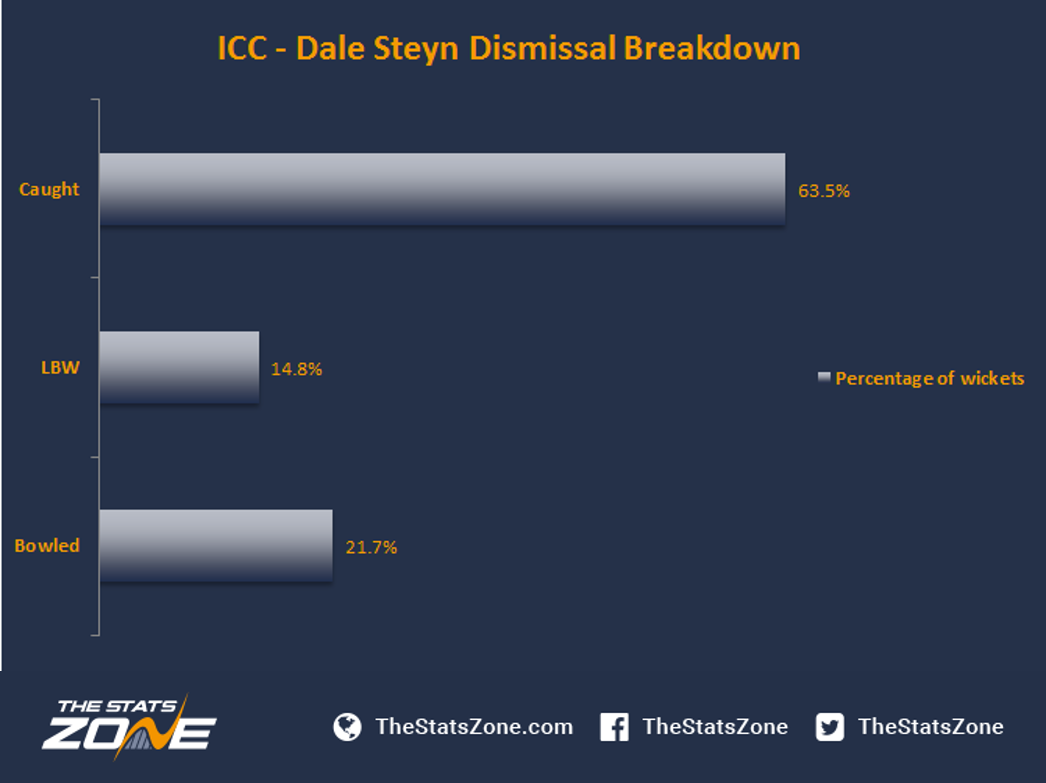 When we look at Steyn's most common wickets, although most are very talented batsmen the results are surprising. For such a feared bowler, Steyn has arguably the weakest list out of the fast bowlers in the top five, contrary to the expectation that his victims would including more star batsmen.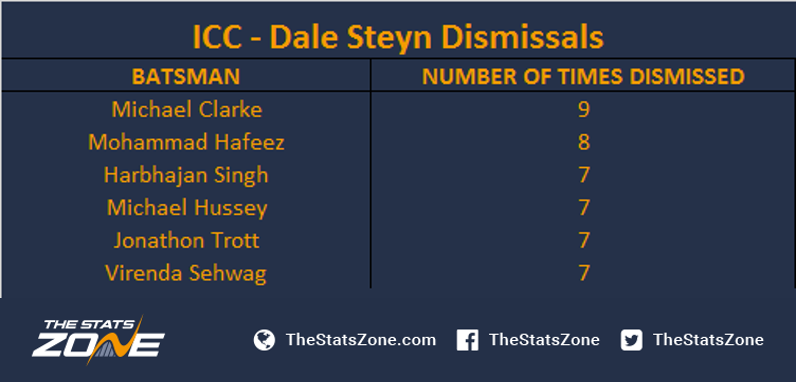 Much like Anderson, Ashwin and Broad, the amount of wickets taken by Steyn in the fourth innings is significantly lower than other bowling innings; he captures only 13% of his 406 wickets in the fourth innings, somewhat surprising for a player of his ability. Extremely steady across his long career, Dale Steyn's statistics for average series wickets per match are very consistent, with only a 0.95wpm (wickets per match) difference between his highest wicket-taking matches (5.45) and his lowest (4.50).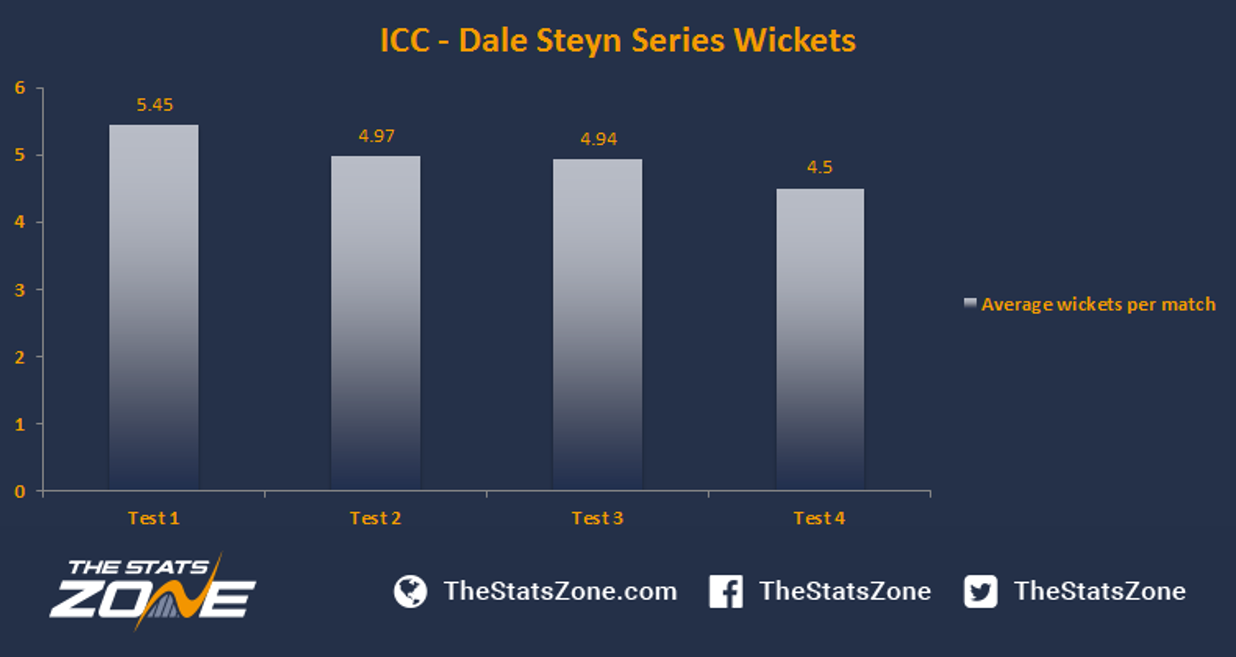 The table below compares the amount of wickets taken (%) in each innings by all players in the ICC top five ranked bowlers.

Below is a comparison of all players and the amount of wickets taken against batsmen in order of batting position. As mentioned previously, all players are very even, taking most of their wickets in the top and middle order.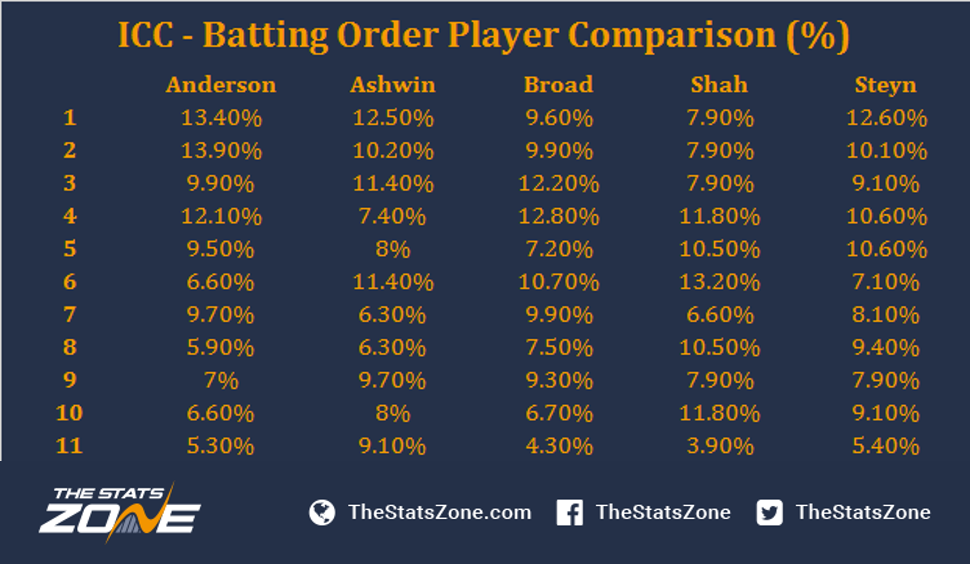 Finally, we have a comparison of how each bowler gets their wickets. Again, all are fairly even apart from Ravi Ashwin, who has the highest amount of wickets by bowling or LBW.
Whilst all are supremely talented, after looking through the stats there is not a whole lot of separation between the five bowlers. With the amount of Test series starting to ramp up and injuries occurring to key players, it will be interesting to see if the rankings change and if they remain consistent with our findings.