THE FACTS
Where is Tom Cruise vs Justin Bieber taking place? A venue is still to be announced, however Madison Square Garden is being touted as the ideal location
When is Tom Cruise vs Justin Bieber on and what time does it start? Date to be announced
Where can I watch Tom Cruise vs Justin Bieber on TV? The fight will be televised on all channels simultaneously
Where can I stream Tom Cruise vs Justin Bieber? This fight can be streamed via YouTube, Amazon Prime, Netflix, NOW TV, Sky Go and directly to your smartphone from Elon Musk's 'Project Skylink'
Where can I get tickets for Tom Cruise vs Justin Bieber? Tickets are yet to go on sale, although a rumoured 95% of them will go to corporate sponsors
HEAD-TO-HEAD
All-time meetings: N/A
Last meeting: N/A
TALE OF THE TAPE
Despite a lack of confirmation from Tom 'Maverick' Cruise's camp up to now, the general consensus amongst experts is that this could be the highest-earning bout in history, eclipsing the $410m clash between Floyd Mayweather and Manny Pacquiao back in 2015. In that year, Justin Bieber was asking you to 'Love Yourself', while Cruise was reprising his role as Ethan Hunt yet again.
So, will Cruise struggle to contain the young pretender or will it be mission impossible for the Canadian heart-throb?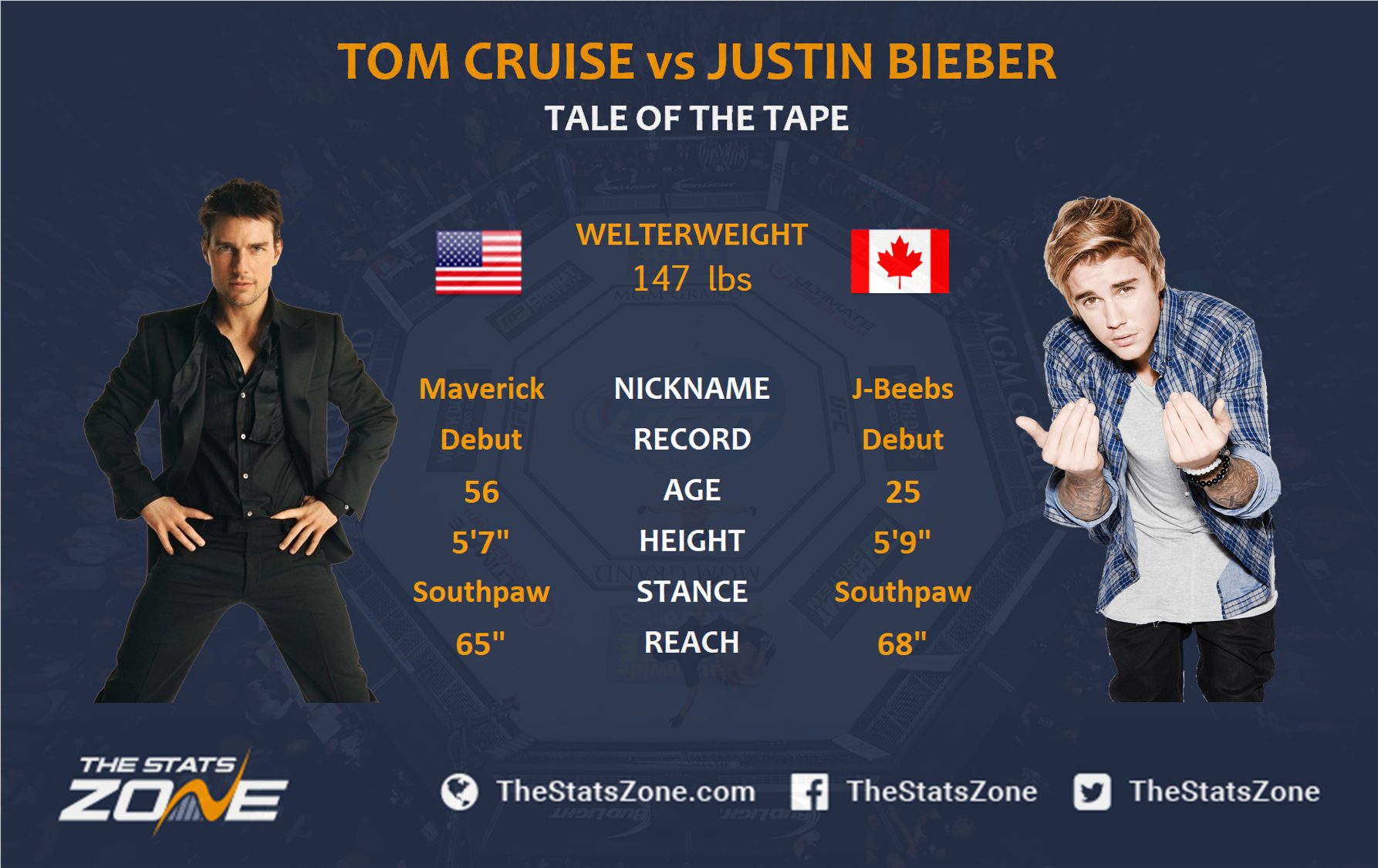 Renowned for taking an intuitive role in his films, Tom Cruise famously performs all of his own stunts and is definitely no stranger to pain coming into his first MMA experience. Indeed, fans of Cruise will remember his scene in Mission Impossible 2 where he killed Dougray Scott in hand-to-hand combat as a fine example of his prolific abilities in choreographed martial arts. Furthermore, Cruise was an excellent wrestler during his high school years, something he attributes even now to his athletic ability.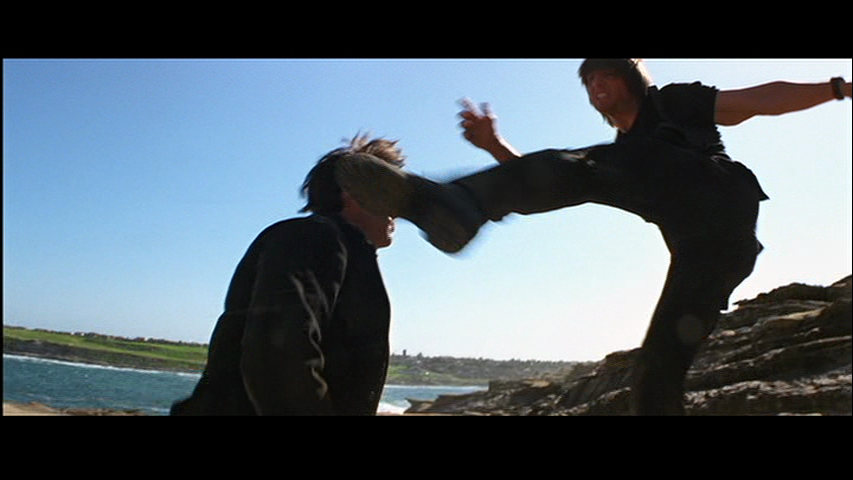 Bieber has shown little MMA knowhow himself, but cannot have called out this fight without a plan. The 25-year-old is one of the, if not the most, famous musicians in the world and has everything to lose in this feud after utilising his 105 million Twitter followers to create a maelstrom of attention. Indeed, the fight has been legitimised by former UFC feather-and-lightweight champion Conor McGregor, who has already organised an undercard match with Hollywood's early-riser Mark Wahlberg.

THE PREDICTION
If he is smart, Bieber will have been training for months before announcing his plans to the world stage, and will know of Cruise's weak spots. The American blockbuster broke his right ankle after kicking a building whilst filming Mission Impossible 12 in 2016, and this could be something Bieber's camp will target in their preparations. The age-gap of 31 years between them must be taken into deep consideration, and could vastly affect the state of play should the clash go into the fourth or fifth round. At 5"7 and 5"9 respectively, Cruise and Bieber should match up particularly well in the stand-up exchanges where neither should gain an advantage as a left-hander, because both are southpaw.

MMA experts have rushed to find examples of how this could go down in the Octagon
This fight could come down to belief and determination, with Cruise likely to call upon his deep faith in 'the sweet science'. On the other hand, there is surely no greater Belieber than Justin himself, and the 'What Do You Mean' singer will find courage from his global army of fans. While both fighters' fame is stratospheric as two of the most recognisable men in the world, Bieber might have the minimal advantage in reach in that his fame is based solely in this century. Also, his arms are three inches longer. However, Cruise is a diligent and hard-working professional who can dredge up fight scenes from a heavy filmography of past work as Ethan Hunt, Jack Reacher and Nathan Algren (The Last Samurai) as well as the possessor of fine grappling skills as a former amateur wrestler.
Age and experience may conquer youthful bravado here between two debutants with seemingly nothing to gain from this bout other than yet more dollar bills. If the fight stays on the feet we could see a couple of exchanges in the early rounds, and the 56-year-old could tire in the latter stages, but Cruise will attempt to take the fight to the floor and has a greater wealth of knowledge at his disposal having actually previously been in a fight (Bieber mildly lashed out at a cameraman in 2013, but we don't count that as fighting).
Tom Cruise by TKO/KO