If you browse through your rivals' teams in your daily FPL stalk and realise nearly every squad in your mini-league is a carbon copy of each other (and let's be honest - you're just as guilty), then perhaps it's time for a change. Fortunately for you, we're on hand to provide an alternative approach to the game with our 'differential only' selection. You won't find high ownership behemoths like Aguero or Ibrahimovic in our roster, but that's precisely the point – to make it into our team a player must be selected by less than 10% of all FPL managers.
This can add an extra spice to a game that at times can become a little predictable, particularly when all the big guns are firing. It's fair to say that many an experienced FPL manager has found it tough going this year, so if the first eight gameweeks have been a continuous nightmare of woe and despair for you, why not throw caution to the wind and follow our lead? There are specific leagues set up that only accept teams that follow such a principle, so the demand for a different challenge is out there.
Our methodology is to analyse the highest point scorers in each position using the criteria we have set out, so without further ado, here's who makes the cut: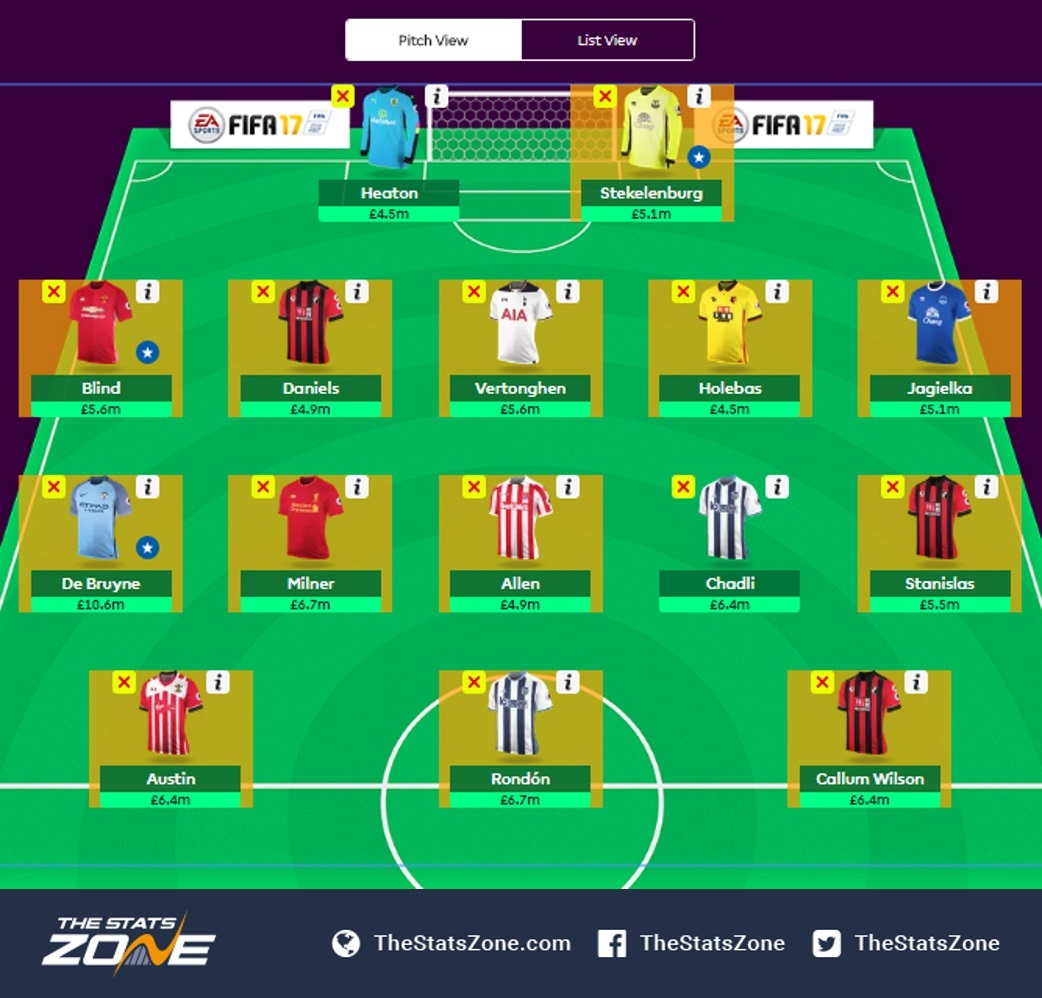 Analyses
The total squad value of this team is just 89.3m and with the exception of Kevin De Bruyne, every player has remained below a 10% ownership for the whole of the season so far. The next step of course, is to select a starting eleven: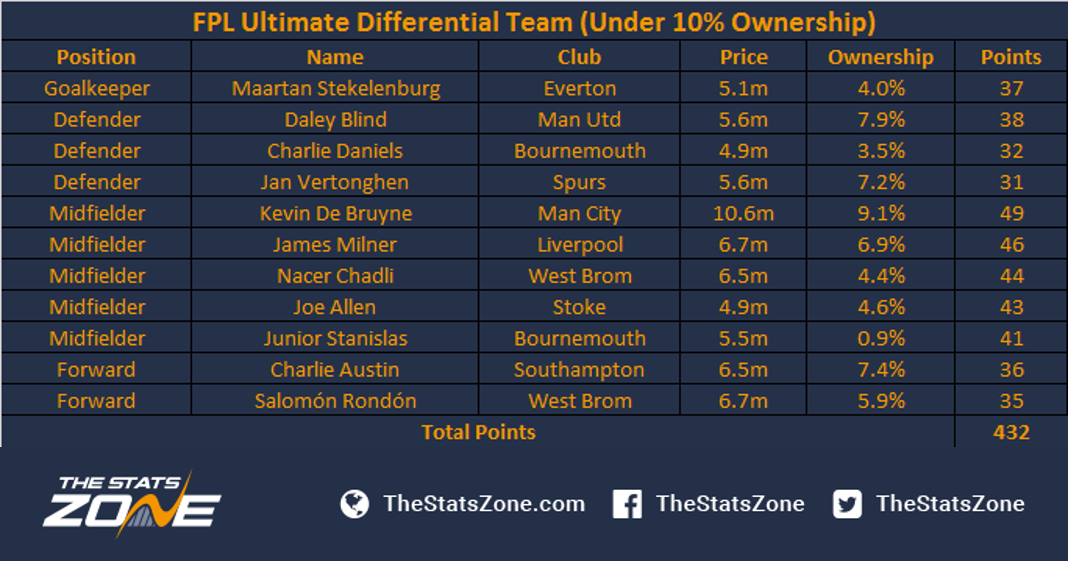 Statistics accurate as of 19/10/16
To maximise the points return from the first eight gameweeks, the optimal formation is 3-5-2. If you had fielded this team every week then your total score would be 432, which would currently put you in the top 100k globally (91,243 to be exact, which is in the top 3%). In actuality, your score would be even higher when taking into account weekly captain points and potential chip use. We therefore deem it fair to assume this team would be pushing towards the top 50k – impressive for a starting eleven boasting a cumulative ownership total (61.4%) less than Ibrahimovic's alone just a few weeks ago.
Let's breakdown our team:
Goalkeeper
The more consistent point scorer Tom Heaton may feel aggrieved to settle for a place on our bench, given the fact Maartan Stekelenburg ousts him by just two points courtesy of an admittedly freakish 17-point haul last weekend, thanks to some heroic penalty saving antics. Impressively, even if you include high ownership shot stoppers, Stekelenburg and Heaton are the two highest point scoring goalkeepers in the game at this point.
Defenders
The more popular choices by far amongst FPL managers in the Spurs and Man Utd defences are Toby Alderweireld and Antonio Valencia, but Jan Vertonghen and Daley Blind would have served you better up to now, not to mention saving you vital money for use elsewhere. Rounding out our three-man backline is Bournemouth's Charlie Daniels; a popular choice last season who is once again showing a propensity to get forward. Jose Holebas – already with two goals to his name and playing wing-back rather than an orthodox full-back position – is actually joint on points with Vertonghen, so it was really a toss of a coin as to who to select, whilst Phil Jagielka - in a solid looking Everton side – provides extra backup.
Midfielders
Points have been rife amongst midfielders this season, reflected in the necessity for a five-man midfield in our differential team. Kevin De Bruyne's relatively low ownership is due to his recent injury so, now he has returned, it's fair to say he wouldn't be able to stay in this side much longer if the criteria was strictly adhered to on a weekly basis. James Milner, Nacer Chadli, Joe Allen and Junior Stanislas on the other hand, are in no immediate danger of exceeding the 10% ownership threshold. The fact that we're even discussing Joe Allen in FPL terms is testament to how unpredictable this season has been. Despite playing left-back, James Milner is taking penalties for Liverpool, Nacer Chadli is enjoying a revival playing every week at West Brom now, and Junior Stanislas has forged his way into the starting line-up for Bournemouth.
Forwards
Charlie Austin saunters into our team despite restricted game-time in the first few gameweeks; four goals in his last four games show he's now a man in form, and he if he can come close to replicating his QPR numbers from the 2014/15 season, he will become an increasingly popular choice. Claude Puel has rested him in the Europa League so priority for Austin has been the league; good news for FPL managers. Salomon Rondon is his partner – the West Brom striker has flown under the radar but is one to consider as the focal point of the Baggies' attacks. The only minor concern for him is after international matches when he has the long trek to South America, but there is just one in November remaining this year now. Callum Wilson provides another option, with the Bournemouth man showing signs of returning to his best having scored in his previous two outings.
Whether you're looking for a new challenge or you're simply after some handy tips for a couple of astute buys to slot into your existing team, this analyses should provide food for thought. It's important to consider the benefit of the differential player; statistically speaking, if Charlie Austin was to score you a hat-trick it will propel you much further up the rankings than if Sergio Aguero was to do the same for you, so it's very much a case of risk-reward. How brave do you feel?