All of Chelsea's Premier League hat-tricks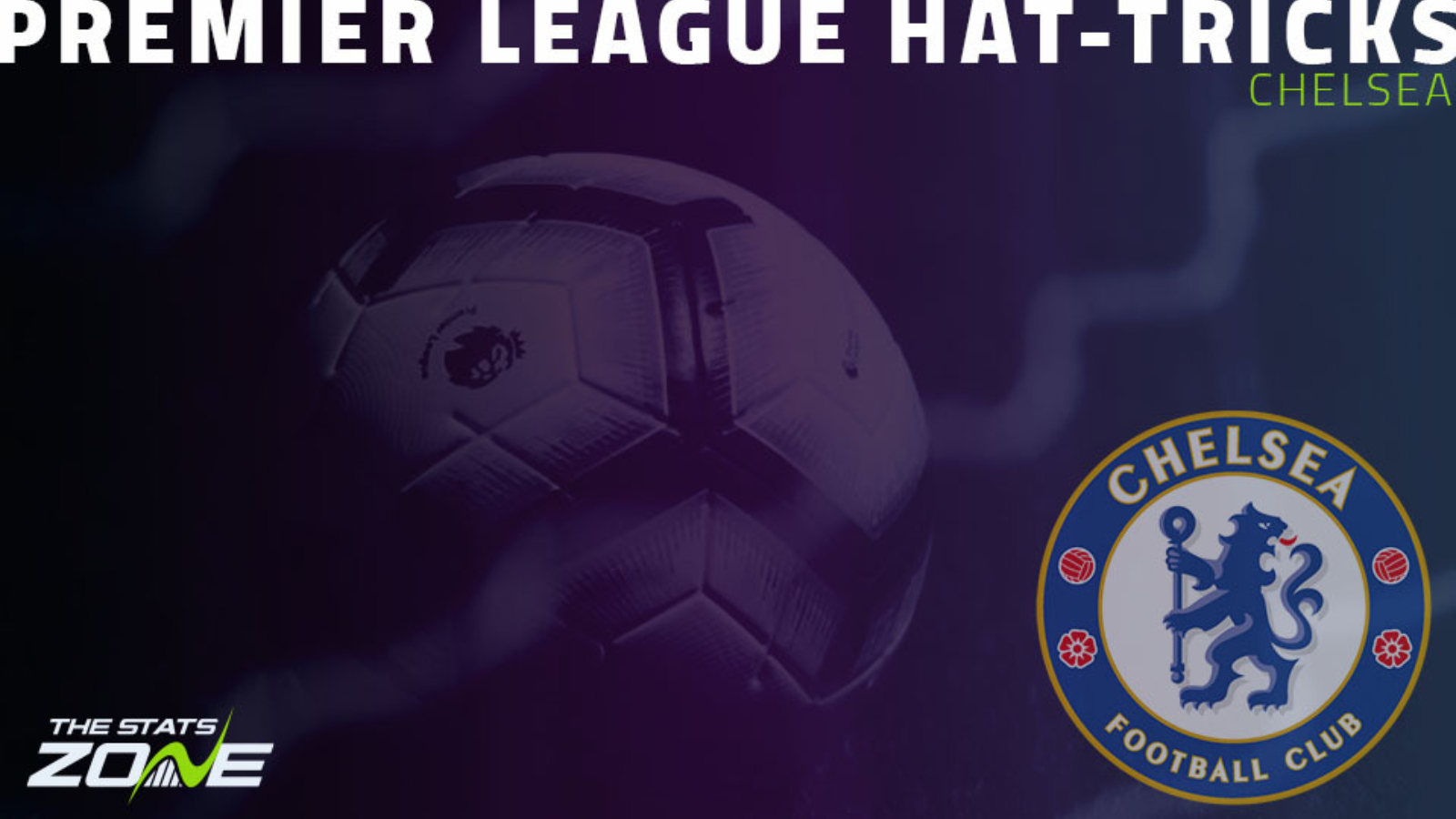 Since the 1992/93 season, Chelsea have been responsible for 26 of the Premier League's 333 hat-tricks, which ranks (joint) fourth overall. A total of 19 different players have hit the net three times in a match for the Stamford Bridge side with Jimmy Floyd Hasselbaink, Didier Drogba and Frank Lampard having scored the joint most hat-tricks for the club with three each.

Here's a list of all 26!
| | | | | | | |
| --- | --- | --- | --- | --- | --- | --- |
| Date | Player | Opposition | Home/Away | Result | Venue | Outcome |
| 04/02/1996 | Gavin Peacock | Middlesbrough | Home | 5–0 | Stamford Bridge | Won |
| 13/04/1996 | Mark Hughes | Leeds United | Home | 4–1 | Stamford Bridge | Won |
| 24/08/1997 | Gianluca Vialli | Barnsley | Away | 0–6 | Oakwell | Won |
| 29/11/1997 | Gianfranco Zola | Derby County | Home | 4–0 | Stamford Bridge | Won |
| 06/12/1997 | Tore André Flo | Tottenham Hotspur | Away | 1–6 | White Hart Lane | Won |
| 21/10/2000 | Jimmy Floyd Hasselbaink | Coventry City | Home | 6–1 | Stamford Bridge | Won |
| 13/03/2002 | Jimmy Floyd Hasselbaink | Tottenham Hotspur | Home | 4–0 | Stamford Bridge | Won |
| 27/03/2004 | Jimmy Floyd Hasselbaink | Wolverhampton Wanderers | Home | 5–2 | Stamford Bridge | Won |
| 23/10/2004 | Eiður Guðjohnsen | Blackburn Rovers | Home | 4–0 | Stamford Bridge | Won |
| 11/11/2006 | Didier Drogba | Watford | Home | 4–0 | Stamford Bridge | Won |
| 12/03/2008 | Frank Lampard | Derby County | Home | 6–1 | Stamford Bridge | Won |
| 01/11/2008 | Nicolas Anelka | Sunderland | Home | 5–0 | Stamford Bridge | Won |
| 27/03/2010 | Frank Lampard | Aston Villa | Home | 7–1 | Stamford Bridge | Won |
| 25/04/2010 | Salomon Kalou | Stoke City | Home | 7–0 | Stamford Bridge | Won |
| 09/05/2010 | Didier Drogba | Wigan Athletic | Home | 8–0 | Stamford Bridge | Won |
| 14/08/2010 | Didier Drogba | West Bromwich Albion | Home | 6–0 | Stamford Bridge | Won |
| 02/10/2011 | Frank Lampard | Bolton Wanderers | Away | 1–5 | Reebok Stadium | Won |
| 29/04/2012 | Fernando Torres | Queens Park Rangers | Home | 6–1 | Stamford Bridge | Won |
| 19/01/2014 | Samuel Eto'o | Manchester United | Home | 3–1 | Stamford Bridge | Won |
| 08/02/2014 | Eden Hazard | Newcastle United | Home | 3–0 | Stamford Bridge | Won |
| 01/03/2014 | André Schürrle | Fulham | Away | 1–3 | Craven Cottage | Won |
| 13/09/2014 | Diego Costa | Swansea City | Home | 4–2 | Stamford Bridge | Won |
| 23/09/2017 | Álvaro Morata | Stoke City | Away | 0–4 | bet365 Stadium | Won |
| 15/09/2018 | Eden Hazard | Cardiff City | Home | 4–1 | Stamford Bridge | Won |
| 14/09/2019 | Tammy Abraham | Wolverhampton Wanderers | Away | 2–5 | Molineux | Won |
| 26/10/2019 | Christian Pulisic | Burnley | Away | 2–4 | Turf Moor | Won |