All of Arsenal's Premier League hat-tricks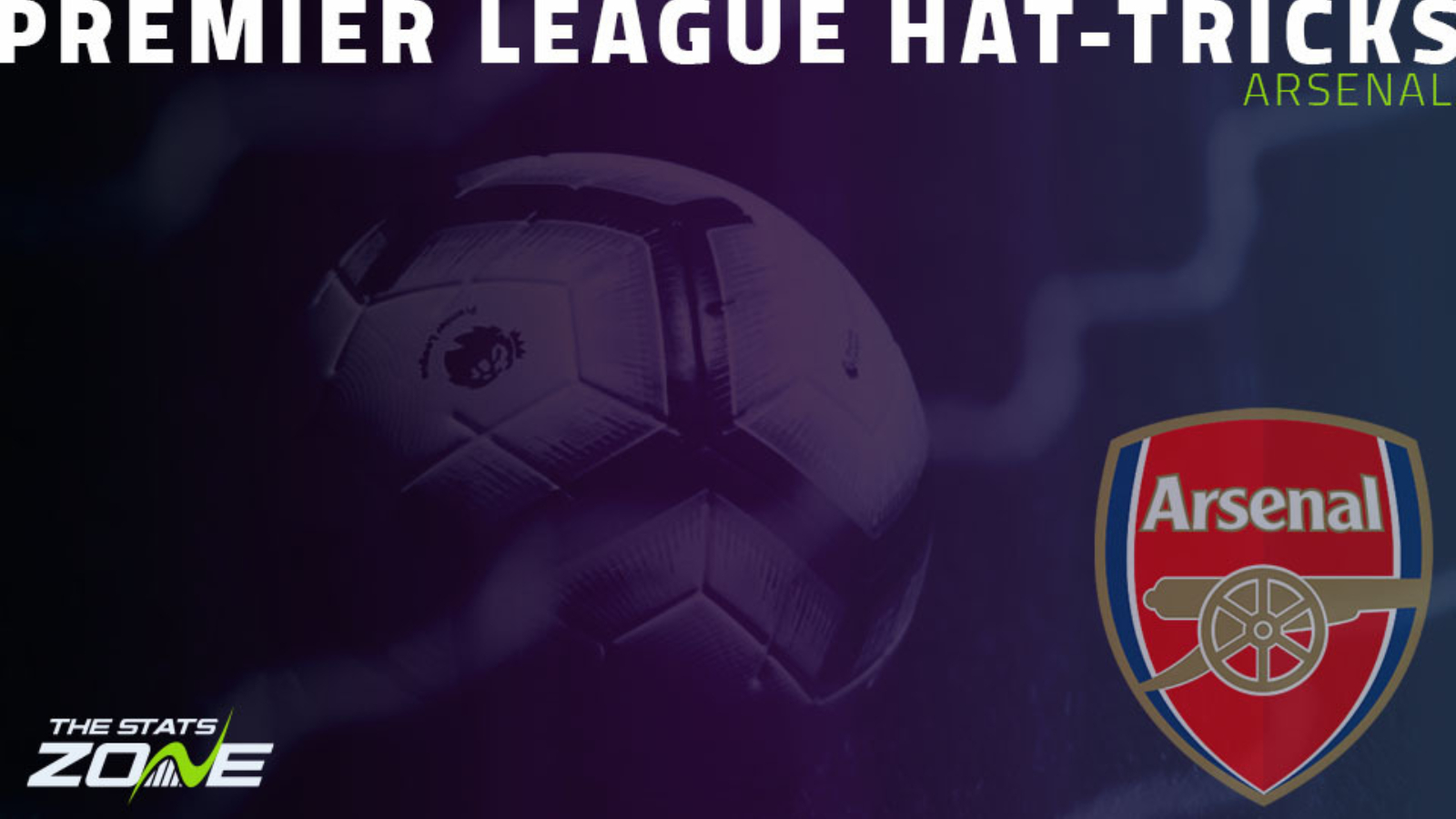 No Premier League team has scored more hat-tricks since the 1992/93 season than Arsenal. who are tied with Liverpool on 39 overall. A total of 20 different players have hit the net three times in a match for the Gunners, with club legend Thierry Henry leading the way with eight hat-tricks.
Here's a list of all 39!
| | | | | | | |
| --- | --- | --- | --- | --- | --- | --- |
| Date | Player | Opposition | Home/Away | Result | Venue | Outcome |
| 11/09/1993 | Kevin Campbell | Ipswich Town | Home | 4–0 | Highbury | Won |
| 27/12/1993 | Kevin Campbell | Swindon Town | Home | 4–0 | Highbury | Won |
| 05/03/1994 | Ian Wright | Ipswich Town | Away | 1–5 | Portman Road | Won |
| 19/03/1994 | Ian Wright | Southampton | Away | 0–4 | The Dell | Won |
| 15/04/1995 | Ian Wright | Ipswich Town | Home | 4–1 | Highbury | Won |
| 16/09/1996 | Ian Wright | Sheffield Wednesday | Home | 4–1 | Highbury | Won |
| 27/08/1997 | Dennis Bergkamp | Leicester City | Away | 3–3 | Filbert Street | Draw |
| 13/09/1997 | Ian Wright | Bolton Wanderers | Home | 4–1 | Highbury | Won |
| 20/02/1999 | Nicolas Anelka | Leicester City | Home | 5–0 | Highbury | Won |
| 23/10/1999 | Nwankwo Kanu | Chelsea | Away | 2–3 | Stamford Bridge | Won |
| 21/11/1999 | Marc Overmars | Middlesbrough | Home | 5–1 | Highbury | Won |
| 10/12/2000 | Ray Parlour | Newcastle United | Home | 5–0 | Highbury | Won |
| 26/12/2000 | Thierry Henry | Leicester City | Home | 6–1 | Highbury | Won |
| 03/03/2001 | Sylvain Wiltord | West Ham United | Home | 3–0 | Highbury | Won |
| 19/01/2003 | Thierry Henry | West Ham United | Home | 3–1 | Highbury | Won |
| 07/05/2003 | Jermaine Pennant | Southampton | Home | 6–1 | Highbury | Won |
| 07/05/2003 | Robert Pires | Southampton | Home | 6–1 | Highbury | Won |
| 11/05/2003 | Freddie Ljungberg | Sunderland | Away | 0–4 | Stadium of Light | Won |
| 09/04/2004 | Thierry Henry | Liverpool | Home | 4–2 | Highbury | Won |
| 16/04/2004 | Thierry Henry | Leeds United | Home | 5–0 | Highbury | Won |
| 05/03/2005 | Thierry Henry | Portsmouth | Home | 3–0 | Highbury | Won |
| 02/04/2005 | Thierry Henry | Norwich City | Home | 4–1 | Highbury | Won |
| 14/01/2006 | Thierry Henry | Middlesbrough | Home | 7–0 | Highbury | Won |
| 07/05/2006 | Thierry Henry | Wigan Athletic | Home | 4–2 | Highbury | Won |
| 22/09/2007 | Emmanuel Adebayor | Derby County | Home | 5–0 | Emirates | Won |
| 28/04/2008 | Emmanuel Adebayor | Derby County | Away | 2–6 | Pride Park | Won |
| 13/09/2008 | Emmanuel Adebayor | Blackburn Rovers | Away | 0–4 | Ewood Park | Won |
| 21/04/2009 | Andrei Arshavin | Liverpool | Away | 4–4 | Anfield | Draw |
| 21/08/2010 | Theo Walcott | Blackpool | Home | 6–0 | Emirates | Won |
| 22/01/2011 | Robin van Persie | Wigan Athletic | Home | 3–0 | Emirates | Won |
| 29/10/2011 | Robin van Persie | Chelsea | Away | 3–5 | Stamford Bridge | Won |
| 04/02/2012 | Robin van Persie | Blackburn Rovers | Home | 7–1 | Emirates | Won |
| 17/12/2012 | Santi Cazorla | Reading | Away | 2–5 | Madejski Stadium | Won |
| 29/12/2012 | Theo Walcott | Newcastle United | Home | 7–3 | Emirates | Won |
| 24/05/2015 | Theo Walcott | West Bromwich Albion | Home | 4–1 | Emirates | Won |
| 26/09/2015 | Alexis Sánchez | Leicester City | Away | 2–5 | King Power Stadium | Won |
| 15/05/2016 | Olivier Giroud | Aston Villa | Home | 4–0 | Emirates | Won |
| 03/12/2016 | Alexis Sánchez | West Ham United | Away | 1–5 | London Stadium | Won |
| 03/02/2018 | Aaron Ramsey | Everton | Home | 5–1 | Emirates | Won |