September 01, 2021 10:00 PM
Last modified date: September 07, 2021 2:17 PM

The Stats Zone
111 goals! Cristiano Ronaldo becomes the highest international goalscorer in history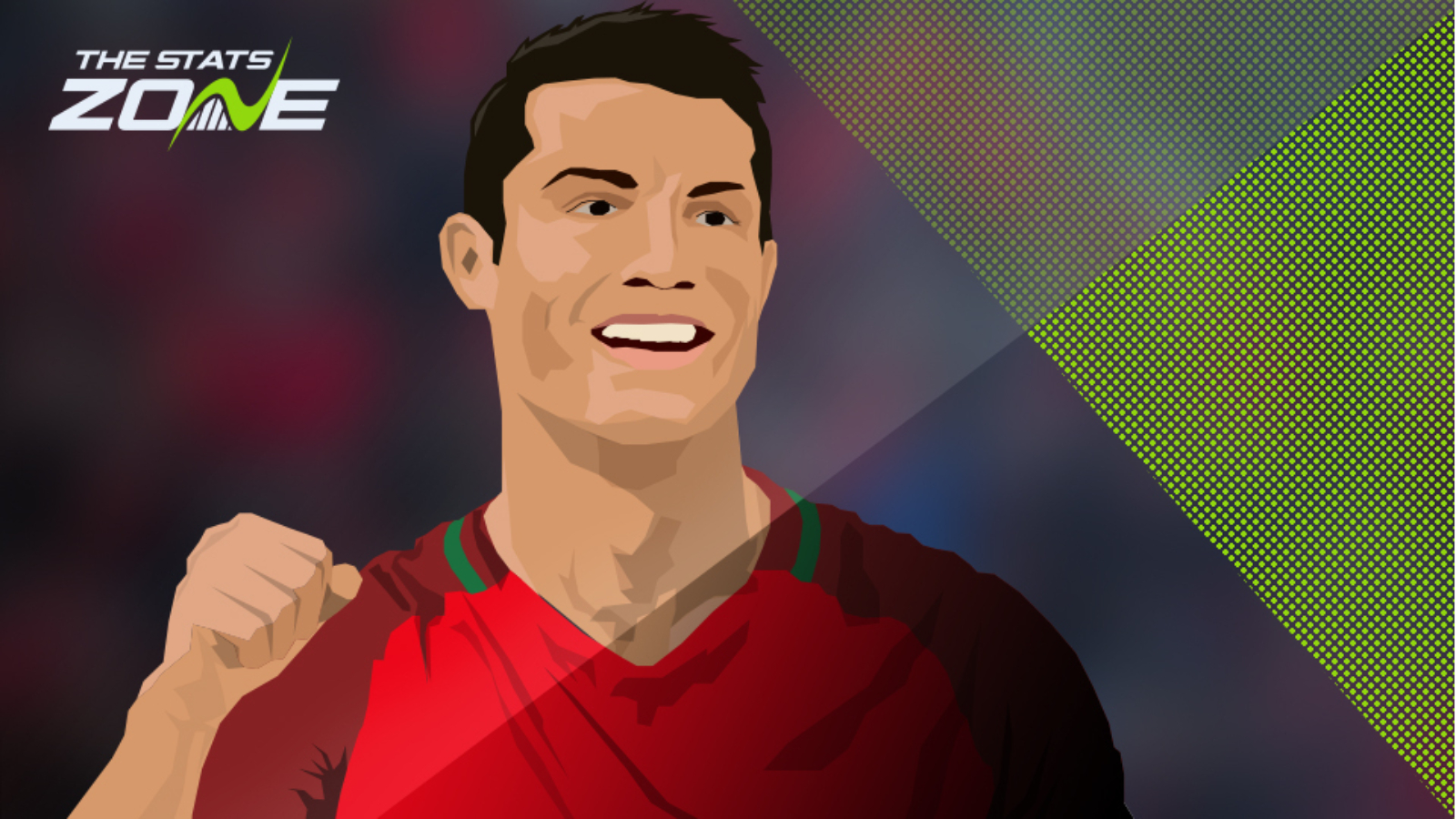 In what has had a sense of inevitability about it for some time, Cristiano Ronaldo broke Ali Daei's international goalscoring record when he struck in the 89th minute against Republic of Ireland on 1st September 2021 before then adding a second in heroic fashion to secure a 2-1 win. The Portuguese phenomenon has made it his business to chase down the Iranian's record and he will now look to kick-on in an attempt to build an insurmountable total before he hangs up his boots in a bid to preserve his record.
Ronaldo was able to tower above the Irish defence to power his header beyond the opposing goalkeeper, claiming his 26th international goal with that part of his body before making it 27 with a similar effort deep into stoppage time as he turned the game on its head and won the contest for his side in dramatic fashion. That makes his head his second favoured body part for scoring, two ahead of his weaker left foot but well behind his right foot (59). Ronaldo's headers occurred just outside of the six-yard box with him now scoring 69 international goals from inside the penalty area (not including goals inside the six-yard box), with 21 apiece from outside the box as well as inside the six-yard area.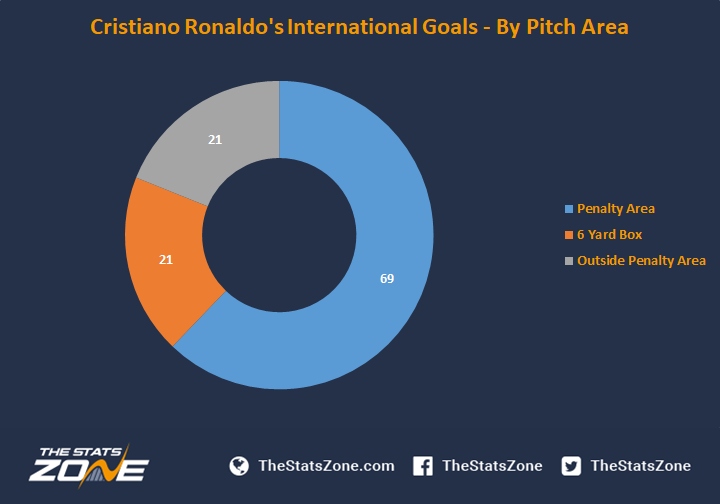 COMPETITION RECORD
It was perhaps fitting that Ronaldo broke the record in a World Cup qualifying contest, making it his highest-scoring competition in terms of international goals. Before the Republic of Ireland fixture, he had also notched 31 times in European Championship qualifying but he now sits on 33 goals in World Cup qualifying. However, he has enjoyed greater success in Euros than the World Cup when it comes to the competition proper with the 36-year-old twice claiming the Golden Boot in 2012 and 2020, not to mention being the highest goalscorer in European Championship history with 14 goals - five more than his nearest competitor (France's Michel Platini).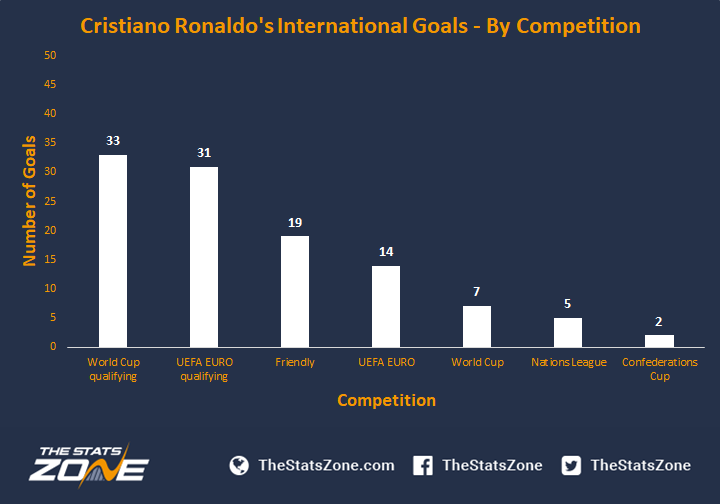 NATIONS SCORED AGAINST
By scoring against the Republic of Ireland, they became the 45th international team that Ronaldo has managed to find the back of the net against. He has scored against the rest of Portugal's opponents in their World Cup qualifying group and will look to add to his totals against Serbia (1), Azerbaijan (2) and Luxembourg (6). The latter are in fact one of Ronaldo's favoured international opponents, recording his second-highest number of goals against them alongside Hungary and Andorra, although Lithuania and Sweden have felt his wrath more than any other teams having each conceded seven goals to the five-time Ballon d'Or winner.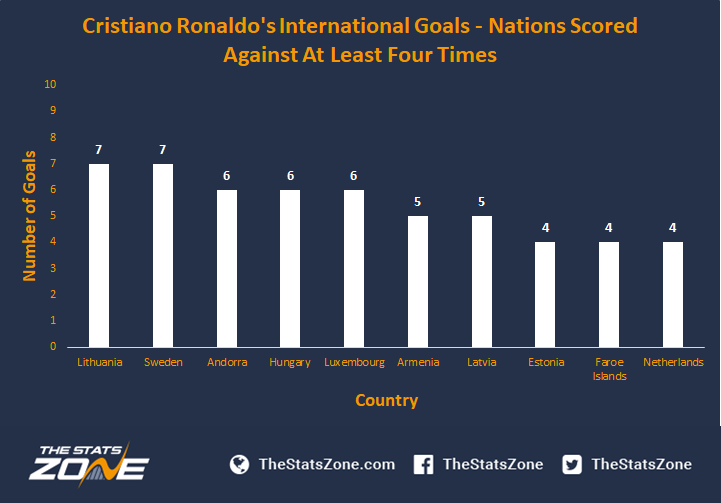 MILESTONES
Ronaldo's first ever international goal was assisted by Luis Figo and came on 12th June 2004 against eventual champions Greece in the EURO 2004 group stage

His 100th goal for Portugal was scored on 8th September 2020 and came against Sweden in the UEFA Nations League

Ronaldo's first international hat-trick was against Northern Ireland in a qualifying game for the 2014 World Cup, with all three goals coming in the final 25 minutes of the match


The Man Utd star has logged eight international hat-tricks in total, including two against Lithuania

Ronaldo has scored for Portugal in every calendar year since making his debut in national colours - 18 consecutive years