As Phil Taylor prepares to call an end to his unparalleled darts career with his final ever appearance at a World Championship, we've put together a few statistics which highlight the extraordinary success and longevity of surely one of the most dominant sportsman in history.
That claim is rightly justified by a quick glance at his overall career titles:

Phil Taylor must surely require a trophy house rather than a room. No other player even comes close to The Power's 185 career titles, and with the competitiveness of the modern game, it is likely nobody ever will. What is perhaps even more staggering is that 185 doesn't tell the full story, as the non-televised titles do not take into account his formative years in the BDO, where he undoubtedly picked up a slew of additional trophies.
Taylor has achieved the holy grail of darts – a nine-dart finish – a remarkable 11 times on TV, more than double that of any other player (Raymond van Barneveld, Michael van Gerwen and Adrian Lewis have each made five televised nine-darters). Indeed, Phil Taylor has achieved the feat twice (almost thrice!) in one match…
WORLD CHAMPIONSHIP RECORD
If there is one record which stands above them all, it is Taylor's tally of 16 world titles:
Taylor boasts over three times as many world titles as any other player, and if we discount the BDO from the mix, the gap is even wider, with Taylor's total of 14 dwarfing the field – no other darter has claimed the PDC's biggest title more than twice.
When The Power was at his most dominant, he was able to call himself world champion for eight consecutive years between 1995 and 2002, and when you consider he also lifted the trophy in 2004, 2005 and 2006, he can lay claim to winning 11 world titles in a 12-year stretch.
PDC PREMIER EVENTS RECORD
The term 'major' is only loosely used in darts and there is some disagreement on which tournaments should be classified in this way. Additionally, there are a number of now-defunct events – such as the Las Vegas Desert Classic – which were held in high esteem but are no longer contested, whilst more recent additions to the calendar – such as the Champions League of Darts – are given top billing. Therefore, we are focusing here on Taylor's trophy haul on what the PDC currently deem their 'premier' events: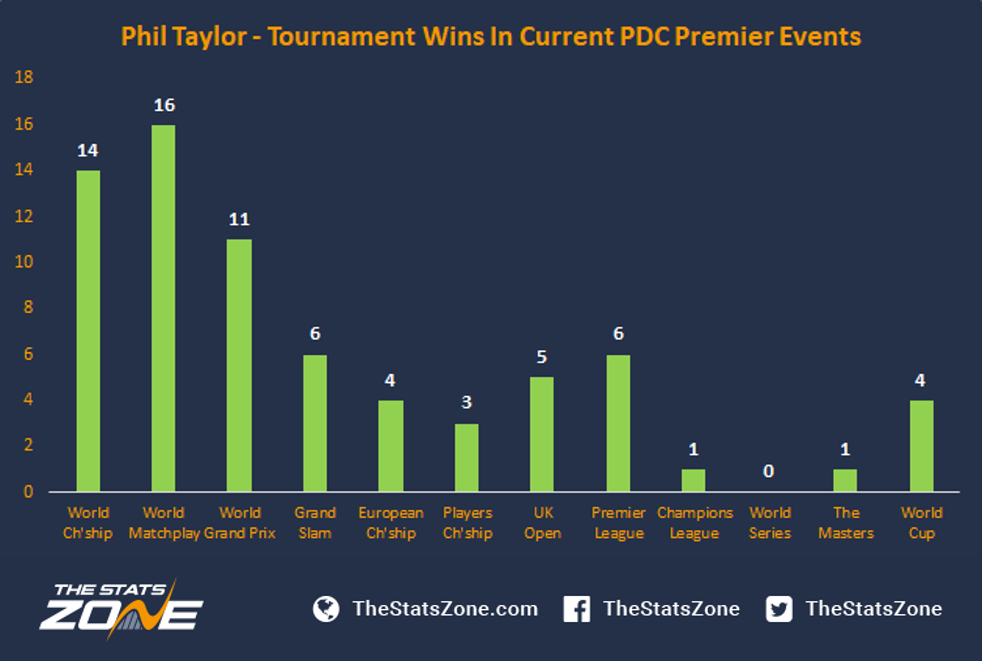 A grand total of 71 'premier' titles puts the 57-year-old streets ahead of the competition, although current world number one - Michael van Gerwen – sits on 31 overall and at the relatively young age of 28, could well surpass this particular milestone if he continues at his current rate of success.
The World Matchplay has been a particularly happy hunting ground for the Stoke thrower, with his 16 titles at Winter Gardens matching that of his overall World Championship record. The only event on this list that Taylor has failed to win is the World Series of Darts Finals, although he has claimed eight individual World Series titles.
AVERAGES
Nowadays, ton-plus averages are far more commonplace than they used to be and that is largely thanks to how high Taylor has set the bar over the years: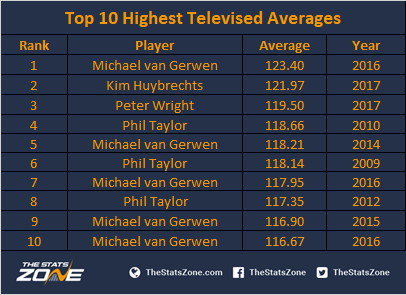 Taylor's three-dart average of 118.66 against Kevin Painter in the 2009 UK Open stood as the highest televised average (not including internet-streamed events) for six years. The Power features three times in the top 10 overall, although Van Gerwen does surpass that with four, including the world record televised average of 123.40 (vs Michael Smith in the 2016 Premier League).
RIVALRIES
There have been many contenders to Taylor's throne over the years, including the man who has now usurped him, so let's take a look at how The Power stacks up against three of the biggest rivals throughout his career:
Dennis Priestley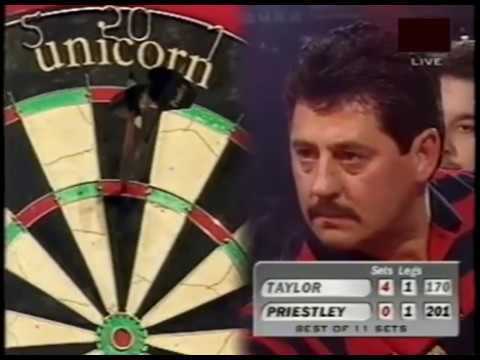 During the PDC'S early years, Dennis 'The Menace' Priestley was always the player most likely to challenge Taylor for the top titles, with the pair of them facing off in five of the first seven PDC World Championship finals. Taylor came out on top in four of those, but Priestley did claim the inaugural PDC world title with a 6-1 victory in 1994.

Raymond van Barneveld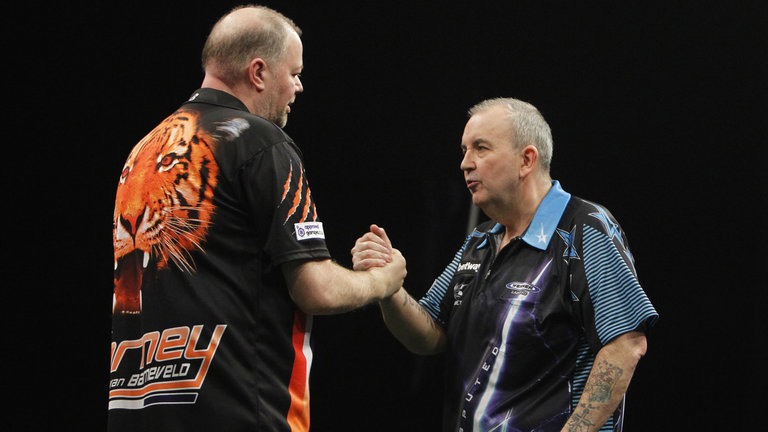 The Barney – Taylor rivalry is one which has endured for 10 years in the PDC, and although The Power boasts a dominant career head-to-head record against the Dutchman, their most memorable clash was undoubtedly the final of the 2007 PDC World Championship. After dominating the BDO circuit for many years, Van Barneveld finally switched allegiances to the PDC and outlasted his Stoke rival in a nail-biting sudden death leg.

Michael van Gerwen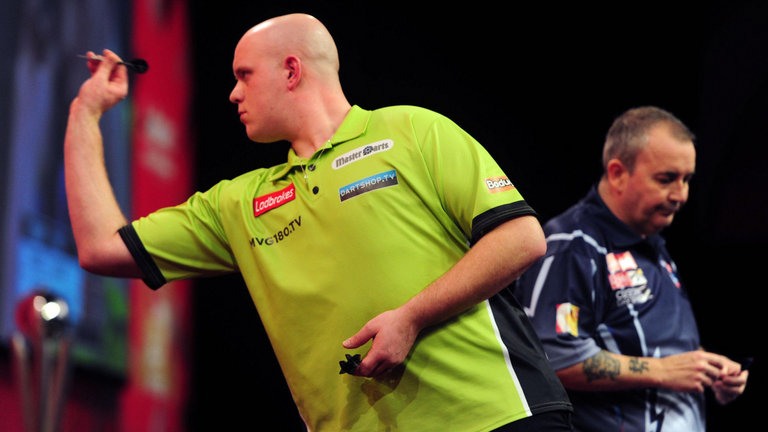 Now the dominant force in world darts, MVG has reached such a level that he is a genuine threat to Taylor's mantle as the greatest to ever throw a dart. Their head-to-head record is in Taylor's favour – and will stay that way – although many of the Englishman's victories came during the early stages of Van Gerwen's career. Having said that, Taylor proved he is still a major force in the game by storming to the World Matchplay title earlier this year, a tournament in which he thrashed the world number one 16–6 in the quarter-finals.

RETIRING AS WORLD CHAMPION?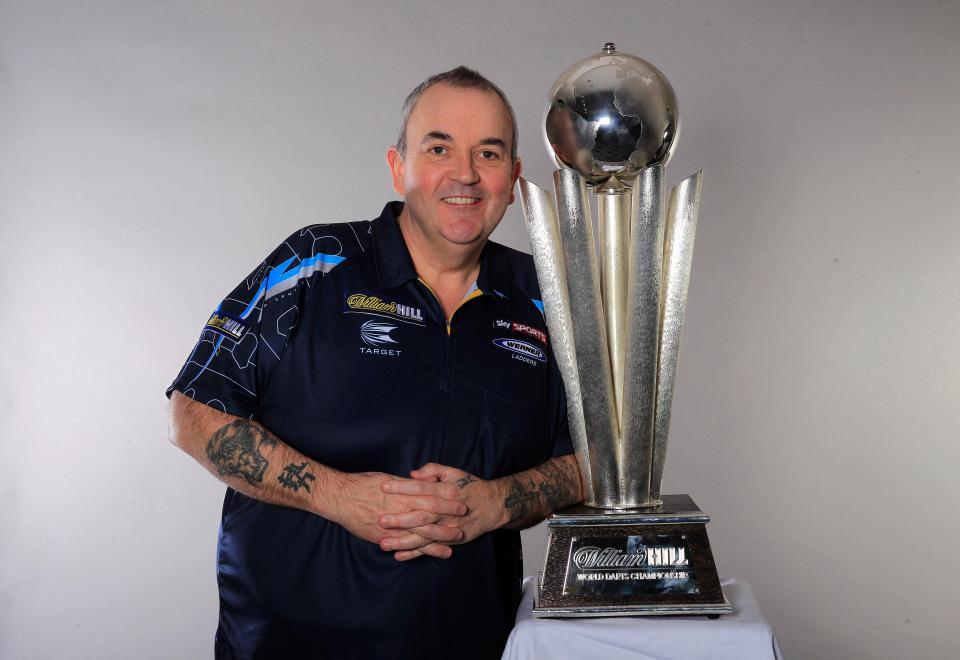 Is it that unthinkable that Phil Taylor could retire from darts as the world champion? Not according to the bookies, most of whom make him third favourite for the 2018 Alexandra Palace title behind Gary Anderson and Van Gerwen. Indeed, whilst Taylor has played a dramatically reduced schedule in 2017, his record shows that he is more than capable of competing with the very best. He has beaten both Anderson and Van Gerwen this year and claimed two titles along the way – the aforementioned World Matchplay and the German Darts Masters.
If The Power was to bow out of the game with a 17th world title under his belt, it would surely go down as one of the finest victories of his glittering career.