With just one game left to play, Leicester City are coasting to the end of the season at the bottom of the table… No that is not a typo, we are (of course) talking about the injury table. Having been crowned Kings of England last week, it is no secret that a major factor in The Foxes' improbable success has been their ability to pick a settled team for almost the entire season. Ranieri has been allowed to defy his reputation as 'The Tinkerman', confining the moniker to the annals of history. The remarkably low injury rate that Leicester has been blessed with this year speaks volumes for the sports scientists and medical staff employed at their Belvoir Drive facilities. But just how much has their relatively sparse fixture list aided their campaign to overthrow the established Premier League aristocracy?
There is no doubt the lonely physio tables at Belvoir Drive have helped Leicester City maintain their assault on the Premier League. As can been seen in the graphic below, their rank in the injury table for this season is the antithesis of their standing in the league. According to data collected from Physioroom.com, they have suffered a mere 19 injuries this campaign. That is a remarkably low number, especially when compared with benchmarks set by prior studies. In a seven year cohort study published in 2009 which was conducted by UEFA in conjunction with Linköping University, Sweden, it was concluded that a top-flight football club with a squad of approximately 25 players can reasonably expect to suffer 50 injuries over the course of a season.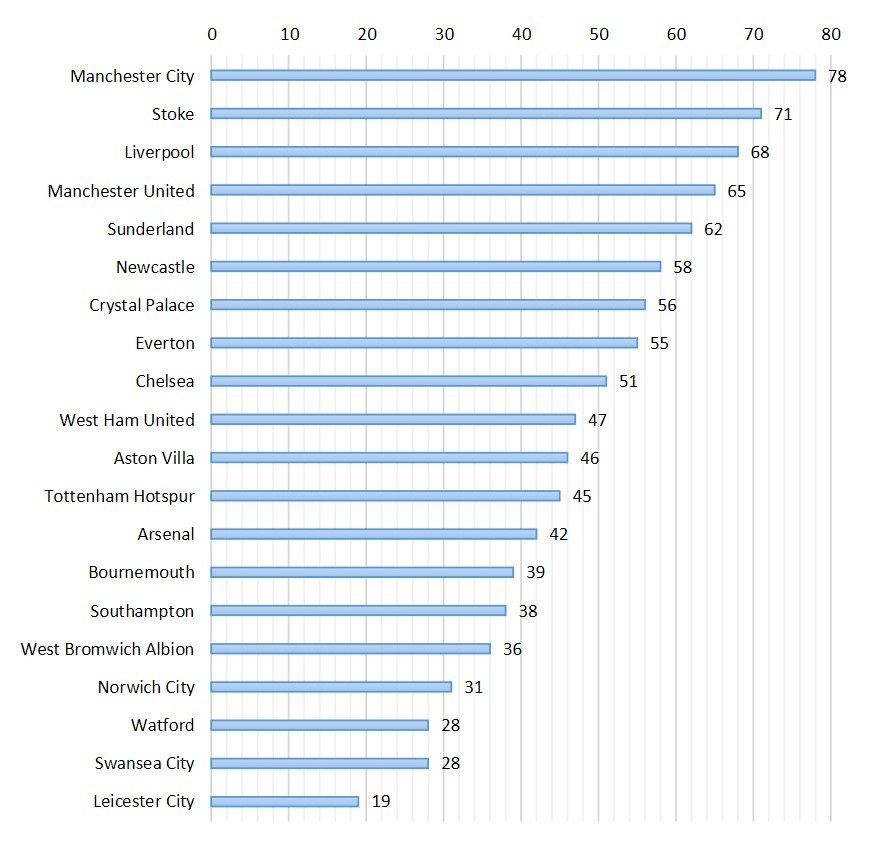 Number of Injuries per Premier League team - 2015-16 Season
If you compare Leicester City's good fortune with the apparent ill fortune of one of this season's expected challengers, Manchester City, it is hard to not to suspect a link between the Manchester club's indifferent form and the staggering number of injuries they have suffered this year. To-date they have been afflicted by no less than 78 injuries. That is 56% more than UEFA's yardstick of 50. Two of the most injured players in this season's Premier League have been David Silva and Yaya Toure with 9 injuries apiece. When you consider that both players are regarded as having been integral to Man City's success in recent years, in addition to the 5 and 6 injuries respectively suffered by squad leaders Aguero and Kompany, it is no surprise that they have struggled for consistency this term. But is it merely bad luck that Manchester City has been so burdened with injury.

Top 10 Most Injured Players 2015-16
We have had a look at the amount of fixtures played by each club during the regular season in a bid to shed some light on the perceived misfortune of some clubs. Those clubs who regularly play midweek football due to extended runs in competitions such as the Champions League are surely more likely to fall victim to injury, right? The Stats Zone have found that there is indeed a correlation between the average amount of days each club gets between games and the amount of injuries they tend to pick up. This is demonstrated in the scatter graph below.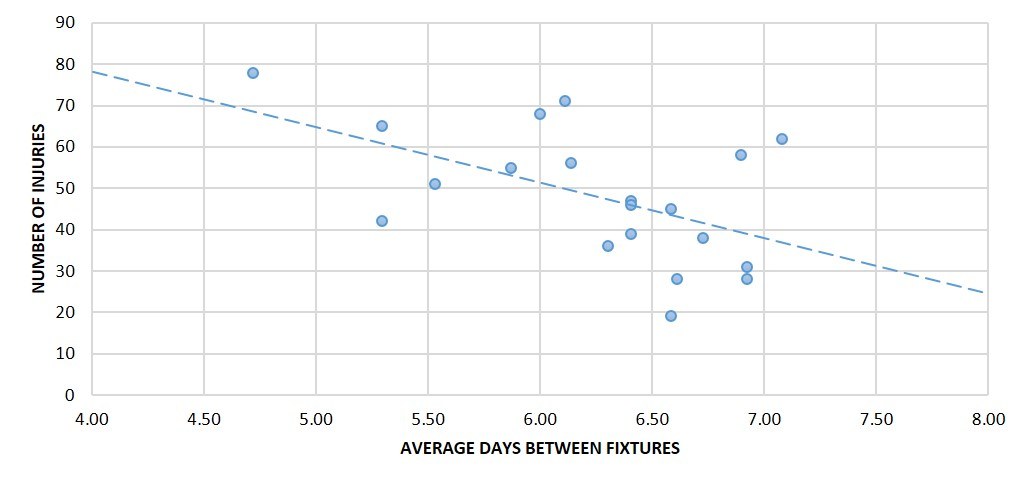 Relationship between Average Days Between Fixtures and Number of Injuries Suffered - 2015/16 Season
By the time the curtains are drawn on this most magical of seasons, Manchester City will have played 16 more regular season games than Leicester. The Sky Blues have averaged 4.72 days of 'rest' between fixtures compared to Leicester's 6.59. A lack of European football, as well as early exits from both domestic cups appear to have helped The Foxes remain injury free, whereas Man City played the maximum amount of League Cup games possible as well as launching a deep run into the knock-out stages of the Champions League. This analysis also doesn't account for players participating in fixtures while on international duty. This would further reduce the average amount of days international players have off between games.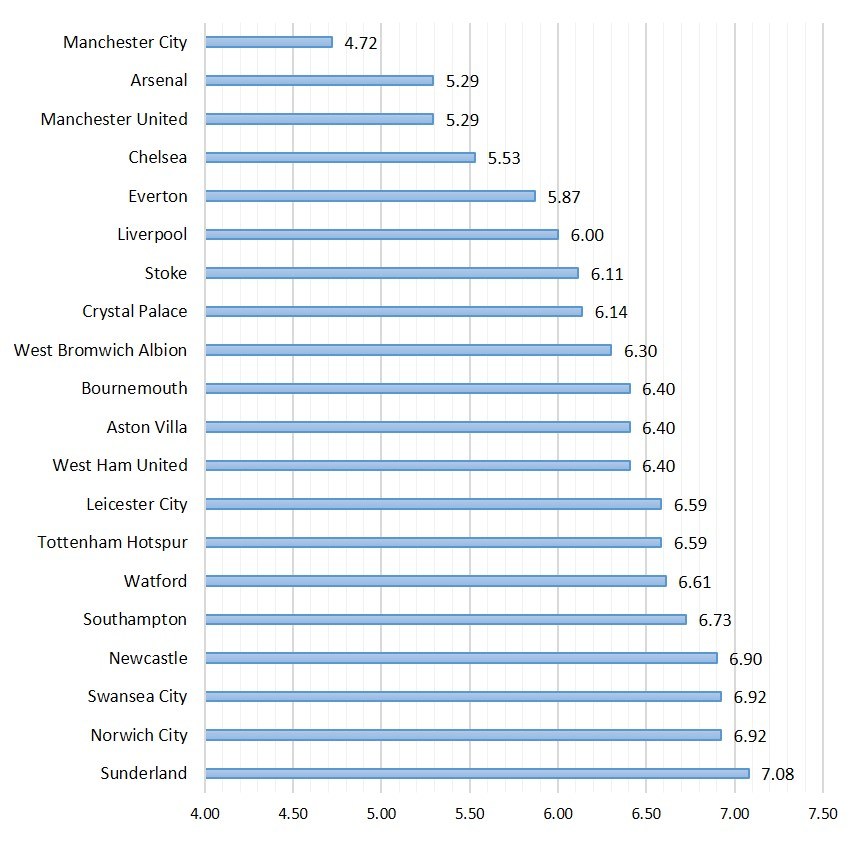 Average Amount of Days Between Fixtures - 2015-16 Season
It is worth noting that this writer is by no means suggesting that the low number of fixtures played by Leicester is singularly responsible for their success this year. If we look at the teams below them in terms of 'off-days' between games, 3 of the bottom 4 are currently battling it out to avoid relegation. However, what it has done is allow Leicester to focus on keeping their players fit in order to maintain their momentum and not let their title charge be derailed by an unsettled team. As the season careered towards its close, Leicester were able to look over their shoulder to see all other challengers halt and splutter towards the finish line as they coolly strode forward to claim their place in history.