Known within the game as the 'fifth major', the Players Championship takes place every May at the famous TPC Sawgrass since 1977. The PGA Tour's signature event gathers the world's top 50 players to compete for one of the most important trophies within golf. Unlike other events, including major championships, there are no sponsor exemptions, club professionals or amateurs; only the very best players currently in the game, making this one of the most difficult tournaments to predict a winner.

The Course
TPC Sawgrass, referred to as The Stadium Course, was designed precisely to enhance the experience of the spectator and improve overall fan enjoyment. Sloping mounds were built to give spectators an unobstructed view of play, similar to a stadium. Sawgrass is possibly best known for its Par-3, 132 yard 17th
hole which boasts an island green surrounded by water and has played its part in many a final round collapse and glory.###>
Multiple Winners
Although known as 'The Fifth Major', it is perhaps fair to say that the course is internationally recognised as much as the tournament itself. Unlike many historical contests, there have only been six multiple winners of the event. Furthermore one of these – Jack Nicklaus – won his triplet before the event moved to The Stadium Course. Upon completion, Dye explained that he specifically intended to "favour no particular player or style of play with a selection of short, medium and long holes within the categories of par-3s, par-4s and par-5s. There had to be both right and left doglegs. The course routing was laid out so no two consecutive holes ever played in the same direction." Consequently, the course does not favour a player who shapes the ball with a particular trajectory, a long hitter or ball striker – it requires an individual with a strong all round game and precise course management.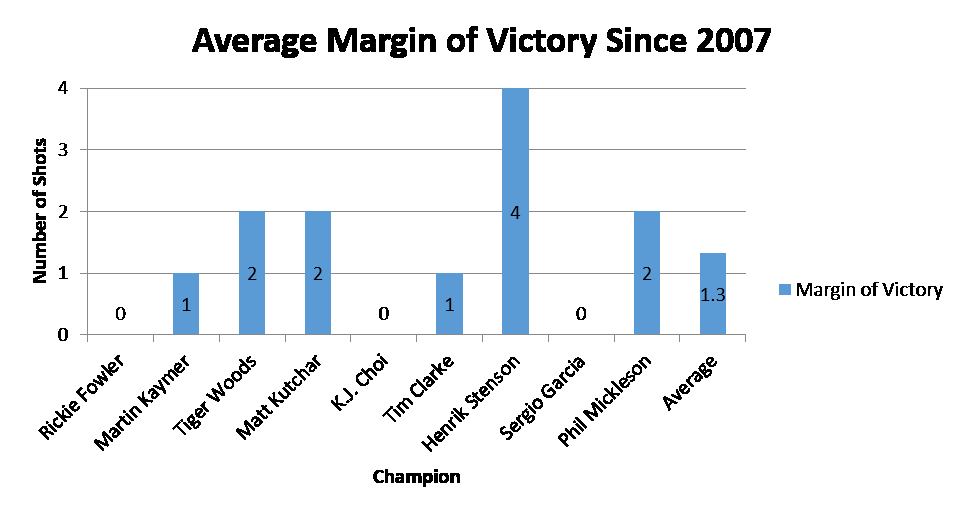 Since 2007, the average margin of victory (0 for playoff) has been 1.3 strokes, suggesting further that no one particular style of play suites The Stadium course, making it difficult for the champion to pull away from the field.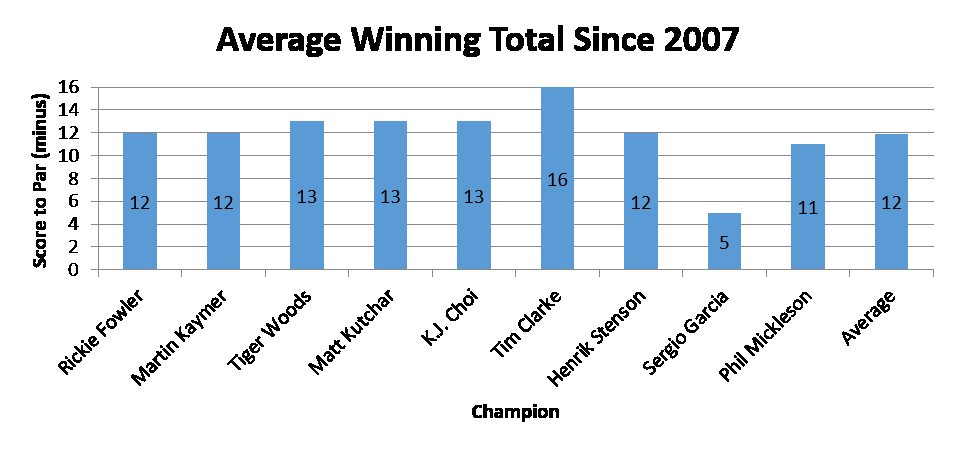 Aside from Sergio Garcia's winning total of five under in 2008 when strong winds made it more like a British Open, the average winning total has been 12 strokes, signifying that the course is not notably harder for the players than many regular events that they play throughout the season.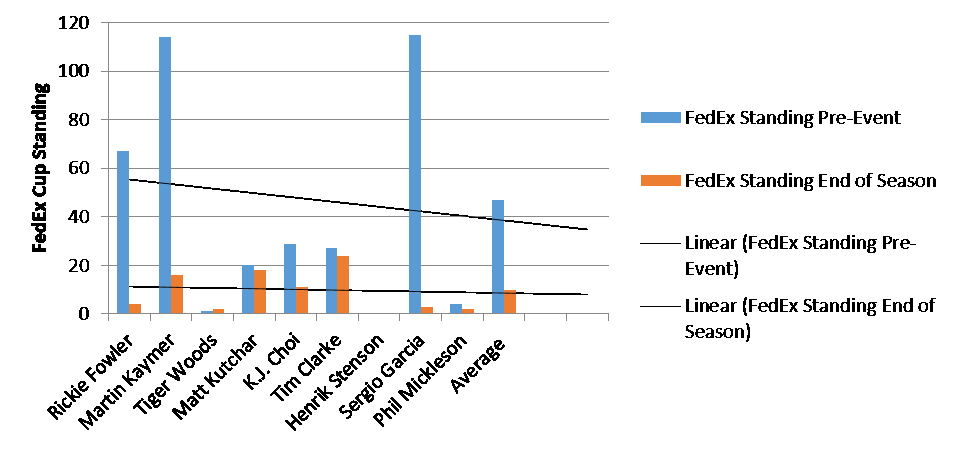 FedEx Cup standings were analysed both pre-tournament and end of season to assess whether 'good form' was important entering the event and how this related to the rest of their seasons. The European players are the two notable anomalies who had a significantly higher FedEx Cup standing pre-tournament compared to other champions (Henrik Stenson, statistics not existing due to minimum number of events not met). Rather than poor performances during the first third of the season, this is likely due to their play being predominantly on the European Tour (Asia, UEA & Africa).
Nevertheless, the average FedEx Cup standing pre-tournament is 47th
– a relatively modest position for players who are victorious in the 'Fifth Major'. However, the final end of year standing is 10th, signifying that the biggest names start to peak around this time of the year. Taking into account The Masters is four weeks previous and the U.S. Open five weeks later; this is prime time for the leading names to peak. This is further evident when we analyse those who were runner-up.###>###>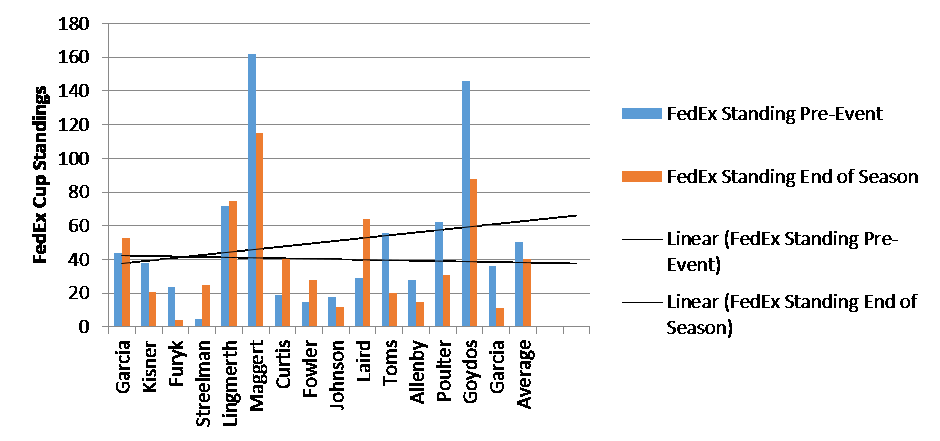 As is apparent with the champions, The Players Championship is often the catalyst to a good season, whereas the individuals who were runner-up, averaged 50th
in the FedEx Cup standings pre-tournament but end of the season averaged 40th.
Many of the names are what you would class as lesser tour players (Maggert, Goydos, Laid, Curtis, Lingmerth, Streelman)
and were surprise winners for such a prestige event. Subsequently, it is fair to say these players were in good form entering the tournament comparing pre and end of season standings. Furthermore, they were likely to have played more events in the first third of the season giving them a better opportunity of gaining added FedEx Cup points. ###>###>
Required Skills to Compete
Henrik Stenson was not used for analysis due to minimum number of PGA Tour events not played to qualify for season statistics.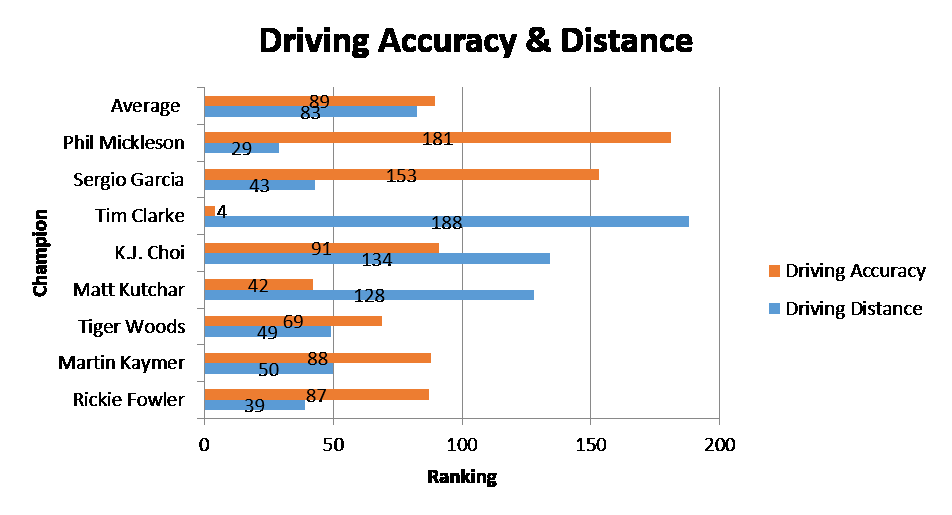 Further to Tim Clarke's pre-tournament FedEx Cup standing (27th
) and end of season (24th), it is reasonable to say his form was particularly strong during the 2010 season, principally for a player of his calibre where he reached
25th in the World Rankings, and has since steadily declined
. As a result, Clarke's driving accuracy category (4th) and driving distance (188th) stand out significantly - suggesting accuracy over length is a more important skill to possess around TPC Sawgrass. Nevertheless, there is no stand out rankings for the additional champions with driving accuracy averaging 89th and driving distance 83
rd
. Consequently, a strong combination of the two is required to successfully compete. Furthermore, it should be noted that no significantly 'long hitter' has succeeded around The Stadium Course, highlighting further that an extremely straight driver of the ball has an advantage regardless of length.###>###>###>###>###>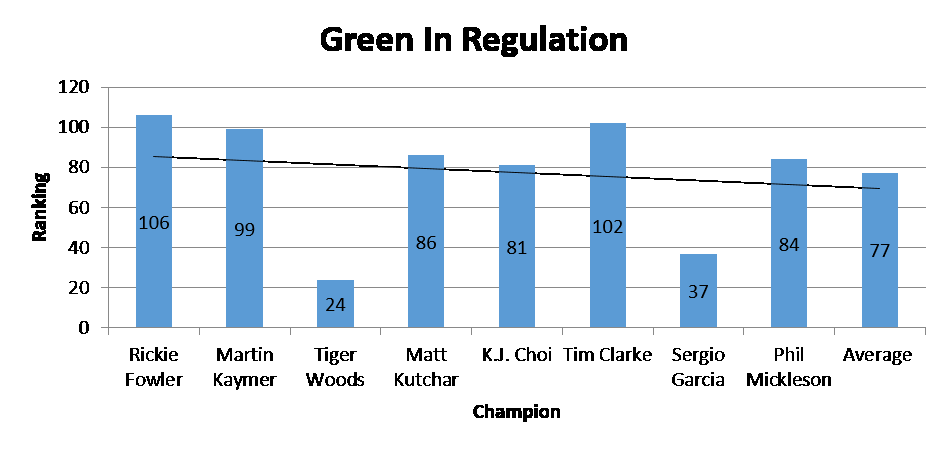 Interestingly, the average ranking for Greens In Regulation is 77th
, and eliminating both Tiger Woods and Sergio Garcia, no player has ranked higher than the average. Apart from the two individuals highlighted – who are regarded in the game as exceptional ball strikers – the remaining player's all had relatively a poor ranking in their respective seasons. This demonstrates that hitting greens in regulation is not a significant skill required for success at TPC Sawgrass.###>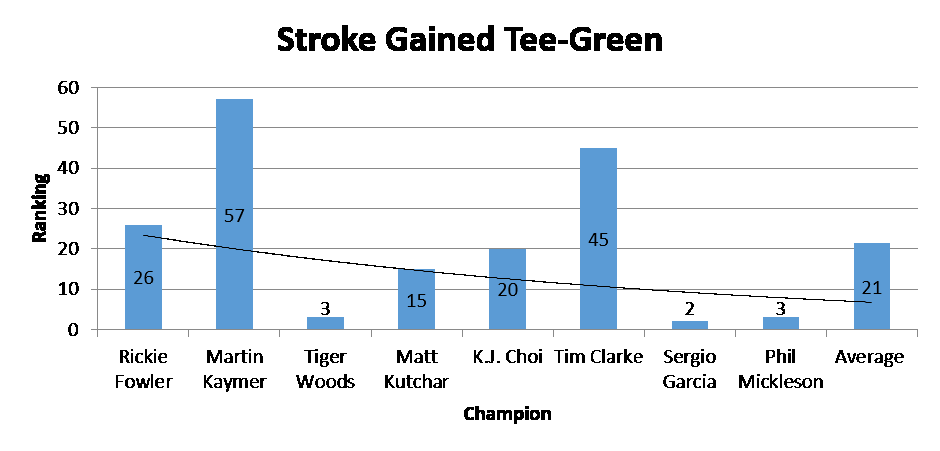 Tiger Woods, Sergio Garcia and Phil Mickleson ranked inside the top three for Strokes Gained Tee to Green for their respective seasons – this is of little surprise considering their status within the game. Nevertheless, the average ranking of 21st is notably the highest of all major statistics, suggesting the ability to hit the ball both accurate, long and consistently fits the TPC Sawgrass layout perfectly – correlating with course designer Pete Dyes vision of not favouring one particular player or style of play. A good all round long game is desired for such a layout.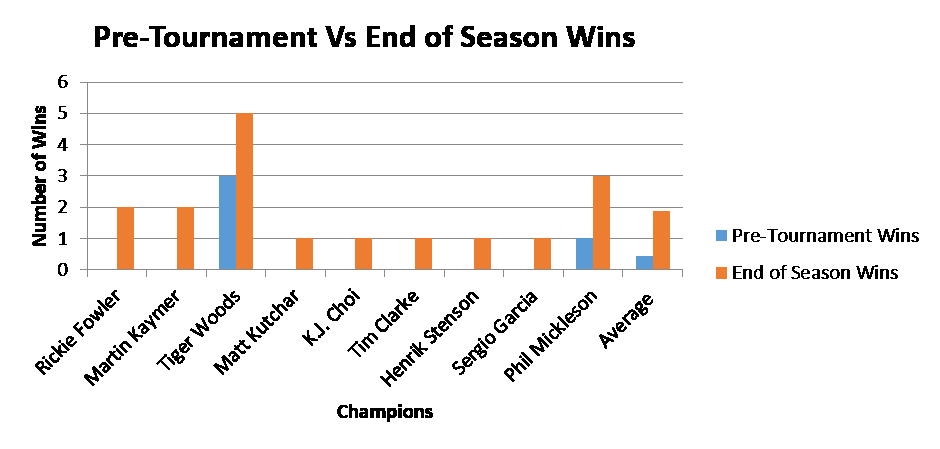 The above statistic identifies that the average pre-tournament wins is 0.4, in addition, excluding Tiger Woods and Phil Mickelson there is no further player who has successfully won on the PGA Tour until the Player's Championship. What's more, this was solely the only title for five out of the nine champions during their corresponding seasons. There is the argument that a good long game is beneficial to any course and all success, yet in opposition, only four of the nine champions went on to win again during their respective seasons (average end of season wins 1.9) suggesting further that Strokes Gained Tee to Green is a significant skill area around The Stadium course.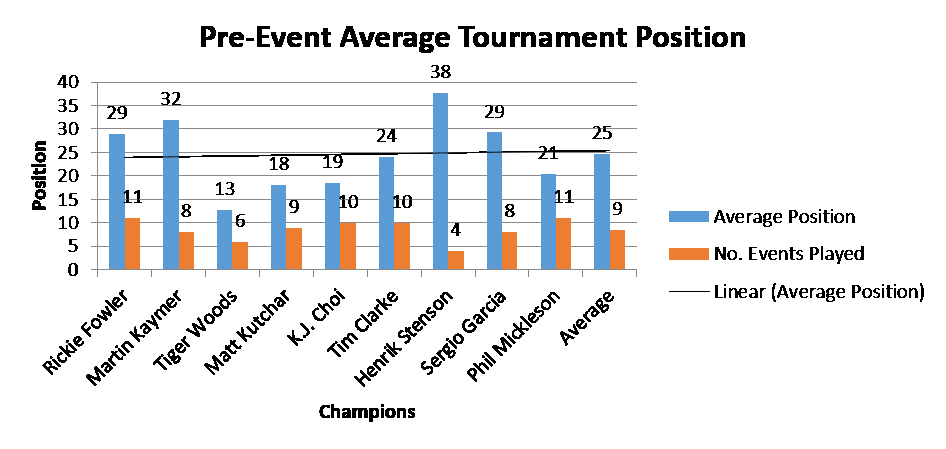 When comparing the average finishing position of events played pre-tournament, the average position is 25th
. Although a strong position, this does highlight that individuals do not need to be in 'good form' to be successful at the event. ###>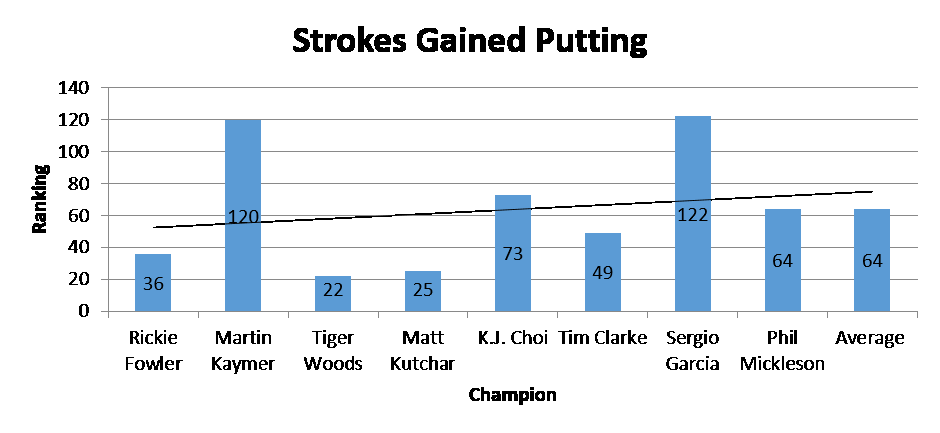 Like any top course on the PGA Tour, especially during tournament week, the greens will be pure, lightning fast, sloppy and difficult to read. Having said that, the course itself is not renowned for the difficulty of its greens, neither is it, its natural defence mechanism. Consequently, putting is not a stand out skill area. It is only logical that putting performance is an essential characteristic to winning due to the largest number of shots required per round coming from this skill area, and whoever does succeed come Sunday afternoon, it is predicted already they will have performed strongly on the greens. Nevertheless, as identified, the average Strokes Gained Putting ranking is 64th
, further highlighting that putting performance is not essential to success.###>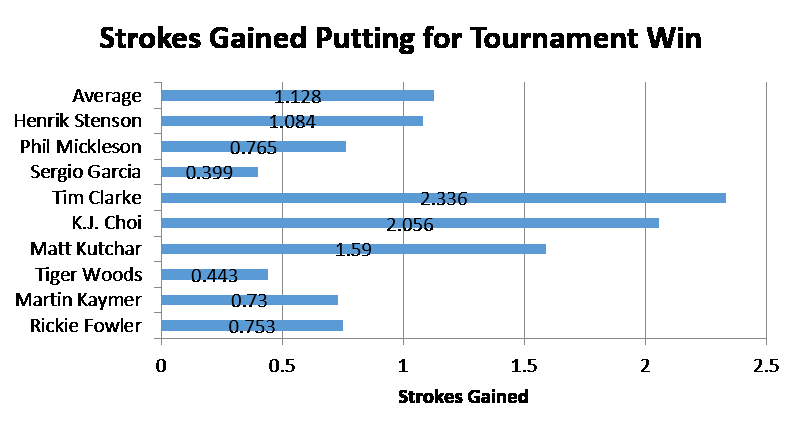 However, the number of Strokes Gained Putting during the tournament for their respective wins further highlights that putting performance is important to any win. Notably, Tim Clarke, K.J. Choi and Matt Kutchar, all shorter yet accurate drivers of the golf ball had exceptional putting weeks, demonstrating a shorter hitter can win at TPC Sawgrass but does require an excellent week on the greens.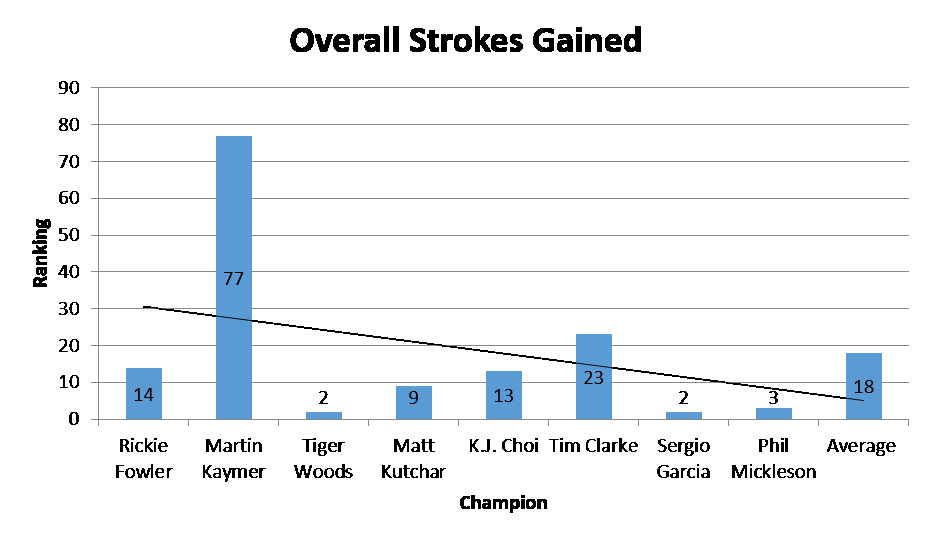 Nonetheless, Overall Strokes Gained average ranking increases to 18th
from Strokes Gained Tee to Green averaging 21
st
. Although only a small increase, it does suggest that a steady and consistent putter will further enhance their chances of success rather than a streaky player on the greens. This could be further argued with Sergio Garcia who ranked 122
nd
Strokes Gained Putting and is renowned as being weak in this particular skill area – yet a solid week on the greens, coupled with exceptional long game could be enough come Sunday afternoon. ###>
Past Champion's - Main 2016 Contender
Due to Tiger Wood's recovering from a long term back injury and Tim Clarke's on-going elbow injury, two of the previous nine champions will be absent from the 2016 field. Therefore, which individual has the best opportunity to win taking into consideration a player that is strong Strokes Gained Tee to Green and Overall and is not particularly high in the early season FedEx Cup standings. As a result, who from the remaining seven past champions has the best chance of winning The 2016 Players Championship?
Due to Martin Kaymer not keeping his 2016 PGA Tour card, he has not met the required minimum number of events played to qualify for statistical analysis.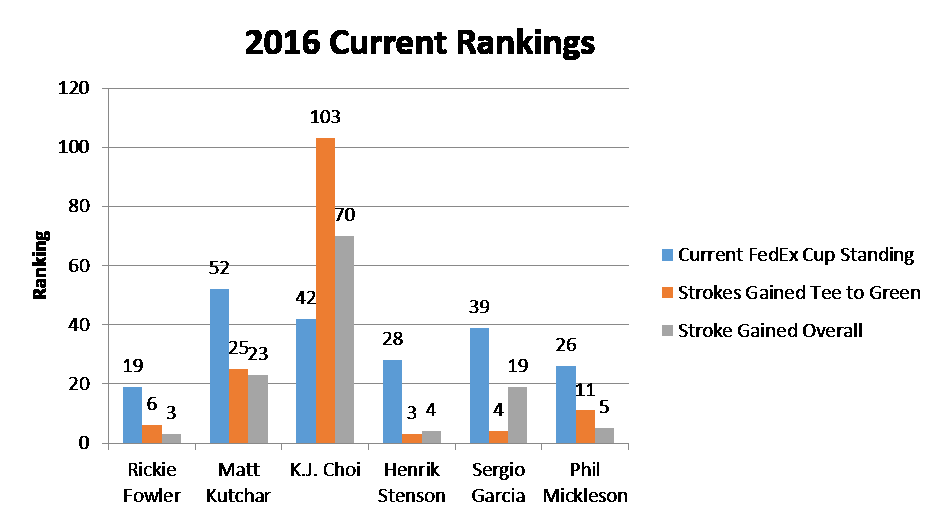 K.J. Choi was perhaps classed as a surprise winner during his 2011 Players triumph and it is fair to say, unless he has an unbelievable week on the greens again (gaining 2.336 strokes per round on the field), coupled with a dramatic increase in tee to green performance, he has little chance of competing for the title.
Matt Kuchar, classed as one of the most consistent players on tour, had an excellent week on the greens gaining 1.590 strokes per round on the field, together with his accuracy makes him a strong competitor on such a course. However, he has only had seven career tour wins in his 16 years as a professional making him a difficult case to predict in such a major event.
Henrik Stenson is renowned for his incredible power, accuracy and ball striking, a rare skill set for any golfer, which allows him to compete around any course. Again, Henrik had an exceptional week on the greens gaining 1.084 putts per round on the field, coupling in the fact he is renowned for his putting weaknesses, this was a rare occasion.Regardless, if Stenson has a solid week putting, which his 2016 strokes gained putting ranking of 83rd (.121) suggests is possible, factored with his consistently strong tee to green play proposes he has a strong chance.
Rickie Fowler's win at The Players in 2015 was classed as the breakthrough for a player who has come so close in numerous majors but has struggled to get over the line in many events. Yet, at the 2015 event, he finished birdie, eagle, birdie, birdie, to push his way into a play-off in which he consequently won – classed as one of the most amazing finishes in any professional golf event (watch the video here). Nonetheless, such a finish to win an event is as rare as an albatross, proposing that Rickie does not have the course-management and/or consistency to win around TPC Sawgrass two years in a row. His 2016 Overall Strokes Gained (3rd) ranks the highest of all previous champions, and as we speak, currently is leading heading into the final round of the Wells Fargo Championship at Quail Hollow, proving he is in the best form out of any current PGA Tour player, yet this could be one step too far.
Phil Mickelson has not won a professional event anywhere in the world since the 2013 British Open and famously split with long term coach Butch Harmon at the end of the 2015 season. To date this has paid dividends, his 2016 form has been strong with his long game improving drastically (Strokes Gained Tee to Green 11th
) and Overall Strokes Gained 5th, and likewise, he has been in contention this season without quite getting over the line. Come what may, has Phil still got the same mental strength and nerve at the age of 45 compared to hit 2007 prime - especially in such a big and important event – this remains to be seen. ###>###>
Therefore, Sergio Garcia is the main contender of past champion heading into the 2016 Players Championship. His record around The Stadium course speaks for itself, with one victory, two runner-ups, a third and one top 10 in the last nine events – it is fair to say, Sergio loves TPC Sawgrass. Garcia currently ranks 4th
in Strokes Gained Tee to Green, an impressive ranking yet not surprising for his long game talent. Sergio's putting during the 2016 season has been poor,
ranking 197th in Stroke Gained Putting and losing -0.624 per round.
In spite of that, when he was successful in 2008, he only gained 0.399 strokes per round, the lowest of any winner in the past nine events, demonstrating that his putting does not need to be exceptional to win when coupled with his incomparable long game ability. If Sergio can pick up on the good vibes he has created in this tournament over the years and be steady with the flat stick, he will be a hard man to beat.###>
Additional Main Contender's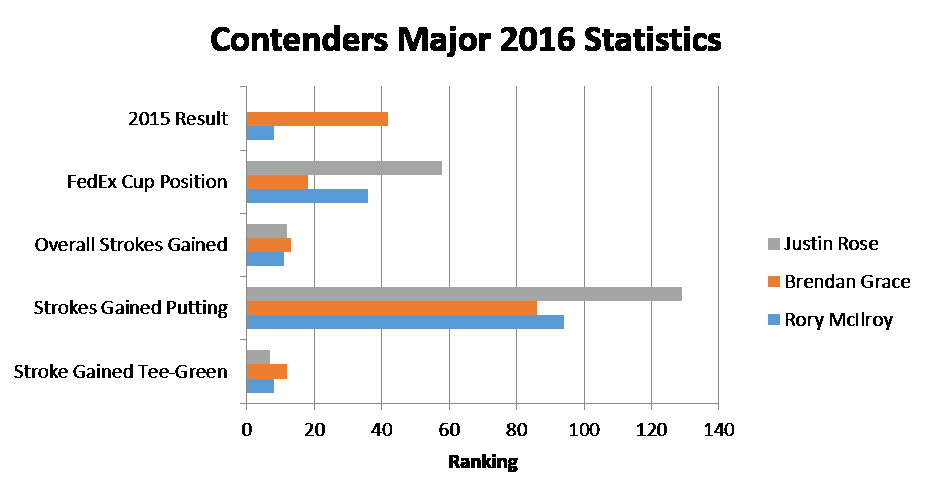 Rory McIlroy, Brendan Grace and Justin Rose all share two common statistics, their ability tee to green and Overall Strokes Gained. Often the case for these players, all are currently positioned within the top 13, showing their level of long game has been as good as it gets.
Rory McIlroy started off the season hitting the ball as good as he ever has, contending in majority of the events he has played, and yet he is without a win worldwide this season. He went through a technical change with his putting stroke at the beginning of March which nearly paid dividends at Doral, and looks as natural on the greens as he has in years, but still no win. A player of his calibre and skill set suggests it will only be a matter of time until that next win comes, and once he does, as a momentum player he could be relentless. He currently stands 11th
in Overall Strokes Gained and 36th in the FedEx Cup - with an 8th place finish in the event last year - if he can find something on the greens and has the right course tactics, he could be difficult to stop.###>###>###>
Justin Rose currently sits at 129th
in Stroke Gained Putting and has struggled throughout his whole career with the flat stick. Arguably the best player in the world when you combine accuracy, length, ball striking and consistency within his long game (Strokes Gained ranking 7th), the putter has always held back his ability to land more titles. As another who changed his putting technique before the 2016 Masters in an attempt to hole more putts and although still early doors, he certainly looks more comfortable on the greens and the four weeks practice could lead to his first title of the season. He currently ranks 12th for Overall Strokes Gained which is very impressive taking into account his putting ranking. As seen with previous players, a solid week on the greens could land him the title come Sunday afternoon.###>###>###>
Brendan Grace won earlier in the season down at Harbour Town, another famous Pete Dye layout. A course that requires laser like accuracy both from the tee and into the greens, clear-cut course management and patient – typical skills required at TPC Sawgrass. With a break through PGA Tour win, his confidence is as high as any player on tour right now, and minus one poor swing on the 16th
at last year's U.S. Open, he could quiet easily be a major champion, suggesting he has the mind set and attributes to win the 'fifth major'. ###>
In Summary
Unlike many events, with such a strong field, each and every player has a chance to win come Sunday afternoon. The Stadium Course will not play in to the hands of any particular skill set, there will be no cutting 40 yards off a dog-leg to leave a 'flick' into the green or over-powering the course to 20 under par. The champion will need to be accurate from tee to green, choose the right time to be aggressive and conservative, calculated throughout the week with the highest of patience, and discover some form on the greens. With each hole playing in a different direction to the previous and line of site difficult to see, the champion will need to be confident with their swing and long game come Thursday.